The Japanese approach to auto manufacturing has permeated pop culture and changed how people see cars.
European and American cars are popular for their design and robust engines, but, also for their unreliability in some cases. In contrast, Japanese cars are predominantly known for being affordable, dependable, and fun to drive.
It's no wonder why the country is home to millions of auto enthusiasts. The roads are perfect and so are the cars, especially for racing disciplines such as Touge.
Touge racing is hugely different from a road course and more dangerous because of variable road conditions and a lack of runoff, making fine-tuning the car vital to avoid crashing and setting great lap times.
In this article, we'll discuss some of the most ideal Touge cars ever made. Some of these are also considered to be the best drift cars, while others are better suited for grip racing.
Best Touge Race Cars for Grip Racing
Unlike straight line racing where a lot depends on outright power, in Touge racing, other performance aspects will set your car apart, especially handling and weight distribution.
For instance, a small, tossable car like the Toyota MR2, prone to snap-oversteer, can beat a stock Mercedes AMG GT-R on a Touge course with the proper tuning. The same is true for other smaller cars such as the ever-popular AE86 and Honda S2000.
Acura NSX-R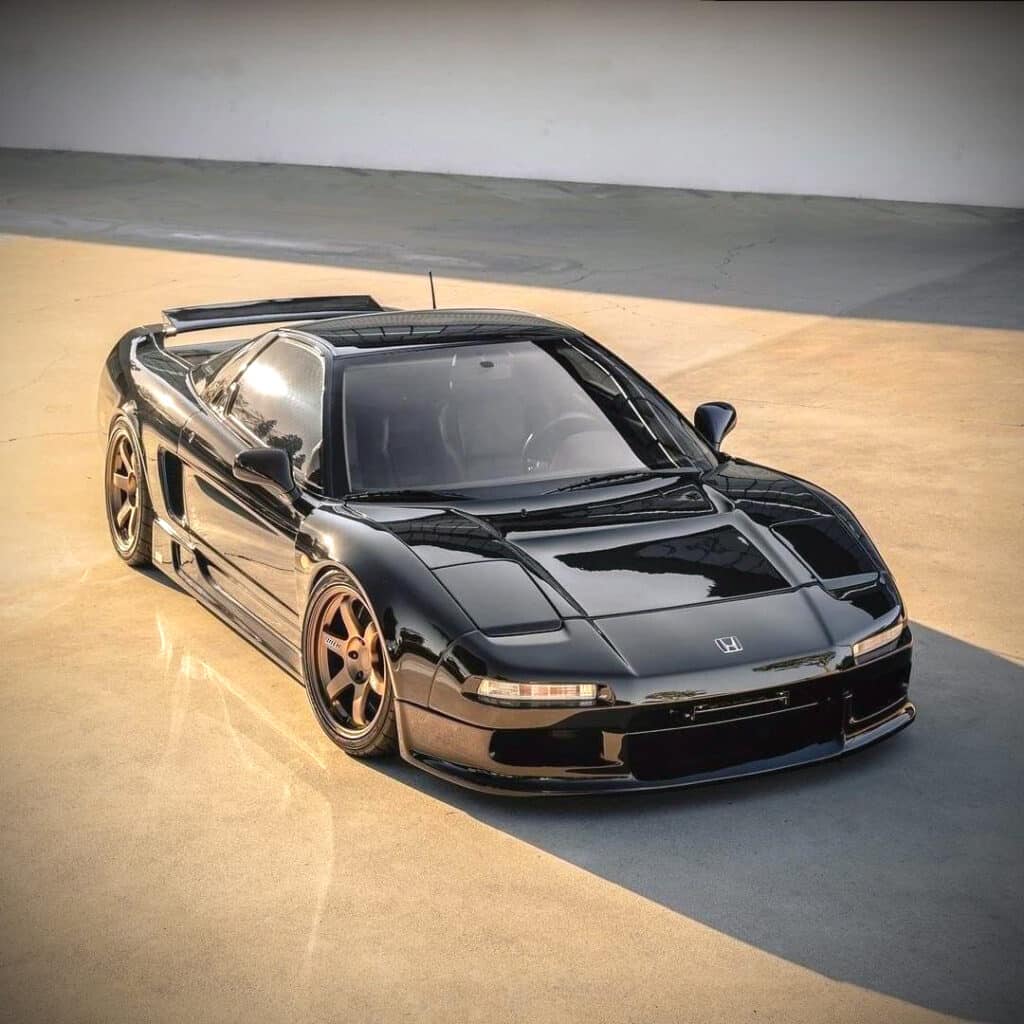 Drivetrain: FWD
Power output: 225 hp at 8,000 rpm
Engine: 2.0L C30A V6
Torque: 158 lb-ft at 6,100 rpm
Curb weight: 2770 lbs
The original NSX was one of the most famous Touge cars when it unlocked its full potential with a stripped-down variant, the NSX-R.
Honda removed features including the audio system, spare tire, sound deadening, air conditioning, and traction control system.
The goal was to reduce weight and make the already powerful NSX as high-performance as possible — they did this by making it 265 lbs lighter. Honda also updated its suspension geometry and spring rates.
Honda Civic FD2 Type-R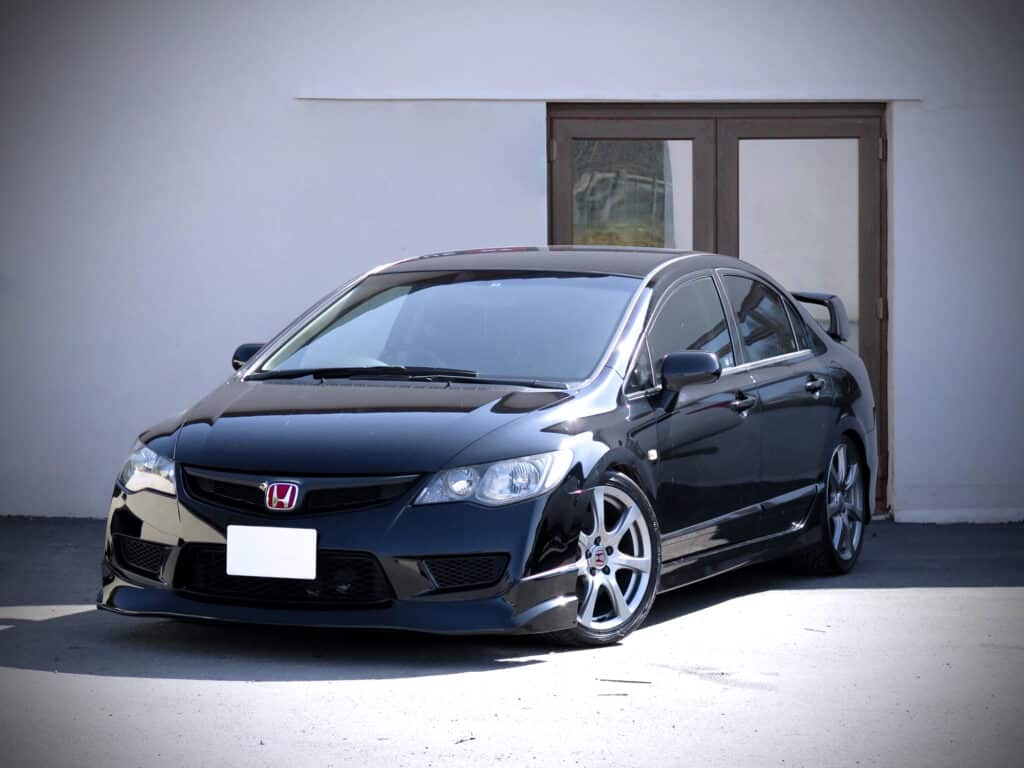 Drivetrain: FWD
Power output: 225 hp at 8,000 rpm
Engine: 2.0L K20 Inline 4
Torque: 158 lb-ft at 6,100 rpm
Curb weight: 2777 lbs
Who says FWD cars can't party? Even in its stock form, the Honda Civic FD2 Type R is set up perfectly for grip and Touge racing.
It is arguably the fastest and best-handling FWD car to ever roll out of Honda's stable, and could very well be the last 100% JDM Civic Type-R.
Its aluminum-bonded chassis, low weight of 2777 lbs, and multi-link rear suspension make this track-bred screamer one of the best sleeper cars for Touge racing.
The ultra-rigid body and limited-slip differential keep the frontend in check, minimizing torque steer and helping the car to turn sharply.
Honda S2000 AP2
Drivetrain: RWD
Power output: 238 hp at 8,300 rpm
Engine: 2.0L F20C/F22C Inline 4
Torque: 163 lb-ft at 7,500 rpm
Curb weight: 2798 lbs
The i-VTEC equipped Honda S2000 is not as popular among drift cars as you might think. It only comes alive at high RPM and lacks low-end torque, which is not ideal for drifting.
Also, because of its short wheelbase, it requires more technique to hold the drift. In contrast, these characteristics make the SK2 one of the best Touge cars for grip driving.
The lightweight engine mounted behind the front axle allows the S2000 to achieve a 50:50 weight distribution.
Nissan R35 GT-R
Drivetrain: AWD
Power output: 480 hp at 6,400 rpm
Engine: 3.8L twin-turbo VR38DETT V6
Torque: 430 lb-ft at 3,200 rpm
Curb weight: 3836 lbs
The GT-R is among the best JDM cars ever made. Its all-wheel-drive system is one of its secret weapons, owing to its unmatched traction and stability.
The twin-turbo VR38, which is easily one of the best high-performance Nissan engines, cranks 500 hp — plenty enough to accelerate out of corners confidently.
Also, its body is an aerodynamic work of art. It stays firmly planted at high speeds, while its responsive brakes provide formidable stopping power.
The GT-R's fine-tuned suspension offers ample comfort and performance, ensuring a smooth ride and capable handling.
Best Touge Cars for Drift Racing
What does it take to make a good drift car? For starters, an FR layout (rear-wheel drive, front engine). Additionally, plenty of low-end torque and limited-slip differential. Even a welded diff will do.
As opposed to mid or rear-engine cars that can't change direction as quickly, front-engine RWD cars put the front-end weight to good use and they don't oversteer very easily.
Mercedes-Benz AMG GTR
Drivetrain: RWD
Power output: 577 hp at 6,250 rpm
Engine: 3.9L twin-turbo M178 V8
Torque: 516 lb-ft at 2,100 rpm
Curb weight: 3,686 lbs
With its active rear-axle steering and sophisticated electrical aids, the AMG GTR, albeit not Japanese, makes for a fantastic Togue car. It boasts excellent handling with its active aero and lightweight chassis.
Its active steering can alter the toe angle of the rear wheels to decrease the turning radius at low speeds while adding stability at high speeds, which is ideal for Touge.
Although the AMG GTR is relatively heavy, its robust twin-turbo V8 and responsive auto-shift manual tranny are hard to beat.
Toyota AE86 / Corolla Sport GT-S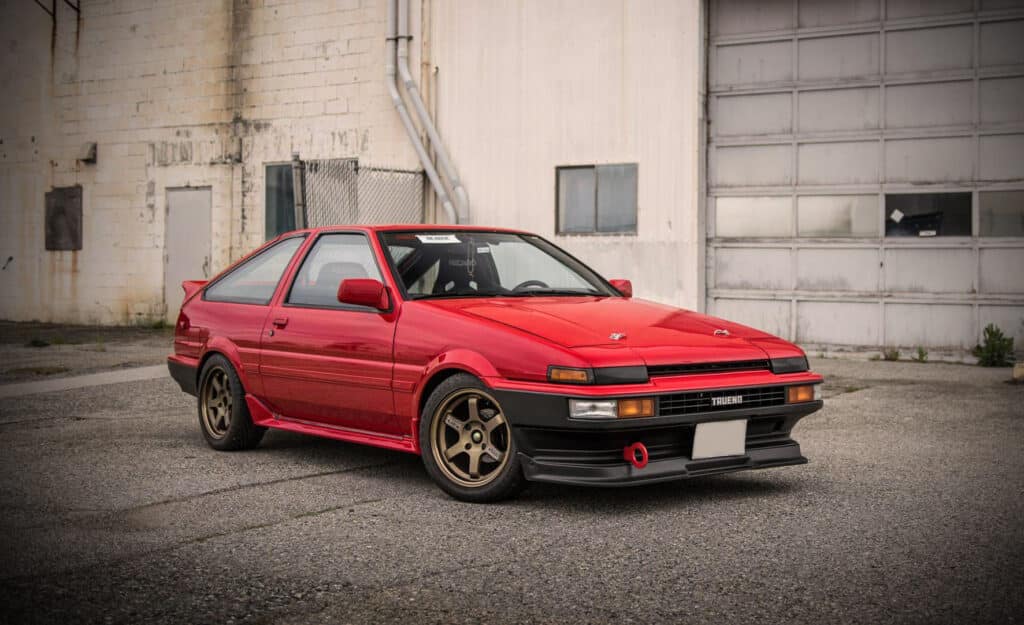 Drivetrain: RWD
Power output: 128 hp at 7,200 rpm
Engine: 1.6L 4A-GE 20v Inline 4
Torque: 110 lb-ft at 5,200 rpm
Curb weight: 1984
The Toyota AE86 is a legendary Touge racer in real life as well as in drift games thanks to its effortless driveability and predictable nature.
Right out of the box, its short wheelbase, RWD, limited-slip differential, and stiff-for-OEM sway bars make it perfect for mountain passes. The responsive steering and agile handling also allow it to navigate sharp corners with finesse.
The durable, relatively robust, and highly tunable 4-cylinder engine offers a perfect balance of power and reliability.
Mazda FD RX-7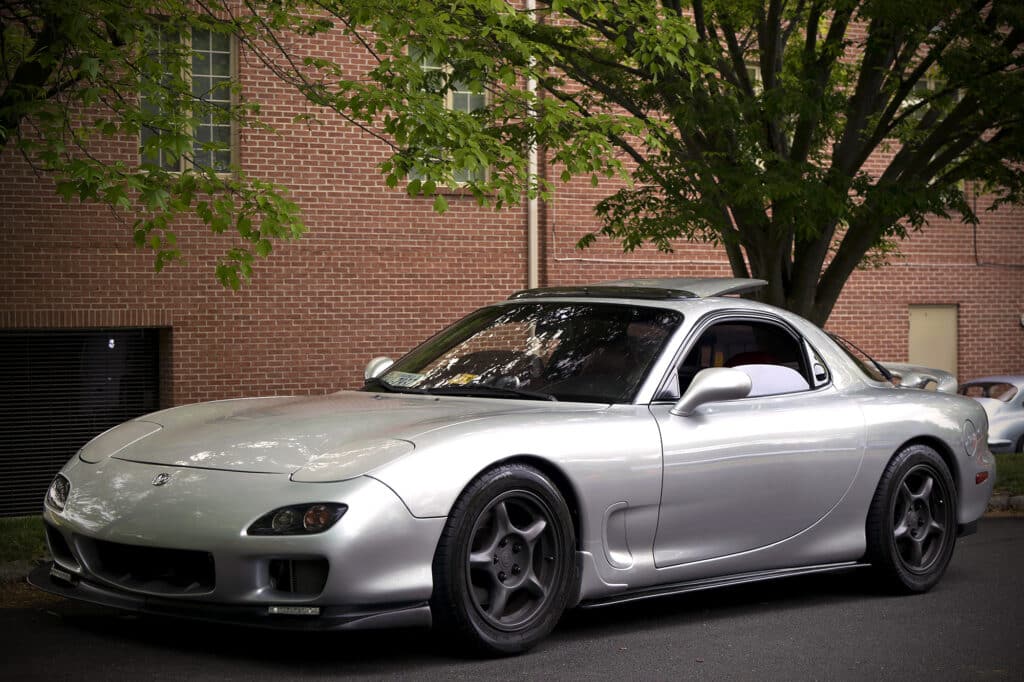 Drivetrain: RWD
Power output: 255 at 6,500
Engine: 1.3L twin-turbo 13B rotary
Torque: 217 lb-ft at 5,000 rpm
Curb weight: 2,500 lbs
The RX-7 FD has quite the reputation in Touge racing because of its perfectly balanced chassis and rev-happy 13B-REW motor.
Its short wheelbase ensures agility and responsiveness, while the car's low center of gravity aids in maintaining stability through turns.
If you opt for an RX-7, avoid highly modded examples since the RX series' Wankle engine is not as bulletproof as that of other Japanese cars.
Honorable Mentions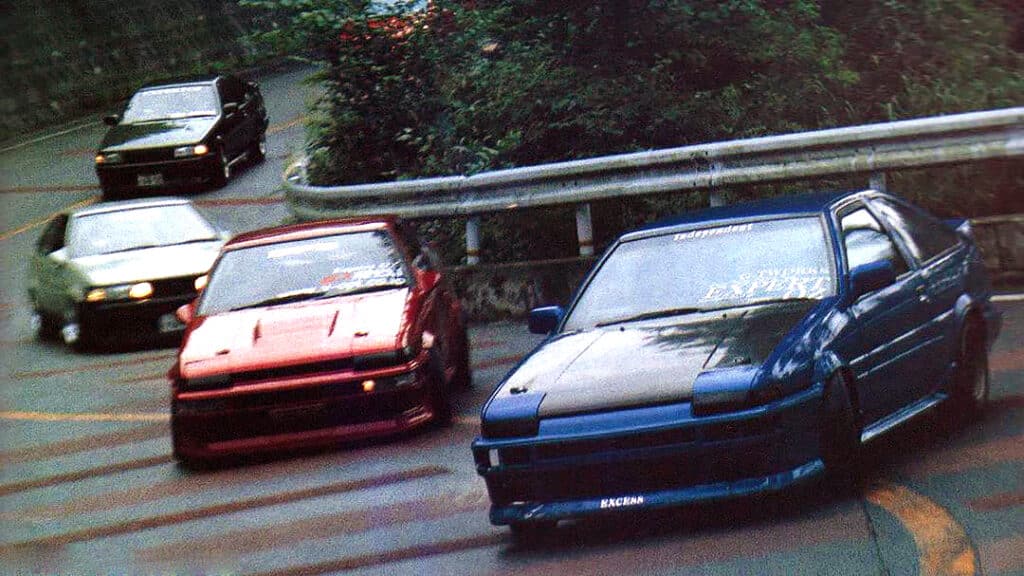 When it comes to Touge racing, there's so much more at play than just horsepower and torque. A lot depends on how the car is tuned, who's behind the wheel, and what upgrades are installed.
The cars listed in this article are undoubtedly some of the best Touge cars, but many others deserve a spot on this list. Some of those include:
Acura DC5 Integra
BMW E92 M3
Mazda Miata
Subaru Impreza WRX STI
Toyota 86
Toyota MR-2
What other cars would you add to this list? Let us know by leaving a comment below! If you like this article, do share it with your friends on Facebook and Reddit. We appreciate your support!