The BRZ is the definition of a driver's car. It's fun, agile, and rev-happy.
There's a reason why it is believed to be the closest spiritual successor of the Mazda Miata — unless you go hard on the throttle and stay high up in the rev range, it's not going to make much power.
Now, this is something that puts many potential BRZ owners off. If you can relate, or if you've outgrown the underpowered FA powerplant, then you should consider installing a turbo kit. That way you can beef up the power output by 40% to 50%.
Bear in mind that adding extra power will significantly change the drivability of your BRZ. Some say that it ruins the car while others say that it completes the package.
In our view, as long as your turbo build is executed properly and you use a modest amount of boost, turbocharging is the way to go.
Superchargers have their place in BRZ builds, but that topic is for another time. In this guide, we'll list and compare some of the best BRZ turbo kits available on the market today.
Supporting Mods for Your BRZ Turbo Build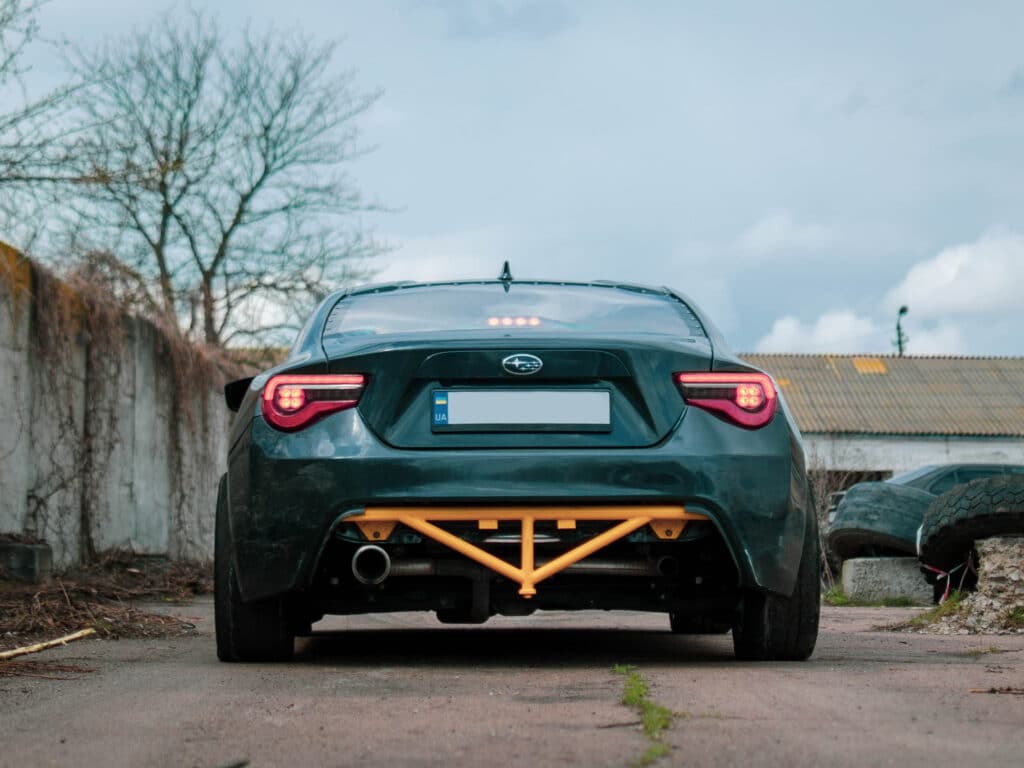 More power equals more heat, more wear and tear, and more maintenance. But that's to be expected when you're out shopping for turbo kits.
Forcing your engine to work double-time is easier said than done. While many JDM cars can easily handle twice their power output on stock internals, the same cannot be said about the Subaru BRZ.
Engine Internals
Despite being such an excellent platform for aftermarket upgrades, the BRZ's stock block has an underwhelming upper limit when it comes to handling additional power. Luckily, this can be fixed.
The stock internals of the FA engine can handle up to 380 whp, but to make anything more than that, you're going to need to upgrade some internals.
The OEM connecting rods are the first engine component that you should upgrade. Installing forged pistons will make the build even stronger.
If your engine is already on the verge of giving up or you don't mind changing it entirely, consider the pre-built short block kits.
IAG, Crawford Performance, and MAPerformance are some of the companies that make these.
Fueling
With more air entering the engine because of the turbo, you're going to need more fuel coming in as well. This can be done by upgrading to bigger fuel injectors that can spray a higher volume of fuel into your combustion chamber.
Most turbo kits mentioned in this guide come pre-packaged with larger injectors. But if you have a specific size in mind, you can always replace them.
Cooling
If you're wondering what other supporting mods should be installed along with a turbo kit, we recommend upgrading your cooling system.
This way you can manage the additional heat generated by the engine. This involves an upgraded radiator, a turbo intercooler, and most importantly, an oil cooler kit.
Other Bolt-On Modifications
To get that power to the ground safely, you'll want to research the full range of Subaru BRZ modifications that are available today.
At a minimum, look into some soft compound tires, and ideally some coilovers for your BRZ, so get it sitting lower to the ground and be sure that it's damping is matched to it's spring rate.
Then you have the essentials — a bolt-on BRZ cold air intake and a BRZ-specific aftermarket exhaust system. Source a turbo manifold that allows for optimum exhaust scavenging and backpressure characteristics.
The Best BRZ Turbo Kit
BRZ owners are spoilt for choice when it comes to aftermarket upgrades. There are plenty of turbo kits to choose from.
Even though most of these kits do the same thing, the way they make power, the way they fit, and their prices all vary significantly.
We've compiled a list of the best turbo kits for your Subaru BRZ below. Some of these are discontinued, so you'll have to find them on the used market.
However, there are plenty of options that are readily available for you to purchase right away.
JDL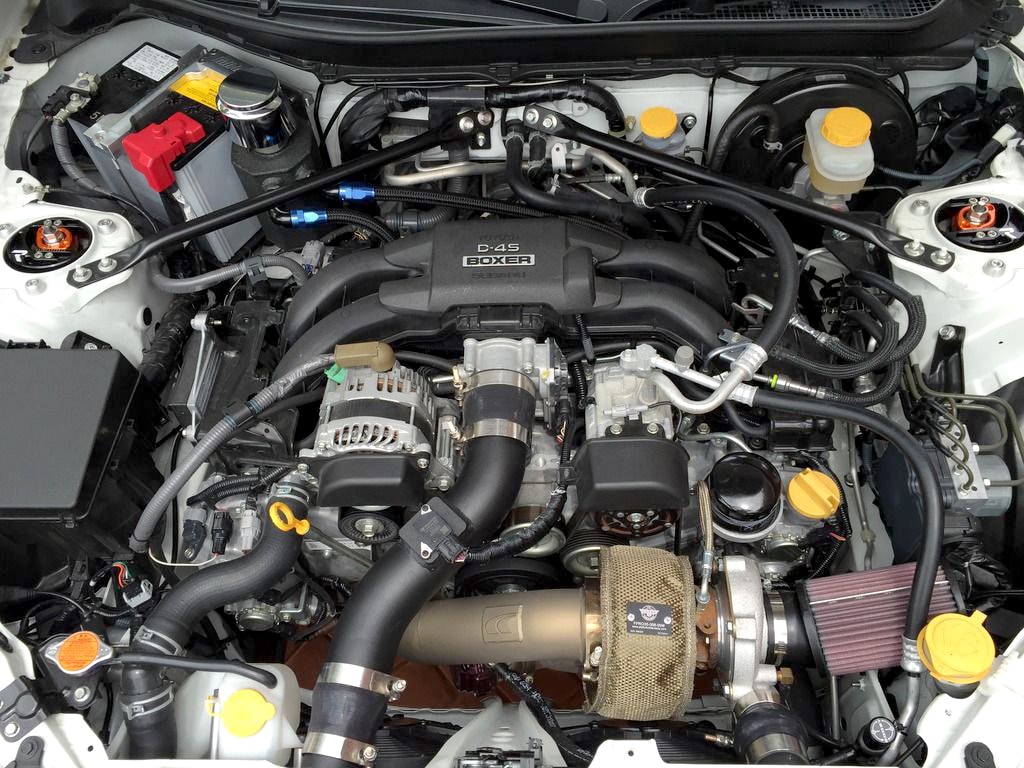 Manufacturer: JDL
Configuration: Single Turbo
Turbine: Garrett GT + GTX Range
Warranty: Lifetime (hot parts only)
If you're looking for a perfect balance between affordability and build quality, look no further. The JDL single-scroll turbo is an excellent deal, and it comes highly recommended by BRZ owners.
It's a tried and true platform with all kinds of customization options to choose from. JDL goes as far as letting you choose your own:
Turbochargers,
UEL or equal length manifolds,
Open vs recirculated dump tubes,
2.5" vs 3.0" downpipe outlet flange,
Thermal coating for hot parts,
Intercooler,
Heat coating and pipe color for intercooler,
Pre-welded oil pan,
Omni 3 bar map sensor,
Fan shrouds,
Fuel injectors, and
Fuel pumps
We've seen JDL turbocharged BRZ builds pushing close to 20 psi of boost, making 377 whp on a DynoJet.
To keep things reliable and not stress your motor out, you can dial in your boost at 7 psi and keep it there all day.
The kit also comes with a Turbosmart blow-off valve and a Turbosmart wastegate. However, there are some things that you'll have to source yourself.
These include exhaust gaskets, boost controller or boost gauge, and 5W-30 engine oil.
We recommend investing in a high-performance clutch that can handle the additional power to make your overall build even more reliable.
MAPerformance T3
Manufacturer: MAPerformance
Configuration: Single Turbo
Turbine: Precision Ball Bearing and Journal Bearing Range
Warranty: None
The T3 turbo kit by MAPerformance can easily be configured to suit a wide range of power output goals all the way from a daily-driveable 280 whp all the way to a 500+ whp.
"Future-proof" is an understatement when it comes to this turbo kit — everything is easily upgradable should your requirements change in the near future.
You won't have to take the trouble of sourcing a hundred different parts by yourself because MAPerformance has you covered. They've gone out of their way to include everything you're going to need to complete your build.
This includes:
3″ cold air intake.
Your choice of Precision Turbo & Engine turbochargers.
304 stainless steel 16 gauge UEL FA20 turbo manifold.
Turbosmart Compgate40 wastegate.
304 stainless steel 2.5″ downpipe with heat wrap + integrated wideband O2 bung.
 7.8″ X 22″ X 3.5 intercooler, 750 CFM flow rate, less than 2psi pressure drop at max flow.
2.5″ 304 stainless steel short route charge piping with a 3″ MAF pipe.
Your choice of Turbosmart blow-off valves.
Spal 12″ slimline fans.
Your choice of Fuel Injector Clinic plug and play injectors.
Deatschwerks DW65c fuel pump.
304 stainless steel dual oil catch cans.
304 stainless steel coolant overflow tank.
Modified radiator support.
Oil pan modification for turbo oil return.
All applicable hardware, hose, clamps, gaskets, etc.
The T3 kit is known to provide a much better midrange than the PTuning kit and many other turbo kits on this list.
You can choose between ball bearing and journal bearing center sections. Ball-bearing turbos are designed to provide better support to the turbine shaft under heavy load, they require less oil, and they run cooler than journal-bearing turbos.
P&L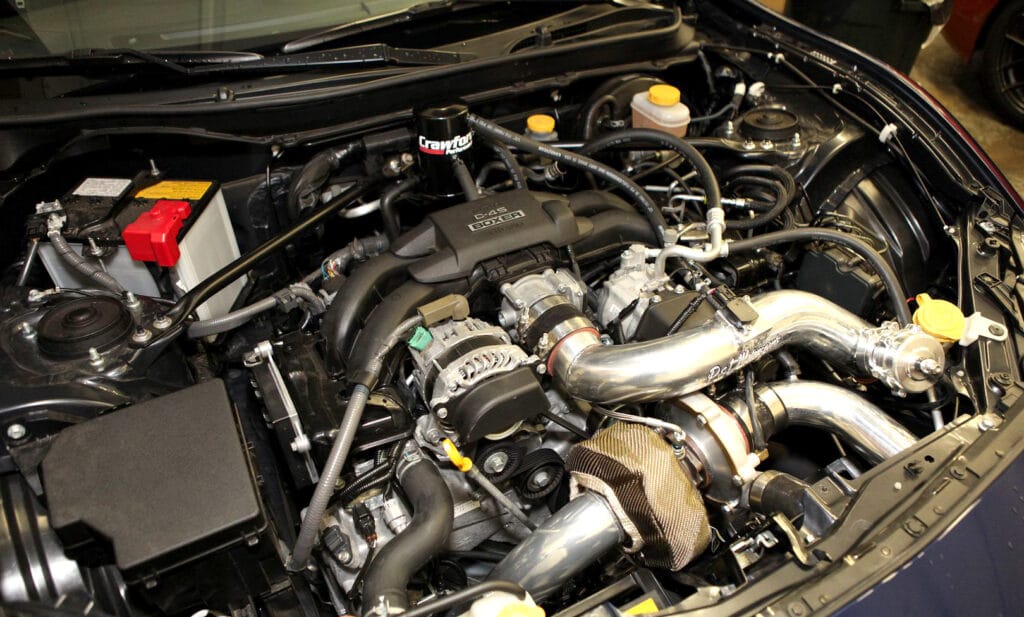 Manufacturer: P&L Motorsports
Configuration: Single Turbo
Turbine: P&L Spec Billet Wheel Precision Turbo
Warranty: 3 Years
The P&L turbo kit is special because it features a custom, in-house designed billet wheel turbine. So it's not your regular off-the-shelf Precision turbo. This is the secret behind this turbo kit's ability to withstand high levels of boost.
It spools relatively quickly and provides a steady and linear power delivery throughout the rev range. You do still get the turbo kick when it spools up but it doesn't suffer from big turbo syndrome.
With the boost dialed up between 15 psi to 18 psi, the P&L turbo kit can make up to 400 whp. Other than upgraded engine internals, a build like that demands ceramic coated headers and exhaust piping, a turbo blanket, and most importantly, an aftermarket oil cooler.
The P&L kit is ideal for 400+ whp builds, which explains its high price tag. If your intention is to go for a reliable build and cap the output around 280 whp, there are cheaper options that you can consider.
With these cars, anything more than 250 whp starts getting complicated with the requirement of motor mounts, clutch and transmission upgrades, etc.
PTuning Competition V2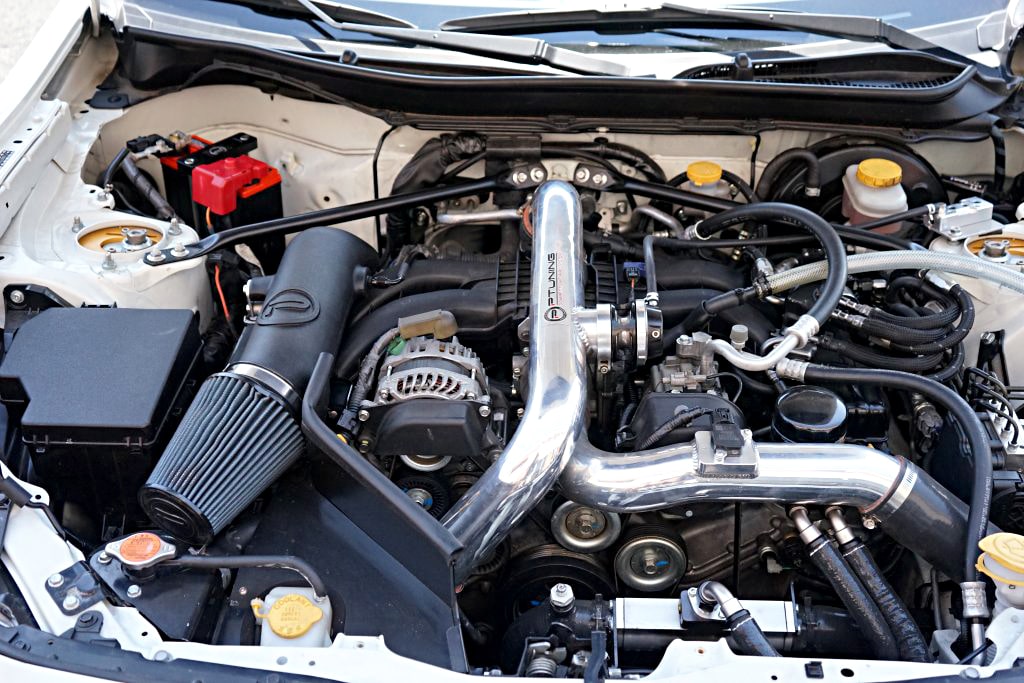 Manufacturer: PTuning
Configuration: Single Turbo
Turbine: Garret Dual-Ball Bearing GT Range
Warranty: 1 Year
PTuning is known to make high-quality and affordable turbo kits for the BRZ platform. Their new Competition V2 turbo kit is an improved and redesigned version of its first iteration.
You now have the option to run the smaller, faster spooling Garret GT and GTX 28 turbos alongside several more options.
You also get a 4" rotational-molded cobra-shaped air intake that lets you retain the factory strut cross-bar because it wraps around the backside of the engine block.
The low and mid-mounted turbocharger complements the low center gravity of the boxer engine and helps the overall balance of the car. This placement also allows for better cooling and a straighter downpipe.
If you're wondering how much weight a turbo kit will add to your BRZ, it's somewhere around 75 pounds — not too concerning.
The kit includes an intercooler core, mechanical turbo oil scavenging pump that requires no additional wiring, aluminum intercooler piping, and strangely even a 21mm sway bar.
Overall, the design is very minimally-invasive and OEM-looking. Though it's priced on the higher side, it's worth it because of how well-put-together the kit is.
Full Race EFR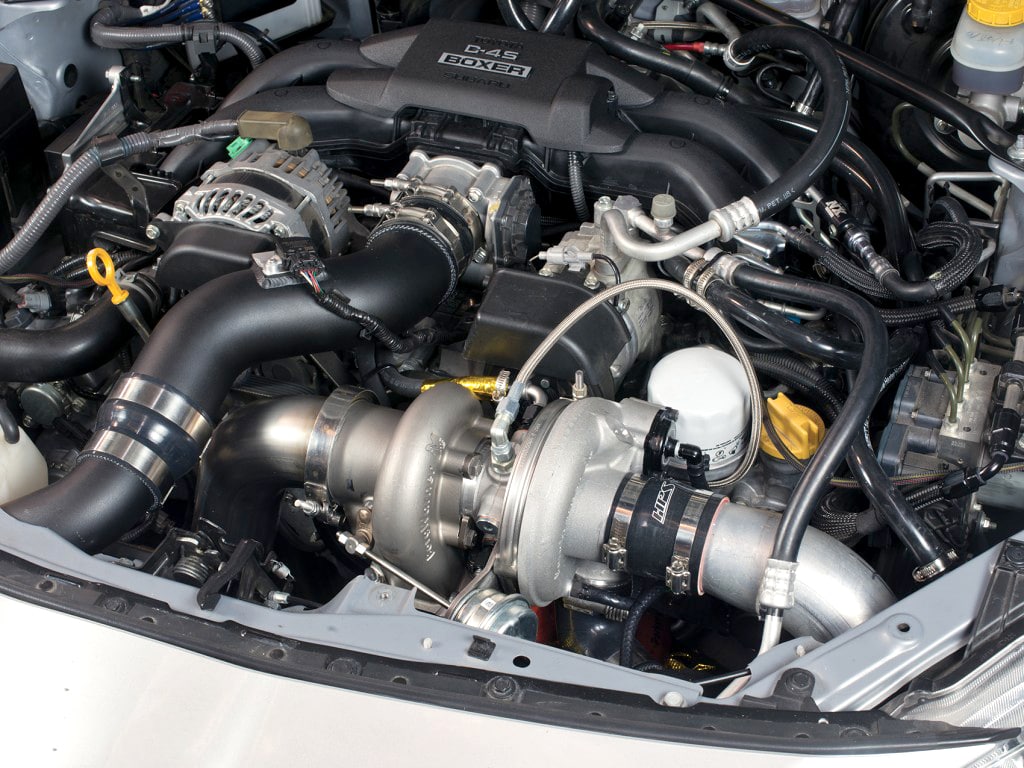 Manufacturer: Full Race
Configuration: Single Turbo
Turbine: BorgWarner EFR Series
Warranty: 1 Year
Full Race is a popular name in the world of forced induction and they've garnered a reputation for bringing us some of the best aftermarket turbo components for various platforms.
Turbocharged engines work best when optimized for maximum performance and efficiency on the exhaust side — this is the core principle that is shared across all their turbo offerings.
That's why the design and foundation of their turbo kits are centered around their signature turbo manifold.
This manifold features a hand-fabricated collector and TIG-welded runners. They chose low-angle merge collectors for quicker spooling and minimal power loss.
If you're picky when it comes to turbines, then you're in luck because you get to choose from several BorgWarner EFR turbochargers.
AVO Stage 2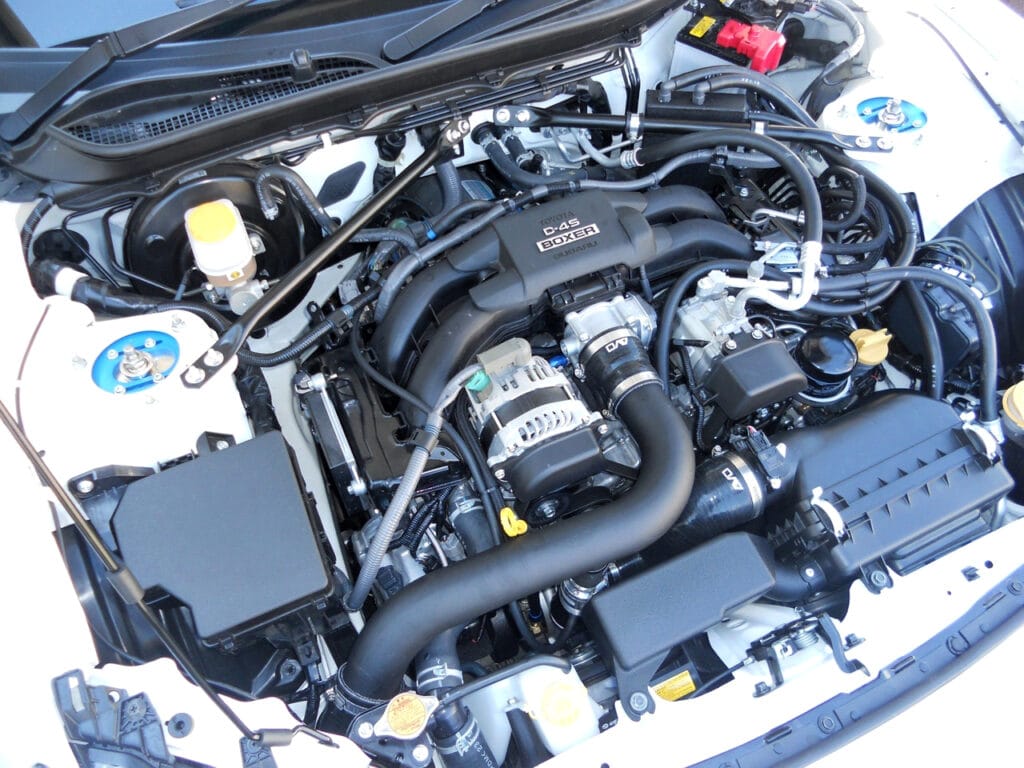 Manufacturer: AVO Turboworld
Configuration: Single Turbo
Turbine: AVO18/49
Warranty: 1 Year
AVO is one of those companies that really listen to enthusiasts and care about their feedback. People wanted a BRZ that felt boosted from the factory, and this turbo kit achieves exactly that.
Their stage 1 turbo kit was already a massive success among BRZ owners; they made it even better and now the stage 2 kit consists of everything you could possibly need. It includes:
AVO 7 psi actuator.
3-bar MAP sensor.
AVO street breather tank system with a turbo PCV valve upgrade.
Ceramic coated cross-over pipe.
Stainless steel front pipe with 5″ metal cat.
EcuTEK stage 2 base map.
Designed exclusively for the BRZ, it comes with the company's very own AVO18/49 turbocharger that mounts under the front section of the engine via a ceramic-coated, stainless steel unequal length exhaust manifold.
You're probably wondering why it's mounted underneath the engine — Subaru themselves chose this layout with their Forester, WRX, and Legacy turbo cars. The reason why it's the best setup is that:
The closer the turbo is to the exhaust power, the quicker it spools.
Mounting it under the engine helps to lower the center of gravity.
The way these cars are designed from the factory, the air tends to flow through the front and then underneath the engine. It makes sense to place the turbo there because that way it stays cool effortlessly.
We recommend purchasing new t-bar style clamps as the worm-drive clamps are prone to failure and cause the turbo inlet to leak.
With this kit, you also get an aluminum front mount intercooler with black piping throughout, a mechanical oil scavenging pump, an oil reservoir tank, and all necessary water and oil hoses and fittings.
HKS GTIII-RS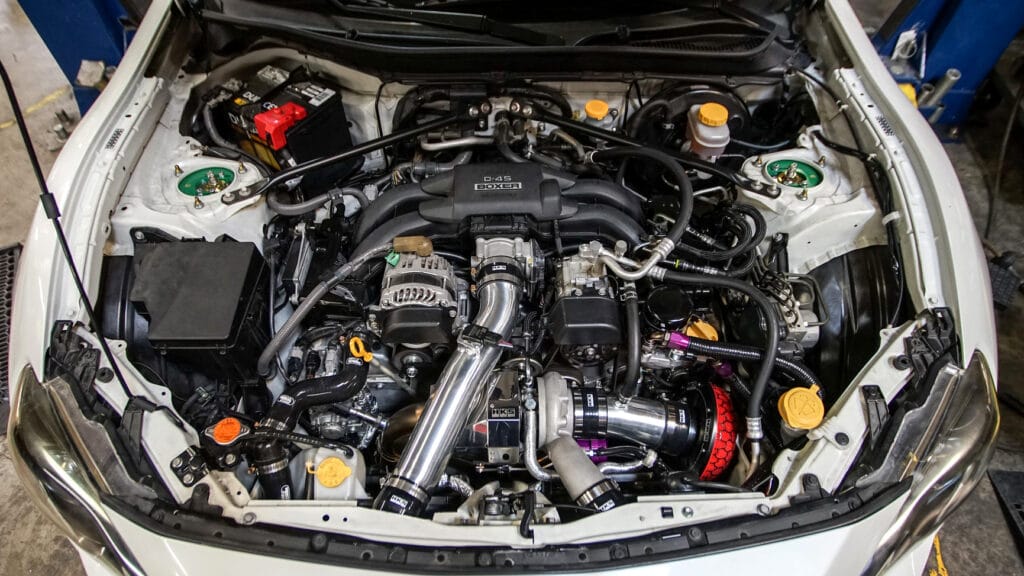 Manufacturer: HKS
Configuration: Single Turbo
Turbine: GTIII-RS
Warranty: 1 Year
Buy on: Enjuku Racing
The GTIII-RS by HKS is the perfect turbo kit for sprucing up low-capacity 2.0-liter engines like the FA20.
It is designed exclusively for the ZN6/ZC6 chassis and it does a fantastic job at providing a massive bump in power without spoiling the drivability of the BRZ.
Mounted within their very own machined housing and powered by an all-new compressor diffuser design, HKS have managed to reduce internal flow losses within the exhaust scroll.
This helps to smooth out the power delivery when the boost kicks in, makes that happen sooner, and prevents surging.
Note that engine management or upgraded fuel injectors aren't included with the GTIII-RS turbo kit — those will have to be purchased separately.
We recommend pairing this with the S-Type oil cooler kit by HKS for optimal cooling performance.
WORKS Stage 2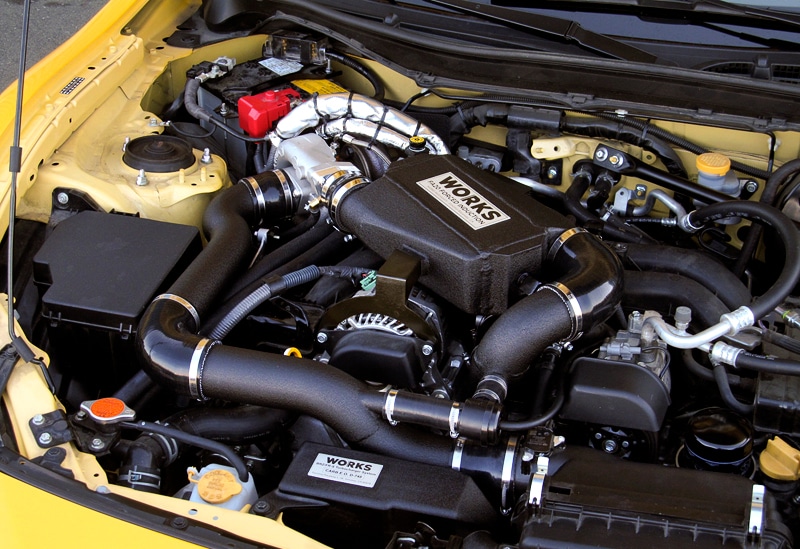 Manufacturer: Works
Configuration: Single Turbo
Turbine: Garrett GT28
Warranty: 1 Year
The WORKS Stage 2 kit is a significant improvement over the previous Stage 1 kit. This is mostly due to the addition of an air-to-liquid intercooler along with a higher boost threshold.
Equipped with a quick-spooling Garrett GT28 ball-bearing turbine, the WORKS Stage 2 kit provides efficient, reliable power and lets you retain your stock air-intake, exhaust manifold, and catalytic converter.
What we really like about this turbo kit is that it is extremely easy to install and is the least-intrusive turbo solution for the BRZ.
You can either choose to buy a tuner version of this kit or a pre-calibrated CARB compliant version.
This makes the WORKS kit the only CARB-compliant turbocharger for the Subaru BRZ. That's commendable, however, the pre-calibrated kit only provides a 35% improvement in power on the stock block.
You could get that amount of power gain with a few bolt-ons and a good tune. That said, a CARB-legal 35+% bump in power, paired with the right bolt-ons and coilovers in a modified sleeper BRZ doesn't sound too bad.
Full Blown Stage 1 Base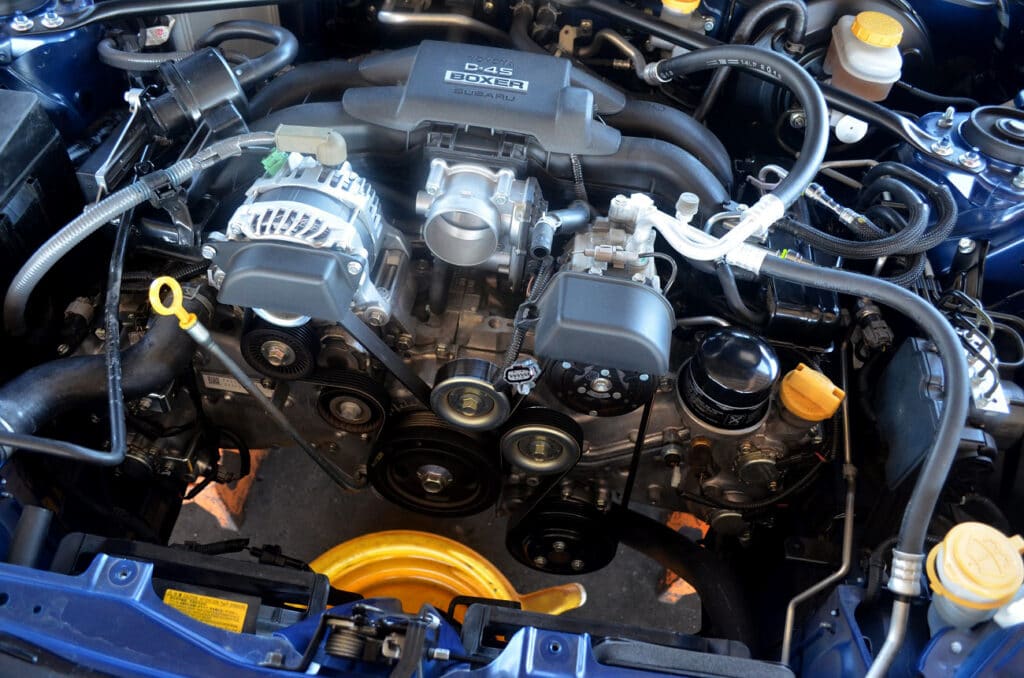 Manufacturer: Full Blown Motorsports
Configuration: Single Turbo
Turbine: Garrett / PTE / T3
Warranty: Lifetime
Full Blown Motorsports or FBM is a well-renowned name known for its expertise with forced induction.
Their BRZ turbo kit does two things really well that many other options in this list cannot do — it's affordable and rated for power figures in the ballpark of 440 whp.
Of course, you'll need other modifications if your BRZ is making that kind of power, but depending on where you source the kit from, you can get it for well below $5K.
Here's what's included with the stage 1 base kit:
FBM base EL turbo manifold.
Choice of turbo 50 trim, 57trim, or GTX28 (please see option).
FBM aluminum wrinkled black intercooler piping with couplers.
FBM 3″ downpipe.
FBM 550hp Intercooler with cast tanks.
FBM intake pipe.
FBM dump tube.
Precision turbo 39mm wastegate.
Tial 50mm Q BOV.
FBM 550cc injectors.
FBM 270LPH pump.
FBM dual slim fans.
All hardware/oil lines and gaskets.
FBM 7psi basemap (does not include license).
That's quite comprehensive for an affordable turbo kit. The 7psi basemap tune and install guide is provided in the form of a USB stick. That's thoughtful.
Makes a respectable 276 whp from just 7 psi of boost. That's reliable power right there. And if you want to up the ante a little, running ~11 psi of boost on E85 fuel will easily make up to 360 whp.
Crawford Performance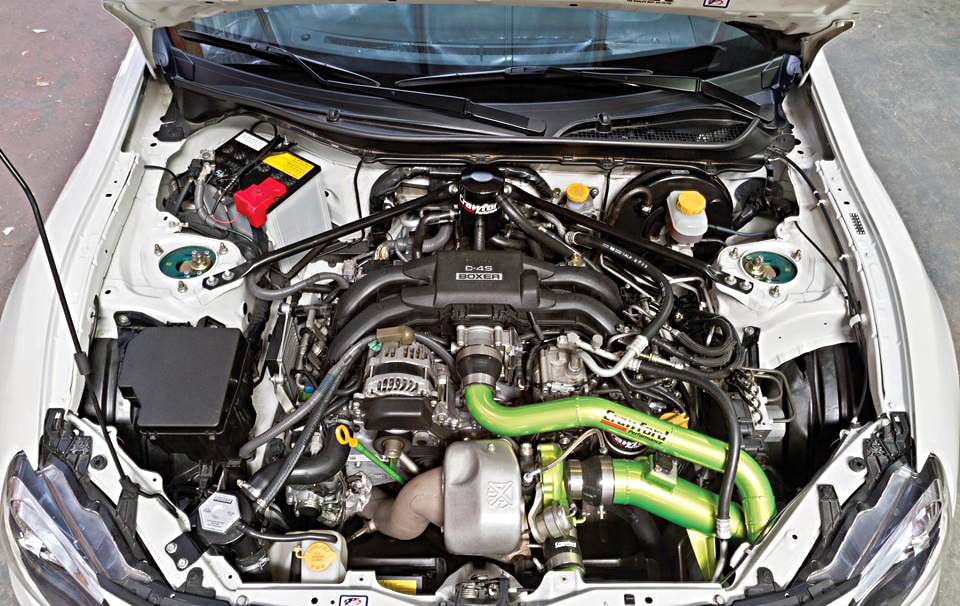 Manufacturer: Crawford
Configuration: Twin-Scroll
Turbine: IHI VF37
Warranty: Limited Lifetime
The crew at Crawford performance has worked on Subaru engines and nothing but Subaru engines for the longest time. It's their specialty.
With that in mind, it's safe to say that they know how to make a great turbo kit for the BRZ.
Quirt Crawford, a Subaru specialist at Crawford performance, swears by the FA20 platform and believes that's the best boxer made by Subaru yet — much stronger than the EJ engine.
We're sure you've heard con-rod failure stories but we're talking about the tunability of these engines.
Untuned, it's not important how much power an engine makes from the factory. It's all about how much it can make with the right mods.
And Crawford Performance knows that. That's why they've designed their twin-scroll turbo kit to push big numbers from this seemingly tiny 2.0 L boxer-4.
Because it's a twin-scroll turbo, expect quicker boost response, reduced exhaust loss, better turbo efficiency, and more power.
However, if you're on the lookout for a proper twin turbo kit for your BRZ, you're going to have to search a lot.
This kit is getting harder to find each day, if you manage to get your hands on one of these, consider looking into Crawford's pre-built short blocks if you want to push beyond 400 whp.
GReddy V3 GTX-R Tuner Turbo Kit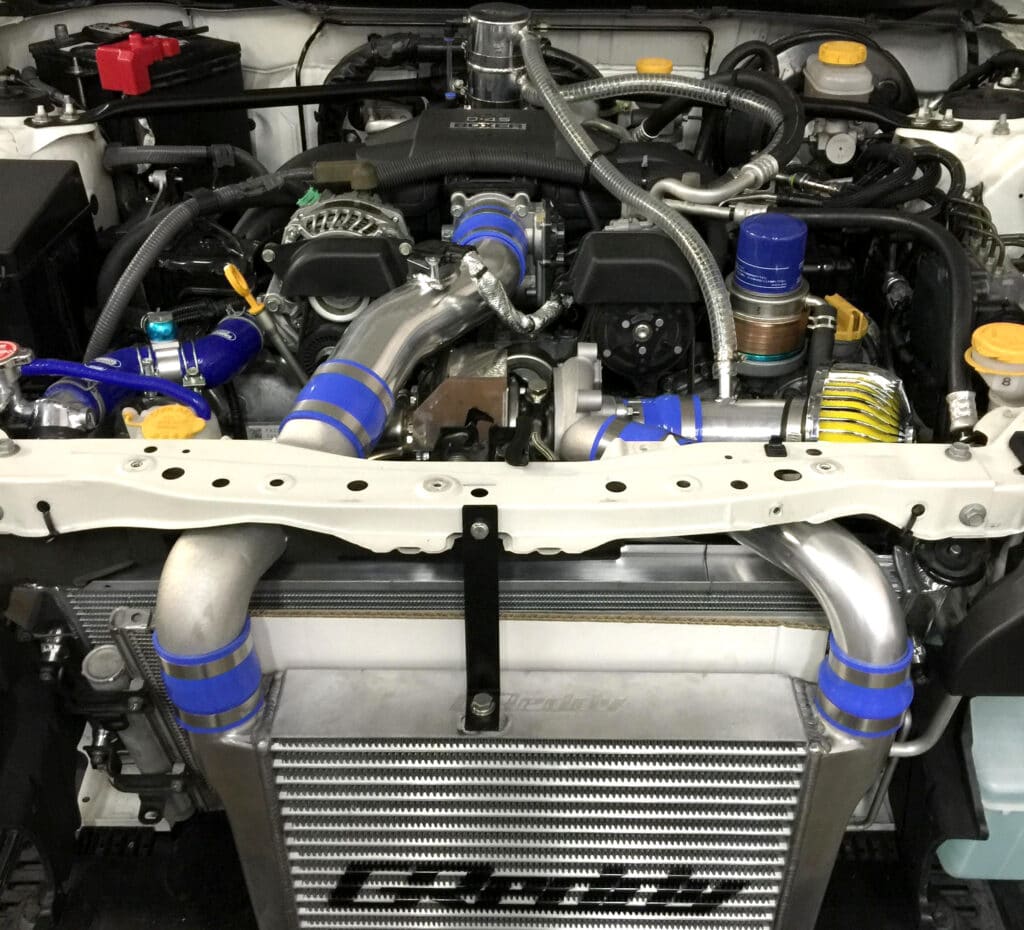 Manufacturer: GReddy
Configuration: Single Turbo
Turbine: GTX2867R
Warranty: 1 Year
Even though Greddy's V3 GTX-R Tuner turbo kit is now discontinued for the USA, it's worth mentioning in this list because of how great it was. It won Dsport Magazine's forced induction challenge.
A few things we really like about this kit:
Flex pipes — they reduce stress on the exhaust manifold and prevent cracking
The pipe routing is designed in a way that reduces overall length and bends.
The intercooler is sized appropriately so that you can include an oil cooler — something the BRZ really needs when it's boosted.
It looks great, although this is very subjective.
Overall it's a decent package. You can't really go wrong with Greddy. For those of you who want to buy this turbo kit in the USA, your best bet is to scour the used parts market.
Our Top Picks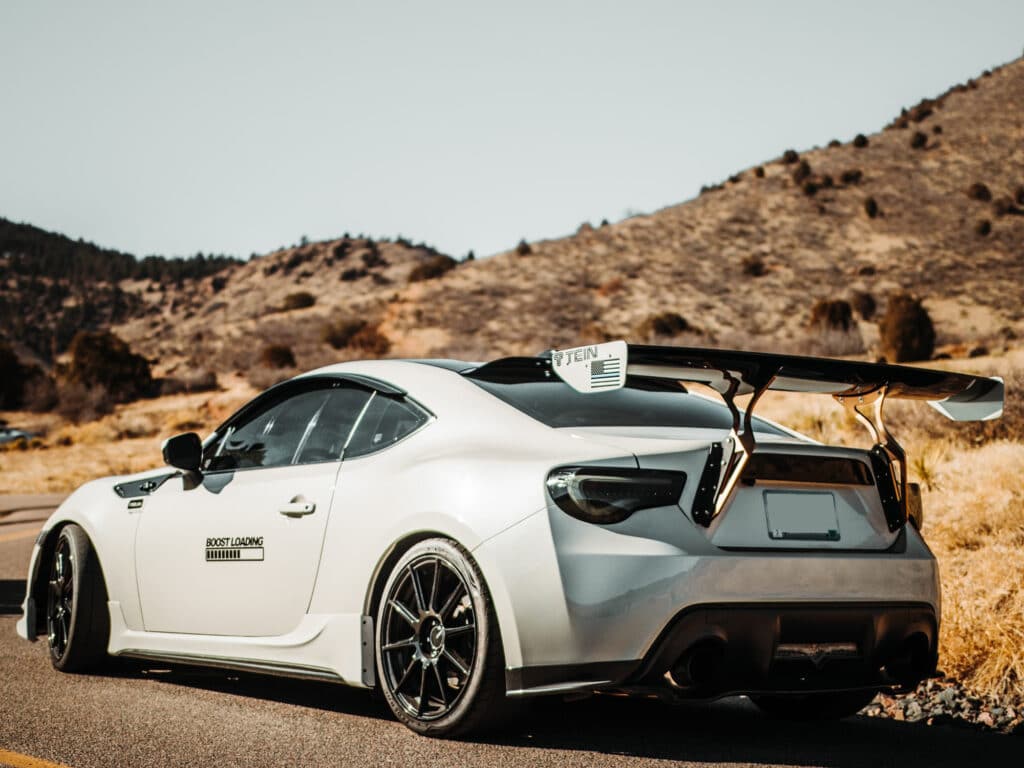 BRZ owners are truly spoilt for choice when it comes to aftermarket forced induction options. With so many compelling turbo kits to choose from, we understand how challenging the decision might be.
The best thing to do is to stay local. If you find that one of these turbo kit manufacturers is a short drive away from where you live, it's a no-brainer and it'll help to make your decision easier.
You'll save a ton of cash and time on logistics, in case something does go wrong.
That said, we do have some favorites. Below are three turbo kits that took the top spot for us in their respective categories.
Best Overall: AVO Stage 2
The biggest reason why AVO takes the top spot for us is that they've consistently demonstrated that they know what enthusiasts want and they deliver.
Their comprehensive BRZ turbo kit contains everything you could possibly need to complete your build.
You hardly have to source anything by yourself. In fact, if you ask the guys over at AVO nicely, they'll even be able to source some parts for you that aren't typically included with their turbo kit!
Value for Money: HKS GTIII-RS
Let's face it, turbo builds don't last forever. It will eventually break down at some point. Considering the short lifespan of turbo builds, it makes sense to not splurge, especially if you're on a budget.
If you agree, we'd say put your money on the HKS GTIII-RS turbo kit.
Most Reliable: WORKS Stage 2
The WORKS Stage 2 kit is hands down the best turbo kit for BRZ owners for whom budget isn't a concern but long-term reliability is.
It is the most reliable turbo option on this list and safe too. It's carb compliant in all 50 states, and you can expect an additional 90 whp. Not too shabby.
Remember, no matter which option you choose, you should expect to pay a higher premium for your Subaru BRZ's insurance coverage. Added horsepower means you're going to drive faster, at least in the eyes of your insurer.
What's your opinion on boosted BRZs? And which turbo kit is your top choice? Let us know in the comments below!