Your Subaru BRZ is sleek, nimble, and best of all — has a heap of potential. For this reason, it's one of the most popular tuner cars on the market right now.
It's fun to play around with BRZ modifications, as Subaru has gifted you with the perfect opportunity to build a performance monster. With a little tinkering, you can a heap of performance and enjoyment out of this little machine.
In this guide, we review some of the best cold air intake options for your BRZ and highlight our absolute favorites.
When Should You Upgrade to a CAI?
If you've modified cars in the past, you probably know that your engine wants clean air. Cold air? Even better! It's a simple equation — cooler air means more horsepower.
Cold air has more oxygen molecules than warm air, and oxygen-rich air allows your engine to burn fuel more completely, and therefore more efficiently. So it's no surprise that one of the cheapest and easiest ways to boost your BRZ's performance is with an aftermarket cold air intake (CAI).
Subaru's stock intake system is restrictive, so it limits the potential performance of your BRZ. This is because manufacturers are in a tussle between giving you high performance with a good airflow system while adhering to strict emission standards.
When you install a cold air intake, you move the air filter further out from the engine compartment, away from the heat. This allows cooler air to flow into the engine for better combustion.
Assuming you've already done a few mods and you're looking to squeeze out some more from your BRZ, a cold air intake will do the trick. Not only can it improve power output and throttle response, but more excitingly, you'll hear a nice change in intake noise too.
Supporting Mods & Upgrades
Depending on what you're looking for, different air intake systems serve different purposes. An obvious reason to purchase a replacement would be due to wear and tear. That aside, CAIs usually come into the picture for heightened performance and sound.
Either way, before we get into the top options for upgrading your the intake on your BRZ, let's look at a few supporting modifications and add-ons for you to look out for.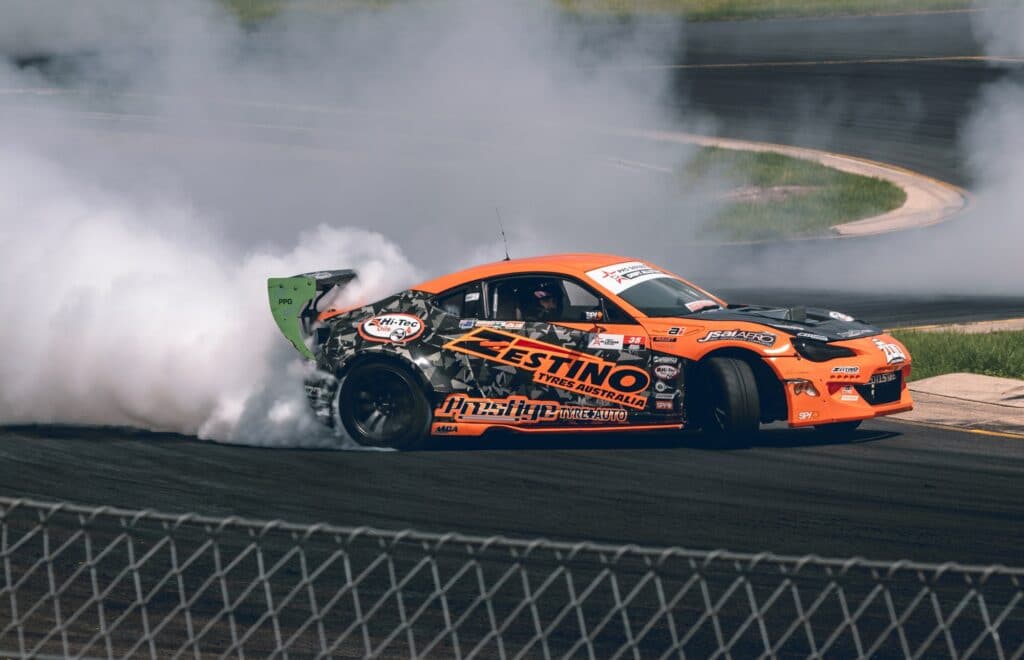 Heat Shield
The whole point is to control and reduce the temperature of the air going into your engine. This is doubly important if you live in a warmer climate where your intake alone won't be enough to suck in cold air.
Heat shields have one or more layers of stamped metal designed to wrap around various parts of your Subaru BRZ's exhaust system. The main goal is to reduce the heat around the filter area.
While your OEM heat shield will last you the life of your Subaru, if you're aiming for more power, you may want to upgrade to a more heat-resistant material. Aluminum is the most popular option.
Intake Manifold
Sitting proudly on top of the engine, the intake manifold is integral to the combustion process. It maintains harmony between air mixed fuel, the spark, and the final combustion. A manifold features a series of tubes that ensure the even distribution of incoming air into all the cylinders.
The intake manifold also helps in cooling down the cylinders and preventing your engine from heating up. Using aftermarket performance manifolds with taller and larger runners feeds the engine more air and fuel to increase the torque, increasing horsepower as a result.
If you're upgrading your CAI for power, then upgrading your intake manifold makes sense.
High-Flow Fuel Injectors
Fuel injectors spray fuel into your engine through an atomizing nozzle that evenly distributes fuel for optimum performance. Even though the OEM injectors get the job done, if you are looking to squeeze the most power out of your engine, then performance injectors will only help.
Especially with upgrades like a cold air intake, an aftermarket camshaft, or even changing engine displacement, your BRZ will be taking in more air, and so you will need to upgrade your fuel delivery system too.
Performance fuel injectors give you greater horsepower and torque, and if they are correctly tuned, they can also improve fuel economy.
Aftermarket Throttle Body
The throttle body sits between the air intake system and the engine manifold. It is integral to combustion engines as it controls the amount of air flowing into the engine.
Aftermarket throttle bodies are usually larger than stock parts. Not only do they boost overall horsepower, but they also increase acceleration performance.
If you're looking for more torque, then you should consider upgrading your throttle body too.
Best Cold Air Intakes for Your Subaru BRZ
From budget-friendly to high-performance, below we'll dive into the various kinds of cold air intakes available for your Subaru BRZ.
Remember, before you jump to a purchase, assess the mods you already have under your hood. And if you are looking for upgrades within a fixed budget, total up the cost of a CAI with any other parts you plan to add on too.
Budget-Friendly BRZ Air Intakes
Off the bat, rarely will you pick a 'wrong' cold air intake system. Structurally, they're all similar and will more or less give you results as promised.
Here are some cheap cold air intakes for your BRZ that will get your engine growling with promising power.
K&N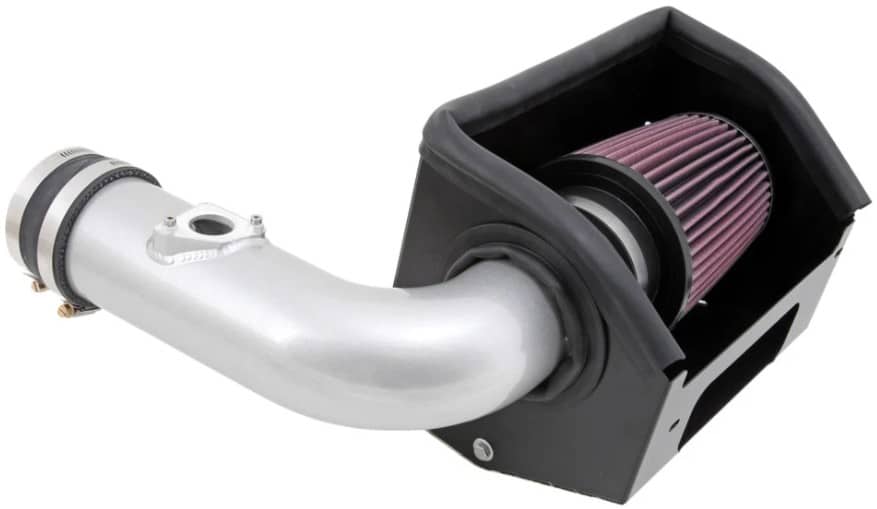 Manufacturer: K&N Engineering
Part Number: 69-8619TS
Power Gain: 6-7 HP
Warranty: 1,000,000 Miles/10 Year
Buy On: Amazon
K&N easily offers one of the most affordable cold air intake options available for your Subaru BRZ. The brand comes with the promise of reliability and stellar quality making it one of the most popular air intake systems.
For its price, you get unmatched performance with custom-engineered tubes for efficient airflow. The oversized air filters use cotton gauze instead of the usual paper, which translates to increased airflow, thereby keeping the engine safe from excess heat.
K&N is an easy choice among the best BRZ intakes. While 6-7 HP in power gain may not sound like a whole lot, it'll make a substantial difference when you get behind the wheel.
Mishimoto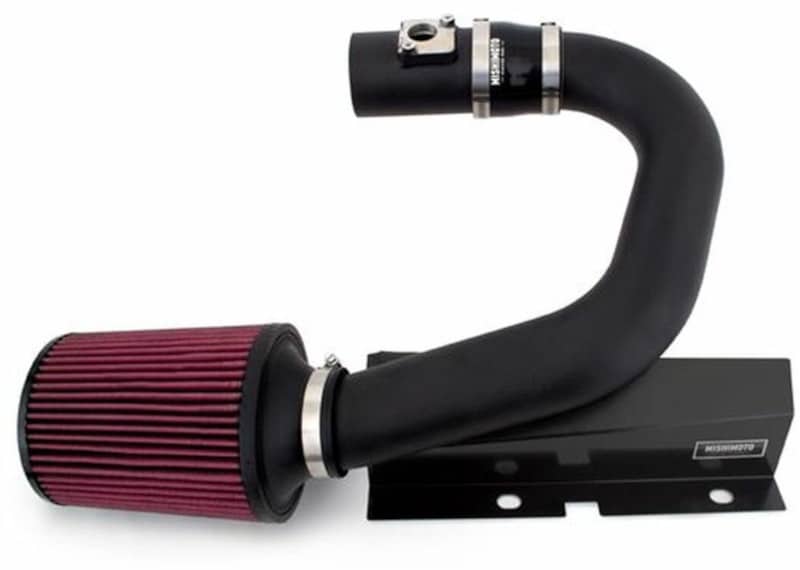 Manufacturer: Mishimoto
Part Number: MMAI-BRZ-13WBK
Power Gain: 11 HP
Warranty: Lifetime
Buy On: Amazon | Enjuku Racing
If you're fresh on the scene and looking for an easy installation option without too much hassle, then Mishimoto will come through for you. Their automotive cooling systems are built on decades of experience and R&D, and they have a CAI made especially for your BRZ.
What makes Mishimoto stand out from the crowd is the amount of horsepower and torque that you can gain. The promise of 11 HP is a great selling point in itself, but the air diverter plates further sweeten the deal.
These air diverter plates provide ample airflow for the intake filter and the radiator at the same time. Any additional help to keep the engine heat down is welcome.
AEM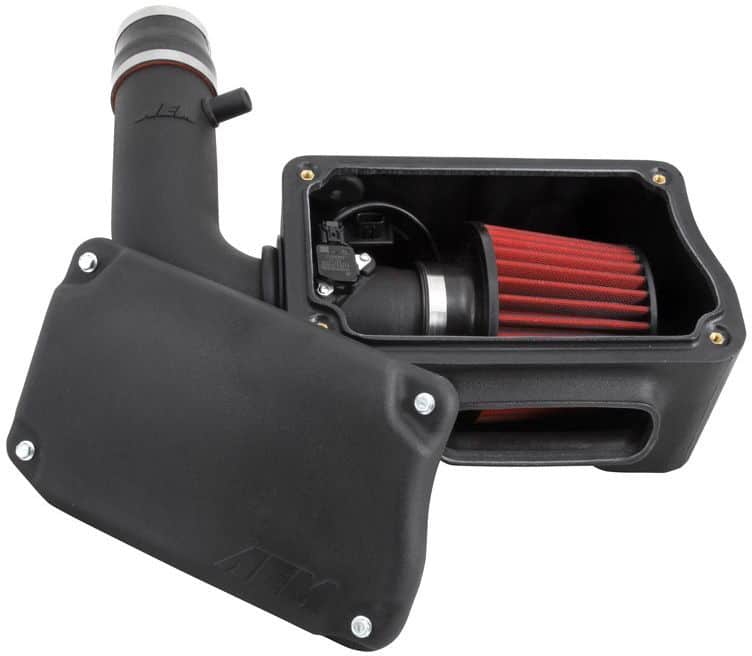 Manufacturer: AEM Induction Systems
Part Number: 41-1408DS
Power Gain: Around 10 HP
Warranty: Limited Lifetime
Buy On: Amazon
When it comes to aftermarket upgrades, you just can't go wrong with AEM. All AEM intake systems feature their custom DryFlow air filters which significantly increase performance over the OEM style. They are quick to install and require no add-ons or supporting parts.
Unlike regular filters that use cotton gauze, these use washable synthetic filters that are designed to optimize airflow. If you're looking for a dependable intake system with low maintenance, then AEM will work fine for you.
High-Performance BRZ Cold Air Intakes
When it comes to high-performance intakes, you're not only looking at improved power gains, but also better airflow, richer sound, and stellar build quality.
Naturally, this translates to higher durability and easier maintenance. And that convenience and comfort can be worth the extra bucks. Of course, there is added performance too!
Corsa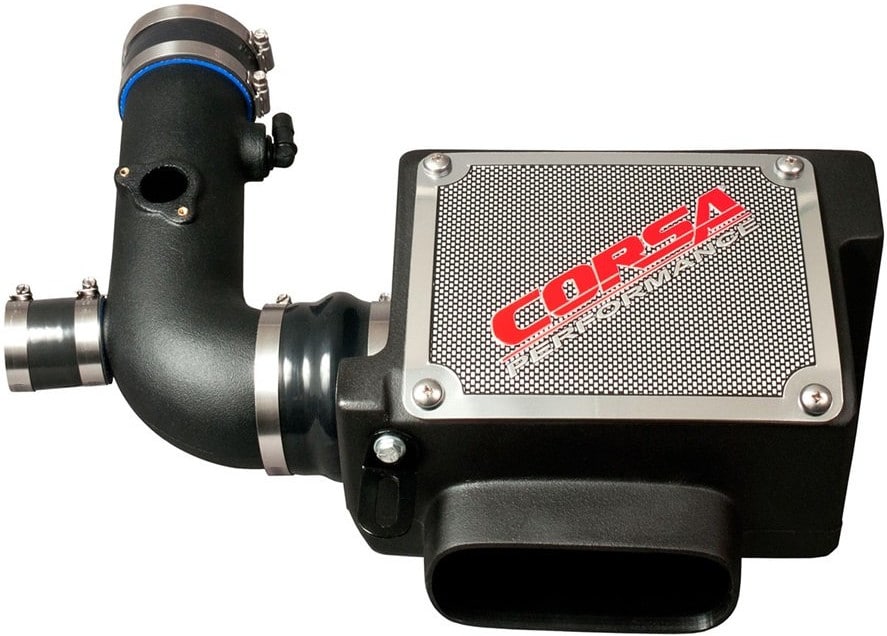 Manufacturer: Corsa Performance
Part Number: 185206
Power Gain: 18 HP
Warranty: Lifetime
Buy On: Amazon
If you're looking for high performance with a great deal of extra horsepower, Corsa's intake system is the perfect solution for you. Backed by a Donaldson PowerCore® Filter, Corsa's intake system will set your BRZ at the top of the line.
The closed box fitting is a great heat shield to protect your engine from hot air and the filter boasts nearly 98% efficiency in keeping out even microparticles from your engine. Now you see why BRZ owners jump at Corsa for that sweet promise of an additional 18 HP.
Basically, when it comes to performance and increasing your BRZ's power output, there isn't much debate left. Corsa's closed-box intake system is a clear winner.
Perrin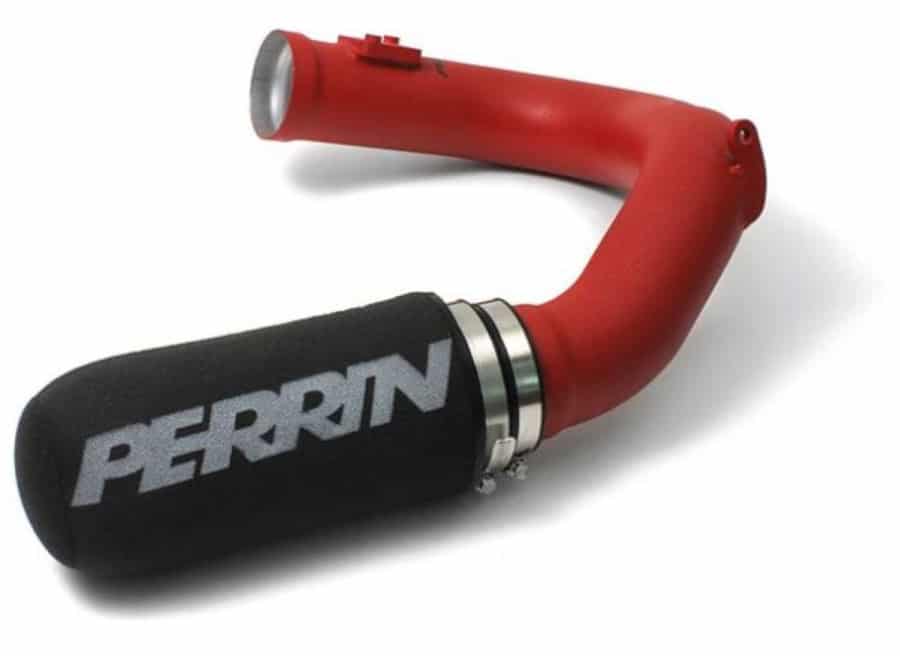 Manufacturer: Perrin Performance
Part Number: PSP-INT-330RD
Power Gain: 5 HP
Warranty: 5 Years
Buy On: Enjuku Racing
When it comes to aftermarket products for Subaru owners, Perrin Performance are well known for a reason. Their air intakes are no exception.
Off the top, there are two things that make Perrin stand out among the others in this list. One, the air filter is installed behind the front bumper. This allows colder air through the filter and into the engine instead of substantially hotter air from the engine bay. The open-cell foam adds to the efficiency of the system, and it is washable and reusable too.
Two — the stunning red powder coating finish. That's definitely going to grab some eyeballs to your BRZ. Overall you get a CAI that scores in the performance department and in aesthetics.
aFe Power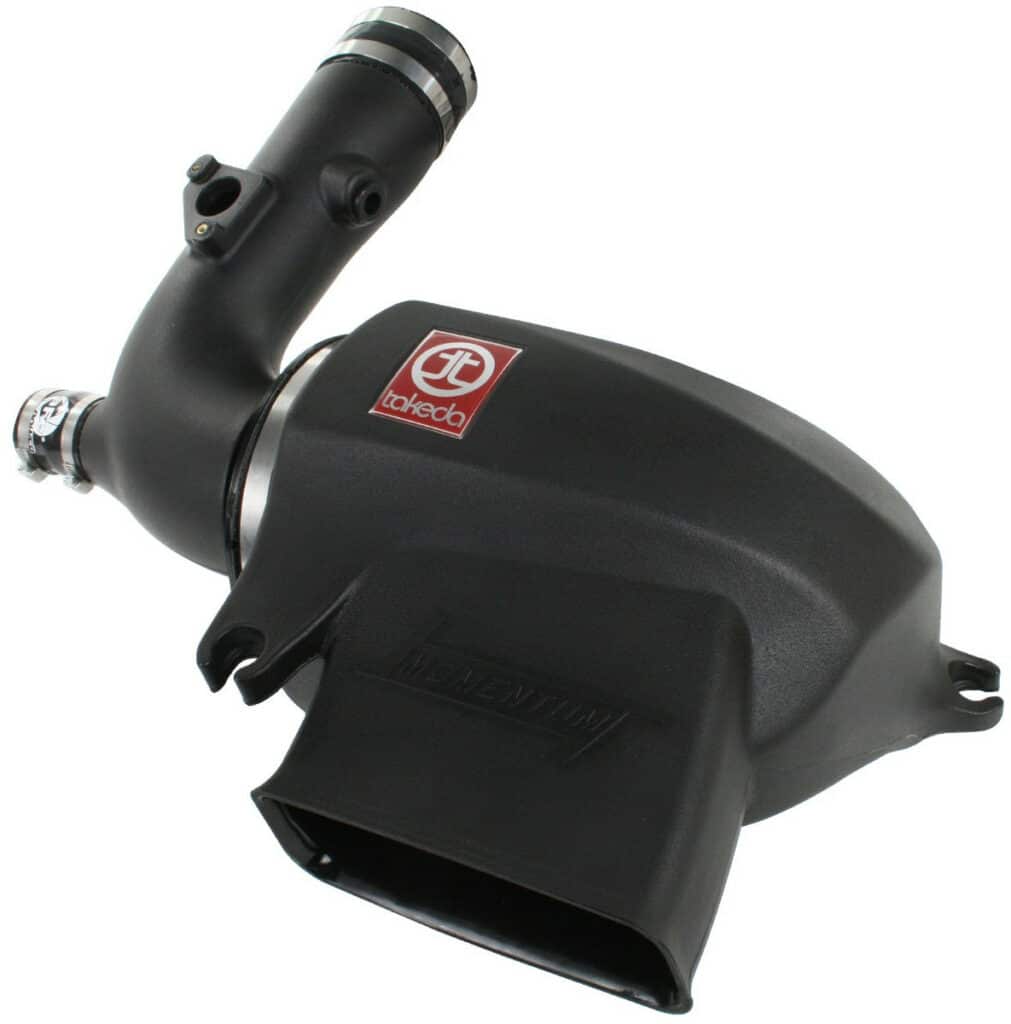 Manufacturer: aFe Power
Part Number: TM-2013B-D
Power Gain: 9 HP
Warranty: 2 Years
Buy On: Amazon | Enjuku Racing
aFe Power has a killer cold air intake system for your Subaru BRZ. The Takeda Momentum CAI system is designed to give the BRZ a nearly 55% increase in airflow, easily making it a contender for those of you looking to pull high performance.
This CAI makes use of a Pro Dry S filter media, which is a 360° filter that ensures that the air going inside your engine is as clean as possible. Unlike typical intake filters, this filter is conical shaped and encased inside the sealed housing.
The Takeda Momentum is sealed to house the intake system and connect to a built-in air scoop which is designed to capture air at the front of the vehicle and filter the air flow directly into the tubing. Additionally, the roto-molded intake tube leads the airflow into the motor without restrictions.
Our Favorite BRZ Cold Air Intakes
It's safe to say that all the air intake systems reviewed here will get the job done, and exceptionally well at that. What it all boils down to is your budget and how much power you want to squeeze out of your BRZ's engine.
The joy of tinkering with aftermarket parts is that you get to decide exactly what to pack on and how far you want to push for performance.
Having said that, here are our favorites for the best cold air intakes for the Subaru BRZ.
Best Value Subaru BRZ Intake System: K&N
Incredible performance and at an affordable price — K&N's intake system is a people's favorite with reason. The brand lives up to its reputation. It's easy to install and will have your BRZ growling down the street.
Highest-Performance BRZ Intake Kit: Corsa
With a whopping 18 HP bump-up, the Corsa cold air intake is our pick for a high-performance upgrade for your Subaru BRZ. Pulling that much power will have your engine roaring coupled with a shield to protect your engine from heating too.
Of course, an upgraded intake system can only take you so far. If you want to keep the naturally aspirated feel of your car while also getting a substantial bump in power, check out our guide to the best BRZ supercharger kits.
Remember; making upgrades can affect your Subaru BRZ's insurance coverage. Be sure to call your insurer to let them know about any modifications you have made.
Got a favorite that we missed? What additional parts are you looking at along with a cold air intake for your BRZ? Tell us in the comments below.