Every JDM car enthusiast knows about Nissan's family of turbocharged, straight-6 RB engines, found under the hood of the manufacturer's legendary Skyline models, from the R32 to the last R34 GT-R.
We're willing to bet that most gearheads have never heard of the RB30-DET, though, unless they're from Australia or New Zealand.
If you haven't heard of it, don't worry, there's a perfectly good reason for that — Nissan never actually made an RB30-DET engine.
It's something that enthusiasts cooked up on their own and then named in the same way Nissan usually does.
The RB30-DET is what's commonly referred to as a Frankenstein engine, and in this article, we'll explain what that term means, why this engine is so awesome, and what you need to know to build one yourself.
What Is a Frankenstein Motor?
We're all familiar with how car enthusiasts love to throw around terms that sound ridiculous to outsiders.
"Frankenstein" is one term that's often used to describe a certain type of build, whether it's an engine or the entire project car. But what does it really refer to in this context?
The name has roots in Mary Shelley's novel, where Dr. Frankenstein used body parts from different people to create what would be known as Frankenstein's monster.
Similarly, a Frankenstein motor is an engine that's been put together using a different head and block combination in contrast to the OEM configuration.
While it's no longer the standard OEM configuration, it's most commonly done by combining OEM parts from different engines.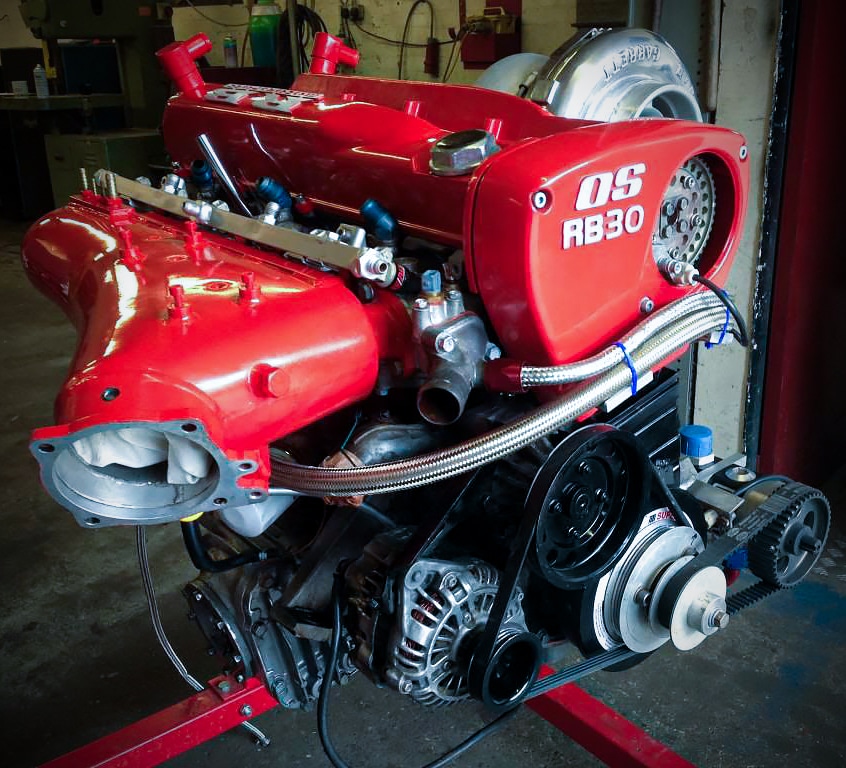 The reason why people do this is usually to create a more powerful motor.
Many gearheads seem to believe that a Frankenstein build only refers to certain Honda engine block/head combinations.
That may have been the case at some point, but these days, it's pretty much universally accepted that it can be any engine from any manufacturer that's been modified this way.
In the case of the Nissan RB30-DET, it uses the block from one of the RB30 engines, most commonly the fuel-injected RB30-E, and the head from one of the smaller-capacity DOHC engines, usually the RB25-DE or RB25-DET.
The RB30-DET Motor Is Based on the RB30-E
Nissan's RB engine series includes the excellent 2.5L RB25-DET and the now-iconic bi-turbo or twin-turbo 2.6L RB26-DETT, which provides a clue to how the manufacturer names its engines.
For instance, here's what the RB25-DET engine code stands for:
RB: Engine family
25: 2.5L displacement
D: DOHC
E: Electronic fuel injection
T: Turbocharged
The letters mean the same on the RB26-DETT, where the displacement is now obviously 2.6L, and the extra T means it's twin-turbocharged.
So, looking at the RB30 engines, Nissan made the RB30-S, RB30-E, and the RB30-ET.
From these names, we can tell that they're all 3.0L units, and either carbureted (S) or fuel-injected (E).
The RB30-ET version featured fuel injection and a single turbocharger.
Eagle-eyed readers have probably already noticed that there's no version of the RB30 with dual overhead camshafts (DOHC) — which would be the RB30-DET.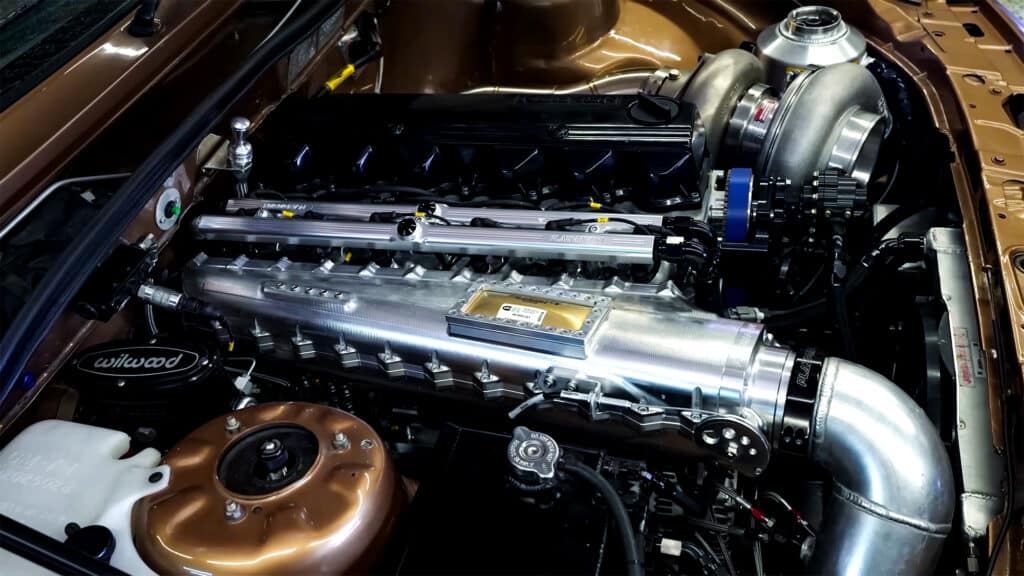 Even the RB30 variations Nissan did make were barely found under the hood of any of their own cars, with the notable exception of the Australian-built R31-generation Skylines.
It wasn't exactly the high-performance engine you'd expect to find in a Skyline, though, as it produced a mere 150 hp, making it more of an everyday family car than a hot rod.
Even in GTS1 and GTS2 guise, they only managed to produce around 180 hp to 190 hp.
So, if they weren't used in Nissan cars, why did Nissan even make them?
Most RB30 engines actually found a home in various Holdens, GM's now-defunct Australian subsidiary.
In the mid-1980s, Holden found itself strapped for cash, their 6-cylinder engines were old and outdated, and Australia had passed stricter emissions laws.
Basically, it was just bad news all around for the once-proud Australian brand that used to be known for its muscle cars that went head-to-head against the locally made Fords.
At this point, Holden was already selling rebadged Nissans under their own brand, and when they learned that Nissan was turning the 280ZX's 2.8L engine into a 3.0L for the Aussie Skyline, it made sense to ask them if they could use that unit in their VL Commodore.
Car enthusiasts soon learned how good the 6-cylinder Nissan RB30 motors truly were.
These motors were engineered to last more than 250,000 miles, and this 3.0L offered 30% more power than Holden's old 3.3L 6-cylinder.
They also used 15% less fuel, and ran on unleaded gas, unlike the old-school Holden engines that required a bit of lead to keep running.
As good as the RB30 motor was, it was never considered a high-performance Nissan engine.
That certainly held true a few years down the line when Nissan released the far superior RB25 and RB26 engines.
Fortunately, some geniuses in the aftermarket industry soon figured out how to unleash the humble RB30's true potential.
First, Tommy Kaira fitted RB20-DE heads to the RB30-E block all the way back in 1988, which meant it was now a DOHC RB30 — but without a turbo.
This version also required a lot of work, since the two engines' bore sizes weren't the same.
In 1993, Nissan fitted the RB25-DET engine under the hood of the R32 Skyline, and tuners jumped for joy once they learned it had the same bore as the RB30 cast-iron block.
Mating the RB30 block and the RB25 head, was a quick and simple way for tuners to increase performance, and more importantly, they could now build a twin-cam, turbocharged 3.0L beast — the RB30-DET was born.
Most of these engines are found in Australia and New Zealand, as the RB30 motors were relatively common there.
People have used them in both drift cars and drag cars, and these '80s engines are still popular today since they're fairly affordable and can be tuned to produce very respectable power and torque.
Nissan RB30-DET Specs
Engine code: RB30DET
Production: 1985-1991 (RB30)
Layout: Inline-6, DOHC, 24-valve (stock RB30E: SOHC, 12-valve)
Displacement: 3.0L (2,962 cc)
Fuel system: Electronic Fuel Injection
Cylinder bore: 86 mm (3.39″)
Piston stroke: 85 mm (3.35″)
Compression ratio: 8.2:1
Power: 250+ hp
Torque: 250+ lb-ft
Firing order: 1-5-3-6-2-4
Some might wonder what cars have RB engines, and that's a surprisingly long list, but we'll shorten it a bit and just focus on the cars fitted with the RB30 motors.
The carbureted, single-cam RB30-S was found in the GQ Patrol and produced 134 hp at 4,800 rpm, and 165 lb-ft at 3,000 rpm.
The fuel-injected RB30-E was found under the hood of the Holden VL Commodore where it produced 153 hp at 5,200 rpm and 182 lb-ft at 3,600 rpm.
The same engine was also used in the Australian-market R31 Skyline, where it produced 153 hp at 5,200 rpm and 182 lb-ft at 3,600 rpm in the base model, 174 hp at 5,500 rpm and 188 lb-ft at 3,900 rpm in the GTS1 version, and 188 hp at 5,600 rpm and 200 lb-ft at 4,400 rpm in the GTS2.
The only car to receive the turbocharged single-cam RB30-ET motor was the VL Commodore, which had 201 hp at 5,600 rpm, and 218 lb-ft of torque at 3,200 rpm.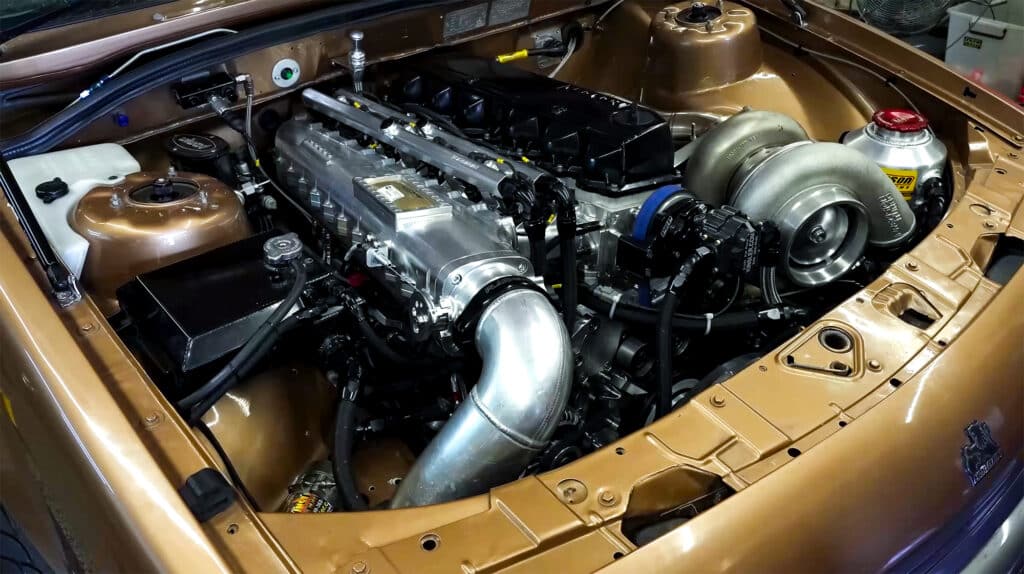 All of these engines can be used for an RB30-DET build, but the fuel-injected, non-turbo is the most common base.
As for the RB25 head that's needed, tuners sometimes use the non-turbo, non-VCT (variable cam timing) RB25DE cylinder head found in the A31 Nissan Cefiro, C33 Nissan Laurel, or R32 Nissan Skyline.
Another option is to go with the RB25-DET head from the R33 Nissan Skyline, C34 Nissan Laurel, or Stagea.
However, this option does require the fabrication of an external oil feed for the variable cam timing, along with some other work.
Because of this, some opt to disable the RB25-DET's VCT altogether when building the RB30-DET.
The Other Turbocharged RB30 Engine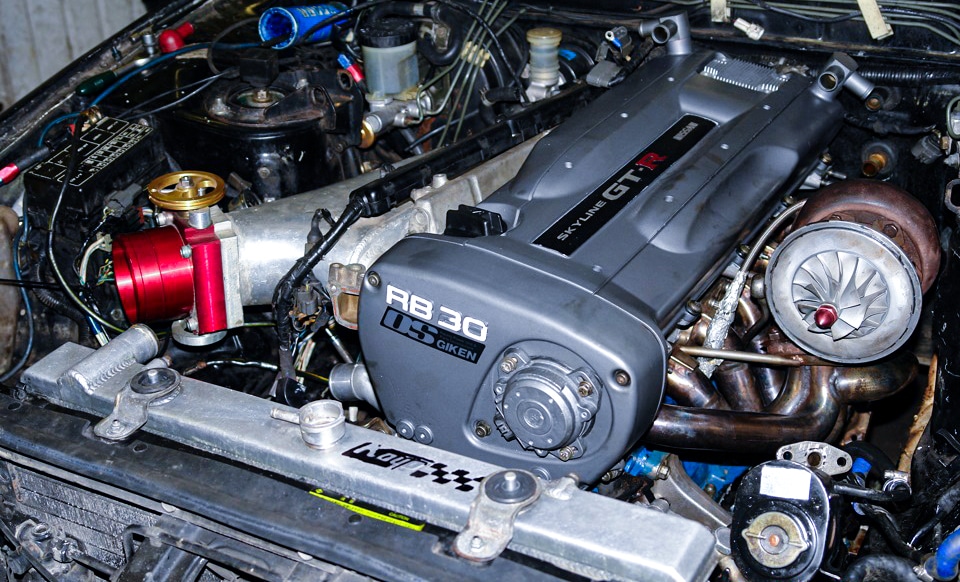 As we've established, a build that uses the RB30-E block and RB25-DET head results in the RB30-DET Frankenstein engine.
However, there's another 3.0L RB engine out there, except this one uses a twin-turbo setup and is based on the RB26-DETT.
OS Giken in Japan created an RB30-DETT kit, which bolts a deck plate on top of the RB26 engine block and uses iron sleeves to create a bore and stroke of 86 mm × 86 mm (3.39″ × 3.39″) — resulting in a 2,996 cc displacement.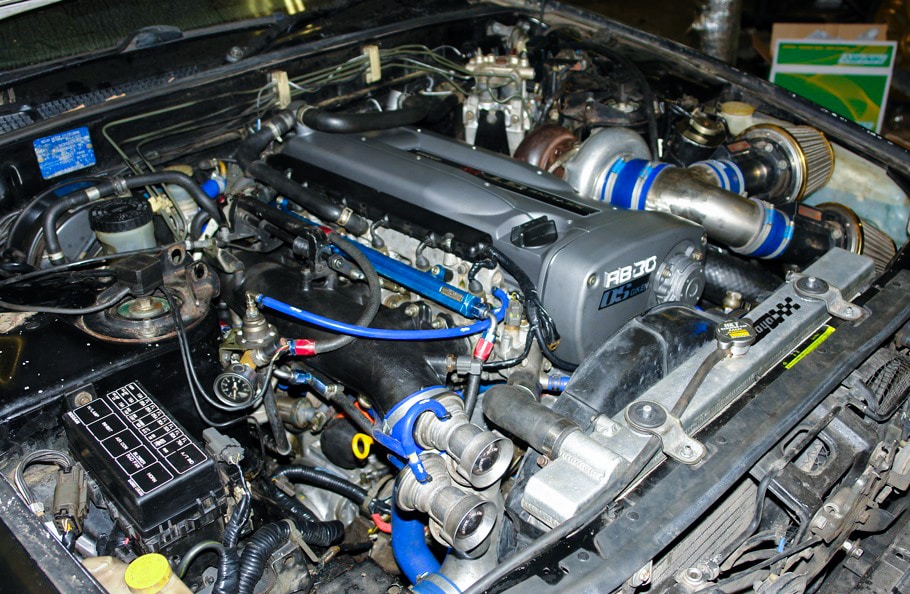 The OS Giken RB30-DETT can be purchased as an assembled short block, with a billet steel stroker crank, billet steel H-beam con rods, and forged aluminum pistons.
It's certainly not cheap, but OS Giken has built a monster RB30-DETT that generates a whopping 886 hp and 687 lb-ft of torque for one customer, so if you want a ton of power and torque, it might be worth looking into.
This is a very different beast than the RB30-DET, though, which is a much simpler and cheaper setup, so do not confuse the two.
RB30-DET vs RB26-DETT
The million-dollar question every Nissan fan wants the answer to: can the RB30-DET hold a candle to the legendary RB26-DETT?
The RB26-DETT was designed from day one to be a high-performance engine, and, to be blunt, the RB30-E wasn't.
However, that's not to say that the RB30 is bad, and depending on what you're looking for, the RB30 might even be the better option for you.
Those who have a lot of money to throw at a project, but lack the mechanic skills, may decide to go with the RB26.
They can even pay someone to build it for them, and since there are a ton of aftermarket parts that'll fit straight out of the box, it won't require as much customization.
If you see yourself as fairly handy with a mechanics tool set, and don't mind doing some research to find out which parts will go together, an RB30 build might save you quite a few bucks.
Putting together the various engine parts that make up an RB30-DET build is probably the biggest issue for enthusiasts who've never built an engine before, as it does require more knowledge than simply bolting parts on there.
Power-wise, there's actually less separating the two than you think.
We've all heard of the Nissan Skyline GT-Rs tuned to produce 1000+ hp, although, we can probably all agree that these aren't the most sensible cars to use as a daily driver.
A decent RB26 setup will easily produce somewhere in the 400 to 800 hp region using "sensible" mods.
The RB30-DET build using only bolt-ons can easily hold around 500 hp on stock internals, and once those are upgraded, the sky's the limit.
Just like its smaller, younger, twin-turbocharged sibling, the RB30-DET engine has been tuned to produce well in excess of 1000 hp.
If you're looking to build an engine that puts down power figures like that, it doesn't really matter which engine you start with, as it'll cost a small fortune anyway and will purely be down to personal preference.
In Conclusion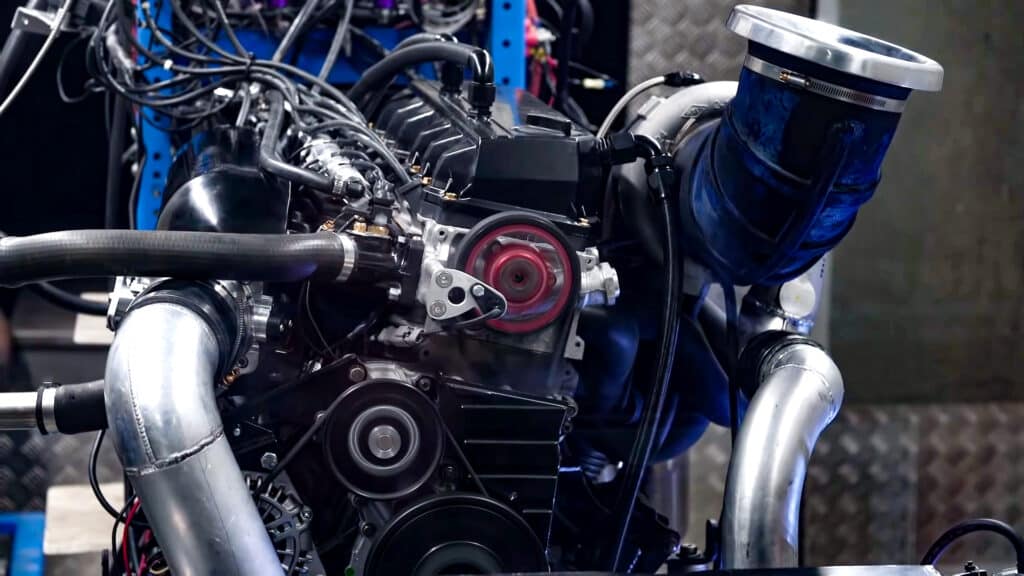 If you want to build a strong, solid, and powerful engine that will drop some jaws at the local Cars & Coffee, you could do a lot worse than the RB30-DET.
These monsters can also be built for less money than it would cost to buy a complete RB26 engine.
Whether it's for regular road use or hardcore track action, the RB30-DET has proven itself as a reliable unit after years of service in the Land Down Under.
Join one of the many RB engine forums and groups, and some friendly Aussie can probably answer all your questions if you decide to go down the RB30 route.
Are you considering an RB30-DET, or have you already built one? Let us know in the comments below.
Enjoyed reading this article? Share it with a friend! We appreciate your support.