Once you get a taste of the exciting roadster that is the Honda S2000, there's no going back. You're only going to want more power and won't rest till you get it. That's until you finally decide to turbocharge it.
Whether it's power goals you're chasing, or a reliable set up to make daily driving a lot more fun, turbochargers hold the answer.
And since the Honda S2000 has a strong enough build to handle forced induction, it'd be a shame to not make the most of it.
In this guide, we'll explain everything you need to know about turbocharging your rev-happy roadster and review the best turbo kit for S2000 owners.
Turbocharger vs Supercharger: Which Suits the S2K Better?
While the S2000 was fast for when it first launched in 1999, you'll find it more of a cruiser rather than a motorsport beast in today's time. And though it still drives like a dream, a little more power is what it really needs.
Luckily with the power of forced induction on your side, you don't have to look too far. As the name suggests, forced induction is a way of forcing compressed air into your engine. Doing this can help to nearly double your stock power output.
Turbocharging and supercharging are the two most common forced induction methods. The main differences between an S2000 turbo vs supercharger build will be the power output, efficiency and time taken to give you the boost you're looking for.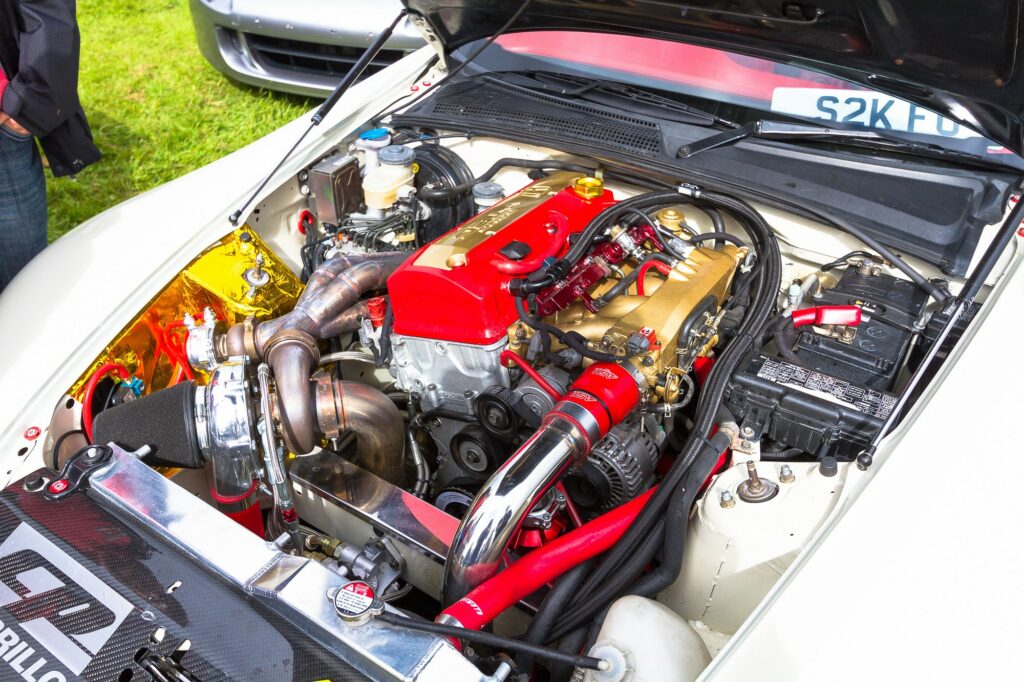 Supercharging your Honda S2000 has a number of perks. The torque delivery is linear, smooth and the power builds up very similarly to the way a stock S2000 does. This is one of the main reasons why many owners opt for a supercharger.
Superchargers rely on your engine's crankshaft to generate power. This method isn't very efficient as compared to turbocharging but on the plus side, you don't get any lag. They're also easier to install and a tad less expensive.
But where superchargers make up for in reliability, they lack in power.
A turbocharger wins at efficiency because it uses your car's exhaust gases (that would otherwise go to waste) to spool up the turbine. The downside to this is that you won't get the same linear power boost.
The upside? You get way more power. So if it's high horsepower goals you're chasing, then take a closer look at what turbochargers have to offer.
Why Turbochargers?
The Honda S2000 makes its power high up in the rev-range with faster engine speeds and a higher redline. The main reason for this is lower friction among engine components –– something that Honda is known for. VTEC doesn't even kick in till 6000 RPM after all.
In other words, to get the most out of the S2000 you really have to work the transmission and stay high in the rev range. And while superchargers work great to add more power, wouldn't it be perfect if you had more low-end torque?
That's where turbochargers come in. When set up correctly, a turbo will help you to get to VTEC faster while enjoying a healthy dose of power throughout the rev range.
How Much Power Can the F20C (or F22C) Handle?
Both the Honda F20C and F22C are well-built engines that can withstand high power output. They breathe so well, it's almost unfair to not take advantage of this quality by turbocharging it.
The Honda S2000 can handle up to 400+ whp on stock internals and with the right tuning, quality S2000 specific motor oil and spark plugs you can push it to 600 whp. Anything more than this is going to need some internal engine modifications.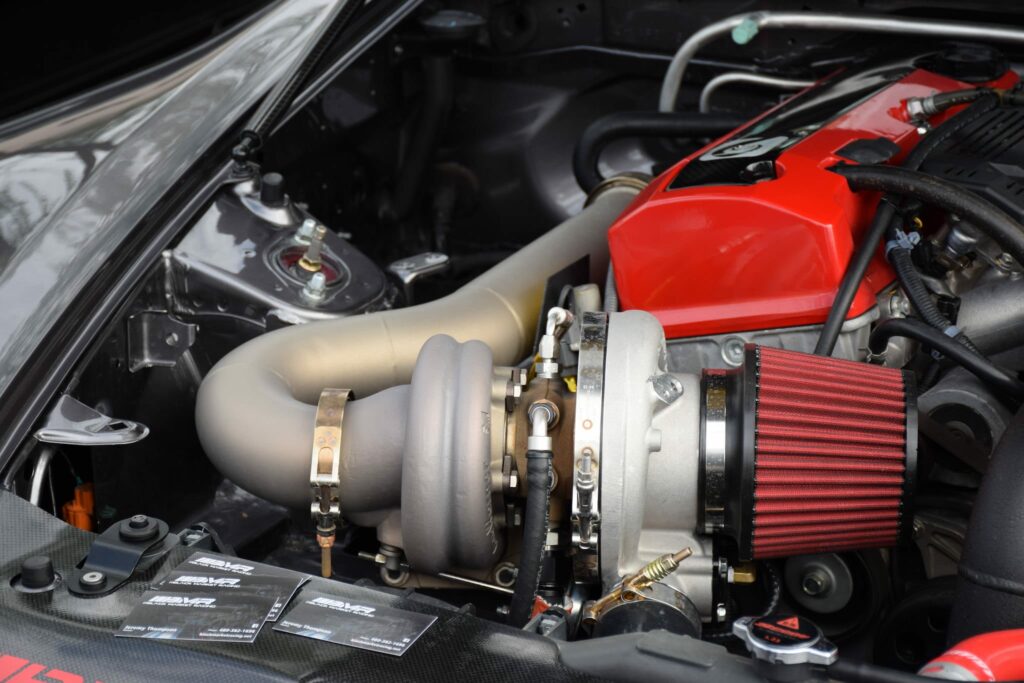 How Difficult Is a Honda S2000 Turbo Install?
Turbocharging your Honda S2000 isn't as difficult as you may have thought. While it certainly isn't as easy as installing a supercharger, there are several bolt-on kits available, most of which include the supporting components your build will need.
That said, there's a lot more tuning involved, so while you can install these kits in your garage, we still recommend taking your car to a professional for a dyno tune once you get your kit installed.
However, if you're really looking to kick things up a notch, you can always bring in the experts to build you a custom upgrade. This involves a lot more drilling, cutting and relocating parts. But it's a small price to pay for a setup tuned exactly the way you like it.
What Does a Honda S2000 Turbo Build Cost?
Truth be told, installing an S2000 turbocharger is not a cheap endeavor. It isn't just about finding a great S2000 turbo for sale—there's a lot more to it.
When you're budgeting for your S2000 turbo build cost, you need to consider the cost of labor, supporting mods, engine upgrades, possible repair costs and a lot more.
These costs add up real quick so remember to budget for the whole build and not just the turbo kit. The last thing you want is to run out of funds with your incomplete build sitting at the shop and having to pay parking fees. Not to mention the added downtime.
To get the best S2000 turbo build, we expect the total cost to be between $12,000 to $15,000. Doing this will allow you to plan and purchase all your modifications at the same time, making sure you don't run into any compatibility issues.
Here are some ballpark figures as to how much your turbo build will cost, depending on your power output goal:
Stock Motor + Supporting Mods + Turbo Kit: $10,000 (400 whp)
Built Motor + Supporting Mods + Turbo Kit: $15,000 (550–600 whp)
Supporting Modifications
Turbocharging is more than simply installing a kit and winning on race day. You'll need the right supporting modifications that'll make your setup stable and reliable enough to hold that kind of power.
To further improve the quality and quantity of airflow, look at having cylinder head porting done for your S2000.
Most importantly, don't forget to keep things cool under the hood since turbochargers create a lot of heat. We recommend at least adding a heat shield to the turbo to improve the longevity of your build.
Some other supporting mods that we strongly recommend for your Honda S2000 turbo build include:
Is it worth it? When the boost kicks in and your head is pinned back into your seat, you'll have your answer.
Top Turbo Kits for Honda S2000
Turbocharging your Honda S2000 is like breathing new life into an already fun roadster. Just more fun and power than before.
But before jumping into some of the best S2000 turbo kit options we have in store for you, take a moment to decide what you really want from your S2000 build.
Are you looking to add some spice to your daily drive to work? Take the glory from your local autocross event? Or set the new lap record on a high-speed track?
Once your power goals are clear, you can easily zero in on the kit that delivers just what you need.
GReddy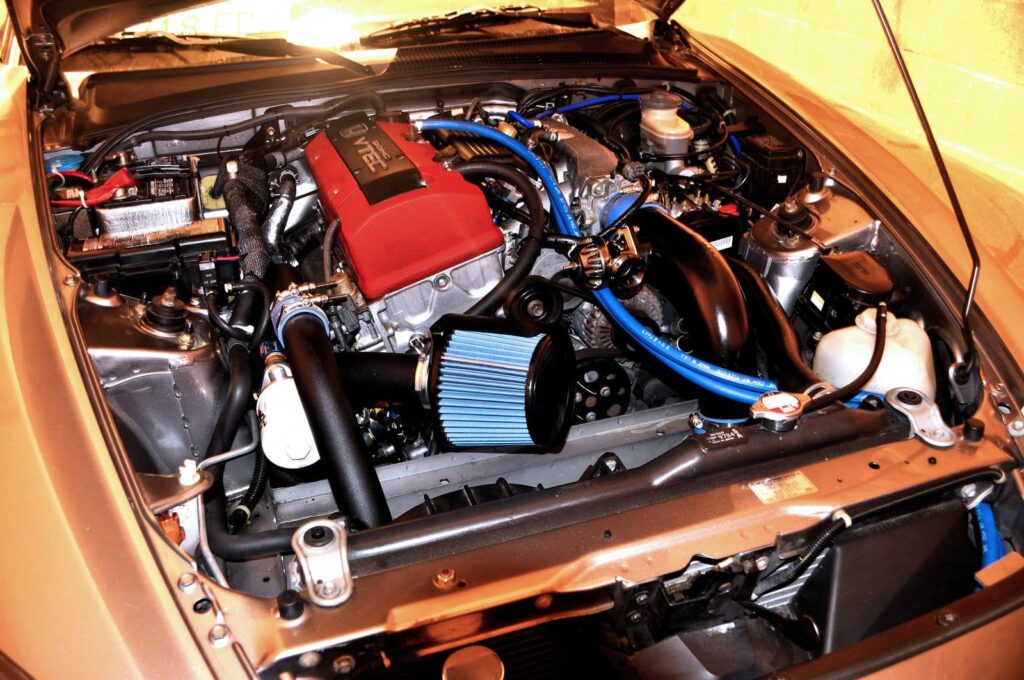 Manufacturer: GReddy
Configuration: Single
Compatible with: F20C and F22C
Turbine: T518Z-10cm2
Warranty: 60 day
Buy On: Amazon
Greddy carved a niche for itself in the S2000 market with its CARB approved street-legal turbo kits. And while this is a huge plus point for them, there's much more that these kits have to offer.
The most notable thing is that it instantly solves the "lack of torque at low RPM" very nicely. This perfect torque delivery is what makes an S2K with this kit an absolute treat for daily driving—and a lot more fun.
The installation is fairly easy as the kit includes fuel injectors, a fuel pump, and an intercooler. For the AP2 model, however, you'll have to make some room for the intercooler by removing the front stabilizer brace.
All in all, a great starter kit for daily and spirited driving with the occasional track visit thrown in.
PTuning
Manufacturer: PTuning
Configuration: Single
Engine Compatibility: F20C and F22C
Turbine: GTX3076R Gen 2 | GTX3582R Gen 2 | GT3076R | GT3582R
Warranty: 1 Year
PTuning has one of the best turbocharger kits you could possibly choose for your Honda S2000, especially if high power is what you're looking for. To satisfy the speed fanatic in you, they've pieced together a spectacular kit that doesn't compromise on drivability.
The first thing you'll notice about this kit is that it uses a bottom mount manifold that provides a lower center of gravity for better handling. This design also allows you to use a nearly straight downpipe.
To make things even better, PTuning uses the TiAL V-Band turbine housing with a smaller area/radius. This further reduces the spool time so boost kicks in nice and early in the rev-range.
Installation is straightforward as it's a bolt-on kit with no modifications required. Whether you're looking to track your car or just enjoy it on the street, you won't face any hiccups with this one.
The kit has a few options, allowing you to choose between the Garrett GTX3076R Gen 2, Garrett GTX3582R Gen 2, GT3076R, and the GT3582R turbocharger. ECU and fuel injectors are optional extras.
All it's great specifications aside, what really puts PTuning at the top of our list is the stellar customer support they offer. Rest assured you're in the best hands.
Full Blown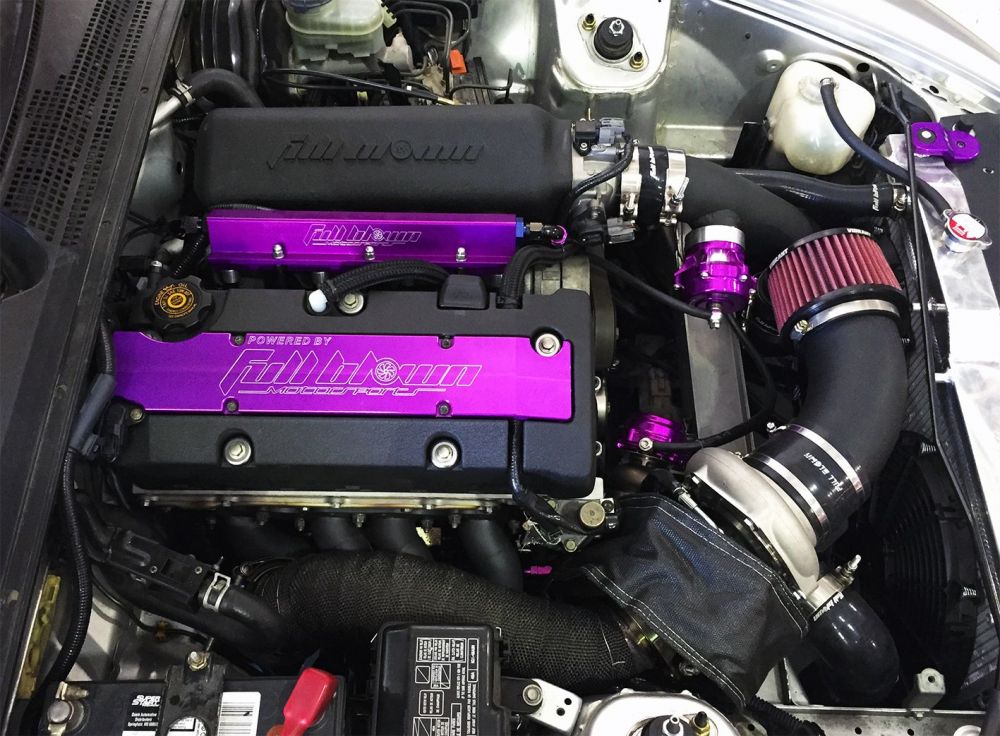 Manufacturer: Full Blown
Configuration: Single
Engine Compatibility: F20C and F22C
Turbine: 5858BB | PTE5858 | PT6262JB | 6262BB | GTX3076R Gen 2 | GTX3582R Gen 2
Warranty: Limited Lifetime Warranty
The Full Blown turbo kit is quite popular among Honda S2000 owners and gets great reviews. Their Stage 2 kit especially is a crowd favorite.
To be honest, all their kits are top-notch with superior fit, finish, and performance. The Stage 2 setup is another one of their high quality and super durable kits which is well-built.
The installation of the Stage 2 kit may say "bolt-on" but you'll definitely need some additional fabrication work for it to fit properly. This, of course, depends on your overall setup and other modifications.
You get a fair amount of power too though it may take a little longer to spool than some of the other kits on this list. Either way, it's still a blast to drive.
Another great thing about it is that all kits by Full Blown offer lifetime warranty on this S2000 turbo manifold, downpipe and dump tubes, etc.
Inline Pro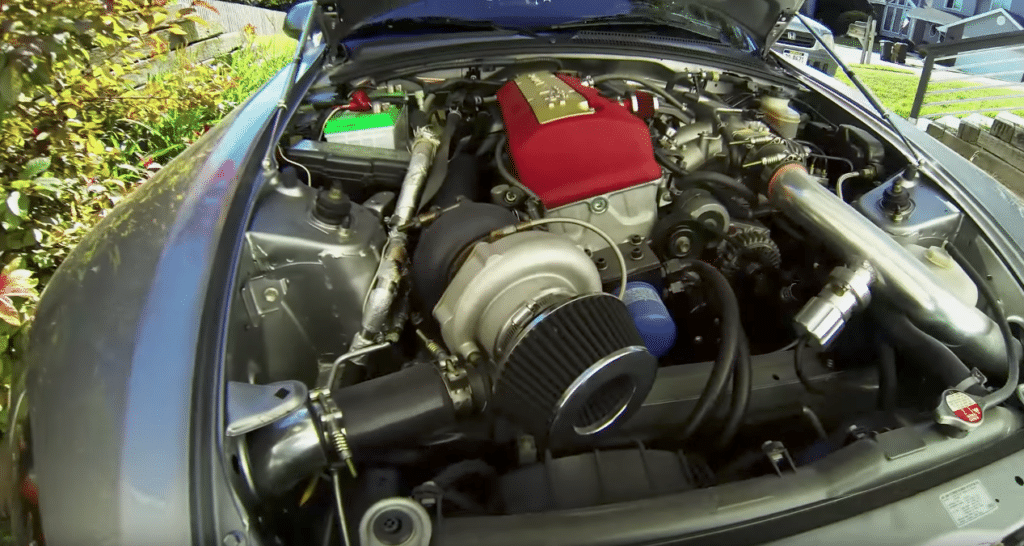 Manufacturer: Inline Pro
Configuration: Single
Engine Compatibility: F20C and F22C
Turbine: Honda S2000
Warranty: Lifetime Warranty
We've nothing but good things to say about Inline Pro and their Stage 2 kit certainly takes the cake. With careful attention to detail, ease of driving and swift customer support, it's easy to see why many rave about this kit.
We'd like to point out that this kit is by no means for the faint-hearted. Far from your simple bolt-on kits, you'll require more than just sheer enthusiasm to set it up. It's best to get some professionals on board since you'll need to relocate the oil cooler and cut the bumper grill to make space for the intercooler.
That said, it has a bottom-mounted manifold meaning you can stick with your OEM S2000 battery, instead of needing to choose a smaller unit, or relocate it altogether. You also get better handling and less cooling problems.
Full Race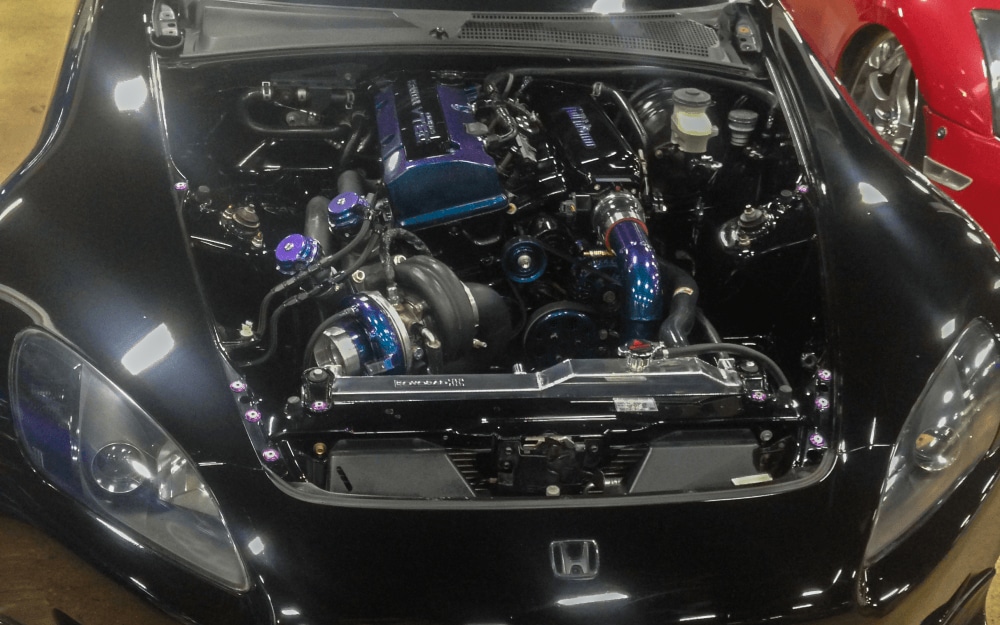 Manufacturer: Full Race
Configuration: Single
Engine Compatibility: F20C and F22C
Turbine: EFR 76
Warranty: 1 Year
Full-Race has been a long-time favorite among many Honda S2000 owners and this kit shows you just why.
It features a twin-scroll turbocharger that spools almost instantly. Which is great if you can't put up with turbo lag. The boost kicks in almost as soon as you floor it.
It isn't the easiest and you may have to relocate some of the internal components, especially the battery. But it's still a solid set up that delivers power and works just as well on both the tracks and streets.
Depending on how you build this kit, you can either get high to medium horsepower goals from it. Another cool thing about it is that it almost feels similar to stock which is rare for turbochargers. Pair it with an ACT pressure plate and upgraded clutch to see what we mean.
Science Of Speed
Manufacturer: Science of Speed
Configuration: Single
Engine Compatibility: F20C and F22C
Turbine: GT3076R | GTX3076R | GTX3576R | GT3582R | GTX3582R
Warranty: Limited Warranty
You can't go wrong when it comes to Science of Speed since they know just how to craft a well put together kit.
Just like other twin-scroll turbochargers, the Stage 2 kit provides more power without taking longer to spool. A perfect fit for those that can't stand waiting for the boost to power through.
The Stage 2 kit comes complete with a turbocharger, intercooler, NGK Iridium spark plugs which are some of the best spark plugs you can use in a Honda S2000, cooling kit and much more. Bonus points for the easy installation which don't require you to relocate any of the internal parts, unless you go with the optional V-mount intercooler system.
A great choice for those looking to track with their Honda S2000, this kit packs a punch but doesn't skip out on durability.
PFab
Manufacturer: PFabrications
Configuration: Single
Engine Compatibility: F20C and F22C
Turbine: Garrett GT3582R | Garrett GTX3582R | Precision 6266CEA | Precision 6766CEA
Warranty: Lifetime Warranty
PFab is a popular name, well-known for its turbo manifolds, fuel systems, and similar components. So it's no surprise that their Stage 2 turbocharger kit means serious business.
Similar to the Stage 1 kit which was also incredibly popular, Stage 2 maintains a top mount manifold. This is great if you don't want to relocate your battery.
For the turbocharger, you can choose between the Garrett GT3582R, Garrett GTX3582R, Precision 6266CEA, and Precision 6766CEA.
Stage 2 definitely deserves more appreciation given how well-built it is. You can find this S2000 turbo kit for sale with a lifetime warranty against defects.
Lastly, the folks at PFab offer valuable and quick customer support so if you have any questions, they've got you covered.
Best Turbo Kit for Honda S2000: Our Verdict
We've seen quite a few high-performance kits that offer everything from quick spooling to high power boosts.
However, if we have to choose our favorite and most reliable kit, it had to be the one that perfectly compliments the reliability and fun-factor that the Honda S2000 embodies.
Our Top Pick: PTuning
The most "complete" kit out there, PTuning checks all the boxes on our list.
It has an impressive powerband at a rather affordable price. Your need for high horsepower goals is instantly met be it on the tracks or down the streets.
The installation is more user-friendly than you'd expect and they've got swift customer support if you hit any snags.
Did your favorite turbocharger kit make it to our list? Tell us in the comments below!
Feature Image: Monster by Alexander Nie, modified by Low Offset, CC BY-SA 2.0