For a performance roadster that is the Honda S2000, a lot of your engine's potential depends on a strong spark. Without quality spark plugs, your engine might not even start, let alone run well.
Spark plugs ignite the air-fuel mixture within your engine, bringing your S2000 to life. If you have noticed your engine misfiring or struggling to accelerate, chances are you need new spark plugs.
While many owners opt for the same OEM spark plugs that the S2000 came with, you'll find there's a lot more to choose from.
In this guide, we'll show you some of the best spark plugs for your Honda S2000, suited to your needs.
When Should You Replace Your Spark Plugs
Honda recommends that you get yourself new spark plugs every 60,000 miles or so. But if you notice signs of wear or trouble when starting your S2000, it calls for some investigation.
Additionally, if you've just bought a used S2000, replacing your spark plugs is a good idea in case the previous owner hasn't in a long time.
Some telltale signs of a bad spark plug include misfiring under acceleration, high fuel consumption, and rough idling.
Luckily spark plugs are neither expensive nor time-consuming to repair, which means you'll have your engine roaring to life in no time.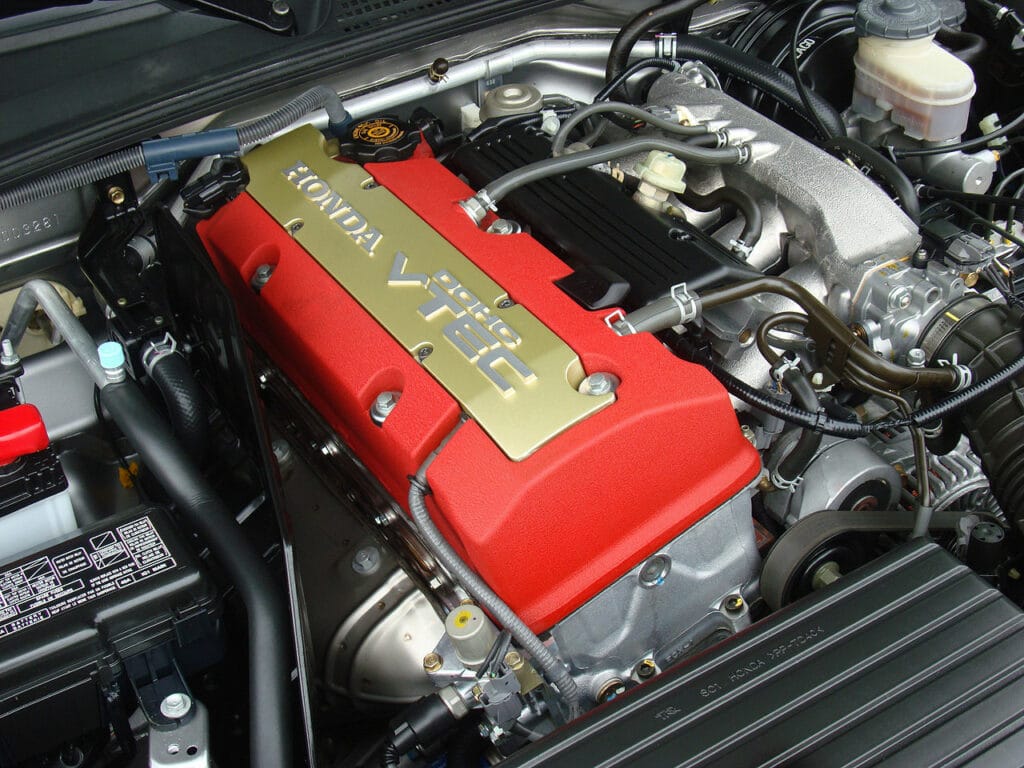 Types of Spark Plugs
The durability and performance of a spark plug have a lot to do with its construction. Back in the day, copper was the all-time favorite choice for spark plugs and in some cases it still is.
But we can't deny that other metals can get the job done more efficiently or are simply more long-lasting. Nevertheless, here are all the different types of spark plugs available for your zippy roadster.
Iridium
The most expensive of the lot, iridium spark plugs are widely recommended since they last twice as long as copper or platinum. You'll often see them being used in high-performance engines because of the alloy's high melting point.
There's a noticeable difference in the firing efficiency and many owners even talk about their engines running smoother and sounding healthier after installation.
Platinum
Platinum spark plugs fall somewhere in between. They're certainly more long-lasting than copper but don't give the same kind of spark.
Better suited for their longevity, platinum spark plugs are commonly seen in S2000s and are the go-to OEM spark plug replacement.
Copper
Copper has its fair share of pros and cons. While these spark plugs are the cheapest, they also wear out the fastest. But seeing as how they give out the best spark, not a lot of owners seem to mind their short life.
Copper spark plugs used to be all the rage back in the day, but with the introduction of iridium and platinum, they often take a back seat. Still, you'll tend to see these used in S2000s that have extensive modifications.
If your Honda S2K is turbo converted, copper may be the way to go. They provide excellent performance and reliability, just be prepared to swap them out more often.
S2000 Spark Plugs: Our Top Picks
When there's so much to choose from, picking the "perfect" spark plug can get overwhelming.
As mentioned above, some spark plugs are more durable and long-lasting while some wear out quick but have a great spark.
Once you have a general idea about what you need, finding the right one for your engine becomes a whole lot easier. Here are some of our favorite S2000 spark plugs to help you out.
Best S2000 Iridium Spark Plugs
From high-performance to longevity, iridium spark plugs have it all. They may not be the cheapest option but they're well worth the price once you see how smooth your engine feels after installing them.
Iridium has a high thermal resistance, making it an ideal choice for forced induction applications that experience higher temperatures.
But even if you don't have a supercharged Honda S2000, these would still make a world of difference in your engine performance.
NGK Laser Iridium
Manufacturer: NGK
Part Number: 7746
Construction: Iridium
Gap: 0.044 in
Heat Range: 7
Buy On: Amazon
NGK has carved a name in dishing out some of the best spark plugs and its laser iridium spark plug is no exception.
These plugs house a thin 1mm iridium electrode tip which provides a better throttle response, fuel economy, and a long lifespan.
They come pre-gapped and are a spot-on match to the S2000 specs. If you've been thinking of upgrading from OEM, these are some of the best spark plugs you can get your hands on.
Bosch Double Iridium
Manufacturer: Bosch
Part Number: 9610
Construction: Double Iridium
Gap: 0.044 in
Heat Range: 6
Buy On: Amazon
If plain ol' iridium wasn't enough, Bosch decided to take things one step further with its "double iridium" spark plug.
It houses both an iridium firing pin and a laser-welded iridium ground electrode which provides 4-times the life span of regular copper plugs. It's no surprise these spark plugs come with a 7-year performance guarantee.
Longevity aside, you'll notice a stable idle and smoother engine response after installation. They come pre-gapped and installing them doesn't take up much time.
Denso Iridium Long Life
Manufacturer: Denso
Part Number: 3419
Construction: Iridium
Gap: 0.044 in
Heat Range: 22
Buy On: Amazon
Denso's iridium spark plug is everything you'd expect from a brand that prides itself on great craftsmanship.
Made with its patented 360-degree laser welding process, it uses a combination of both iridium and platinum. The result is a high-performance spark plug that promises to last for at least 100,000 miles.
Whether idling or at high revs, you'll spot a slight improvement in how responsive and smooth the engine runs.
Platinum Spark Plugs for Honda S2000
Platinum-tipped spark plugs consist of a platinum disc welded under the side electrode. They are more durable than copper simply because platinum is a harder metal in comparison, so it doesn't erode as quickly.
These spark plugs are commonly used for the S2000 and can last up to 100,000 miles, making them a favorite.
NGK Platinum
Manufacturer: NGK
Part Number: PFR7G-11S
Electrode Type: Platinum
Gap: 0.044 in
Heat Range: 7
Buy On: Amazon
NGK's Platinum spark plugs are hard to beat since they are the direct OEM replacement for the S2000.
The trivalent metal plating on these spark plugs gives them their superior anti-corrosion and anti-seizing properties.
Owners swear by their firing efficiency they tick all the boxes when it comes to performance, reliability, and lifespan.
These spark plugs come pre-gapped and take less than 20 minutes to install.
ACDelco Platinum
Manufacturer: ACDelco
Part Number: 41-829
Electrode Type: Platinum
Gap: 0.044 in
Heat Range: 6
Buy On: Amazon
ACDelco is widely known to make high-quality OEM parts for several automotive brands. Their platinum spark plug lives up to its name and delivers just the performance you'd expect.
It features a copper core with double platinum pads on the center electrode. This provides for a stable voltage and longer life span.
Coming to its performance, these spark plugs breathe new life into your Honda S2000 and the engine feels a lot more responsive.
Copper Spark Plugs for Honda S2000
Since copper is a great conductor of electricity, these spark plugs fire better than platinum and slightly better than iridium too.
On the downside, they don't last nearly as long as other spark plugs since all that firing makes them wear out pretty quickly. That hasn't stopped owners from using them and you'll frequently spot them in forced induction engines because of the way they spark.
Champion Copper Plus
Manufacturer: Champion
Part Number: 340
Electrode Type: Copper
Gap: 0.044 in
Heat Range: 7
Buy On: Amazon
The cheapest on the list, these copper spark plugs by Champion are a bang for buck seeing the kind of performance they deliver.
Don't expect them to last very long –– they run hotter than the other spark plugs given their copper core. But where they lack in durability, they make up for in improved throttle response, steady idling, and acceleration.
Champion uses a patented SAC-9 semiconductor resistor along with an Ultraseal coating on the outer shell making the spark plug resistant to corrosion.
Autolite Copper
Manufacturer: Autolite
Part Number: 3922-4PK
Electrode Type: Copper
Gap: 0.044 in
Heat Range: 2
Buy On: Amazon
Autolite's Copper spark plugs deliver the quick starts and smooth acceleration you're looking for without any hiccups.
It features a full copper core and a copper-glass seal that bonds the insulator and center electrode together. This provides a steady and full voltage throughout the plug.
Just like other copper plugs, these won't last you very long. But given how inexpensive they are, replacing them isn't a major concern.
Our Favorite Honda S2000 Spark Plugs
Despite their size, spark plugs can impact your S2000s performance and can turn your ride into either a dream or a nightmare. And given the average spark plug replacement cost is so low, you'd be crazy not to invest in a new site, as it will do wonders for your S2000's reliability.
The right spark plugs will alter your fuel economy, improve your throttle response, and make it easier to accelerate. Keeping all these things in mind, here's a list of the best spark plugs for the S2000.
Cheap S2000 Spark Plugs: Champion Copper Plus
If you aren't looking to spend a lot on spark plugs, the Champion Copper Plus is your best bet. They're cheap to replace and enjoy the performance they bring, both on the street and track.
Best Replacement S2000 Spark Plug: NGK Platinum
There's a reason why your S2000 comes with NGK Platinum spark plugs. We love how they feel right at home and bring your engine roaring back to life –– just the way Honda intended.
Long-Lasting S2000 Spark Plug: Bosch Double Iridium
Iridium spark plugs are more expensive but in the long run, they make sense. If upgrading your current spark plugs has been on your mind, take the leap and go with these spark plugs by Bosch. You won't be disappointed.
Which of these spark plugs are you running in your S2000? Tell us in the comments below!