The Honda S2000 is an enthralling ride that loves speed just as much as you do. Take it to the track where it's right at home or go for a long cruise to the countryside — the roadster proves to be just as reliable as you'd expect.
However, for a sports car that has been around this long, it's only a matter of time before you need to replace some of its components, like a radiator or battery.
In this guide, we'll take you through some of the best replacement batteries for your Honda S2000.
Time for a New Battery?
If you've owned your S2000 for a while, chances are you've probably replaced a battery or two. If you haven't though, there are a few tell-tale signs that let you know it's time for a new battery.
Of course, it's not only an aging battery that needs replacement but also a faulty one. Here are some signs you're dealing with a battery that's on its way out:
Slow starting engine: Once the components in a battery wear out, the battery needs more time to create a charge for the starter.
Dim lights and electrical Issues: Your battery will have a tougher time running all the electrical components when it loses its charge which is why your electricals will fail to live up to their optimum performance.
Pungent smell: A damaged battery can leak, resulting in a very bad smell when you pop the hood open.
Misshapen battery case: Extreme weather conditions can cause your battery to swell in size which may even lead to cracks in your battery case.
Check engine lights: While this indicator could mean several things, if you're dealing with a dying battery with low voltage, it will cause this warning light to display.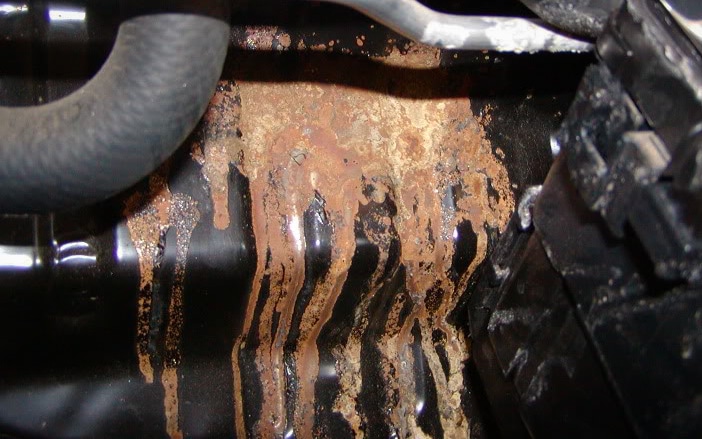 Choosing the Right Battery for Your S2000
There are several important factors that you need to look for when choosing a replacement battery. Some of the most important ones are reserve capacity, maintenance, warranty, and performance.
You should also check the cold cranking amps (CCA) of the battery. The higher the CCA, the easier it will be for you to start the car in cold climates.
OEM Battery Specs
The Honda S2000 battery size is Group 51, sometimes denoted as 51R (which is the same as Group 51 with its poles reversed). When searching for a replacement, you can also use Group 35 or other sizes for your S2000, just keep in mind that they may be lighter or heavier than Group 51.
The OEM battery is labeled (51/500Amp85), weighs 28 pounds, and comes with a 3-year unlimited mileage guarantee.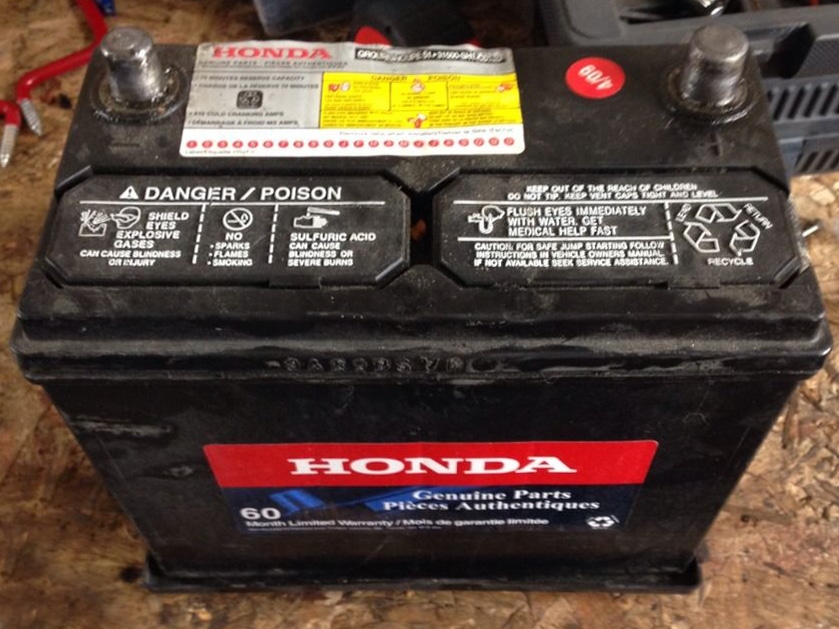 Finding an OEM replacement for your S2000 is easier than it is for a lot of other Japanese cars, so a lot of S2000 owners prefer this battery over others given how reliable and durable it is. Some buyers claimed that OEM batteries last for 10 years or more.
Replacement Batteries for Your Honda S2000
With so many S2000 batteries on the market, finding the right one can be time-consuming at the very least.
To make it easier, we've compiled a list of the most popular batteries for your S2000 below, be it for hot and cold climates, high-performance and supercharged S2000s, or simply for daily driving.
Genuine Honda S2000 Battery
Manufacturer: Honda
Part Number: 31500-SB2-100M
CCA: 450
Group Size: 51R
Type: Lead Acid
Weight: 28 pounds
Warranty: 3-years
Ask an S2000 owner what their favorite replacement battery is and we bet they'll point you towards this one. The reason? Honda did a great job with this battery and it's a tough option to beat.
For starters, this battery is 60% more durable than a standard one. With maintenance, the electrolyte doesn't require frequent filling as it can last for extended periods. It also delivers an exceptional start-up performance in cold weather due to its low resistance separator.
The other perk is that it prevents overcharging and keeps electrolyte loss to a minimum.
If you opt for this battery, you'll get a three years unlimited mileage warranty and a battery that's going to perfectly match your Honda's electrical system specifications.
Optima Red Top
Manufacturer: Optima
Part Number: 8020-164
CCA: 720
Group Size: 35
Type: AGM
Weight: 31.7 pounds
Warranty: 3-years
Buy On: Amazon
The Optima Red Top provides high-power cranking so that you can start your S2000 in harsh conditions. That's the reason Optima made this battery with 720 CCA.
It's a maintenance-free battery that has a lower internal resistance, offers a consistent power output, and faster recharging capabilities.
It provides optimal starting power, regardless of the weather conditions, and it's completely spill-proof. You'll notice that the starter engages stronger when turning the ignition and less load draw if you've got the headlights on.
You'll also get 90 minutes of reserve capacity so that it provides constant performance. Since the battery is 15 times more resistant to vibration, it outlives many others in the long haul.
This battery's durability enables it to withstand hard launches, extreme corners, and perform at its peak on the race track making it a great option for modified S2000s.
ACDelco Advantage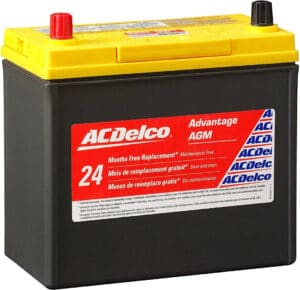 Manufacturer: ACDelco
Part Number: ACDB24R
CCA: 325
Group Size: 51
Type: AGM
Weight: 31.5 pounds
Warranty: 2 years
Buy On: Amazon
Apart from being maintenance-free, the ACDelco Advantage AGM uses valve-regulated-gas recombinant technology, which provides up to 3-times the cycle life of regular batteries.
This battery's durability is evident by its protection during road vibration and its absorbed glass mat design which makes the battery spill-proof and have high-cycling capabilities. You don't have to worry about acid damage and dry-out to the terminal.
The corrosion-resistant grid will also prolong the battery's life.
ACDelco has used calcium alloy to produce a fine grain, which provides higher cranking amps and lower self-discharge rates. They've also used a high-density plate oxide so that the battery provides maximum power-per-pounds and high-cycling service.
To have this battery working at peak performance, make sure that you maintain a voltage of 12.4 volts or higher.
Delphi MaxStart
Manufacturer: Delphi
Part Number: BU9035
CCA: 680
Group Size: 35
Type: AGM
Weight: 40 pounds
Warranty: 3 years
Buy On: Amazon
Extreme conditions are no match for this Delphi battery — you won't have any problems starting your S2000 on a cold winter morning.
Apart from the 680 CCA, it's also got a reserve capacity of 100 minutes which is more than enough to power all your accessories such as heated seats or DVD players.
You can expect this battery to have a longer lifespan than conventional batteries thanks to its superior vibration and corrosion resistance — which is 20x greater than regular batteries.
On top of that, you'll get a three-year warranty with this battery but we're pretty sure it'll last you for much longer.
Odyssey PC925MJT
Manufacturer: Odyssey
Part Number: PC925LMJT
CCA: 330
Group Size: 28
Type: Lead Acid
Weight: 26 pounds
Warranty: 3 years
Buy on: Amazon
The Odyssey PC925MJT is ideal if you want a battery that will last longer and can be mounted in any orientation without worrying about leakage.
This is a very lightweight option, but keep in mind that means lower CCAs, so it may struggle with morning starts in very cold climates.
The vibration resistance ensures that it's protected from high-impact shock and mechanical vibration.
Odyssey offers a 3-year warranty so durability is the last thing you'll need to worry about with this battery.
Interstate MT-51
Manufacturer: Interstate
Part Number: MT-51
CCA: 500
Group Size: 51
Type: Lead Acid
Weight: 28 pounds
Warranty: 2 years
This Interstate battery is best suited for S2000 drivers living in hot to moderate climates. If you want an affordable battery that lasts long, the MT-51 is a great pick.
This battery has gained a reputation for being reliable and having a good charge capacity. Interstate has backed up those sentiments by offering a two-year free replacement and a five-year performance warranty.
With a cold cranking amps rating of 500, the MT-51 isn't going to struggle to start in cold temperatures either.
Which Is the Best Battery for Your Honda S2000?
To keep your sporty roadster in its best shape, you'll need a reliable battery to get the job done.
After scrutinizing all the batteries in our guide, we've highlighted the best ones below.
Best Overall Battery: Optima Red Top
The Optima Red Top is about as close as you can get to the ultimate battery for the Honda S2000. The energy and durability that it provides will be well worth the price that you pay for it.
Best Battery for Hot Weather: ACDelco Advantage AGM
Looking at the ACDelco's cycle life, recharge capability, and reserve capacity, it's clear to see that this battery's reliability surpasses others on our list. Its vibration resistance along with the non-spillage design further contributes to its prolonged life.
Best Battery for Cold Weather: Delphi
Delphi's 680 CCA is just what you need if you're struggling to start your car on cold winter mornings. With a reserve capacity of 100 minutes, you won't have to worry about powering your accessories either.
Have you tried any of these batteries in your S2000 already? Let us know your experience in the comments below.