Pushing your Honda S2000 to its limits is only natural once you get a taste of its legendary VTEC engine, but can your OEM clutch keep up?
Since the S2000 has been around for over a decade, some car parts will need to be replaced sooner or later –– or better yet, upgraded for high performance.
So which is the best clutch for your Honda S2000? Well, since there are a number of well-known brands out there, the search for the right clutch can be time-consuming.
To make things easier, our guide dives right into the best clutch replacements and upgrades for your Honda S2000 along with everything you need to keep in mind when buying a new clutch kit.
Why Should I Change My OEM Clutch?
Honda designed the stock clutch for daily driving and some degree of track use. That means it's not made to withstand the punishment inflicted by burnouts, drifting, and heavy launches.
A good clutch kit enables you to take complete advantage of the S2000's already powerful engine. This becomes more important if you've made performance mods to your Honda S2K, and especially true if they have significantly raised your car's power output thanks to your now turbocharged or supercharged S2000.
And even if you aren't looking for an upgrade, it's only a matter of time before your stock clutch wears out. The smartest thing you can do is be prepared with the right kit when that time comes.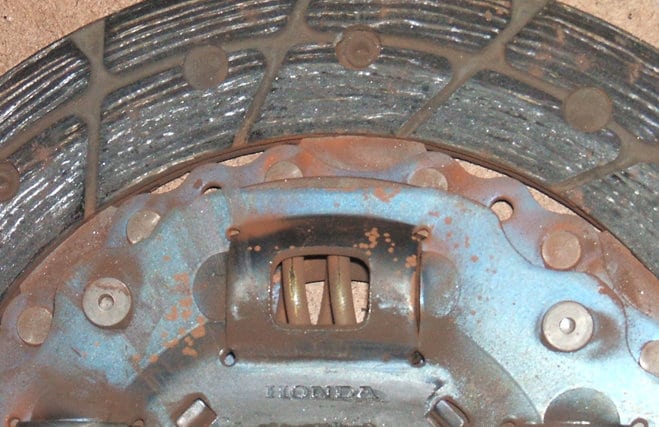 Also, a lighter clutch reduces the rotational inertia of the driveline, which directs the engine's power to acceleration instead of spinning up the driveline.
Things to Consider When Replacing Your Clutch
Going in blind when searching for a clutch replacement can leave you frustrated with the final results. To avoid this, there are some key factors that you should consider before making your purchase. That means finding the right clutch set up for your car's specific use.
For starters, look out for the power rating on various clutch kits. When your engine's output is greater than the clutch power rating, you'll experience a clutch slip.
Also, while upgrading to a high-performance clutch sounds fun, fitting this into your daily driver will require a lot more effort on your part. Heavy-duty race clutches make driving in traffic difficult and pulling off on a hill will need you to exert more "leg finesse" than before.
Keep in mind that a performance clutch has a high friction surface and cools quicker. In most cases, it has double or triple contact plates.
Our Picks for S2000 Clutch Replacement Kits
Changing your car's clutch isn't something you want to do often, which is why most drivers choose to change the entire kit.
We've listed some of the greatest clutches for owners looking to get the most out of their S2000, be it for street or heavy track use.
Exedy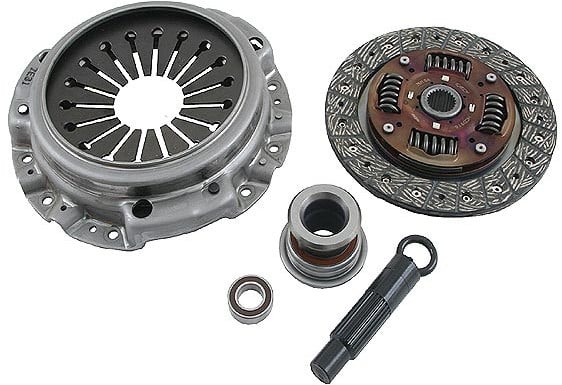 Manufacturer: Exedy Corporation
Part Number: KHC06
Disc Type: Metallic full-face
Best For: Mountain passes, fast street driving
Warranty: 1 year
Buy on: Amazon
If you're looking for an OEM-style clutch kit from a brand that has carved a reputation for supplying quality powertrain products, you'll like what Exedy has to offer.
Build quality is never an issue with Exedy since the kit features a full-face metallic clutch disc made with high-quality materials. Going one step further, Exedy also promises that this clutch kit not only meets the manufacturer's recommended torque rating but also aims to exceed them.
Because Exedy is the original manufacturer that does most of its engineering design in Japan, you can be certain this product is durable. It also comes with a one-year warranty.
Since the Exedy clutch kit doesn't feel a whole lot stiffer than OEM, it's the perfect fit if you're using your S2000 as a daily driver.
Competition Clutch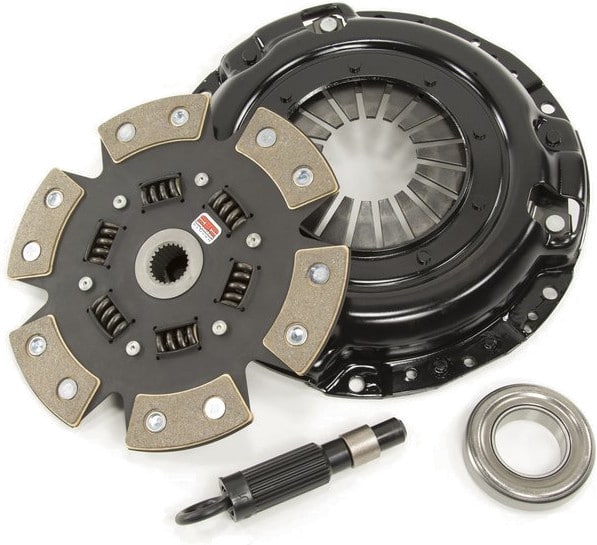 Manufacturer: Competition Clutch
Part Number: 8023-1620
Disc Type: Ceramic six-puck
Best For: Track use, limited traffic
Warranty: 90 day
Buy on: Amazon | Enjuku Racing
Competition Clutch specializes in manufacturing clutch kits for the track. This Stage 4 clutch kit is suitable for 2004 to 2009 models.
Although it's slightly more expensive than the OEM kit, it's available with a double spring, and six rivet carriage that provides a smooth gear-changing experience.
Included in the kit is a performance pressure plate that increases torque capacity by 250%. Also part of the kit is a 6-puck high torque sprung disc with ceramic buttons; along with all the bearing and clutch alignment tools.
With this setup, the recommendation is a minimum 300-mile break-in.
You can also go one step further by fitting a Competition Clutch flywheel. It works with all performance and stock clutch assemblies and is perfect for street driving.
The options are lightweight and ultra-lightweight, which weighs 8-10 lbs and is suited for Stage 3 and up clutch kit applications.
EFT
Manufacturer: Efortissimo
Part Number: G65133S4-TTAX
Disc Type: Copper ceramic six-puck
Best For: Track, aggressive street use
Warranty: 1 year
Buy on: Amazon
This Stage 3 clutch kit by EFT suits all models. It's a perfect kit if you hit the track often, as Efortissimo thrives on making products that provide performance and durability.
Part of the kit is a heavy-duty pull-type pressure plate, release bearings, pilot bearing, and alignment tools. You'll also receive a 6-puck copper ceramic disc that has 12 high-coefficient friction pads that are long-lasting and resistant to slippage.
It's the heavy-duty sprung center unit, which has heat-treated springs and retainer rivets, that really ensures the durability of this clutch kit.
To make things better, this kit also comes with a 12-month or 12,000 miles warranty.
ACT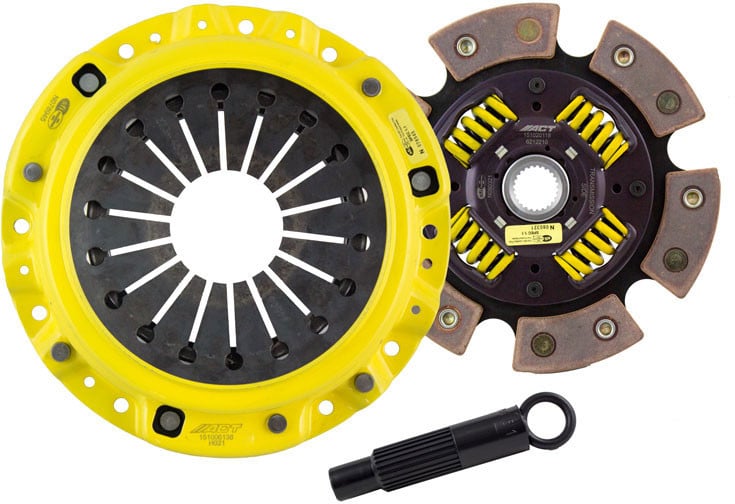 Manufacturer: ACT
Part Number: HS1-HDG6
Disc Type: Metallic six-puck
Best For: Competition use, limited traffic
Warranty: 1 year
Buy on: Amazon | Enjuku Racing
ACT's heavy-duty clutch kit suits all AP1 models from 2000 to 2006 and is one of their most popular pressure plates. It's got a diaphragm design that reduces deflection, increases clamp load, and ensures that it lasts for the long haul.
The diaphragm has been extensively tested during production by going through a four-stage heating process — ACT claims this is responsible for better overall performance. You'll find that the pressure plate is rigid and consistent because of the cover stampings.
Part of the kit is a 6-pad spring-centered race disc that helps to reduce torsional vibrations so that it's quieter and doesn't break down under extreme usage — making it one of the most drivable clutches for this car.
Backed by a 1-year manufacturer warranty, this clutch kit is the perfect choice for S2000 owners who won't settle for anything less than the best.
McLeod
Manufacturer: McLeod
Part Number: 760201
Disc: Steel full-face disc
Best For: Daily driving
Warranty: 90 day
Buy on: Amazon | Enjuku Racing
McLeod's street tuner clutch kit suits AP1 S2000 models 2000 to 2003. If you're looking for an entry-level replacement for your stock setup, the tuner series is perfect. The bonus here is that you get around 20-25% more power.
Included in the kit are a high-quality pressure plate and a steel-backed disc that provides a smooth gear engagement. Aside from these, you'll also find a pilot tool and throw-out bearing.
All in all, this clutch kit is relatively well-priced considering what you get.
Clutch Masters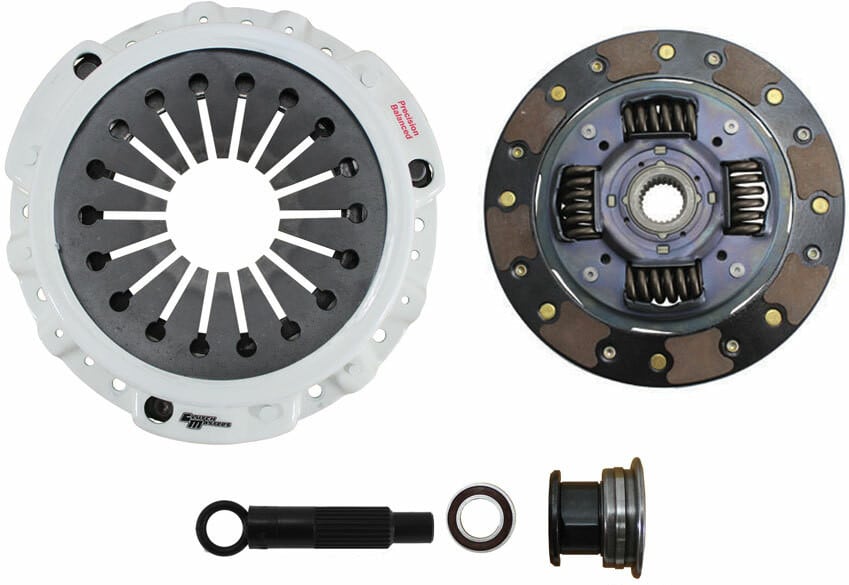 Manufacturer: Clutch Masters
Part Number: 08023-HRFF
Disc Type: Fiber lined full-face metallic disc
Best For: Street driving
Warranty: 90 day
Buy on: Amazon
Clutch Masters offers a single disc clutch kit and a high-rev pressure plate for both AP1 and AP2 S2000s. A part of the kit is a sprung hub fiber friction-lined disc that will withstand just about anything you throw at it, so you can count on it to last you a while.
While you will have to pay a premium price for this kit, it definitely makes up for its solid build quality and durability. A longer warranty would have been ideal, but considering how durable this kit is — you won't find us complaining too much.
Great Replacement Clutches for the S2000
We listed some of the most popular replacement and upgrade clutch kits out there, but some clearly stood out over others.
Take a look at our top picks below.
Best Value for Money: EFT
For its price, there's a lot going on with this clutch kit. From a heavy-duty pressure plate to a 6-puck copper ceramic sprung disc and alignment tools, EFT has it all.
Not only do you get all the key parts needed for a smooth installation, but EFT ensures that every component is high-quality, long-lasting, and prevents slippage.
Best for Daily Driving: Exedy
Street use will have you putting your clutch through its paces, so you need a kit that performs well when stressed, which is exactly what this kit does well.
Exedy manufactured this OEM replacement clutch kit with the help of its advanced engineering technology, so you won't have to worry about wearing out this clutch too soon.
Best for Track-Use: ACT
ACT used a four-stage, heat-treating process to ensure that its heavy-duty clutch kit provides optimal performance on the track. Its diaphragm design reduces deflection and prolongs the clutch's life too.
Once you upgrade to ACT's clutch kit and feel the improved power and better handling that it offers, you'll never want to go back. Shifting gears becomes so much easier, and you'll love the way your S2000 performs.
Did this guide help you narrow down the best clutch kit for your S2000? We'd love to know which was your favorite clutch kit so don't forget to leave a comment below!