So you've caved in to the temptation of installing an aftermarket exhaust system on your Honda S2000, but you aren't sure where to begin? You've come to the right place.
We'll point you in the right direction and give you all the information you need. Let's start by asking the most important question — why do you want an aftermarket exhaust?
The answers could be:
Better performance,
Better sound,
Weight reduction, or
Because why not?
All of these reasons are good enough to justify splurging on a cat-back exhaust system. In this guide, we'll take you through the best Honda S2000 exhausts available today, along with some important considerations before buying.
Before we get into it though, remember that simply installing an aftermarket exhaust system won't make a massive difference in acceleration.
For that, you need forced induction — either a S2000 turbo kit or a F20C/F22C supercharger.
In order to get the most out of your aftermarket exhaust, we recommend pairing it with supporting upgrades such as an aftermarket S2K intake system and a reputed engine management system along with a tune.
You can get away with not upgrading anything behind the catalytic converter, but it won't hurt to spring for a new set of headers and either a test pipe or high-flow catalytic converter too.
Why Should You Upgrade Your Exhaust?
Honda did a great job with the S2000's exhaust system—it's perfectly matched to the car and works supremely well. But, it's bulky, ugly, and the sound is nothing to write home about.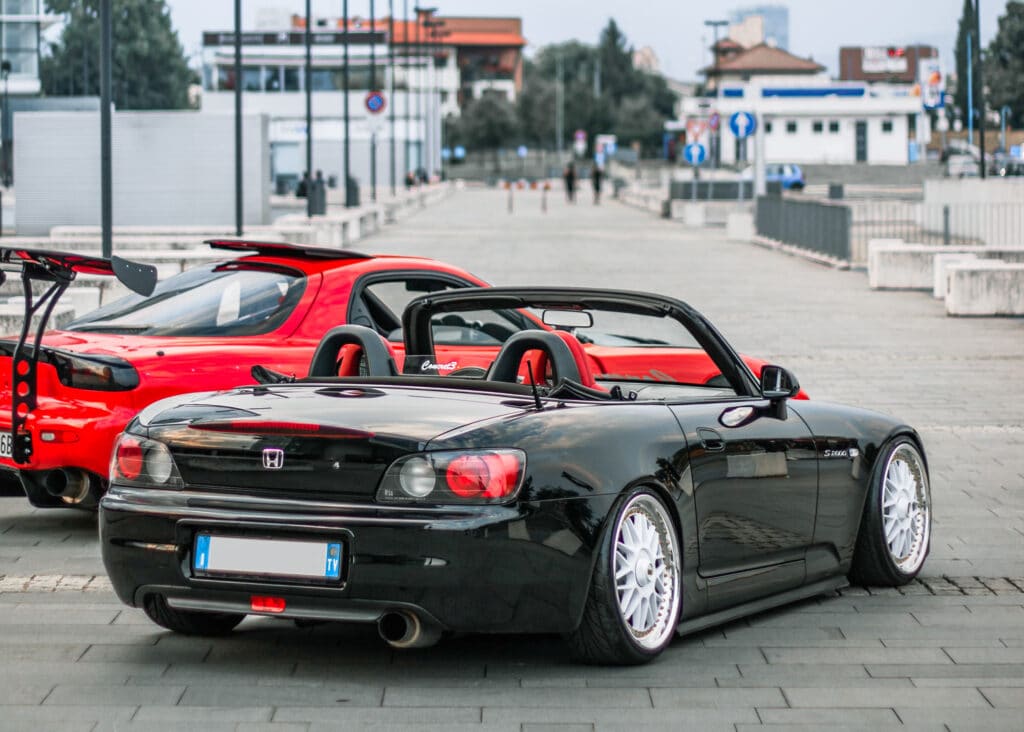 An aftermarket exhaust will definitely free up some power, but to notice the difference, you'll have to invest in other S2000 performance mods as mentioned earlier.
Compared to OEM, aftermarket exhaust systems have simpler pipe routing, fewer bends, and lighter overall construction.
This makes for a straighter, freer pathway for exhaust gases to escape. Add a test pipe into the equation and you're in for a noticeable change in power.
There's a lot of weight to be saved as the OEM exhaust weighs in at about 50 pounds. A good titanium exhaust can weigh as little as 16 pounds. Stainless steel exhausts weigh more than that — about 25 pounds which is still much lighter than the stock S2000 exhaust.
Single or Dual Exit?
If this question crossed your mind before reading this article, then you're on the right track. Many S2000 owners wonder why the car came with dual exit exhausts from the factory. It's something to think about.
Honda has always been known to ace the engineering side of things. Why then would they provide a dual exhaust system on a four-banger with a single exhaust manifold? Wouldn't a single pipe make more sense?
Dual pipes are better suited for V-configuration engines because they have two exhaust manifolds. An application like that would naturally house two independent pipes instead of one pipe that's re-routed to look like two pipes.
Why Honda went with dual pipes is a mystery. Perhaps because most people associate dual pipes with better performance? Or maybe because dual pipes are quieter. Who knows! Either way, they did a fantastic job with the exhaust system.
Now to answer the question at hand — we love single exit pipes because:
They make more sense on an inline 4 engine
They're louder
They're lighter, and
They make slightly more power than dual exhausts. At least that's what dyno numbers suggest but remember, butt dynos are like opinions.
With a simple exhaust exhaust like this, you're left with an empty space on your rear diffuser if you go with a single pipe. Consider installing a new diffuser or refabricating it to make it look like it was designed for one pipe.
However, dual exhausts have lower rasp, lower drone, and sound more refined compared to their simpler alternative. Plus they look neat. That's something to think about before making your decision.
The Best Exhausts for S2Ks
Keeping a wide range of budgets, styles, and preferences in mind, we've listed some of the best exhausts that could easily be up your alley. We've categorized this list according to how they sound, how they perform, and some low-budget options too.
Let's kick off the list with some of the best-sounding exhaust systems for your Honda S2000.
Best Sounding
Let's face it, most enthusiasts want an aftermarket exhaust system because of the way it sounds. Performance numbers and better-looking dyno charts are just a bonus.
If you want a better sound more than anything else, do consider the following exhaust options for your S2K.
Skunk2 MegaPower
Manufacturer: Skunk2 Racing
Part Number: 413-05-2025
Piping Diameter: 2.3 inches
Tip Size: 3.5 inches
Design: Cat-Back
Construction: Stainless Steel
It's called MegaPower for a reason — it's quite loud. Don't be surprised to hear this exhaust clearly inside the cabin with the windows rolled up.
Installation is a breeze. You won't have to do any welding or fabrication because it's a bolt-on style exhaust. Take note that it weighs 43 pounds, so it's not exactly light, or ideal for the track. It is 7 pounds lighter than stock though.
This is one durable piece of kit thanks to robotic TIG welding and the use of high-tensile stainless steel. Skunk2 also included CNC mandrel bends to ensure that it fits perfectly.
This MegaPower exhaust is a cat-back system that's designed for naturally-aspirated engines that need more exhaust flow than what the OEM system provides.
HKS Super Sound Master
Manufacturer: HKS
Part Number: 32023-AH001
Piping Diameter: 2.3 inches 
Tip Size: 4 inches
Design: Cat-Back
Construction: Stainless Steel
Buy On: Enjuku Racing
HKS's idea with this exhaust becomes clear when you see the product name they chose. They wanted to provide a perfect balance of performance and sound. They managed to do that because the exhaust emits a subtle sound during regular driving.
But when you step on the gas and open up the engine, you'll hear the deep tone that lets everyone know you're serious about speed.
This S2000 HKS exhaust uses stainless steel so that it keeps roaring as long as you have your car. To give you more peace of mind about the product's durability, HKS has offered a 1-year warranty against defects in materials and workmanship.
ARK N-II
Manufacturer: ARK Performance
Part Number: SM0600-0000N
Piping Diameter: 2.3 inches
Tip Size: 4 inches
Design: Cat-Back
Construction: Stainless Steel
The N-II exhaust is a dual exit cat-back system that features an offset tip design and a large piping diameter, both of which create the deep, throaty exhaust when you're accelerating closer to the redline.
ARK used stainless steel for better durability, and corrosion resistance. It also comes with CNC-machined flanges, polished tips, and a Ti Burnt tip cover. The installation is simple — no cutting, welding, or fabrication is required.
Best Performance
If you want more than just sound, and if you're serious about performance, then the list below is for you. These typically cost more than your usual sound-focused exhausts but that's for a reason.
These exhausts are well built and it shows. As we mentioned earlier, gains can only be achieved with supporting mods. Extracting more performance out of your car is all about making a hundred small changes in different areas.
APEXi World Sport II
Manufacturer: APEXi
Part Number: 116-KH26
Piping Diameter: 2.3 inches
Tip Size: 3.9 inches
Design: Cat-Back
Construction: Stainless Steel
Buy On: Enjuku Racing
World Sport II is a popular exhaust system that's loved by many S2K owners. APEXi's decision to use stainless steel, mandrel-bent piping, and mild steel strikes a good balance between performance and value for money.
This package is perfect for drivers who are pedantic about having low and mid-range power but without excessive noise. The WSII will make your S2000 look even sportier thanks to the stainless steel muffler, powder-coated mild steel piping, and a polished tip.
The cat-back exhaust system includes everything you'll need for a successful install — nuts, bolts, hangers, and gaskets.
ARK DT-S
Manufacturer: ARK Performance
Part Number: SM0600-0006D
Piping Diameter: 2.5 inches 
Tip Size: 4.5 inches
Design: Cat-Back
Construction: Stainless Steel
The ARK DT-S is truly the complete package. It's got the style, the performance, and the sound. ARK has put great emphasis on ensuring durability; this shows when you examine the near-perfect welds up close.
Even though it's a single exit exhaust, the unwanted drone and rasp remain tolerable thanks to what ARK calls multi-layer sound compression.
In the box, you get the installation hardware, burnt dolphin tip, machined flanges, polished finished piping, rolled tip, and Y pipe.
Megan Racing Spec-Ti
Manufacturer: Megan Racing
Part Number: MR-CBS-S2K06-TI
Piping Diameter: 2.7 inches
Tip Size: 3.5 inches
Design: Cat-Back
Construction: Titanium
It makes us happy to see a truly high-performance product rollout of Megan Racing's factory. For those who don't know, this brand is better known for making affordable aftermarket parts for enthusiasts who are just starting out.
The Spec-Ti looks very promising — thanks to the single exit configuration and the use of titanium as the primary material of construction, Megan Racing has managed to cap the weight of this exhaust at a meager 10 pounds! That's 80% lighter than the factory exhaust system.
Even the piping size is near perfect. With an outer diameter of 70mm and an inner diameter of 68mm, this exhaust merges very well with the OEM catalytic converter. This titanium exhaust provides a great strength-to-weight ratio and is also resistant to rust and corrosion.
Spoon Sports N1
Manufacturer: Spoon
Part Number: 18000-AP1-000
Piping Diameter: 2.4 inches
Tip Size: 2.5 inches
Design: Cat-Back
Construction: Stainless Steel
The Spoon Sports N1 is popularly referred to as a track-only exhaust for good reason. It favors outright performance over comfort. This means that it's obnoxiously loud, drones a lot, and just isn't suitable for daily driving unless you have noise-canceling headphones on.
That might be an overstatement as these things are highly subjective. However, if you visit a racetrack with the Spoon Sports N1 exhaust installed on your S2000, you'll likely be driving one of the quietest cars there. Proper race cars get even louder than this.
To ensure that the N1 provides a restriction-free exhaust flow, Spoon conducted extensive digital measurement, engine dyno testing, and circuit testing. So if you frequent the track, this is definitely an option you should consider.
GReddy Revolution RS
Manufacturer: GReddy
Part Number: 10158100
Piping Diameter: 2.5 inches
Tip Size: 4.5 inches
Design: Cat-Back
Construction: Stainless Steel
There's a lot to like about Greddy's Revolution RS single exit exhaust. It comes fitted with a resonator that does a decent job of minimizing drone — something that most large diameter exhausts are notorious for.
The result is a refined tone that you'll appreciate each time you take your S2000 out for a spin. What surprises us about the Revolution RS is that it sounds polished and doesn't drone even when run with a cat delete kit.
You'd expect an exhaust that sounds like that to have a low-profile design but it's quite the opposite. The officer isn't going to like how it looks.
J's Racing Titanium FX-PRO 70RS
Manufacturer: J's Racing
Part Number: FTMW-S1-70RR
Piping Diameter: 2.7 inches
Tip Size: 3.7 inches
Design: Cat-Back
Construction: Titanium
The new 70RR range by J's racing features a completely redesigned silencer and higher quality, 1 mm thick titanium piping compared to its predecessor — the 60RS. The result is an ultra-light exhaust that sounds adequately loud yet sophisticated.
This full titanium dual exhaust is primarily designed for the AP2 S2000. If you own a 2006 to 2009 model, it will still fit but it might require slight modifications.
Weighing in at only 13 pounds, this exhaust system is a massive 27 pounds lighter than the OEM unit. That's some serious weight savings from a simple bolt-on mod. It comes with dolphin-style tips that look pretty neat.
With the newest rendition of this exhaust system, you get a completely revised design that's straighter, stronger, and more durable than before. The only downside is the price. If you're happy spending four digits on an exhaust system, look no further than this one.
Fujitsubo Legalis R
Manufacturer: Fujitsubo
Part Number: FJ-160-55523
Piping Diameter: 2.4 inches
Tip Size: 3.7 inches
Design: Cat-Back
Construction: Stainless Steel
If you want a track-ready exhaust that's almost as quiet as your stock setup, the Fujitsubo Legalis R is the one to get. It is only slightly louder and deeper than stock with little to no drone — perfect if you're building a sleeper car.
An exhaust system like this really makes sense if you daily drive your S2000. It's quiet at idle and has a great tone when cruising at low speeds. When the VTEC kicks in though, it really shines. 
Fujitsubo's focus with this exhaust was to improve everything except top-end power. Gains depend on what supporting modifications you have installed.
The catch with the Fujitsubo Legalis R system is that it's hard to find. You can always get it shipped from Japan but the import duty might cost more than the exhaust itself.
Budget-Friendly
Cheap doesn't necessarily mean useless. Exhaust systems come in many different shapes, sizes, and prices. There are some inexpensive exhausts out there that are really quite good.
So if you're on a budget but you want a high-quality exhaust system for your Honda S2000, consider the following options.
HKS Hi Power
Manufacturer: HKS
Part Number: 32701-BH001
Piping Diameter: 2.9 inches
Tip Size: 3.8 inches
Design: Cat-Back
Construction: Stainless Steel
Buy On: Enjuku Racing
HKS released their Hi Power exhaust in a single-exit version due to popular demand. Seems like we're not the only ones who like single exit exhausts on the Honda S2000.
Weighing in at 32 pounds, the HKS Hi Power can be considered medium-light, but still 18 pounds less than the stock exhaust.
This exhaust system features an adjustable 3.8-inch titanium tip with a burnt blue finish. This just so happens to be very well silenced and resonated. Expect to see some improvement in performance and overall efficiency with this exhaust system installed.
Invidia N1
Manufacturer: Invidia
Part Number: HS00HS1GST
Piping Diameter: 2.7 inches
Tip Size: 3.9 inches
Design: Cat-Back
Construction: Stainless Steel
Buy On: Enjuku Racing
If you're looking for a cheap, fun exhaust and aren't afraid of loud pipes, the Invidia N1 is worth looking into. It would be more at home on the track though — some enthusiasts say that it's just too loud for a daily driver.
As long as you pair it with a quality high flow catalytic converter, the volume is tolerable. The N1 is constructed using high-quality SUS304 stainless steel and features CNC-machined flanges. This ensures corrosion resistance and enhanced durability.
Gains are typically noticed in the mid to high rpm range when paired with an aftermarket intake system and a tune.
Invidia Q300
Manufacturer: Invidia 
Part Number: HS00HS1G2T
Piping Diameter: 2.7 inches
Tip Size: 4 inches
Design: Cat-Back
Construction: Stainless Steel
Buy On: Amazon | Enjuku Racing
The Q300 by Invidia features dual titanium, flat-bottom muffler design. Considering the price, the Q300 is a steal.
One gripe that many S2000 owners had with this exhaust is that the canister hangers were defective. However, this issue was resolved by Invidia in newer models of the Q300 — the ones that are available for sale these days.
The sound this exhaust makes is described by many as "perfect". It keeps unwanted attention away but still reminds you that your car is not stock.
It has a composed rumble at low rpm and gets aggressive as you climb up the rev range and finally hit VTEC. Definitely among the quieter exhausts out there.
The fitment of this exhaust is by no means perfect, but at this price, that's as good as it gets. Expect to see positive and negative reviews of this exhaust as it always comes down to personal preference.
Berk Technology Catback
Manufacturer: Berk Technology
Part Number: BT1610-AP1
Piping Diameter: 3 inches 
Tip Size: 4 inches
Design: Cat-Back
Construction: Stainless Steel
This 3-inch cat-back exhaust is suitable for 2000-2003 model year S2000s. It's a single exit exhaust that features a straight-cut tip. When manufacturing this exhaust, Berk ensured that it complies with SMOG regulations in 50 states.
This cat-back exhaust is 26 pounds light and provides a clean, straight pathway to help your engine breathe. It's quieter than most exhausts in this price range.
S2000 owners looking for an affordable setup that looks good and won't wake the neighbors up will find the Berk exhaust to be a delight.
Our S2000 Exhaust Top Picks
Feeling spoiled for choice? Welcome to the aftermarket. It would be unfair to select just one exhaust system and label it as the best option in this list. There are simply too many variables at play.
It comes down to your specific use case and personal preference. If we must choose, we'd narrow down the list as follows.
Best Overall: HKS Super Sound Master
This 2.3 inch, dual system is the complete package. HKS have gone above and beyond to really help to dial in that low-key sound you're looking for. What's more, is that this exhaust will make the rear end of your S2000 look great.
HKS' SSM is the perfect combination of style, sound, and performance.
Best Value: HKS Hi Power
For the price, the Hi Power exhaust system is a steal. It's stainless steel and robotically TIG welded just like most other options in this price range.
Unlike others here, it's a single exit exhaust, meaning you don't only get a better sounding car that performs better, you get a weight benefit too.
If your S2000 is naturally aspirated and you're looking for something that's both easy to install and uninstall, this is the exhaust for you. 
Best for Track: Invidia Q300
For the track, you need an exhaust that offers it all — durability, great performance, and unparalleled quality. That's exactly what Invidia offers with the Q300 dual-titanium exhaust system. What more could you ask from a track-focused exhaust?
So that concludes our list. We'd love to know your thoughts and opinions on the subject. Know of an exhaust system that should've been on here but isn't? Let us know in the comments below.