As exciting as it is to drive the S2000, there's still some more horsepower you can squeeze out of your current setup. The answer to this lies in upgrading your S2000's intake system.
Whether you're running a naturally aspirated engine or slowly making your way to the territory of forced induction, intake system upgrades serve as a great way to amp up the power and torque without breaking the bank.
In this guide, we'll take you through some of the major upgrades you should look at for your S2000 intake system as well as the best aftermarket parts to help you reach those power goals.
Top Reasons To Upgrade Your Intake System
Think of your car's intake system like its nose and lungs. It consists of all the parts that inhale and take in the oxygen needed for combustion. The more free-flowing air that goes in, the more power your engine produces.
Now when it comes to engine upgrades, turbochargers and superchargers are a popular way for your engine to have more air. But if you want to keep your naturally aspirated setup, we recommend upgrading your S2000's intake system.
Performance Benefits
As rev-happy as your Honda's F20C or F22C is, upgrading your intake system will help you get to that sweet redline even faster. You'll even notice a better fuel economy and an improvement in your engine filtration.
It's also a great complementary mod if you're making exhaust system upgrades to your S2000, since the two usually go hand in hand.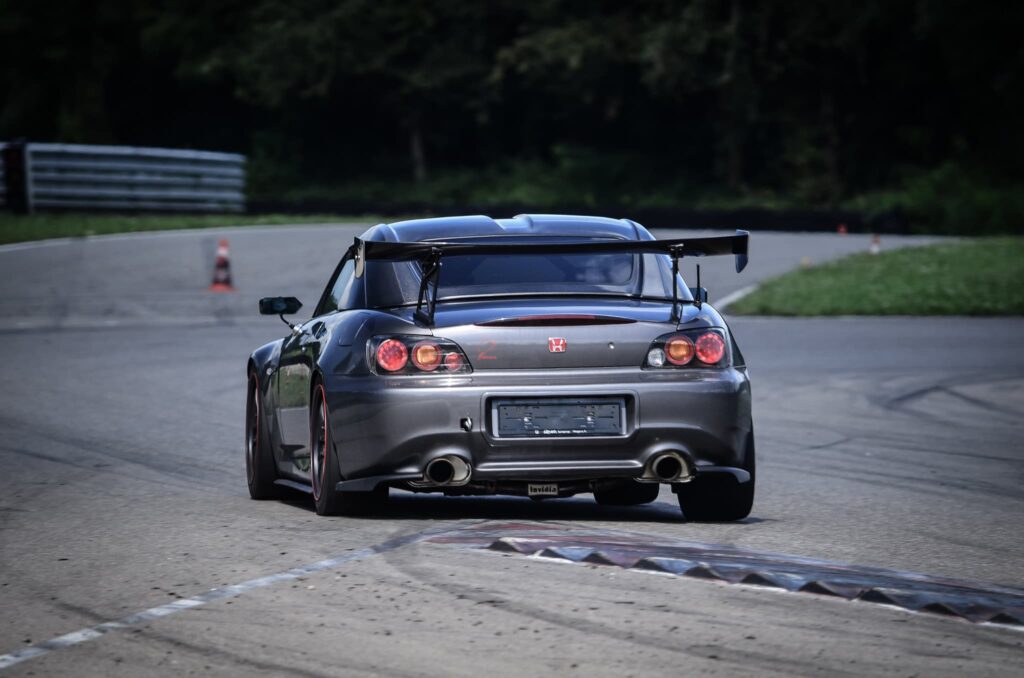 Need-Based (Replacing a Failed Intake System)
No surprise here but if you've noticed any or cracking or leaks in your S2000's intake manifold, throttle body or air filter, it's time to get them replaced.
Driving with a failed intake system can not only mess up the air-fuel ratio in your engine but also lead to expensive damage if left unchecked.
The Best S2000 Intake Systems
When looking for the best intake systems for your S2000, quality goes a long way and it's not something you want to cheap out on. A good intake system onboard will ensure a continuous flow of clean air to your engine.
Additionally, you'll want to look at upgrading all the components of your intake system rather than just one to really see the power gains you're chasing.
The ideal upgrade for your Honda S2000 includes:
A performance intake manifold
Cold air intake
Upgraded throttle body
Tuning
Cold Air Intakes
Cold air intakes are a crowd-favorite bolt-on upgrade within the realm of intake mods and for good reason. They look great, sound even better and won't burn a hole in your pocket.
As the name suggests, cold air intakes move the air filter further from the heat of your engine so that cooler air can be sucked into the engine for combustion. Since cold air is denser and carries more oxygen, you get more power.
Apart from this, CAI's also increase airflow thanks to the large diameter intake tubes, which are smoother and have fewer bends.
To avoid hydrolocking issues that may arise from changing the air filter's location, opting for an intake snorkel on your S2000 may help.
If you're looking for the top S2000 air intakes, here are some of our favorites.
Injen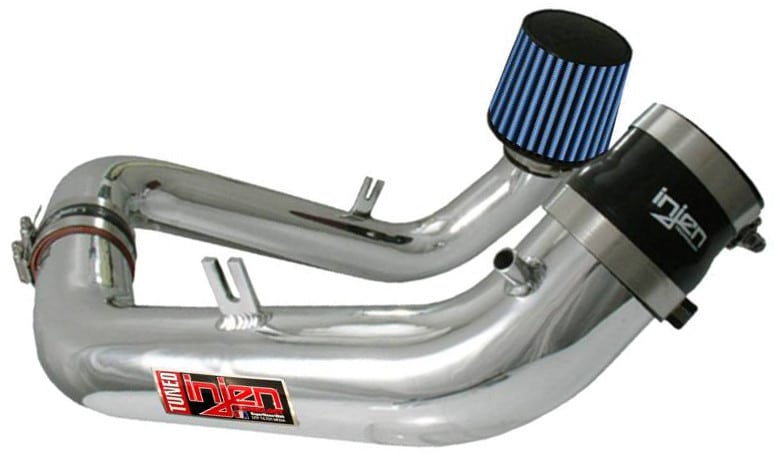 Manufacturer: Injen Technology
Part Number: SP1305P
Heat Shield: Included
Compatible Years: 2000-2003
Warranty: Limited Lifetime
Buy On: Amazon | Enjuku Racing
These tube style intakes from Injen Technology are loved by many S2000 owners but it's not just the crazy sound that makes them popular.
You'll instantly notice an improved throttle response along with steady gains in horsepower and torque throughout the rpm range after installation. As for the installation itself, you'll have to cut a portion of the undertray to get a perfect fit.
In some cases, owners have faced hydrolocking issues because of the location of the filter but opting for a hydro shield should get around this.
As for the sound on these intakes, crazy is an understatement with many owners admitting they'd buy these intakes just for the deep growl and great sound.
K&N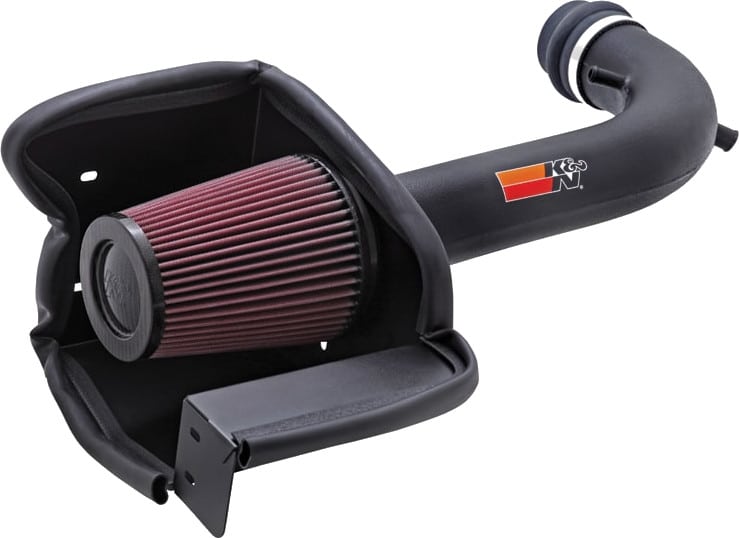 Manufacturer: K&N Engineering
Part Number: 57-3514
Heat Shield: Included
Compatible Years: 2000-2008
Warranty: 1,000,000 Miles/10 Year
Buy On: Amazon
K&N is one of the leading names when it comes to air filters and intakes which is pretty apparent when you take a look at the quality and durability of these intakes.
Unlike other intakes, the air filter resides within the engine bay. So if you live in a place where it rains a lot, this is a great option for you since you won't face any hydrolocking.
They've made an attempt to keep it cool under the hood with a heat resistant coating on both the tubing and the heat shield. Throw in a 10-year warranty and you've got a recipe for a pretty irresistible intake.
You can also look at pairing this intake with an AUT cooling plate to make the cold air flow more efficient.
AEM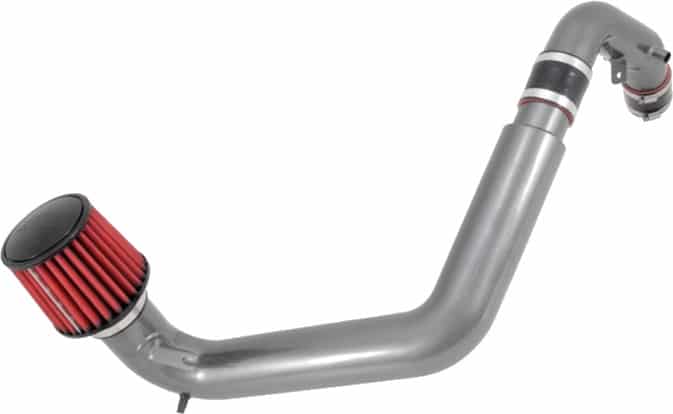 Manufacturer: AEM
Part Number: 24-6104C
Heat Shield: Included
Compatible Years: 2000-2005
Warranty: Lifetime
Buy On: Amazon
Known for their performance benefits and great sound, these tube style intakes by AEM are a favored option among many S2000 owners.
The reason why the AEM V2 intake is more popular than the previous designs has a lot to do with the fact that it gives higher numbers in the higher rpm range. Some have reported almost 9hp increase at peak and an increased throttle response too.
But all good things come at a price and this intake can be a bit of a pain to install. You'll probably have to take off your undertrays, the front wheel and in some cases drill massive holes in your undertray to get the pipe to feed into the bumper.
Luckily it'll all be worth it once you hear the growl and deep tone of this intake which is unlike any other.
Password:JDM
Manufacturer: Password:JDM
Part Number: PWCIK-APX-K1
Heat Shield: Not included
Compatible Years: 2000-2008
Warranty: None
All good things come at a price which is why this intake by Password:JDM is not only more expensive than the rest but also one of the best.
Unlike the tube-style intakes on this list, this is a ram intake that draws in air using a scoop located in the front bumper opening increasing the amount of cold air to the engine.
One thing we love about kevlar or carbon fiber intake like these is how lightweight they are, and this one weighs only 4lbs.
As for the performance, you'll definitely see equal torque and horsepower gains throughout the rpm range. The only con about this intake is the fitment issues reported by many S2000 users. You may have to cut the inside of your hood so that it closes completely.
But it's all worth it once you hear the instant growl on this intake which will put many other intakes to shame.
Intake Manifolds
The intake manifold is the last stop for the air before it gets to your engine. It consists of a series of tubes that evenly distributes the air that goes into the engine so the right amount of air can mix with the right amount of gas.
It also serves as a mount for the throttle body, fuel injectors and other components of the engine.
Upgrading to a performance intake manifold allows for more free-flowing air because of the larger plenum, minimized curves and oversized runners. To really make the most out of these features, you'll often find owners porting their intake manifold to match the throttle body.
This is because, with any air intake system, it is best if all the components have the same diameter and size to reduce any restrictions in airflow.
Skunk2 Ultra Series Race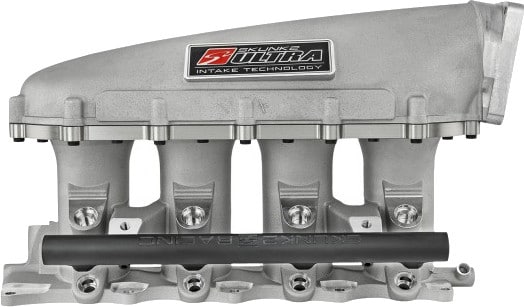 Manufacturer: Skunk2 Racing
Part Number: 307-05-9100
Construction: 356 aluminum alloy
Compatible Years: 2000-2009
Bore Size: 64mm
Buy On: Amazon
The Ultra Race Series intake manifold is a high-performance upgrade from Skunk2 Racing that should be at the top of your list. And don't worry about fitment because this manifold is compatible with all generations of the Honda S2000.
What's cool about this S2000 intake manifold upgrade is its innovative design, which features a removable plenum and optional plenum spacers. You can easily pull it apart to make installation and porting simpler.
In comparison with Skunk2's Pro Series, this intake manifold yields more power and torque. Aside from this, you get the option for a second set of fuel injectors.
Ballade
Manufacturer: Ballade Sports
Part Number: NA
Construction: Aluminum
Compatible Years: 2000-2005
Bore Size: 69mm
If you're running an AP1 S2000, this intake manifold will help update the airflow to the newer AP2 version with a big bore size of 69mm. And while it's perfectly compatible with the stock throttle body, we recommend getting the Ballade throttle body to amp up the power.
As for the power and torque pick up, you'll notice a steady increase in the same from 3000 rpm to redline. Your S2000 will feel more responsive without compromising on ride comfort.
Full Blown
Manufacturer: Full Blown Motorsports
Part Number: FBMIM-S2K
Construction: Cast aluminum
Compatible Years: 2000-2009
Bore Size: 74mm
Full Blown has carved a name for itself in dishing out some of the best aftermarket parts for the S2000 and this aftermarket S2000 intake manifold lives up to all the hype.
Many S2000 owners have often complained about factory plenum being too small, which Full Blown has addressed with this intake manifold. Apart from the larger plenum, you also get a well-designed manifold that looks great and bolts on just as snug as stock.
Given its design quality, this intake manifold is a steal at the price which is why you'll find so many S2000 owners praising it.
Magnus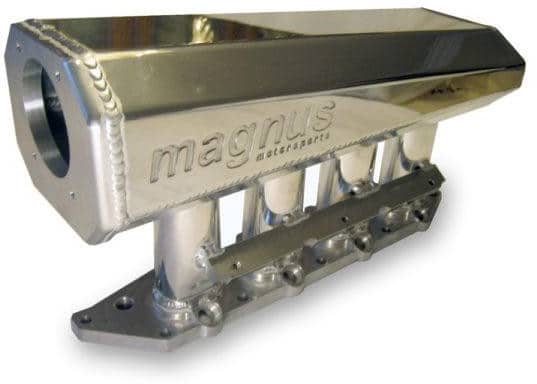 Manufacturer: Magnus Motorsports
Part Number: MMCINT3018
Construction: Sheet metal/Billet
Compatible Years: 2000-2009
Bore Size: 74mm
This upgrade by Magnus Sports is more than just a pretty intake manifold. It offers significant power gains all throughout the rev range for both naturally aspirated and forced induction S2000s.
This one's a bolt-and-go intake manifold that is pretty straightforward to install. The spool-up characteristics of this manifold are debatable and something you'll only be able to tell after running a dyno test. But you can't deny the top-end power gains in comparison to stock.
This manifold was handmade and welded by the craftsmen at Magnus Motorsports making it one of the more expensive components on our list but definitely worth it.
Throttle Bodies
The throttle body lies between the air filter and the intake manifold and it's the one component that controls the amount of air that enters the engine.
Upgraded throttle bodies are different from stock because they're bigger in size. Not only does this mean you get more horsepower but also an overall improved throttle response and more out of your other engine mods.
Skunk2
Manufacturer: Skunk2 Racing
Part Number: 309-05-0055
Compatible Years: 2000-2009
Buy On: Amazon
The Pro Series throttle body by Skunk2 has a throttle response very similar to OEM. It works well both with stock and Skunk2's own intake manifold but is not compatible with down-flow manifolds.
The installation is easy-peasy, nothing more than your regular bolt-on. As for the manifold, you can tell it's a high-quality component just by looking at it. This owes to the fact that it was designed using the latest Computer Aided Engineering (CAE) tools and CNC forged billet aluminum.
Whether you track your S2000 or use it as a sporty daily driver, this throttle body is very handy and works even better with an upgraded air intake setup.
Ballade Sports
Manufacturer: Ballade Sports
Part Number: BS-CB-THR
Compatible Years: 2000-2005
This bolt-on throttle body by Ballade Sports is such a great fit that you'd almost forget it's not OEM. That's until you take it out and about.
What's really fun about having a bigger throttle body like this one is that the throttle response makes your S2000 very rev-happy.
You can either choose to port match the intake manifold or pair it up with Ballade's big bore manifold to gain more HP and torque after tuning. The good folks at Ballade Sports are super helpful which earns this intake manifold a +1.
Spoon Sports Venturi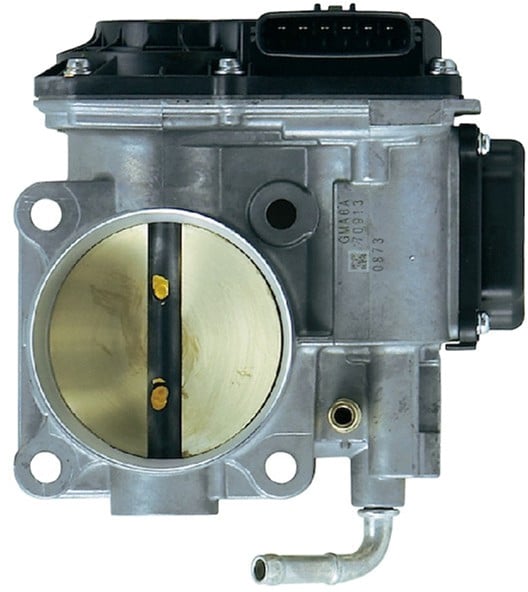 Manufacturer: Spoon Sports
Part Number: 16400-AP1-040
Compatible Years: 2000-2005
As the name suggests, the Venturi Throttle Body is bigger and better than stock mainly for the power gains it gives you. Spoon improved on the previous throttle body design and increased the flow-pass area for this one by 16%.
The new throttle body size is 70mm which, after tuning and other intake system mods, can increase peak power by approximately 6hp.
Taking it one step further, the surface of this throttle body is diamond cut to reduce any resistance and restriction giving you a smoother airflow. In addition to this, a gasket is included along with this throttle body.
Throttle Body Spacer
A throttle body spacer increases the plenum volume behind the throttle body, which adds throttle response. The more air you have in the plenum, the more air will be available for being sucked up by the intake manifold.
Overall, they're a cheap upgrade to increase horsepower, torque and fuel economy but we recommend pairing them with other S2000 intake mods to see better results.
P2R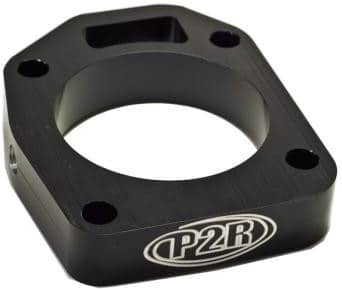 Manufacturer: Power Rev Racing
Part Number: P306
Compatible Years: 2006-2009
Warranty: None
A great throttle body for the price, you'll definitely notice a slight increase in HP and torque in the mid-range rpm, more so after tuning.
It compliments your S2000's naturally aspirated setup especially if you have an upgraded intake and exhaust. Additionally, this throttle body comes with an NPT threaded port at the bottom that can be used as an extra vacuum port or nitrous if you track your S2000.
Torque Solution
Manufacturer: Torque Solution
Part Number: TS-TBS-006R-2
Compatible Years: 2000-2005
Warranty: Limited Lifetime
Buy On: Amazon
Just like the one by P2R, this spacer also comes equipped with a 1/8″ NPT port for nitrous jet or vacuum/boost.
The installation is as easy as you'd expect and it fits perfectly. It's made with 6061-T6 billet aluminum with a hard anodized finish which looks great.
To get the most out of this spacer, pair it with a throttle body gasket and intake manifold gasket to further reduce heat transfer.
The Dream S2000 Intake System
Let's be honest, every time you upgrade your S2000, there are a lot of great parts to choose from. The trick to finding the perfect one is looking out for features that will be specific to the result you have in mind.
That said, we've still got a list of favorites that make it to the top.
Cold Air Intake: AEM
Your best pick among tube style intakes, the AEM V2 cold air intake does exactly what it's supposed to when it comes to delivering high numbers in the rev-range.
Intake Manifold: Full Blown Motorsports
A great intake manifold at an affordable price is what Full Blown delivers with this performance upgrade. It works just as well if you're naturally aspirated or boosted so long as you port match all your other components correctly.
Throttle Body: Ballade
It was a tough choice between this and Skunk2 but Ballade's stellar customer support is hard to beat. You can use it with your current manifold but, for better results, we recommend pairing it up with Ballade's big bore manifold.
Throttle Body Spacer: Torque Solution
Small yet effective, many owners have praised this throttle body spacer for the slight gains seen in the mid to low rpm range.
Are there any intake system upgrades that we missed? Tell us your experience with these mods in the comments below!
Feature Image: IMG_7951_edited by Grant.C, adapted by Low Offset, CC BY 2.0