The Lexus IS, which stands for "Intelligent Sport", was originally introduced in 1998 as an entry-level sports sedan. It was built to compete with European models such as the BMW 3 Series, Mercedes C-class, and Audi A4.
Since Lexus wasn't available in Japan until 2006, the 1st-generation was sold as the Toyota Altezza there.
1st-gen cars were only available in sedan and station wagon form, and the model was such a huge success that Lexus decided to go global when production of the 2nd-generation began in 2005.
The 2nd-gen Lexus IS was available in sedan, coupe, and even convertible form, just like the Germans were doing with their entry-level sports sedans.
By 2013, the world received the 3rd-generation Lexus IS, and that's when it became more luxurious to stay true to the Lexus branding.
Just like its main rival, the BMW 3 Series, all generations of the Lexus IS were offered with a choice of inline-6 engines.
If you've ever wondered what engine Lexus IS300s have, we'll answer that question in this article as we take a closer look at the different Lexus IS300 engines offered throughout the years.
1st-Gen JCE10: 2JZ-GE
Engine code: 2JZ-GE
Displacement: 2,997 cc (3.0L)
Layout: Inline-six, DOHC, 24 valves
Power: 215 hp
Torque: 218 lb-ft
Compression ratio: 10.5:1
Firing order: 1-5-3-6-2-4
Fuel system: Sequential electronic fuel injection
Cylinder bore: 86 mm (3.39″)
Piston stroke: 86 mm (3.39″)
In Europe, TTE (Toyota Team Europe) sold a supercharger kit for the 6-cylinder, 2.0L IS200, which increased power from 153 hp to 205 hp without sacrificing fuel consumption.
It was discontinued when the Lexus IS300 2JZ-GE 3.0L straight-six engine was introduced for the European market.
In the US, the Lexus IS300 first saw the light of day in July 2000, sold as a 2001-year model.
It was first available as a sedan, and the IS300 SportCross wagon hit the market one year later.
Initially, all models were only available with a 5-speed automatic transmission, but the sedan received a 5-speed manual for the 2002-year model.
For the JDM market, Toyota gave the Altezza SportCross station wagon the 3.0-liter 2JZ-GE engine in July 2000.
This model, known as the Gita, was available with either RWD or AWD, and was only available with automatic transmissions — a 5-speed unit for the RWD Gita wagon and a 4-speed gearbox in the AWD version.
The Lexus IS300 2JZ engine is the same unit that's also found in many other Toyota models of that era, most notably in the Supra.
However, the IS300 has VVT-i and uses slightly different heads, internals, camshafts and crankshafts. The connecting rods and piston ring landings aren't as strong in the IS300's engine.
Toyota's iron-block 3.0L 2JZ engine has gained a cult-like following, but unlike the turbocharged version, the naturally aspirated Lexus IS300 engine is not the most tunable unit.
Modified Lexus IS300s can be tuned to increase hp figures from roughly 185 whp (stock) to around 230 whp by fitting all the available bolt-on parts.
The important ones include IS300 headers, a straight pipe exhaust system, and short ram or cold air intakes.
Those looking for more power should look into fitting a turbo kit, or just swap in the 2JZ-GTE unit that came with a turbocharger from the factory.
In all honesty, most people would probably be better off just enjoying the Lexus IS300 engine for what it is — a near-bulletproof unit that will keep running for years to come.
2nd-Gen GSE21/22: 3GR-FE
Engine code: 3GR-FE
Displacement: 2,994 cc (3.0L)
Layout: V6
Power: 228 hp
Torque: 221 lb-ft
Compression ratio: 10.5:1
Firing order: 1-2-3-4-5-6
Fuel system: Distributed fuel injection
Cylinder bore: 87.5 mm
Piston stroke: 83 mm
Lexus launched the 2nd-generation IS in 2005 as a 2006-year model. It was sold as a Lexus worldwide, even in Japan, where the Toyota Altezza name was discontinued.
The five-door SportCross version was also discontinued from the lineup for this generation due to a lack of sales.
The 2nd-generation Lexus IS featured a much sleeker and sportier design compared to its predecessor. The sedan's exterior lines were now more coupé-like thanks to its fastback profile.
Sadly, this Lexus IS300 was only available in select areas, specifically the Middle East and Asia. In these markets, the 2nd-gen Lexus IS300 was sold as both a sedan and coupe.
Other markets received the 2.5L IS250, 3.5L IS350, and 5.0L IS500. There was even a 2.0L diesel-powered version, known as the IS200d and IS220d.
While its predecessor used an inline-six engine, the 2nd-gen Lexus IS300 came with the dual VVT-i 3GR-FE 3.0L V6 engine in both the sedan and coupe form.
The 3GR-FE engine does not feature direct injection like its sibling, the 3GR-FSE.
The V6 engine was mated to a 6-speed automatic transmission which sent its 228 horsepower and 221 lb-ft of torque to the rear wheels.
Toyota's 3GR-FE engine was produced at their Chinese plant between 2003 and 2017, and while it's a decent engine, it does come with some well-known problems.
Most notable is the crackling of the phase regulators, overheating has been known to ruin gaskets, and the ignition coils and water pump are known to break.
Those wanting to import a Lexus IS300 should be warned that there aren't many performance upgrades for it since this particular engine was never available in Western markets.
In addition, the Lexus IS300 is a relatively heavy car, so its performance isn't great to begin with.
3rd-Gen XE30 Lexus IS300
Lexus introduced the production version of the 3rd-generation IS in January 2013 and it's still on sale at the time of writing after receiving a couple of updates.
For the first time, the Lexus IS300 is now offered as a hybrid, and an AWD version is once again available since the discontinuation of the JDM-only Altezza Gita.
Perhaps somewhat confusingly, the Lexus IS300 is now offered with different engines, and none have a 3.0L displacement.
In 2017, the Lexus IS got a mild facelift that included updated taillights, front fascia, hood, and adaptive headlights that improved visibility by turning with the steering wheel.
When it was first shown at the 2017 Beijing Auto Show, it also had various interior updates, including a new steering wheel, a 10.3″ infotainment screen, and contrast stitching on the dashboard.
Engine-wise, the V6-powered cars have 5 more horsepower and the RWD turbocharged 2.0L inline-4 IS200t is renamed IS300.
In 2020, the Lexus IS received a major facelift that included an updated dash, different bodywork, a larger grille, full-width taillights, and once again they made changes to the headlight design.
It was also given features such as optional Android Auto and Apple CarPlay, upgraded driver assistance, and blind-spot monitoring became standard.
Handling was improved thanks to a more rigid suspension setup, making the Lexus IS300 sportier than previous versions.
8AR-FTS Engine
Engine code: 8AR-FTS
Displacement: 1998cc (2.0L)
Layout: Turbocharged inline-four, DOHC
Power: 241 hp
Torque: 258 lb-ft
Compression ratio: 10.0:1
Firing order: 1-3-4-2
Fuel system: Direct injection
Cylinder bore: 86 mm
Piston stroke: 86 mm
The base-model version of the Lexus IS300 sedan is fitted with Toyota's 4-cylinder 8AR-FTS 2.0L turbocharged engine.
Initially, this model was sold as IS200t, but after the 2017 update, it was renamed IS300.
The 2.0L turbocharged direct-injected VVT-iW engine produces 241 horsepower and 258 lb-ft of torque, and it's connected to an 8-speed Sports Direct Shift automatic transmission.
It operates using both an Otto and modified Atkinson cycle, ensuring that it's powerful as well as fuel efficient, depending on what the driver needs at the time.
The Lexus' ESTEC D-4ST fuel injection technology (Economy with Superior Thermal Efficient Combustion Direct injection 4-stroke with Turbo) has separate twin injectors, making it capable of both direct and port injection, depending on engine speed.
While the power figures sound decent, the turbocharged 2.0L Lexus IS300 is actually slower than most of its competitors.
It's only capable of a 7-second 0 to 60 mph sprint, so it doesn't really live up to the expectations set by its sporty exterior.
There is good news for those who want more power, though.
As the base model Lexus IS300 engine is turbocharged, more power can easily be extracted.
A stage 2 tune with an aftermarket charge pipe and muffler delete releases another 40-45 hp and 80-85 lb-ft of torque.
Still not enough? Install a hybrid turbo and power can be increased to 380 wild horses.
2GR-FSE and 2GR-FKS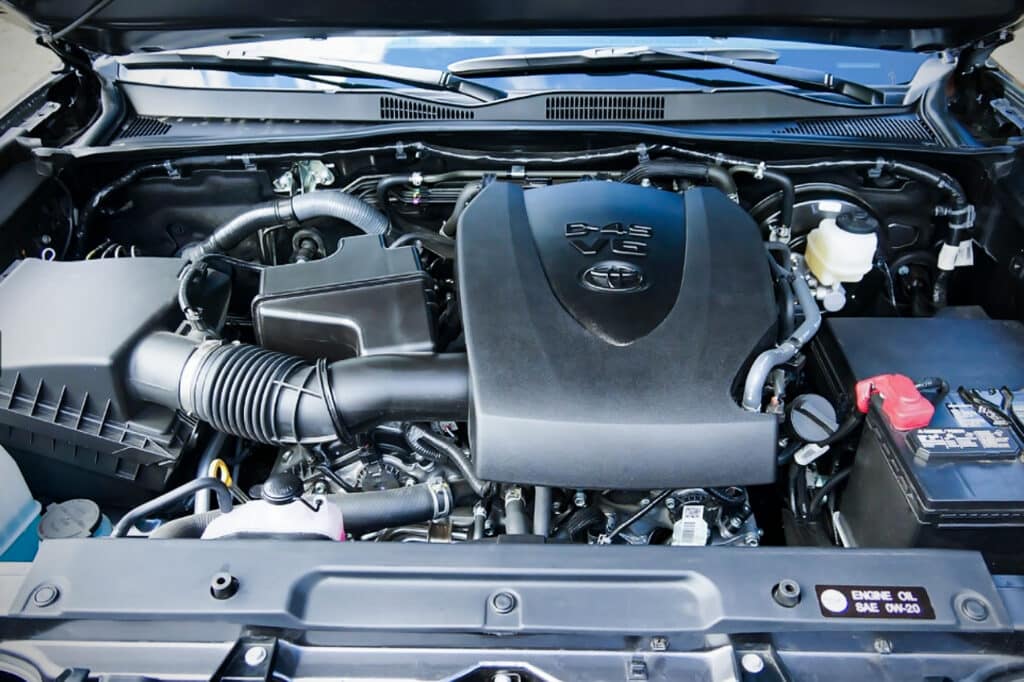 Engine code: 2GR-FSE, 2GR-FKS
Displacement: 3,456 cc (3.5L)
Layout: V6, DOHC
Power: 255 hp
Torque: 236 lb-ft
Compression ratio: 11.8:1
Firing order: 1-2-3-4-5-6
Fuel system: D-4S twin injection
Cylinder bore: 94 mm
Piston stroke: 83 mm
The AWD version of the IS300 uses Toyota's 2GR-FSE and 2GR-FKS 3.5L V6 engines. These are the same as what you'll find in the IS350, but with less power.
While the IS350 has a rather impressive 306 hp and 276 lb-ft of torque, the detuned IS300 only has 255 hp and 236 lb-ft, sent to all four wheels via a 6-speed super ECT transmission.
The 3.5L 2GR-FSE unit uses Toyota's latest D-4S twin injection fuel system, and the 2GR-FKS combines this with the on-demand Atkinson cycle that's also found in the previously mentioned 8AR-FTS engine.
Either option is a solid choice and the 2GR-FSE has found itself on the Ward's 10 Best Engines list multiple times.
With proper maintenance, these engines will practically run forever, even in modified form. They're among the most reliable Toyota engines you'll come across.
There are aftermarket performance parts available, but it's not going to be cheap if you want a ton of power while keeping it naturally aspirated.
Those looking to extract more power will be happy to know TRD and HKS developed supercharger kits for the 2GR, and it should be able to handle 350 hp on stock internals.
2AR-FSE Engine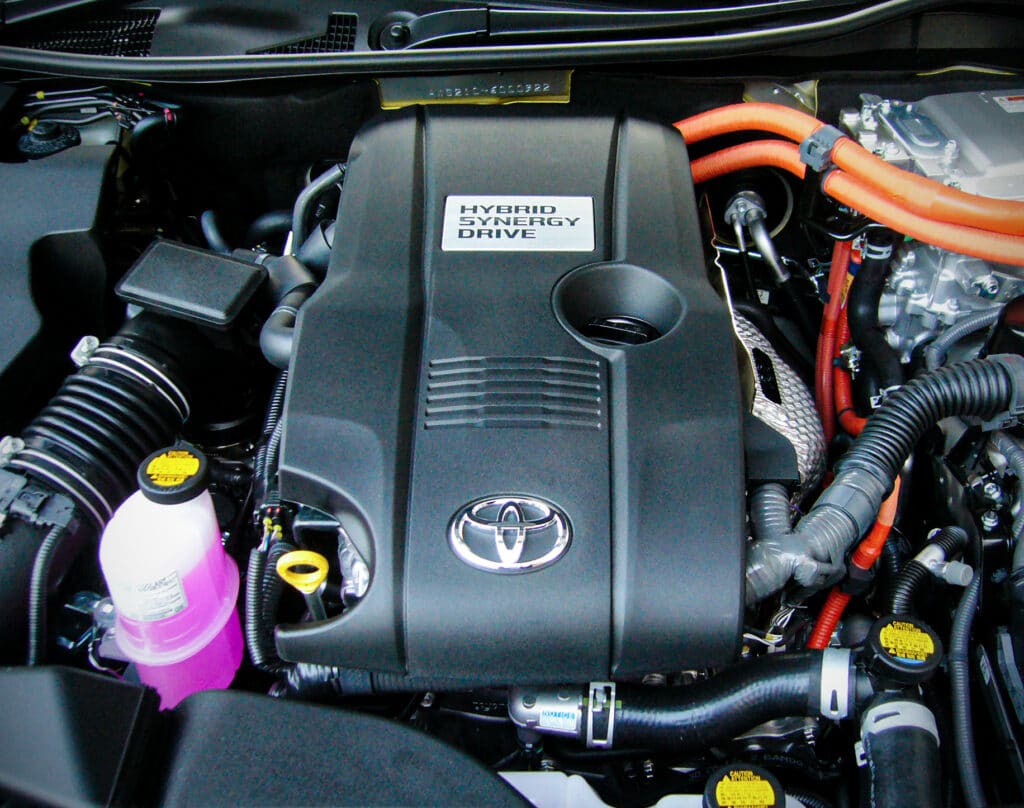 Engine code: 2AR-FSE
Displacement: 2,494 cc (2.5L)
Layout: Inline-4, DOHC
Power: 180 hp (220 with electric motor)
Torque: 163 lbf-ft
Compression ratio: 13.0:1
Firing order: 1-3-4-2
Fuel system: D4-S direct and port injection
Cylinder bore: 90 mm
Piston stroke: 98 mm
The hybrid IS300h model is sold in Europe, Japan, and select international markets.
The naturally aspirated 2.5L 2AR-FSE engine makes almost 180 hp by itself, and it's combined with an electric motor that produces around 140 hp.
However, they won't produce maximum power simultaneously, so max output is capped at 220 hp.
Depending on the version, the power is sent to the rear wheels or all four wheels via an eCVT transmission with sequential shift mode.
Like other engines in the AR family, the 2AR-FSE is equipped with D4-S direct injection and port injection.
Bore and stroke are also the same as other 2AR engines, but it has a unique cylinder head, cams, pistons, and fuel management system. Also, the compression ratio has been increased to a whopping 13.0:1
Trying to extract more power from this engine in naturally aspirated form is rather pointless and expensive.
The engine, motor, and transmission setup in the hybrid Lexus IS300 really isn't set up for performance and messing around with it can result in unforeseen consequences.
That being said, it may be possible to fit a Scion tC turbo kit that's proven to work with 2AR stock internals.
2AR engines that aren't coupled with the hybrid powertrain and eCVT can handle over 350 hp.
However, with the 2AR-FSE's high compression ratio, there's a serious risk of getting too much pressure, resulting in detonation and knocking.
Summing Up
All three generations of the Lexus IS300 luxury sports sedan (or coupe) are fun daily driver cars with excellent and reliable engines.
Because of the vastly different engines, the IS300's sporting credentials vary. Still, they're all set up for some spirited driving. Lexus certainly nailed the styling, with certain IS300s looking faster than they really are.
If you want to purchase a car in this class but aren't willing to deal with the ownership costs and reliability issues often associated with German models, you should definitely give the Lexus IS300 a chance.
Which is your favorite version of the IS300? Let us know by leaving a comment below. If you found this post useful, share it with your friends! We appreciate your support.