There is no such thing as a general race car! Instead, there are several different styles of race cars and types of racing.
For instance, drift cars can't outperform dedicated drag cars in the quarter mile, just as a car built for dry asphalt won't outperform a rally car on a muddy trail. There is no race car style that can reliably do it all.
For enthusiasts who have ventured into the world of motorsports, either as a fan, spectator, or participant, it quickly becomes clear that there are many different kinds of race cars and racing events that demand unique builds to be successful.
With a large number of racing types out there, it can be difficult to sort it all out. In this article, we aim to do exactly that by giving you an overview of the different types of race cars and how they differ from one another.
Rally Cars
Rally racing is arguably the most extreme motorsport out there; cars compete all over the globe on all kinds of terrain including asphalt, dirt, gravel, mud, snow, and even ice! To succeed, rally cars are dialed in to perfectly suit the particular stage and conditions.
For instance, cars that compete on snowy tracks are outfitted with snow tires and the suspension is typically raised for maximum control.
On the other hand, if the stage happens to be on a mostly-asphalt course in sunny 70 degree weather, the car will be lowered and tires will be summer/performance oriented for the smooth track ahead.
In other words, rally cars are usually optimized per event, and the conditions can change drastically even between the stages of a single event.
The Subaru Impreza WRX comes to mind if you are familiar with rally racing, as it is probably the most iconic car in rally history.
While AWD is optimal for traversing the difficult terrain often found in rallies, all drivetrain-types have competed, they simply require different tuning, setups, and driving habits.
Rally cars are usually heavily modified versions of actual production vehicles, like the Impreza WRX, Mitsubishi EVO, BMW E30 M3, and the like.
They are stripped of nearly all interior panels and outfitted with a roll-cage for maximum stability as well as safety in case of a rollover.
Drift Cars
Drift cars are meant to slide, and lightweight RWD cars are a favorite choice among enthusiasts looking to get into the sport.
The Nissan 240SX, Mazda Miata, and BMW 3 Series are some of the most popular options for beginners learning to drift. Some events are just that, a bunch of people getting together and drifting for the sake of drifting.
However, there are also competitive drift events, with the most well-known and high profile being Formula Drift.
This is a relatively new event in the United States, having started in 2003. Like rally racing, it features heavily modified vehicles that go well beyond the specifications of their production counterparts.
To set up a drift race car properly, drivers focus primarily on suspension, steering, and drivetrain modifications. These include:
In Formula Drift, of course, things go much, much further. Chris Forsberg has won Formula Drift 3 times and competes with a Nissan 370z, but it does not have the stock VQ37VHR V6 engine.
Instead, it has the VK56DE V8, with the addition of twin turbochargers. The 370z, base model, produces around 332 hp. Forsberg's drift 370z produces around 800 hp!
While you don't really need a lot of power to slide an RWD chassis around, in the higher tiers of competition, you will see many high-powered examples of drift cars.
Open Wheel Racing
An open wheel race car is one with the wheels outside the fenders. Probably the most instantly recognizable example of such a car is a Formula 1, or F1, car.
F1 cars, along with other open wheel race cars, represent automotive engineering at its finest. Most of these have what's called a monocoque structure and very few feature a space frame chassis.
They feature pointy, small front ends, usually a single seat that exposes the driver to ambient air, a rear-mounted engine, insanely functional aero parts to maximize downforce, and positive caster wheels.
Open wheeled race cars are designed this way for the best possible performance on a track and are able to reach blisteringly high speeds.
There are several open wheeled racing categories, including F1, Indy Car Racing, Formula 2, and Formula E.
Formula 1 Cars
F1 cars are the pinnacle of open wheel race cars. Many hit 0-60 mph in under 3 seconds and have top speeds of over 200 mph! In fact, F1 cars constitute the fastest road racing cars on the planet.
Not only is Formula 1 the highest tier, but it is hugely popular and an F1 car is recognizable even to the casual, non-enthusiast observer.
Indy Cars
Indy cars look nearly identical to F1 cars, but there are some major differences. They are usually not as fast as F1 cars because they do not feature the same level of aggressive aerodynamics, although they are still very fast and often hit over 200 mph.
Indy Cars are also more uniform on the track. Everyone is running the same chassis, so there is less freedom for engineering differences between teams.
There are also only two engine manufacturers to choose from for Indy Cars, those being Honda and Chevrolet.
Formula 2
Formula 2 is the tier which precedes Formula 1. In fact, there's also Formula 4, Formula Regional, and Formula 3.
Drivers do not start out in the top tier, and these lower tiers are a way for them to compete, gain skills, and make their way up the ranks.
The cars are also different; in Formula 2 all drivers are to use the same car designed by Williams F1.
Formula E
Formula E was started in 2011, featuring electric cars. The current Formula E car is the Gen 3, and there is a lot of excitement about its potential, especially with regard to the future of motorsports as more and more manufacturers are turning their focus to electric cars.
The Gen 3 still maintains the overall classic shape of an open wheel race car, and is suggested to be able to convert up to 90% of its mechanical energy into power.
This contrasts with an internal combustion engine in F1, which is only able to convert about 40% of that energy into power.
Nascar
Nascar often gets a bad rap for being a sport where cars only have to turn left. However, Nascar has more than one track, even one shaped like a triangle! So there is much more to being a Nascar driver than just turning left quickly around an oval.
What about the cars? Initially, Nascar cars were literally stock vehicles, which is why they are still referred to as stock cars.
Today, Toyota, Ford, and Chevrolet are the predominant manufacturers involved, and these are nowhere like the stock cars that started the sport.
Instead, Nascar custom builds two types of cars: Short-track and Super-speedway. Short-track cars are designed to do well on shorter tracks with tighter turns, so they are designed to have the most downforce possible.
Another big thing is ensuring the cars stay cool enough, so an emphasis on grill structure for adequate cooling is made.
Super-speedway cars, on the other hand, are built for going on longer straightaways at speed, hence their name.
They're faster, and are required to use restrictor plates to limit their power from around 750 hp down to 450 hp. This is done for safety reasons after crashes at excess speeds that endangered fans as well as the drivers.
Dragsters
Drag racing is all about driving as fast as possible in a straight line. People build their own drag oriented race cars for local competitions, but there are also professional drag cars known as dragsters.
There are multiple sub-categories of dragsters, from top-fuel to super-street. Each category has its own rules that manage how drivers can build their cars. Top fuel dragsters are the most powerful, and honestly most insane, drag race cars out there.
Top fuel dragsters look a little bit like F1 cars, with a very narrow front end, huge rear wing for maximum downforce, and single seat cockpit.
These are some of the fastest powered vehicles on the entire planet. A top fuel dragster can literally produce up to 11,000 hp! They can complete the drag race in under 3.7 seconds, reaching maximum speeds in excess of 330 mph.
Dragsters typically have very short exhaust systems to maximize the scavenging effect and keep exhaust back pressure at a minimum.
A unique part of these cars is that they do not run on the same fuel as our street cars do. Instead, they use something called nitromethane, which is their secret to producing such high power numbers.
Nitromethane has oxygen in it, meaning that the vehicle does not have to take in as much air to get the same effect. Up to eight times the normal amount of fuel can be burned for a given amount of air, providing incredible power.
Of course, nitromethane is highly toxic, and a single drag race can use up to 15 gallons of the stuff, so it is no wonder it is not used in our street cars.
Touring and Sports Race Cars
Touring and sports race cars are similar, and participate in what is generally referred to as touring car racing. Touring car racing involves modified versions of street cars, especially for the touring class.
For example, a BMW sedan might be seen on the racetrack, not unlike the ones you see for sale at your local dealership.
The primary difference, of course, is that these cars are modified for racing. They can compete in shorter races as well as longer ones spanning anywhere from 3 to 24 hours!
Sports cars also participate in this form of race, but most are coupes, rather than the sedans that dominate the touring car class.
Moreover, they can include exotic vehicles like those from Lamborghini. In other words, dedicated sports cars are used in this category.
Another difference between sports and touring car classes is that sports cars might use a custom tube frame underneath the body shell, while touring cars are usually very close to stock in terms of the body-design.
Prototype Race Cars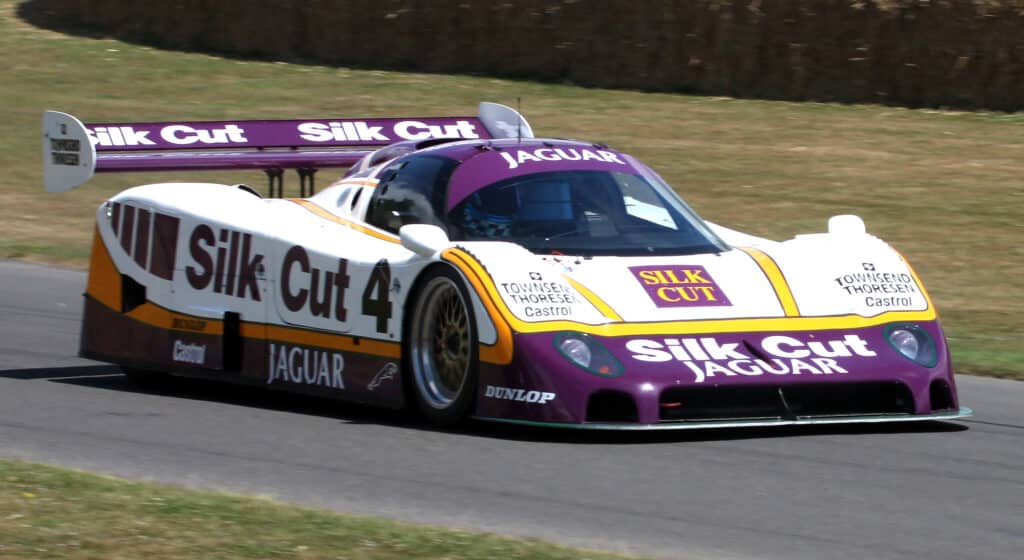 There is another subcategory of sports race cars as well, known as the prototype race cars. These are vehicles built solely for racing and have no resemblance to street cars.
They are also never produced in order to sell to consumers, serving only as dedicated race cars. The prototype class is further divided into the LMP1, LMP2, and LMP3 subclasses.
Each subclass has its own rules governing the maximum power, aerodynamic aids, and even the amount of energy used that is acceptable.
Off-Road Race Cars
Although we often think of rallying when we think of off-road racing, there is a separate category for off-road competition. Some of the races feature no tracks and part of the challenge is navigating the route yourself, such as in the Dakar Rally.
In the Dakar Rally, there are 5 classes of vehicles, including cars, quads, motorcycles, and trucks.
Vehicles have to traverse rough, unpredictable terrain with no set path, instead relying on their navigation skills and a provided map (although this is not a normal map with the amount of information you find when driving along a highway).
Because the terrain is so hazardous, road cars modified for off-roading, such as those in rally racing, are usually not sufficient. Drivers must instead bring a vehicle built specifically for the challenges that the Dakar Rally brings.
Another major off-road event is the Baja 1000, which, like the Dakar Rally, features many different classes of vehicles, from ATVs and trucks to completely custom built race cars.
These vehicles have to be built for endurance, as the circuit or point to point races are both long, with the circuit somewhere close to 800 miles and the point to point up to 1,000 miles!
Usually, when compared to race cars that compete on pavement, off-road race cars will have completely different tires that are designed to maintain as much traction as possible in the unforgiving terrain they encounter.
The suspension of an off-road car will be focused on making sure the vehicle can manage uneven surfaces with ease, and without getting stuck.
Compare that to road racing cars with suspensions dialed in to get the lowest center of gravity and roll center possible.
Cup Race Cars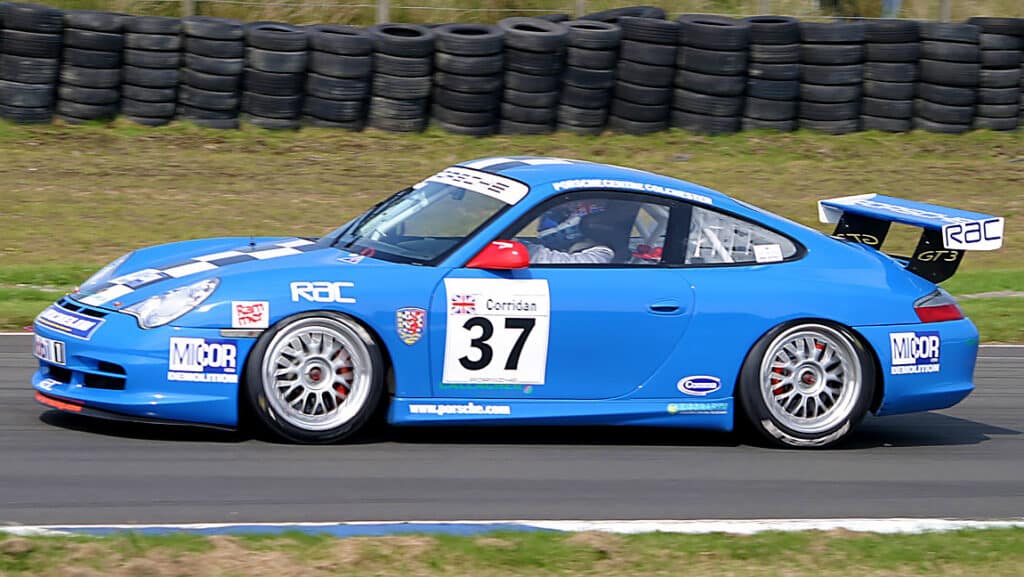 Cup racing tries to standardize the competing vehicles so that it is the driver's skill that leads to a win, rather than which team has the most money to invest in building a car.
This is accomplished by giving each team the same car with the same components; teams are only allowed to dial in their suspension geometry and change out tires.
An example of this is the Porsche Carrera Cup, where all competing vehicles are the same (Porsche 911 GT3 race car) and they compete across many different tracks over the course of an event.
As a spectator, though, it is usually not confusing because each car has its own livery, with the various team sponsors displayed and the driver's name.
Concluding Summary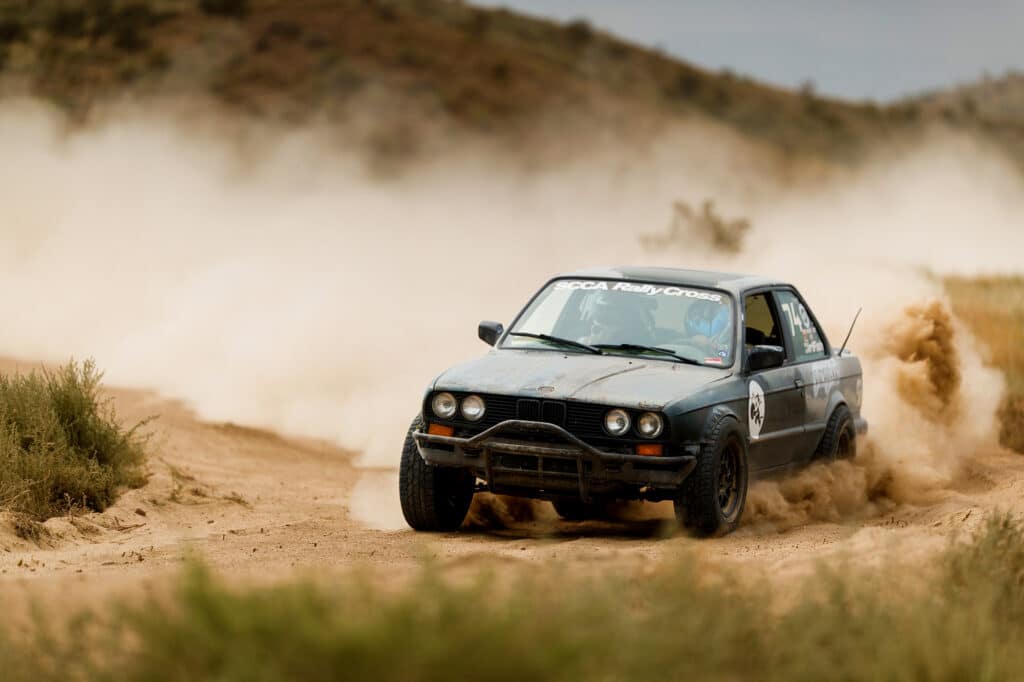 Cars have changed over the years and so has racing. What hasn't changed is the impact motorsport has on the way we perceive, purchase, and interact with automobiles.
The glory days of Group B will probably never return, but with newer types of cars and auto racing making their way into mainstream popularity, there's no denying that this is an extremely exciting time for auto enthusiasts all across the globe.
What's your favorite type of race car? Let us know by leaving a comment below!