Paying a visit to the iconic Ebisu Circuit is on virtually every drifting enthusiast's bucket list.
Nestled within the Fukushima countryside, a place renowned for its mountain ranges, gorgeous lakes, lush forests, and green rice paddies, the Ebisu Circuit was built on drift racer Nobushige Kumakubo's family land.
The Ebisu race track complex consists of multiple individual racetracks, a couple of drift tracks, and skid pads.
The circuits include:
Kita (North)
Minami (South)
Higashi (East)
Nishi (West)
For those who love going sideways:
Drift Land
The Drift School Course
Kuru Kuru Land
The Touge (mountain pass)
It's not all about motorsports, though, as there's a spa, ski resort, and animal safari park located in the surrounding area.
In this article, we'll take a closer look at the iconic Ebisu Circuit, its history, and what it has to offer.
History of the Ebisu Circuit 
The Ebisu Circuit is the brainchild of Nobushige Kumakubo, or Kuma to his friends, one of the pioneers of the drifting community, leader of Team Orange, and former D1GP champion.
He was born into a wealthy family that, rather conveniently, owns a sizable portion of land in the Fukushima countryside — why not use that wealth and available land to create a piece of motorsport heaven?!
It's no coincidence that the Ebisu Circuit has become a favorite destination amongst drifting enthusiasts, as Kumakabo himself has contributed to the track's design and even operated the excavator during the construction period in the mid-1980s.
Sadly, the Ebisu race track was heavily damaged in the Fukushima earthquake in February 2021 but has since been rebuilt thanks to donations from fans around the world.
Driving Courses at Ebisu Circuit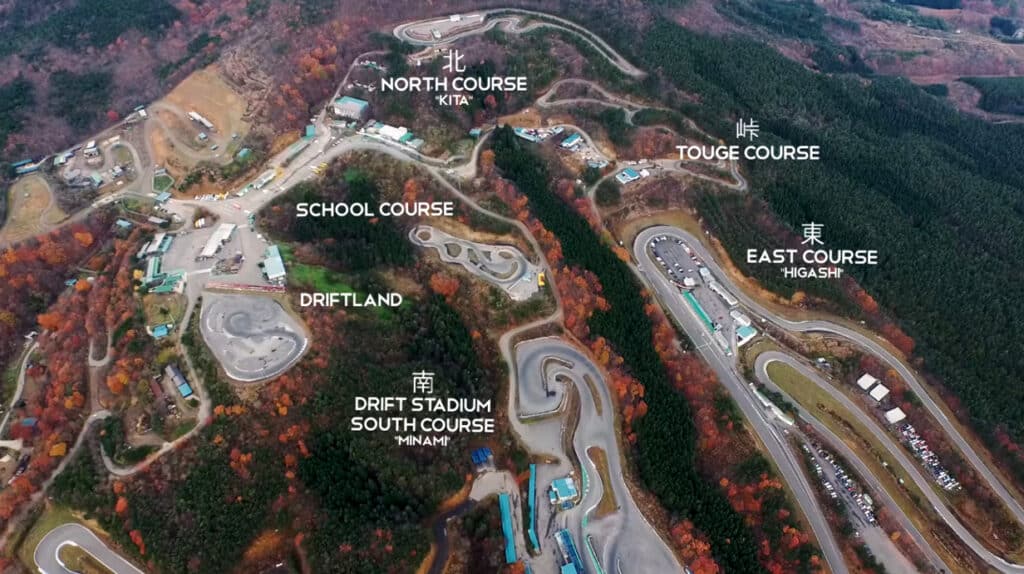 With many challenging turns, chicanes, hairpin bends, and elevation changes; the Ebisu Circuit is home to some of the most perfect courses for drifting and grip racing.
Even though the training areas and skid pads get a ton of traffic, what attracts most enthusiasts are the following courses.
Minami Course
Minami, the South circuit, was used for drifting events, including the D1 Grand Prix, and is easily the most famous part of the Ebisu complex.
The 1.2 km Minami course is particularly known for one specific section that features a long constant-radius turn and a drop at its apex, which launches cars sideways into the air and straight toward the concrete wall.
While the rest of the track isn't as terrifying, it still offers plenty of fun thanks to a combination of wide curves and a hairpin corner.
The Minami course was badly damaged in 2021, and combined with a decrease in visitors due to Covid among other factors, Kumakubo-san took a financial hit.
Additionally, with drift cars becoming increasingly fast and powerful, he stated it was no longer safe to use it as a drift track. To keep the track open, it has now been turned into a gravel rally course.
Nishi Course
Interestingly, the Nishi course, or West course, is a hotspot for drifting; especially through the hairpin turns, but it has been used mainly for grip driving throughout its history, as circuit management used to limit drifting on this track.
During spring, the track is open to the public for two days, and this is when it gets a lot of attention, during an event known as Dorifuto Matsuri, or Drift Festival.
Drifting videos shot on this track give the impression of it being fairly small, but that's likely because the drifting crowd only uses a small portion of it. In reality, Nishi is the longest track of the Ebisu complex, measuring in at 2.1 km.
Since the Minami course has been turned into a gravel track, the Nishi course was set to receive a banked portion for future D1 events.
Kita Course
Kita is the North course of the Ebisu race track, and it's located at the highest elevation point of the Ebisu complex.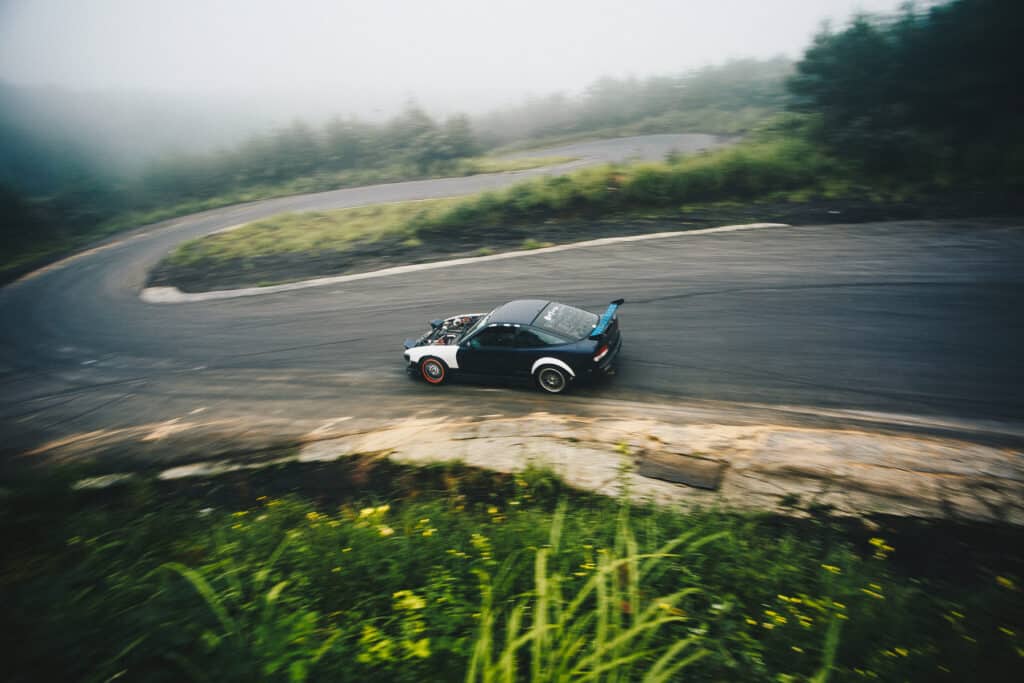 The Kita course is just over 1.1 km long and offers some of the most challenging and exciting sections of all the Ebisu tracks.
The most dedicated drivers will hit over 100 mph down the second straight, and then send it sideways through the 3 following turns — those who want to laugh in the face of danger do so without scrubbing off speed before entering the corners.
Higashi Course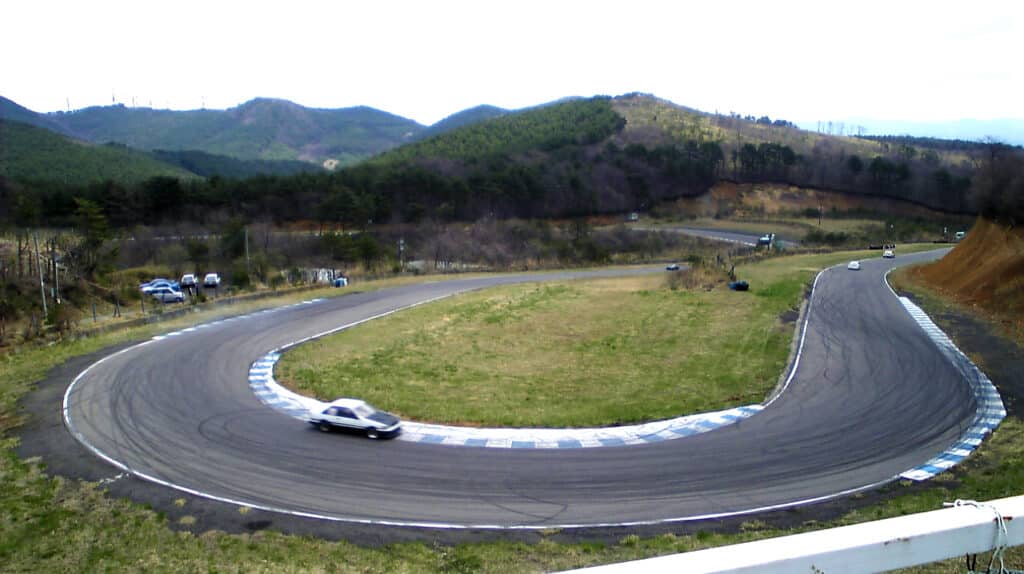 Higashi, the East course, is the oldest and second-longest track of the Ebisu Circuit, measuring just over 2 km in length. Just like the Nishi track, drifting at Higashi is limited to the Dorifuto Matsuri days.
Higashi is characterized by altitude variations, measuring a whopping 67 meters from the lowest to the highest point.
The Higashi track has appeared multiple times in the iconic Best Motoring series, where some of Japan's greatest drivers, such as Keiichi Tsuchiya and Max Orido, have battled it out in one-on-one car comparisons.
Touge Mountain Pass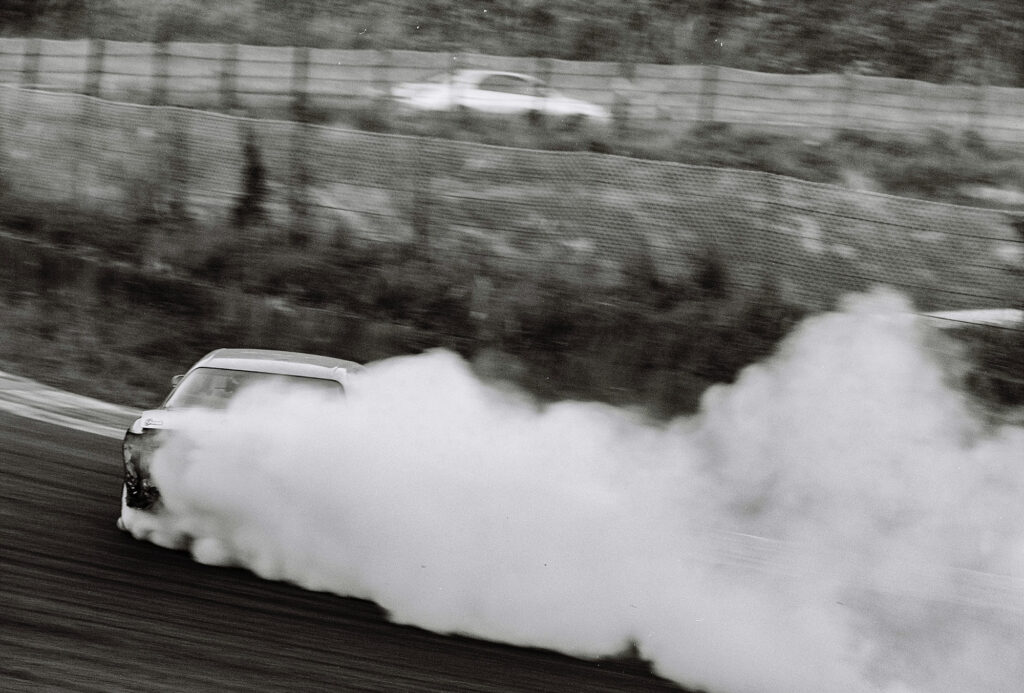 With police cracking down on underground Japanese street racing cars, you certainly don't want to get caught doing anything illegal there.
This course at Ebisu is the perfect option for those who want to live out their deepest Initial D fantasies and drive the best touge cars.
The touge track is like a carbon copy of the typical Japanese mountain road, with narrow passages and tight curves.
Speeds still exceed 60 mph, though, so drivers have a chance to find both their own and the car's limit while sliding sideways through a "simulated" Japanese countryside.
Honestly, what more could we possibly ask for than an Ebisu Japan drift session?
Racing and Drifting at Ebisu Circuit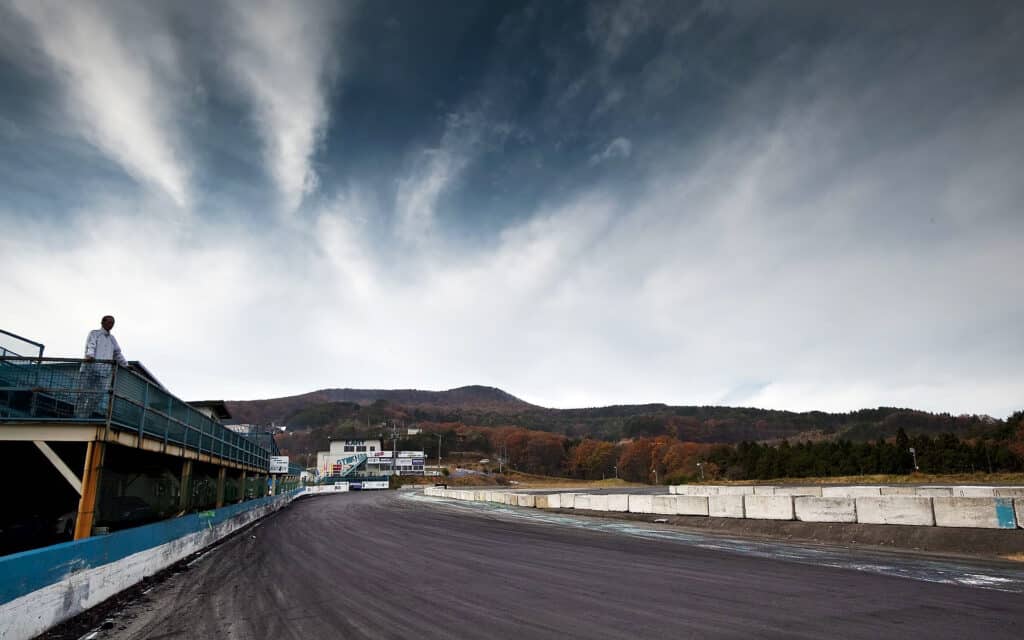 It's no wonder why the Ebisu Circuit is best known as the Mecca for drifters. It hosts the D1GP, Formula Drift Japan, various matsuri events, and there's even a drifting school.
However, there's more to it than that, as the Ebisu Circuit also hosts various other types of motorsports events. Time Attack events are pretty hot these days, so it's no surprise that they've organized some of those.
What's probably surprising is that the Ebisu Circuit attracts many different types of race cars, including formula cars, open-wheelers, karts, and even motorcycle and endurance races.
If you want to give it a shot, but don't have a car available in Japan, then you'll be happy to know there's a solution available.
Ebisu Circuit Car Rental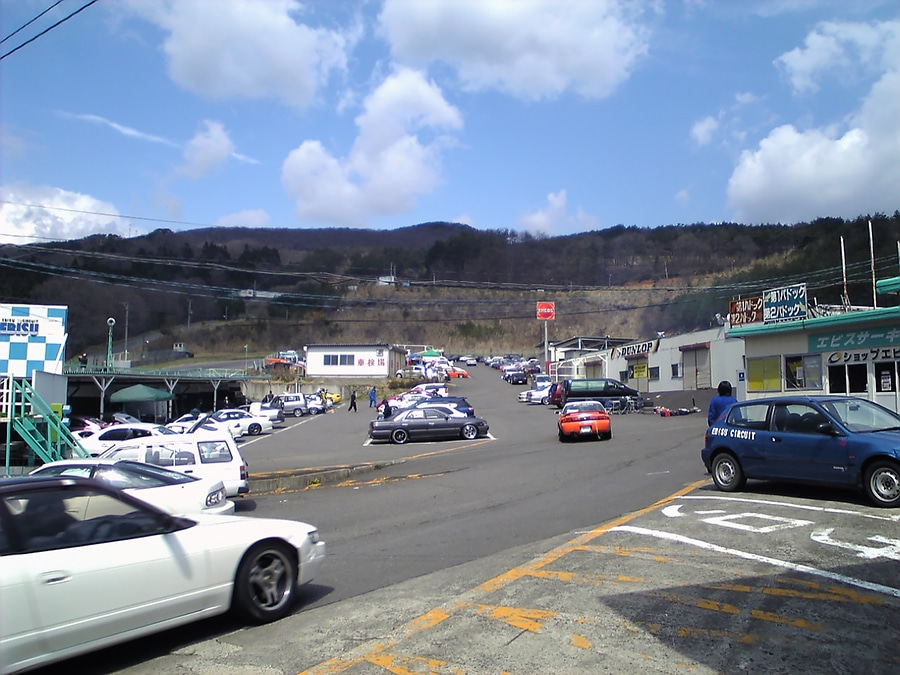 Yes you can, there are several options for renting a car at the Ebisu circuit. In fact, the same company that you rent your car from will also teach you how to drift if you're up for it.
One such company is The Sideways Experience, where you can rent a drift car and head out on the Ebisu drift track, either with or without a teacher.
Another option, for those who aren't feeling quite as brave, is the Ebisu drift taxi.
On the legendary Nürburgring track, it's possible to get a ride in the Ring taxi, and the Ebisu drift taxi is a similar experience — except the driver will be going sideways the entire time, so do your best to keep your breakfast down.
The best part? You can bring up to two friends with you in the drift taxi, and the drivers are none other than Team Orange's Nobushige Kumakubo and Naoto Suenaga.
Closing Thoughts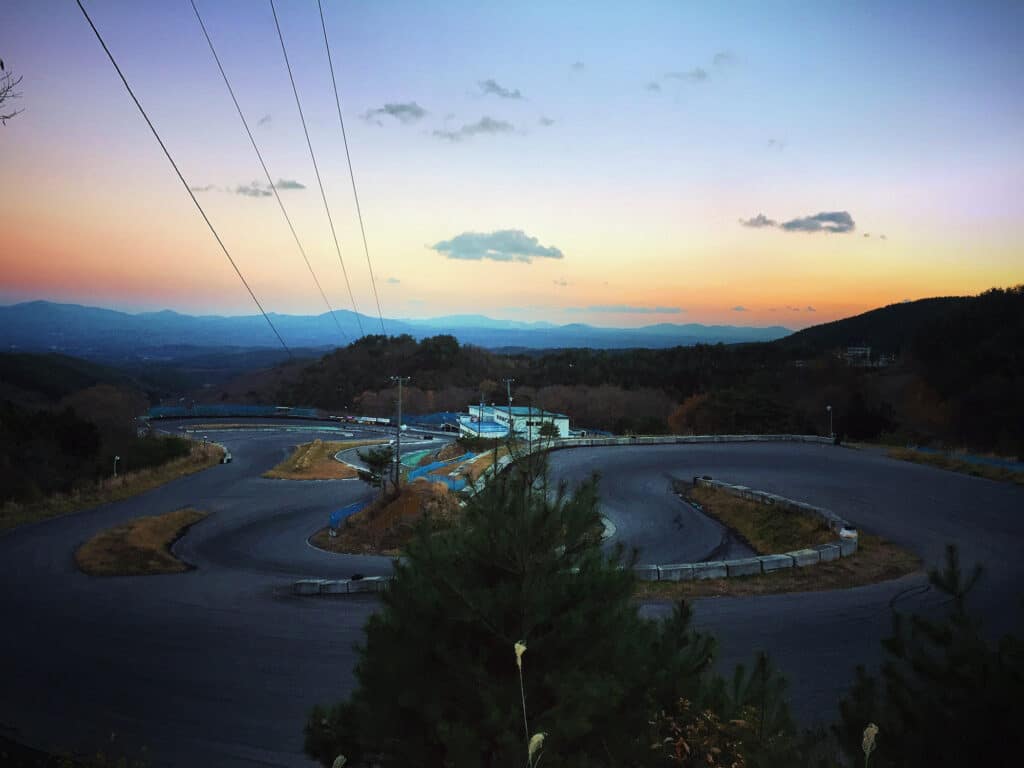 Every JDM car fanatic or drifting enthusiast should experience the Ebisu Circuit, whether as a spectator at one of the many races, by participating, or as a drift taxi passenger.
The iconic Ebisu racetrack complex has undergone some changes recently, but Kumakubo has a vision for it, as he wants to turn it into one of the world's best motorsport training centers.
Other than the famous Green Hell in Germany, it's getting harder for the average car enthusiast to enjoy some time on a racetrack, so we suggest you go sooner rather than later.
Have you visited the Ebisu Circuit, or do you have plans to go there? Let us know by leaving a comment below!
If you find this post entertaining, share it with a friend online! We appreciate your support.