The Nissan 3.3L VG33E engine saw production between 1996 and 2004. Considering its age and the type of cars it was used in, it's obvious to most car enthusiasts that this isn't a high-performance motor.
In fact, with 168 hp to 180 hp, some would argue that it's downright underpowered — it's certainly nowhere close to other high-performance Nissan Engines.
What the 3.3 Nissan engine does offer, is solid and reliable old-school technology. To say that this V6 unit was built to last is an understatement.
However, it's getting old now, and age can sometimes be harder on an engine than high mileage.
Finding one that's been well-maintained may save you some headaches down the line. But the VG33E is relatively simple to work on if you have the tools and don't mind getting your hands dirty.
In this article, we'll take a closer look at the Nissan VG33E engine, with a focus on its reliability, potential problems, and specs.
Nissan VG33E Specs
Engine code: VG33E
Production: 1996 to 2004 (2015 for the Chinese market), built in Smyrna, TN
Layout: V6, SOHC, 2 valves per cylinder
Displacement: 3.3L (3,275 cc)
Fuel system: Multiport fuel injection
Cylinder bore: 91.5 mm (3.60″)
Piston stroke: 83 mm (3.27″)
Compression ratio: 8.9:1
Power: 168 hp to 180 hp at 4,800 rpm
Torque: 196.3 lb-ft to 202.2 lb-ft at 2,800 rpm
Firing order: 1-2-3-4-5-6
There's nothing exciting about the Nissan VG33E engine; the specs are exactly what you would expect from an SUV and pickup truck engine from the mid-90s.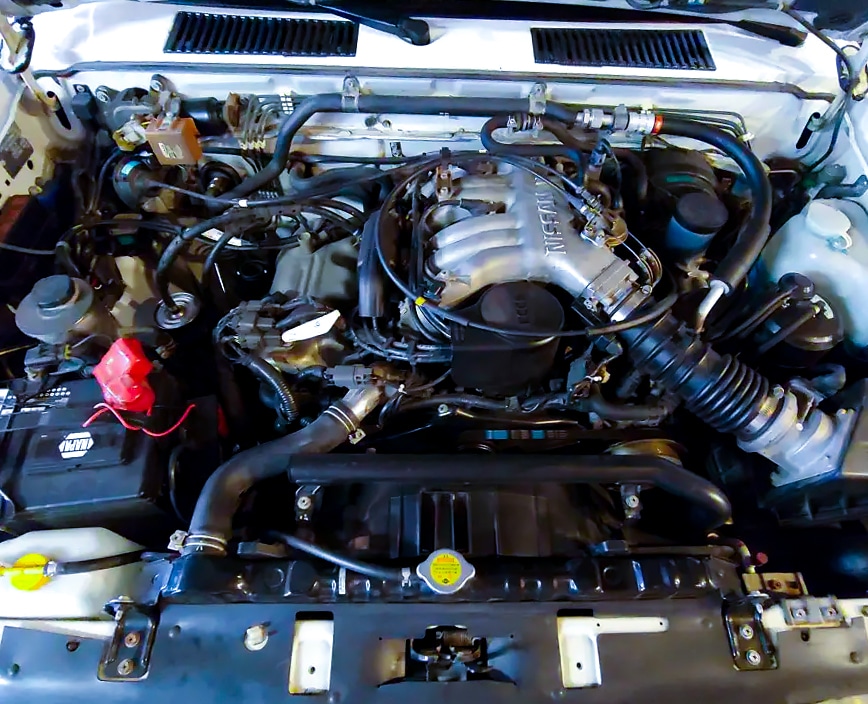 While the official production for use in Nissan's cars ended in 2004, it was reportedly in production until 2015 for the Chinese market-only Dongfeng Oting, a badge-engineered Nissan Paladin.
The Nissan VG33E engine is a naturally aspirated 60-degree V6 with a 3.3L displacement.
It uses a cast-iron block and two SOHC aluminum heads with two valves per cylinder and self-adjusting hydraulic followers. It also features forged steel connecting rods and one-piece cast camshafts.
The lower intake manifold is made from cast aluminum and the plenum is either cast aluminum or plastic/composite.
The Nissan VG33E engine features a multiport fuel injection system. When starting the engine, the simultaneous multiport fuel injection system injects fuel into all 6 cylinders.
Once the engine is running, it uses sequential multiport fuel injection, where fuel is injected into each cylinder according to the firing order.
The ECU controls the ignition system to ensure optimal air-fuel ratio in all conditions. That includes ignition timing data such as the injection pulse and data from the camshaft position sensor, which is then stored in the ECM.
The Nissan VG33E has a compression ratio of 8.9:1, a 91.5 mm (3.6″) cylinder bore, and an 83 mm (3.27″) piston stroke.
Power ranges from 168 hp to 180 hp at 4,800 rpm, and there's 196.3 lb-ft to 202.2 lb-ft of torque available at 2,800 rpm.
While the VG33E's performance isn't anything to write home about, power and torque are actually on par with the standards of that era.
Those looking for more power can check out the VG33ER, which is the same engine but fitted with a supercharger from the factory.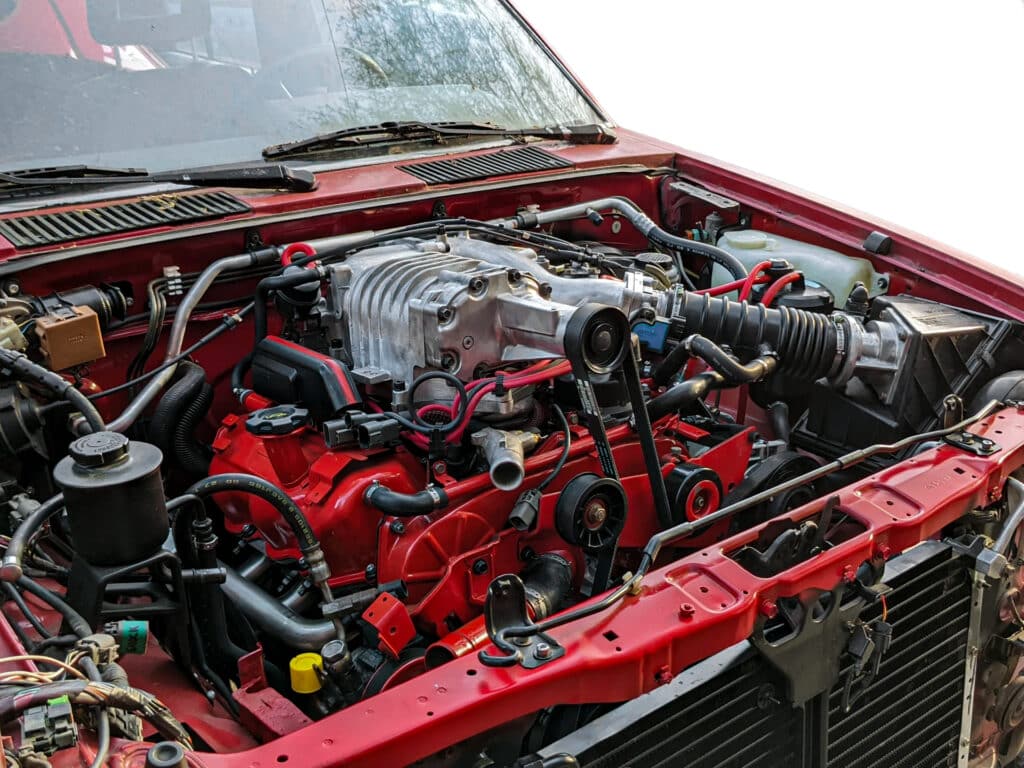 It's still not a high-performance setup, but power is increased from ~180 hp to a more respectable 210 hp, and torque gets a bump up from ~202 lb-ft to 246 lb-ft.
The supercharged option was available exclusively in North America, and only in two models, but it's possible to tune the naturally aspirated version to produce even more power.
You can either choose the naturally aspirated route and get around 250 hp by installing VH45DE pistons to increase compression from 8.9:1 to 9.7:1, new cams, a ported and polished head, an intake and exhaust, and then tune the ECU.
The other option is to go install an aftermarket supercharger or turbo and build your own VG33ER, or perhaps a Frankenstein VG33E-T?!
It certainly shouldn't be hard to find a car with this engine under the hood; most of them can be bought relatively cheaply these days.
What Cars Have the Nissan VG33E Engine?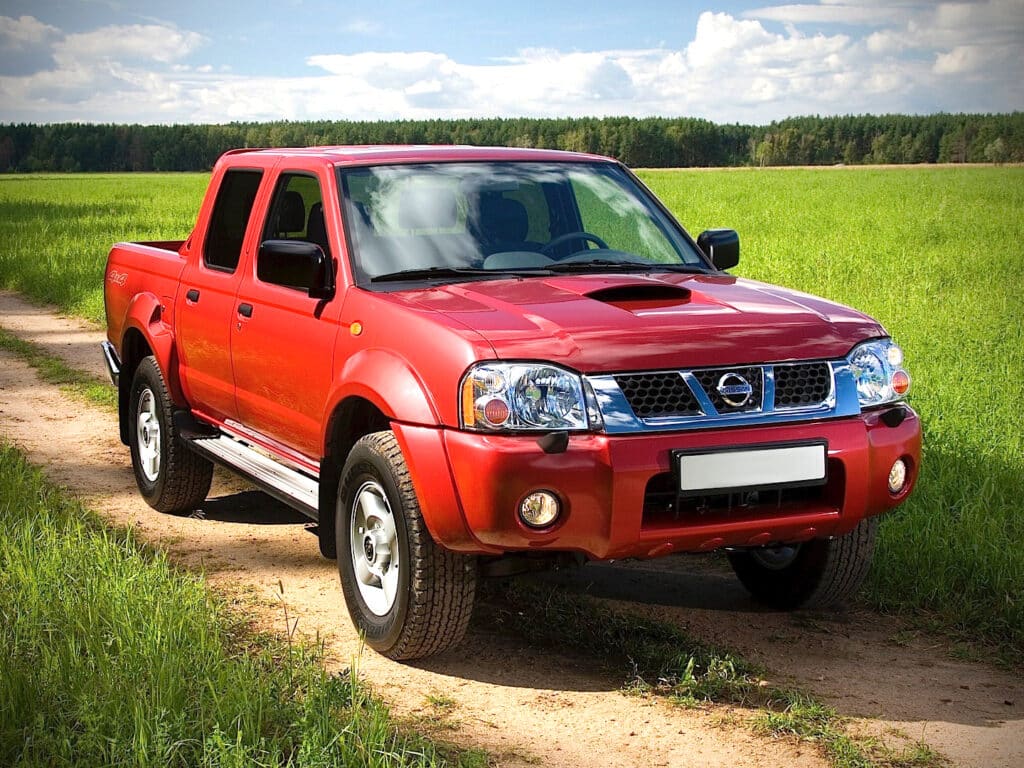 The Nissan 3.3L V6 VG33E engine can be found in the following pickup truck and SUV models:
1996-2000 Nissan Pathfinder (sold until 2004 in Australia)
1997-2000 Infiniti QX4
1997-2002 Nissan Elgrand
1999-2002 Nissan Quest
1999-2004 Nissan Frontier
1999-2004 Nissan Paladin
2000-2004 Nissan Xterra
2003-2004 Nissan Navara
The supercharged VG33ER engine was only found in two models on the North American market, the 2001-2004 Nissan Frontier SC and the 2002-2004 Nissan Xterra SC, as it was introduced alongside the 2001 facelift.
Over the last couple of decades, the Nissan Navara/Frontier has developed a proven track record and gained a cult-like following among those in the know, and none of that would be possible without the VG33E engine.
Nissan VG33E Problems and Reliability
So, is the 3.3L V6 a good engine? It's a very reliable unit, but, there are some common problems to be aware of.
However, this isn't unique to the VG33, as most engines of this age will need some TLC to keep them running optimally.
Trucks and SUVs fitted with this engine are now 20 years old, or more, and they may have hundreds of thousands of miles on them, which can negatively affect reliability.
If possible, go for a vehicle with a service history. Mileage is less important if it has been serviced and maintained properly.
The most common issues with the 3.3 Nissan engine include the timing belt, water pump, oil leaks, and the fuel-sending unit.
We'll take a closer look at each of these issues, but it's important to know that while these are considered the most common problems with the VG33E, it doesn't mean every owner will experience them.
Timing Belt Failure
The VG33E's timing belt issue is probably the most well-known problem. The thing is, the VG33E engine doesn't really suffer from premature timing belt failure.
This seems to be more of a problem that occurs due to owners not sticking to the recommended maintenance schedule, which is often the case with cheap, old vehicles.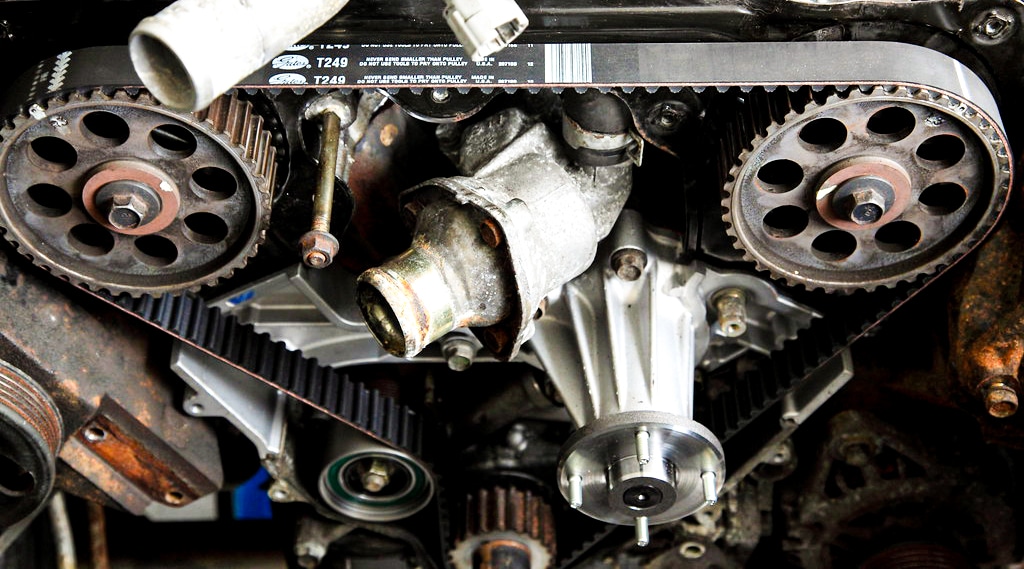 VG33E timing belts should be changed every 100,000 miles, and in most cases, the issue happens when it hasn't been changed for more than 110,000 miles.
It's an interference engine, so a snapped belt should technically translate into bent valves and potentially damaged pistons.
For some reason, however, most people report that both the valves and pistons were fine after experiencing timing belt failure.
That said, you shouldn't expect that kind of luck, so you're better off just changing the timing belt every 100k miles as recommended and avoiding serious engine damage.
Prior to the timing belt failing, you may notice some warning signs, such as ticking or slapping sounds from the engine. The worn timing belt might jump a couple of teeth, causing a drop in performance.
If the belt breaks or jumps too many teeth, the engine won't run until the belt is replaced and any potential internal damage has been fixed.
If you change the belt before it breaks, or if there's no internal damage, it's a relatively easy fix that someone with decent mechanic skills can handle independently.
Timing belt kits for the VG33E engine are readily available, and usually include the timing belt itself, along with the water pump, and the required seals and gaskets.
Water Pump Failure
As far as the VG33E water pump failure goes, it's a fairly rare occurrence since the water pump is usually changed alongside the timing belt every 100,000 miles.
Occasionally, it does fail prematurely, but in most instances, it's a case of someone not changing the water pump when replacing the timing belt.
If the water pump does fail, it can lead to overheating and coolant leaks, which can potentially cause more serious issues down the line.
Oil Leaks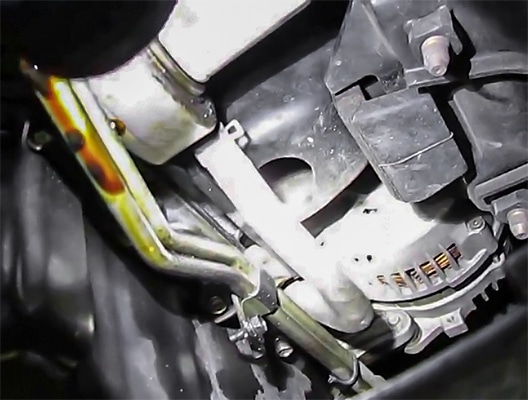 Next, we have the VG33E oil leaks, which are really caused by age rather than any design flaws.
The VG33E's valve cover gaskets are usually the culprit when it develops a leak, but the front and rear main seals, as well as the oil pan gasket, are also known to fail.
Oil leaks can sometimes be hard to notice, but visible oil spots on the ground and the smell of burning oil, even some smoke from the engine bay, are the signs to look out for.
The valve cover gaskets can be picked up for a mere fistful of dollars each; it's a good idea to change both gaskets at the same time, even if it does take a few hours more. 
Fuel Sending Unit Failure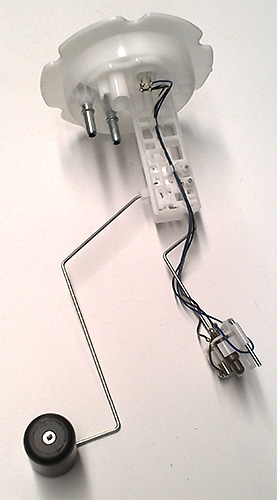 Finally, there's the problem with the Nissan VG33E's fuel sending unit, or FSU.
Nissan actually issued an extended warranty for this part, which may indicate that it's a common problem that's caused by a design flaw rather than age.
It's not something VG33E owners should be overly concerned with, though, as it's an easy fix and the part is cheap as well — it's not even a serious problem, more of an annoyance.
How do you know if the FSU is calling it a night? Check if the fuel gauge is incorrect or "bouncing" — if it is, it's most likely caused by a failing FSU.
All the common VG33E problems can be fixed, and in most cases prevented, so make sure you keep up with the recommended service intervals.
If you take care of your VG33E engine, it will take you wherever you want to go for years to come, as they're known to run for hundreds of thousands of miles without major issues.
VG33E: Old, Faithful, Boring
The VG33E will certainly get you from A to B, you just won't get there very fast, or in style — it's a motor with no-frills and low-thrills.
While it's practically unbreakable if you service and maintain it regularly, unloved and ignored units are known to develop some issues, but that's the case with any engine.
If you're willing to spend some money on it, the VG33E engine can even be gently massaged to produce a bit more power.
Don't expect it to compare to the sporty performance SUVs and trucks of today, but with some mods, it can almost keep up with hot hatchbacks from the same era during a race between traffic lights.
Long story short, those who are looking for a cheap and reliable JDM truck or J-spec SUV from the late '90s or early 2000s should definitely consider this motor.
What's your take on the VG33E? Let us know by leaving a comment below! Consider sharing this article with a friend if you find it informative. We appreciate your support!