Swapping a 4 or 6-cylinder engine into an RX-7 may be considered sacrilegious among rotary purists, but it doesn't stop enthusiasts from exactly that.
Many of us don't want to put up with the rotary's unreliable nature for very valid reasons. But at the same time, we don't want to part ways with the RX-7 either, which makes swapping engines a viable solution.
The thing about rotary engines is they demand a ton of TLC just to keep running, which doesn't necessarily mean that they're poorly designed.
It's just that they can be a real pain in the neck to work with, let alone daily drive — unless you're mechanically inclined and unapologetically passionate about rotaries. If that sounds like you, then more power to you.
But if peace of mind is what you're after, here's a list of RX-7 engine swap ideas. These range from bolt-on LS kits to custom V12 swaps.
RX-7 V8 Swap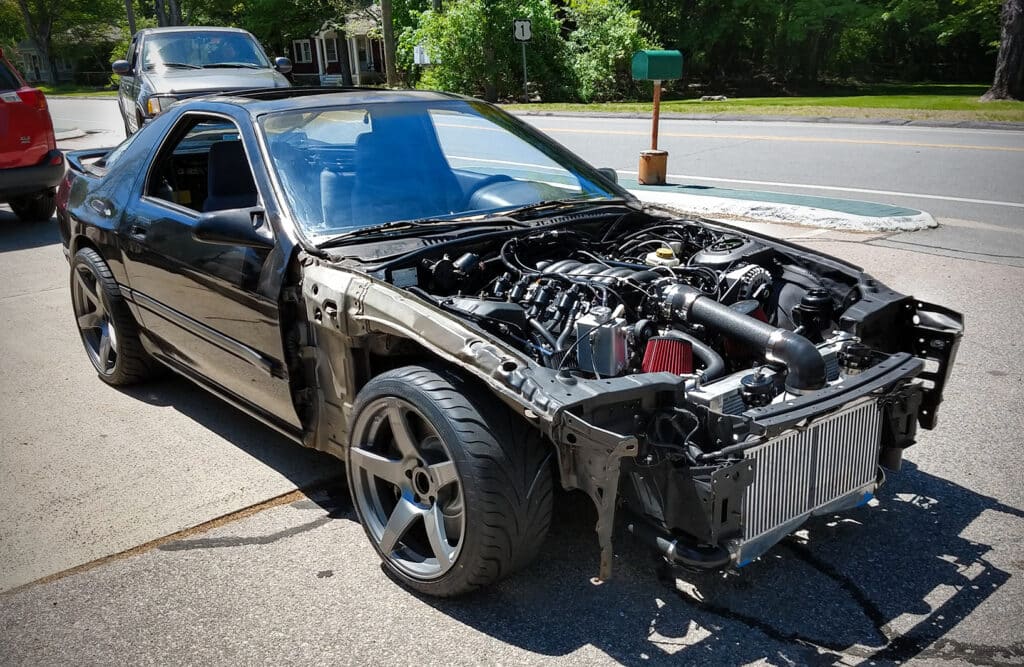 LS-swapping an RX-7 does garner hate, especially since the rotary is such a sought-after engine design. But even then, LS engines are the most popular choice for any kind of swap, let alone an RX-7.
Of course, it's not cheap, but you already guessed that. The advantage here is power, reliability, and aftermarket support.
Additionally, you get a refined exhaust note and an improved torque curve. However, V8s do weigh quite a lot more than Wankel motors, so that's something to consider. Weight distribution is a tricky subject.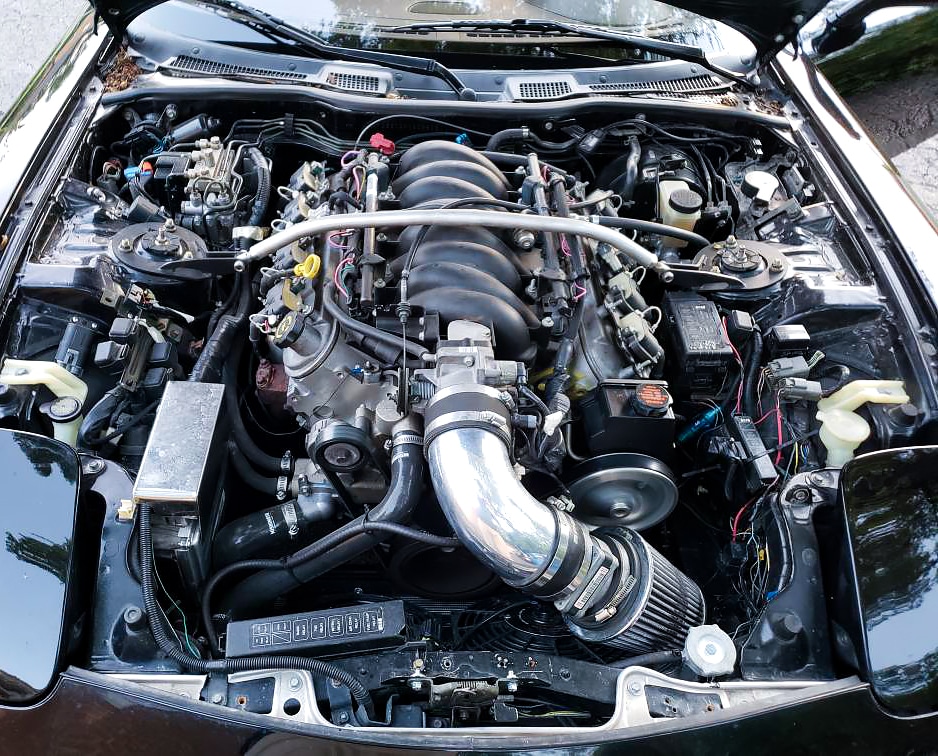 Just about any small block LS will work. That said, the more popular choices are LS3 and LS1, especially for the FC RX-7.
You'll find several bolt-on kits for fitting the engine and transmission. Re-routing the rest of the circuits will require a bit of creativity from your end.
If you can do the job yourself, you'll be saving a ton of money. But if you can't bother with the trouble of swapping an engine, there are always shops you can turn to. However, they won't be cheap.
K-Swapped RX-7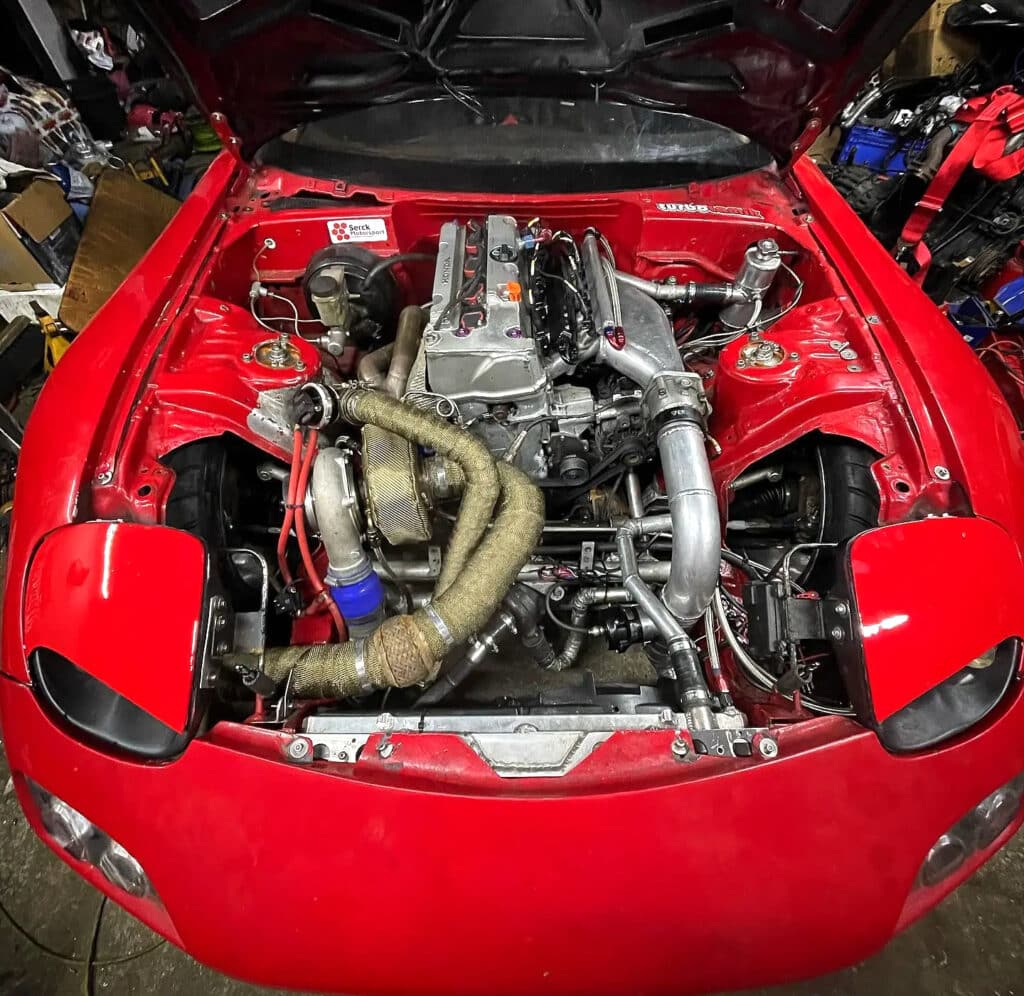 If you prefer the dynamism of an inline-4 engine, it's a good idea to look at Honda's i-VTEC K-series engines.
Specifically, the K20 and K24 since they're arguably the best Honda engines to build. Plus it's a JDM to JDM swap, so no emotional burdens there.
Moreover, the engine design is almost as light as the RX-7's Wankel. Also, K-series engines are pretty reliable and can easily cross the 300 hp mark without needing to install a turbocharger. Bonus points for the K-swap.
Sourcing an engine won't be difficult or expensive. But you'll require a custom subframe and fabricate a driveshaft to fit the transmission, which for a K-swap is usually the S2000's 6-speed unit since it fits the RWD layout.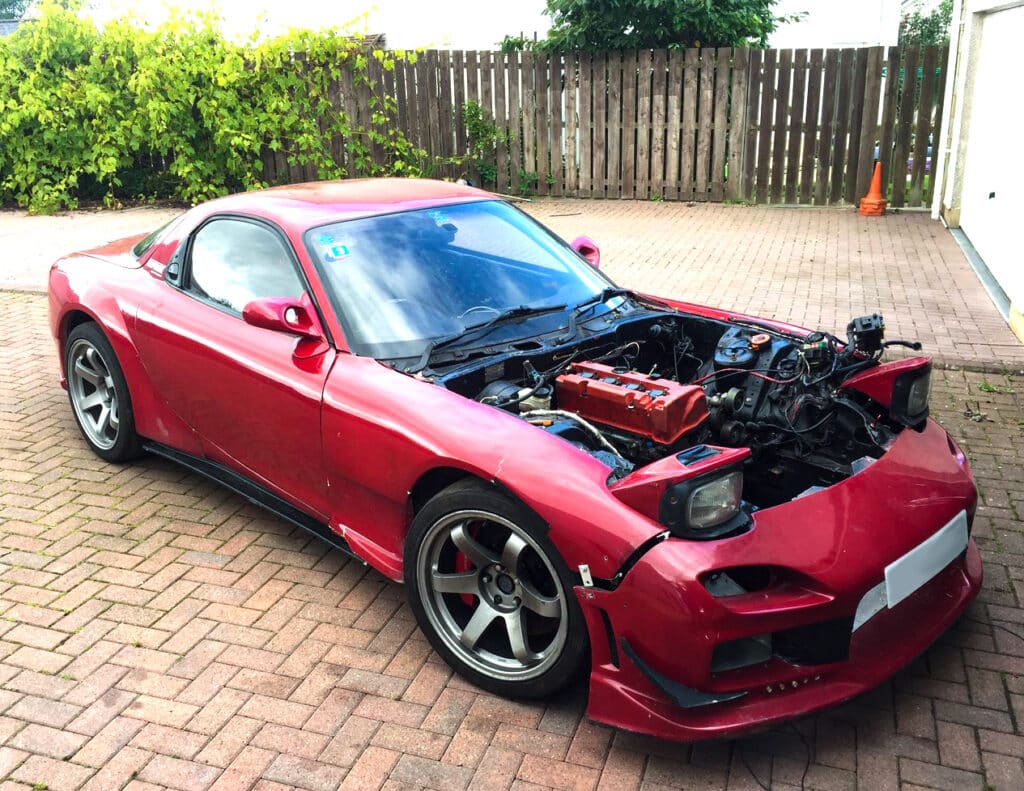 This is really just the beginning. Next comes the wiring loom, custom radiator brackets, and not to mention the labor costs. A K-swap in an RX-7 could easily cross $20,000 without you even knowing it.
That's just a modest estimate. But for a hobby, the build is worth the shot, especially if you fancy reliable commutes in your RX-7.
Pagani RX-7 V12 Swap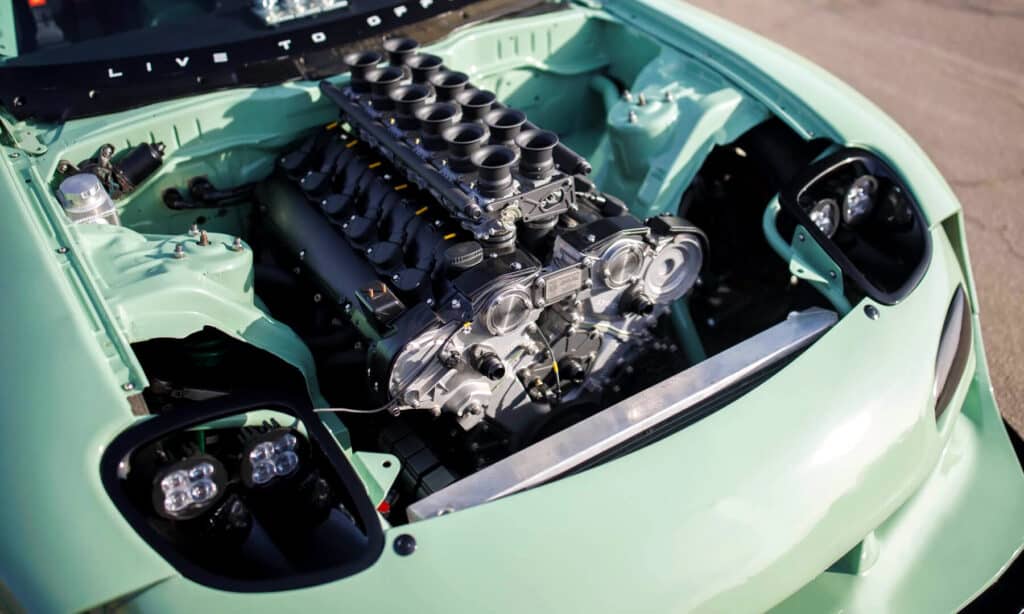 You read that right. Someone actually plonked a Pagani V12 into a RX-7. Technically, it's a Mercedes M120 engine that Pagani used in the Zonda.
Nevertheless, the motor found its way into a Mazda RX-7. You may have seen many flagship Mercs of the 90s rocking this 6.0L V12.
Much like any other swap, packaging a V12 inside the FD RX-7's shell is not as straightforward as you might think.
The team designed a custom dry-sump system, an electric water pump, modular cast intake runners, race alternator brackets, and a lot more.
The transmission inside this RX-7 is an HGT 6-speed sequential box. The naturally aspirated V12, which debuted in the W140 S-Class, made 402 horsepower. Later versions, however, came with slightly less power at 389 hp.
Although the Italian hypercar used reworked versions of the engine, the V12 in this particular RX-7 isn't from any Pagani but rather a modest junkyard purchase.
The car, however, isn't running in its current state and is largely a rolling body built for SEMA 2022.
RX-7 1JZ and 2JZ Swap Kits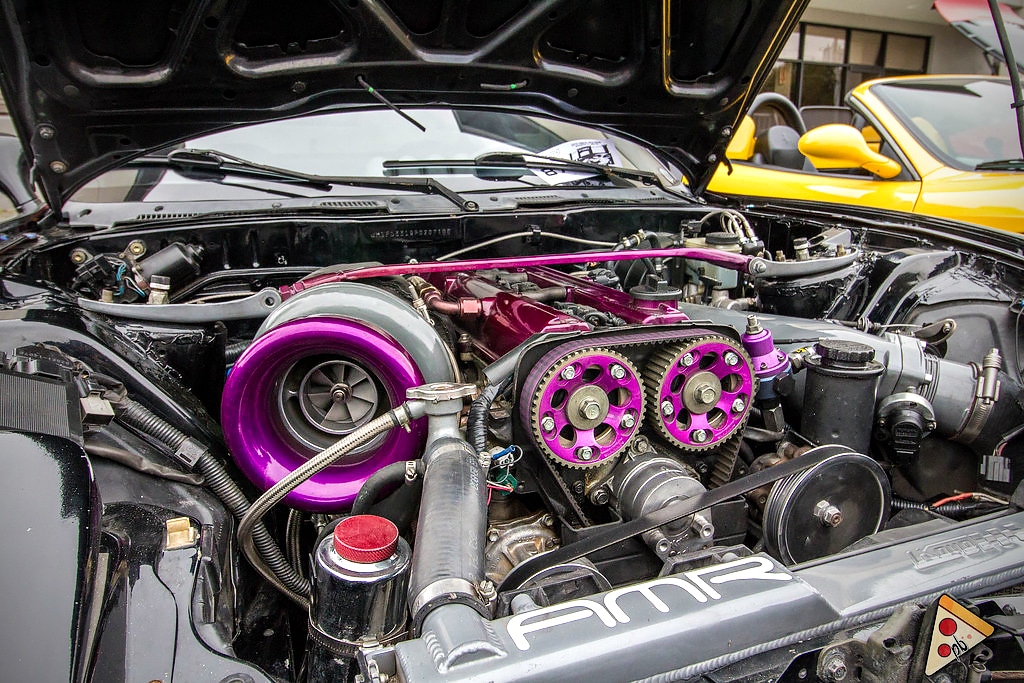 Another JDM swap worth considering is Toyota's JZ engine. You may choose between the 1JZ or 2JZ, but the more cost-effective way would be the 1JZ. Many people have taken the 2JZ-GTE route without a problem.
The 2JZ, especially the GTE, is a fairly exotic motor and therefore commands a high premium. While the 2JZ-GE is more common and relatively affordable compared to the GTE.
It's worth noting that these are some of the most reliable Toyota engines ever made — they're not nearly as cheaply available as a junkyard LS.
There are suppliers who sell bolt-on JZ engine and transmission kits for FD RX-7s. Other shops like CXRacing sell you everything you need for the swap, but these tend to be very expensive.
Alternatively, you can avoid shopping from websites and go the junkyard route. But there's a risk associated with that.
You're likely to make compromises on the quality and reliability front. If you're willing to take the dive, the JZ build is your gateway to 900+ horsepower RX-7s.
Ditch the Dorito: Should You Do It?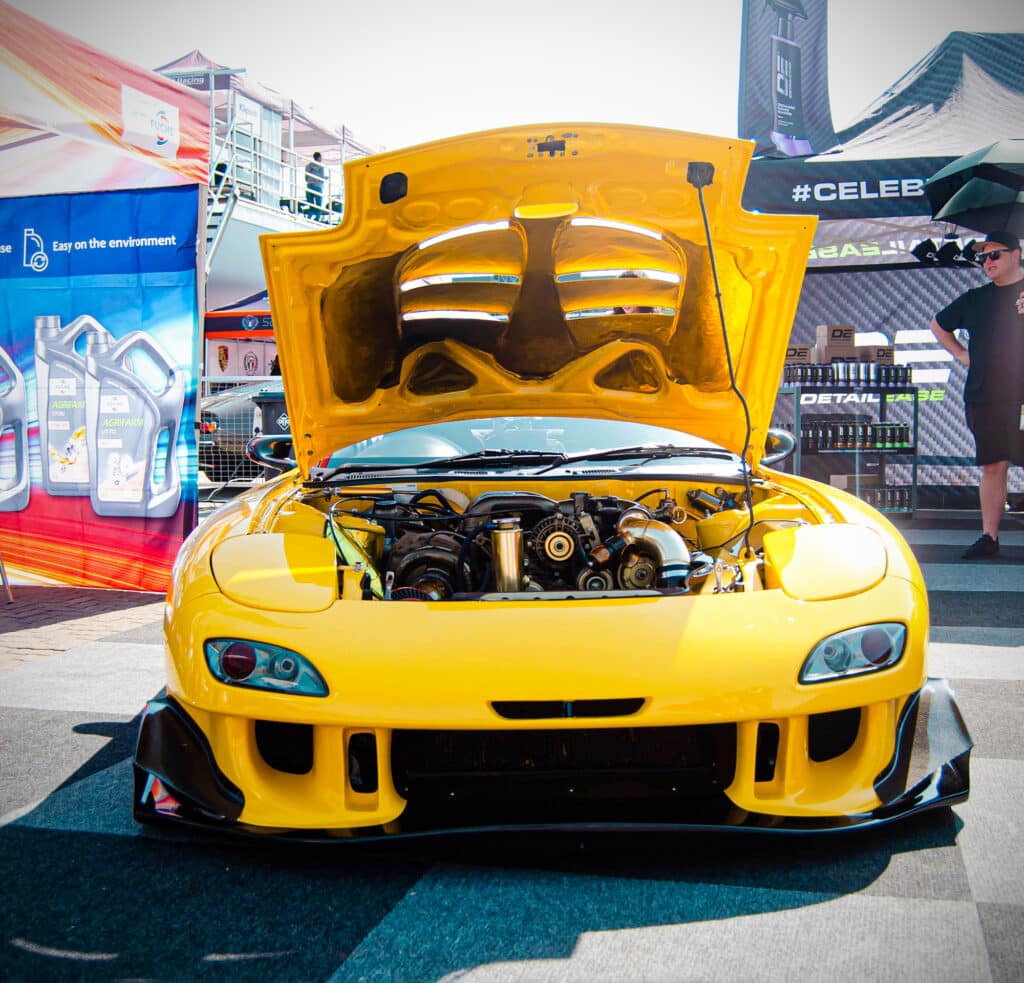 You may have noticed a theme here. Swapping any engine into an RX-7, other than some derivative of the 13B engine, will cost you a ton of money.
If budget is a constraint, then we advise against this. It's a lot of effort. Choosing the right engine is not easy, neither is carrying out the build yourself.
However, if you're ready to bite the bullet, our advice is to plan, budget, and research. Engine swapping an RX-7 is, by no means, cheap or easy. But it is certainly an ambitious undertaking, especially if you fancy a challenging project.
What are your thoughts on un-wankling FD and FC RX-7s? Let us know in the comments!