Way more than an afterthought, your Miata's exhaust system is an integral part of your roadster's character. It has an important effect on performance and efficiency, but it's important to remember that your exhaust note is also your car's voice.
The Mazda Miata is an amazing machine — flexible enough to handle a winding mountain highway, a hot track in August, or the daycare dropoff run on a Tuesday. (Admittedly, not a common use for a two-seater.)
Its stock components are workhorses that have, in many cases, outlasted their expected usefulness. But when the designers realized they had such a potentially popular and versatile roadster, they had to make compromises.
Everyone wasn't going to want their MX5 to roll off the lot with that throaty, sporty rumble you want. So, they tamed it. The OEM exhaust is good, but there are plenty of aftermarket Miata exhaust systems that are great.
As far as we're concerned, the products in this article are the best on the market.
Ideal Exhaust Diameter for Non-Turbo Miatas
In a naturally-aspirated state (without a turbocharger) the Miata's inline-four runs optimally with a 2.25" diameter exhaust installed.
A larger diameter exhaust won't necessarily hurt performance (unless you go for 2.5″ or more in diameter), but you won't see a boost in horsepower or torque with anything larger. Basically, your MX5 will be louder, but it won't go any faster.
Adding a supercharger to your Miata does not always mean you need a larger diameter exhaust.
On the other hand, adding a turbo probably does. Turbos are powered by exhaust gas pressure and increases your engine's compression ratio by sending more air into the cylinders.
In order to keep the pressure properly balanced, a larger bore exhaust is needed to keep the airflow moving.
Under these conditions, you definitely want to be above 2.5" diameter for your Miata's aftermarket exhaust.
Get a Tune, New Exhaust or Both?
Changing out the exhaust has a pretty significant effect on how your car runs.
Expecting the engine control computer on a 20-year-old Miata to handle this mod without an up-to-date tune is a bit foolish. Especially if you're looking for a performance boost, you really need to budget an ECU tune in with your exhaust upgrade.
While they're at it, many MX5 owners also take the opportunity upgrade their ECU. Luckily, there are many affordable and easy-to-install options.
If however, you are on a budget, after installing your new exhaust it's worth resetting your ECU by disconnecting the battery, and letting your car learn from scratch.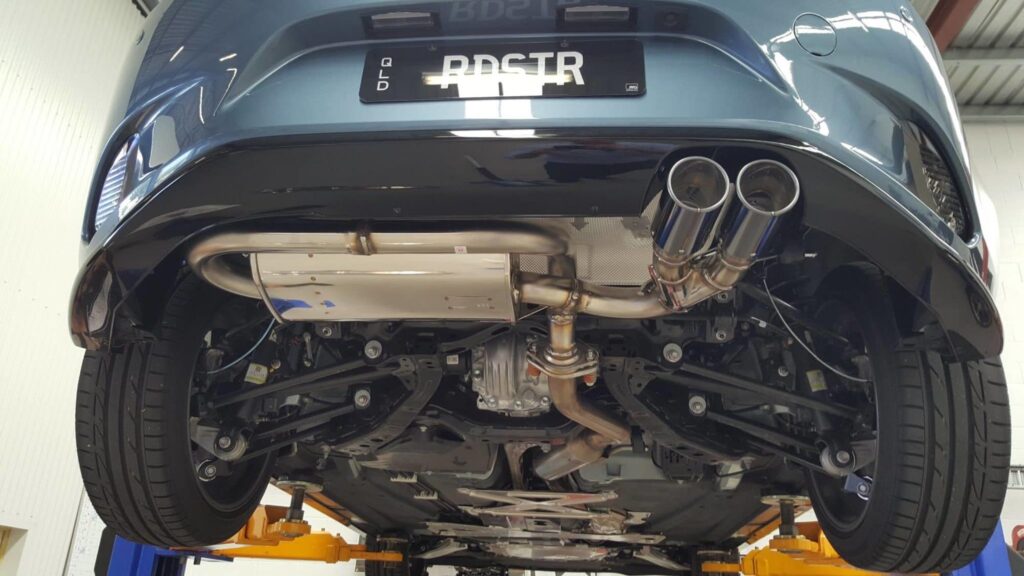 The Personal Preference Factor
If you change your exhaust, it might not have a noticeable effect on how your car drives on the road, but it will almost definitely change how it sounds. We have strong opinions on the best sounding exhausts for Miata drivers, but you might feel differently.
At the very least, watch some of the videos we've included in this article and give them a listen — even better if you can find a fellow Miata owner who already has it installed.
A Word About Compatibility
Replacing the exhaust is a bit trickier than executing other mods to your MX5. In other cases, you're usually safe to focus on finding a part that suits your Miata's generation — and in many cases NA (Mk1) exhausts are incompatible with NB (Mk2) Miatas, as they are NC (Mk3) and ND (Mk4).
For exhausts, there are a few complications. First, you need to know which engine variant you're driving because NAs with the 1.6L engine may require a different exhaust kit than those with a 1.8L.
Then there's the issue of that second O2 sensor that was added, down-system from the catalytic converter, for the last few years of the NA's run.
In most cases, exhaust system makers have thought of an easy(-ish) workaround, like having a bung for the sensor welded onto your new mid pipe. Just make sure you are aware of this going into your purchase
Cat-Back Versus Axle-Back Exhaust Upgrades
"Cat-back" exhaust upgrades start at the catalytic converter (hence the name) and go back to the muffler and end pipe.
"Axle-back" systems only start at the rear axle and are basically just the muffler and end/tail pipe. Axle-back exhausts are more popular for upgrades where appearance is a priority.
They'll change the sound of your car but won't necessarily improve performance.
Cheap Miata Exhausts (That Are Still Decent!)
Not everyone has a ton of money to spend on a new exhaust system for their MX5. Luckily for us, Miatas are really well supported from the aftermarket.
"Cheap" usually means bad in the automotive world, but over the past few years some really great products have some about at a price point that is more than reasonable.
Below you'll find good value exhausts that are actually going to last.
Manzo Catback Exhaust System
Manufacturer: Manzo
Compatible MX5 generations: NB
Construction material: Stainless steel
System type: Cat-back
Exit location: Single rear
Tube diameter (inches): 2.25
Weight (lbs.): 45
System Sound: Moderate, rumble
Buy from: Amazon
One of the best sounding Miata exhausts in this price range, the Manzo will give your MX5 a fairly deep and uncensored roar.
If you're looking for an exhaust system that offers a nice and deep idle, this is a nice unit for not a lot of money.
Manzo claims an increase of 6-12hp for this mod, but we'd like to see the dyno charts.
Yonaka Stainless Steel Performance Cat-back
Manufacturer: Yonaka
Compatible MX5 generations: NA (minor mod needed for '96-'97 models)
Construction material: Polished stainless steel
System type: Cat-back
Exit location: Single rear
Tube diameter (inches): 2.5
Weight (lbs.): 26
System sound: Quiet, clean
Buy from: Amazon
Yonaka is a grassroots manufacturer with a track record for delivering dependability and good value at a fair price.
Their offering promises a deeper growl with less rasp than the OEM exhaust.  Think heavy-duty chainsaw versus the stock's light-duty lawnmower.
The sell sheet notes that those with 1996 or '97 Miata's will have to work around their extra O2 sensor in the mid pipe. You'll have to grab your home welder and add a bung for the sensor onto a hole they've drilled. It's simpler than it sounds.
They also sell a version in powder-coated matte black for those seeking a stealth look for one of the best Miata exhausts.
Best Sounding Exhausts for Miatas
If you have a little extra money to spend, the exhausts in this section are well worth a look.
Typically extra money spent on an exhaust system will lead to:
a better sounding car
a nicer finish quality
Do know though, that performance increases are unlikely to be any different.
These higher end Miata exhausts are usually constructed of stainless steel, titanium, or a combination of the two.
APEXi N1 EVO Exhaust System
Manufacturer: APEXi
Compatible MX5 generations: NA
Construction material: Stainless steel
System type: Cat-back
Exit location: Single rear
Tube diameter (inches): 2 – 2.36
Weight (lbs.): 35
System sound: Brilliant, moderate
Buy from: Enjuku Racing
Getting the exhaust gases to travel as straight a path as possible was the goal for APEXi's top-of-the-line Miata system. Mission accomplished, we'd say.
Not only that, APEXi does all that with lightweight stainless steel.
Along with other stainless-steel options this exhaust is well-suited for winter weather conditions.
Magnaflow 2.5″ Dual Exit Cat-Back
Manufacturer: Magnaflow
Compatible MX5 generations: NC
Construction material: Heavy-duty stainless steel
System type: Cat-back
Exit location: Dual split rear
Tube diameter (inches): 2.5
Weight (lbs.): 45.5
System sound: Moderate
Buy from: Amazon
This street-friendly offering by Magnaflow has a deep, rich tone that is a minor, but noticeable improvement on stock. With 2.5″ pipe, it offers more horsepower and the capacity to handle a turbocharged Miata.
Cobalt Dual Tip Cat-Back
Manufacturer: Cobalt
Compatible MX5 generations: NA
Construction material: Polished stainless steel
System type: Cat-back
Exit location: Dual rear
Tube diameter (inches): 2.25
Weight (lbs.): TK
System Sound: Sporty, moderate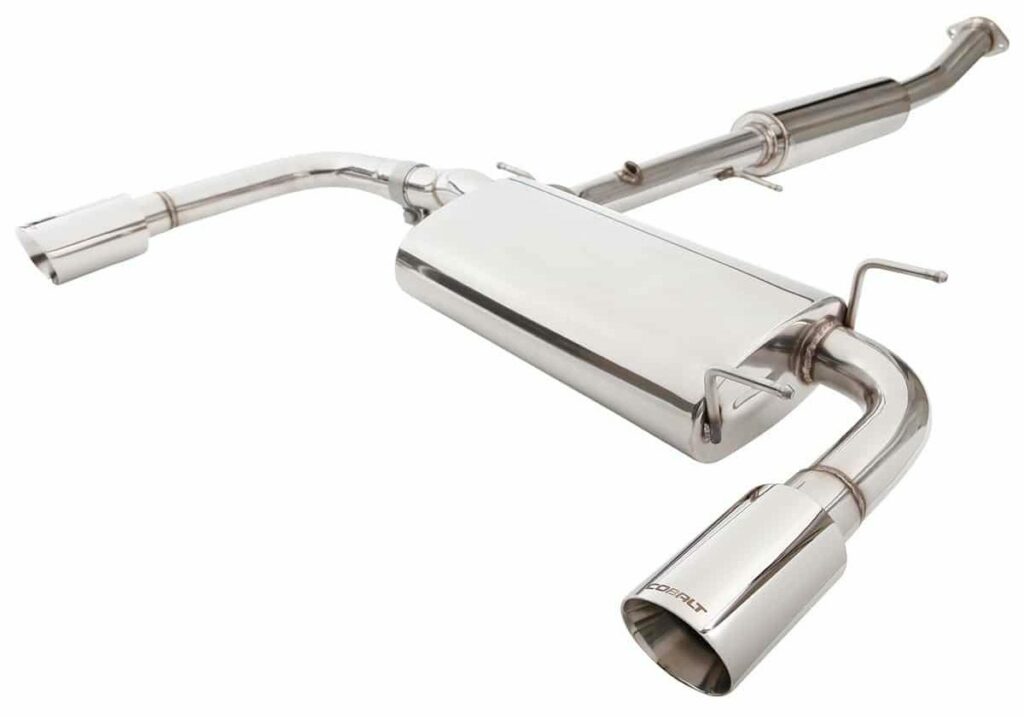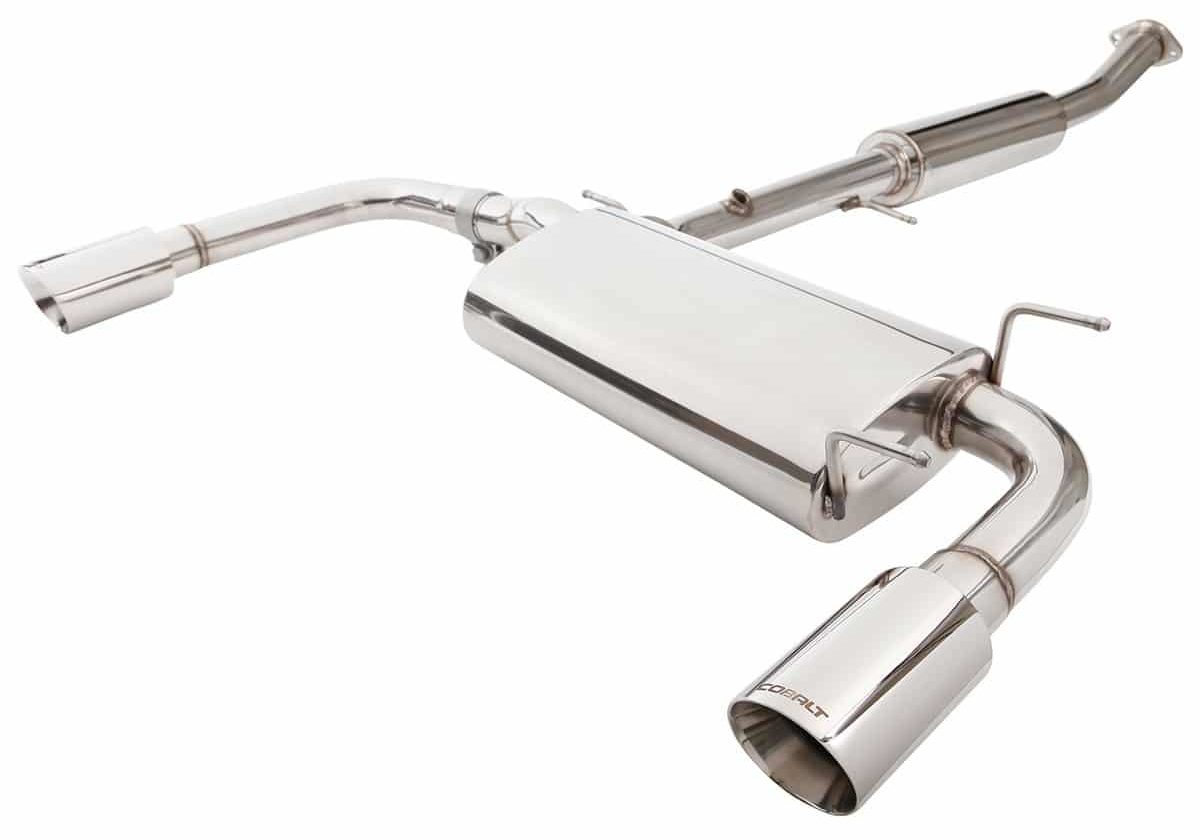 Cobalt's system earns its wide popularity by delivering performance for a decent price. The distinctive rumble makes this option feel like it should cost a lot more than it does.
It's also easy on the eyes. Newly installed, the polished stainless sparkles like chrome. The sleek and rounded muffler underlines that looks-first motto. Oh and those slash-cut tips complete the picture.
Between value and looks, this one of the best exhausts for NA Miata owners.
Tomei Expreme Titanium Axle-Back
Manufacturer: Tomei
Compatible MX5 generations: NC
Construction material: Titanium
System type: Axle-back
Exit location: Single rear
Tube diameter (inches): 2.38
Weight (lbs.): 40
System Sound: Sporty
Buy from: Enjuku Racing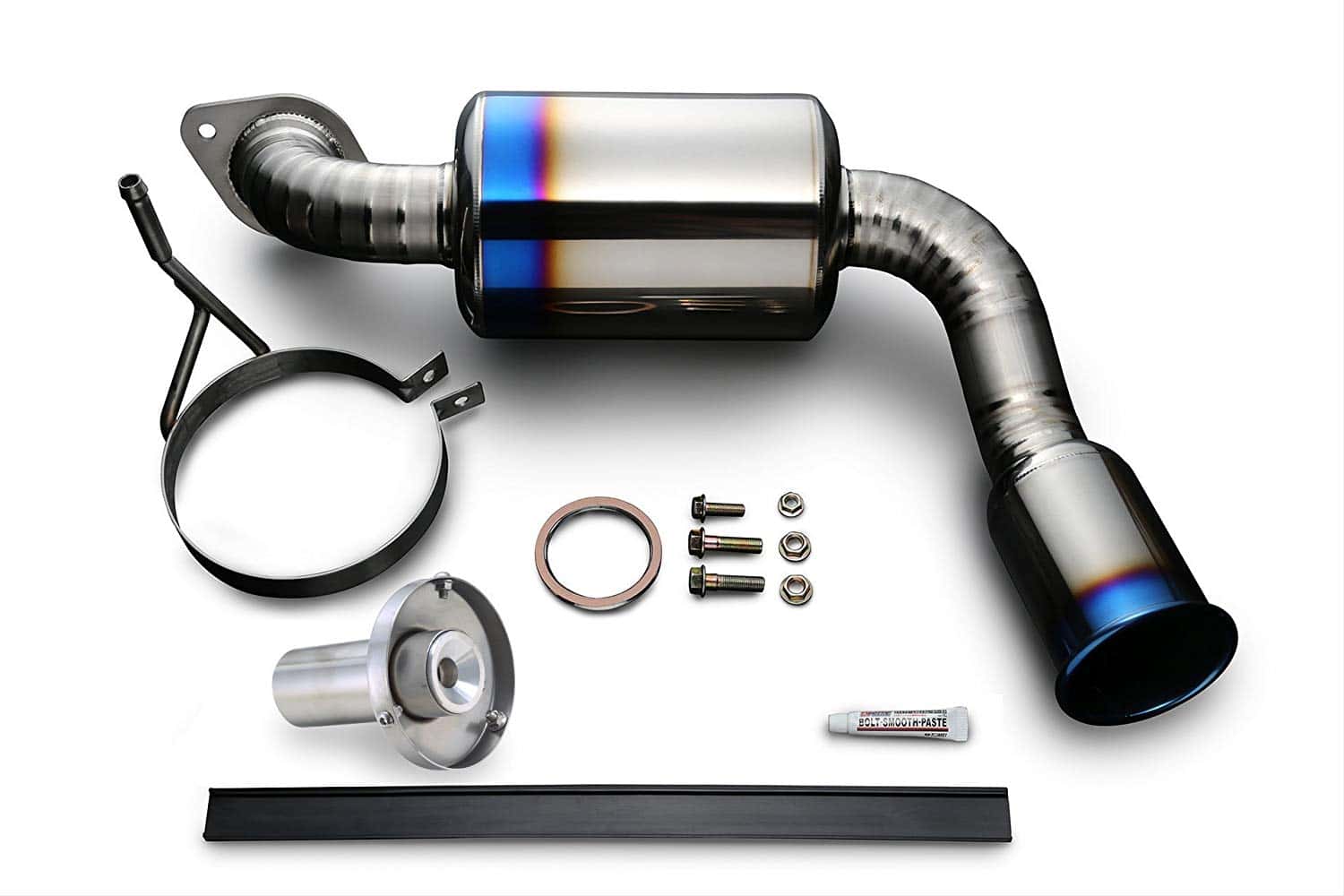 As usual for them, the focus for Tomei when designing this axle-back system was track performance. This meant building their muffler to be sturdy but also super lightweight. Enter millimetre-thick titanium.
This is the way to go if you're looking to shave seconds off your track time.
The blue-tinged flashes on the outside of this exhaust system underscore its ready-to-race appearance. Its voice is more growl than roar and has the popping thrum that sounds great in the heat of things, but can get a bit annoying on longer tours.
HKS Legamax Premium Axle-Back
Manufacturer: HKS
Compatible MX5 generations: ND
Construction material: Stainless steel
System type:  Axle-back
Exit location:  Twin, rear
Tube diameter (inches): 2.1
Weight (lbs.): 20.4
System sound: Deeper, louder
Buy from: Enjuku Racing
HKS needs no introduction for those who are familiar with the Japanese aftermarket parts scene. And their Miata follows in their top-quality tradition.
This axle-back system turns up the volume compared to stock, but this is definitely not "I can hear every rumble even when I have my helmet on at the track loud". It's a noticeable difference (3 db over stock) but won't bother your passenger.
GReddy Supreme SP Exhaust System
Manufacturer: GReddy
Compatible MX5 generations: ND
Construction material: Stainless steel
System type: Cat-back
Exit location:  Dual, rear
Tube diameter (inches): 2.5
Weight (lbs.): 54.5
System sound:  Deep, sporty
Buy from: Amazon | Enjuku Racing
GReddy's cat-back system (they also sell an axle-back version) adds performance with more horsepower and torque throughout the RPM band. This system was designed by GReddy USA specifically to fit the 2.0-L Skyactiv-G engine variant for the ND MX5.
The sound change is a subtle difference from stock with a bit more depth and rumble. In our view, this is one of the best sounding exhaust upgrades for Miatas.
It's lifetime warranty had a big part of earning this performance option a spot on our list of best Miata exhausts.
Mazda MX5 Exhaust System Upgrades
One more time: Exhaust tone preference can be a bit subjective. The gurgle that some people love will annoy the hell out of others. And vice versa. We like a deep rumble that builds smoothly through the RPM band.
Other than finding the best sounding exhaust for your Miata, you should also pick your exhaust based on what you want it to deliver. Is it meant as a slight tune-up from stock or are you paving the way for turbocharging your MX5?
These are the best Mazda Miata exhaust upgrades:
Has this article helped you? Please share it with your friends on Facebook or your favorite car forums. We appreciate your support!