If you want to get more power out of your zippy, Mazda Miata, your best bet is to install some form of forced induction; either a supercharger or turbocharger.
Between the two, we prefer superchargers, and we'll go into the details below.
Superchargers are connected to the engine's crankshaft, whose spinning motion in turn powers the supercharger. They can add serious horsepower.
Below you'll find some intro information on the topic of forced induction, and our experiences on the topic.  We outline your different options and will point you in the right direction for the best MX5 supercharger kit to suit your needs.
Difference Between Turbo and Superchargers
Turbochargers and superchargers are both forced induction systems, compressing more air into your engine, which results in a considerable boost in power.
To achieve this, a turbocharger will draw power from exhaust gases, which results in combustion. The exhaust runs through a turbine before leaving via your exhaust system, forcing a huge amount of air into your engine via your intake.
A supercharger is more direct, connected via a belt directly to the engine. The compressed air of the atmospheric pressure boosts the engine output by up to 46% more horsepower.
Superchargers are easier to install, tunes aren't as difficult, and the best Miata superchargers are more efficient than turbochargers. They also bring about much quicker acceleration.
Factory Miata Engine Power Output
Below is a list of power outputs from each engine generation.
These are the base power outputs, so you can tell how much of a boost you're getting with the superchargers listed:
1990-93 NA Engine: 1.6-liter DOHC I4 (115 HP)
1994-97 NA Engine: 1.8-liter BP-ZE I4 (129 HP)
1998-2005 NB Engine: 1.8-liter BP-4W I4 (140 HP)
2006-2015 NC Engine: 2.0-liter MZR LF-VE DOHC I4 (170 HP)
2016-2019 ND Engine: 2.0-liter SKYACTIV-G DOHC I4 (155 HP)
The Top MX5 Miata Supercharger Kits
The kits below are categorized by the generation of car, starting with NA Miatas.
Each entry specifies what type of engine they're compatible with, and the output gain you should expect to receive.
NA Miata Supercharger Systems
All of these kits are compatible with the 1.6-liter engines of the 1990-93 NA Miata, and the 1.8-liter upgraded 1994-97 NA Miata.
TDR Rotrex System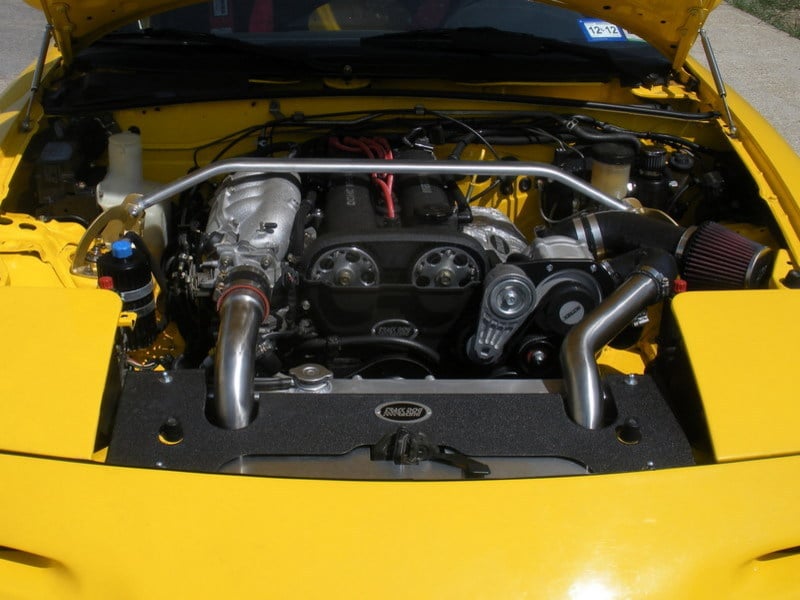 Manufacturer: Rotrex
Fitment: NA (1990-1993 / 1994-1997)
Engine Compatibility: 1.6-Liter / 1.8-Liter
Output: 277 HP
Supercharger systems for NA-generation Miatas are becoming harder to find nowadays, but there are still some options out there.
Track Dog Racing offers two options: a supercharger for 1990-93 NA Miatas, fitted to the 1.6-liter engine, or a supercharger for the 1994-97 NA Miata, compatible with its 1.8-liter engine.
Neither of these options are the cheapest Miata supercharger kit, but they offer fast and reliable HP. The 1990-93 supercharger claims to generate about 250 HP out of your stock 1.6-liter, while the 1994-97 supercharger will gain 277 HP.
Each kit includes a Rotrex C30-74 blower with 80mm 4-rib pulley, a TDR air-to-air front mount intercooler, and all required mounting hardware and detailed installation instructions.
This includes custom TDR radiator air flow panels, piping, oil cooler, header heat shield, and TDR plug and play fuel card engine management.
FFS Eaton MP62 Kit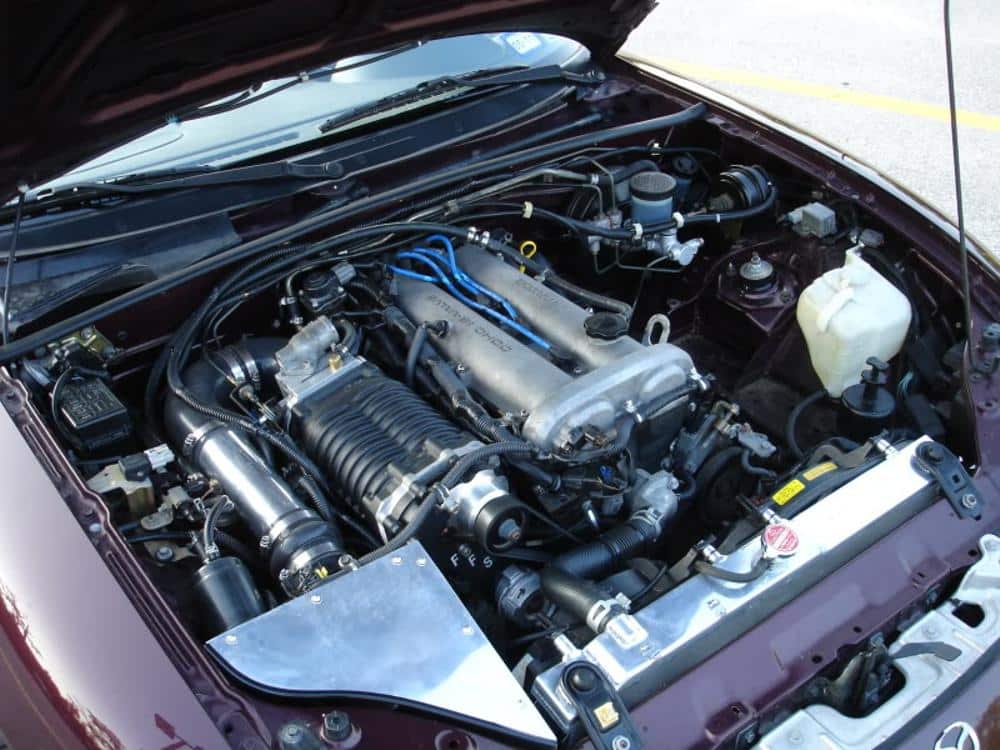 Manufacturer: Eaton
Fitment: NA (1990-1993 / 1994-1995 / 1996-1997)
Engine Compatibility: 1.6-Liter
Output: 1990-93: 205+ HP / 1994-97: 241+ HP
Eaton consistently offers the best Miata supercharger kits for the price. Fast Forward Superchargers has three NA superchargers, for 1990-93, 1994-95, and 1996-97 years.
Each kit includes the Eaton MP62 supercharger and is compatible with 1.6-liter engines, and 1.8-liter engines for the latter-year models.
The standard kit for the 1990-93 supercharger offers 205+ HP, and from 1994-97 the kit offers 241+ HP. We put Eaton as one of the most reliable and best Miata supercharger companies in the business.
These kits have a 120-day wait time between orders, for all three options, because of their popularity. Each one includes a complete engine management system with boost fuel control and boost timing control.
NA and NB Miata Supercharger Kit
The entry below, sold by Fast Forward Superchargers, is available for the NA Miata (1990-1997 year models), and the NB Miata (1998-2005 year models), and both the 1.6-liter and 1.8-liter engines applicable to those model years.
FFS Magnuson TVS 900 Kit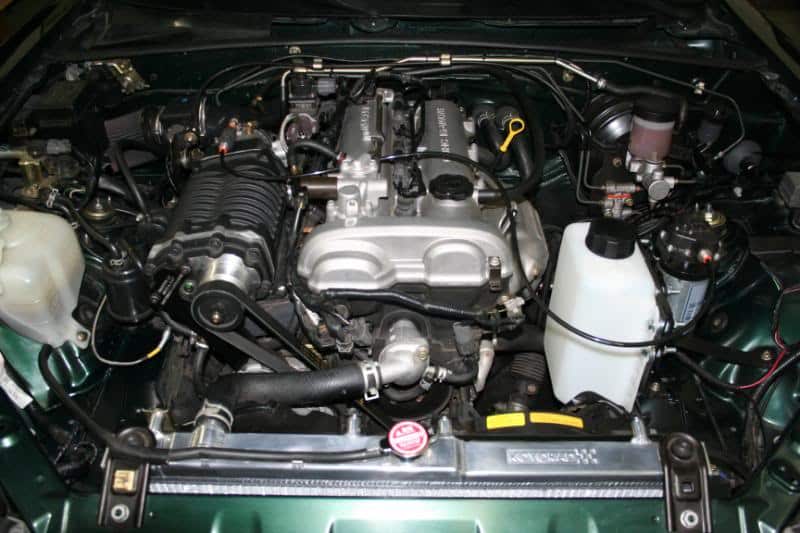 Manufacturer: Magnuson
Fitment: NA (1990-1997) and NB (1998-2005)
Engine Compatibility: 1.6-Liter and 1.8-Liter
Output: NA: 205+ HP / NB: 241+ HP
Magnuson is a bit pricier than the Eaton superchargers, but the overall result is worth the price. Their products run as if they were factory installed because their parts are all manufactured and calibrated to OEM standards.
Magnuson and Eaton have partnered to create the TVS 900 supercharger kit. It's offered both for 1990-97 1.6- to 1.8-liter NA Miatas, and for 1998-05 1.8-liter NB Miatas. The NB supercharger will pump an impressive 241+ HP into your drivetrain, while the NA kit will push your HP to 205+.
This supercharger kit includes the Eaton Twin Vortices Series (TVS) 900, an improvement on their MP62 model, a "big throttle" body, cast throttle body adaptor, and a high-flow cast intake manifold developed by Fast Forward Superchargers.
NB Miata Supercharger Systems
The supercharger systems are compatible with all 1.8-liter MX5 Miatas from the NB generation (1998-2005).
KraftWerks System
Manufacturer: KraftWerks
Fitment: NB (1998-2005)
Engine Compatibility: 1.8-Liter
Output: 195 HP
The KraftWerks supercharger system for the 1998-05 NB Miata is a completely redesigned system based on the impressive Rotrex supercharger. It includes everything necessary for a bolt-on installation.
This is one of the cheapest Miata supercharger kits, but that doesn't take away from its effectiveness.
At the heart of each KraftWerks kit is the Rotrex C30-74 centrifugal supercharger. The patented traction drive technology means that power is always available, all the way to the redline.
The results of this supercharger are impressive: 195 HP and 150 lb-ft torque for the 1.8-liter NB engine.
This Rotrex supercharger is renowned for its compact size, high adiabatic efficiency, low vibration, and quiet operation. This is all thanks to their unique traction drive technology, which transmits power through frictional forces between its rolling elements.
TDR Rotrex System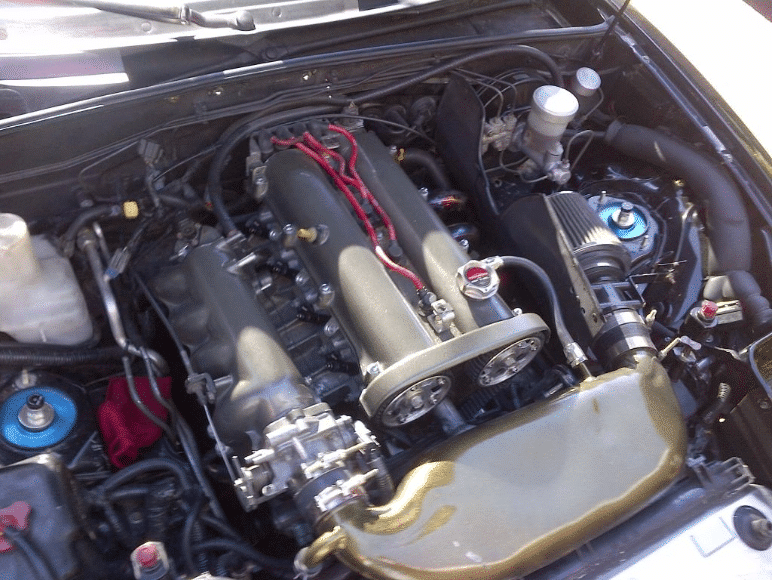 Manufacturer: Rotrex
Fitment: NB (1999-2005)
Engine Compatibility: 1.8-Liter
Output: 301 HP
Track Dog Racing offers a Rotrex-based kit as well, which might be the best Miata supercharger for the 1999-05 NB Miata. It is more expensive than Kraftwerks' system, but will also give your car more power: over 300 HP.
As always, Track Dog Racing's kit includes the Rotrex supercharger, intercooler, and all required mounting hardware and detailed installation instructions. This kit uses the Rotrex C30-84 blower.
Each Rotrex unit features its own self-contained oiling system that remains independent of the engine. Its dual-action oil pump supplies traction fluid to the supercharger while the supplied cooler ensures proper fluid temperatures at all times.
This supercharger system provides instant throttle response and a progressive power curve, meaning you can increase all the way to the redline without the typical spiking or surging that turcochargers are known for.
NC Miata Supercharger Systems
The superchargers below are made by KraftWerks, Flyin' Miata, and Good-Win Racing. They are all compatible with the 2.0-liter engines on the NC Miatas produced between 2006 and 2013.
KraftWerks Kit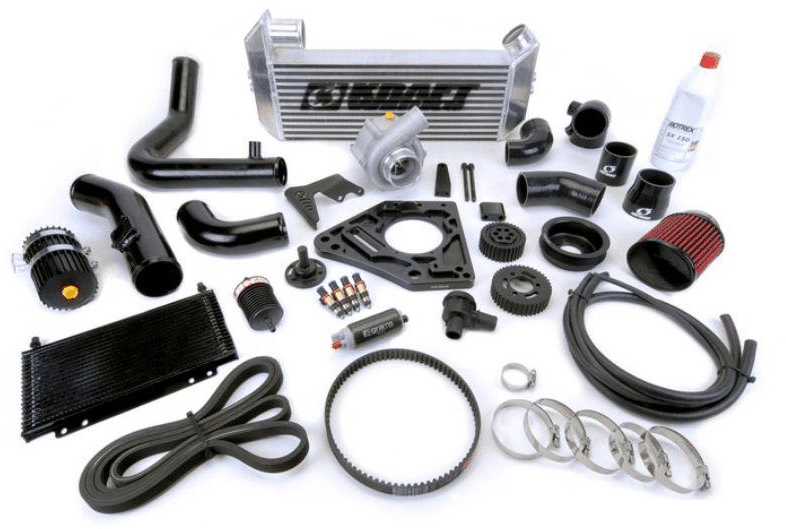 Manufacturer: KraftWerks
Fitment: NC (2006-2013)
Engine Compatibility: 2.0-Liter
Output: 145 HP
Check Prices: Enjuku Racing
This system uses the Rotrex C30-84, the same supercharger used in the extremely successful KraftWerks 2006-2013 Honda Civic Si system.
With 10psi of boost pressure, this system produces an impressive +145 HP on 91-octane through the OEM headers and exhaust. Even more impressive is the linear power curve throughout the entire power band, due to the patented traction drive technology, which transmits power through friction forces.
This KraftWerks product is not only a cheap Miata supercharger, but it's one of the best. It features ultra-high efficiency, silent operation, low operating temperatures, a self-contained lubrication and cooling system, and high reliability.
KraftWerks' comprehensive design includes all the necessary components needed to ensure safe, reliable operation, such as all the necessary tubing, silicone couplers, and clamps.
KraftWerks NC Kit w/EcuTek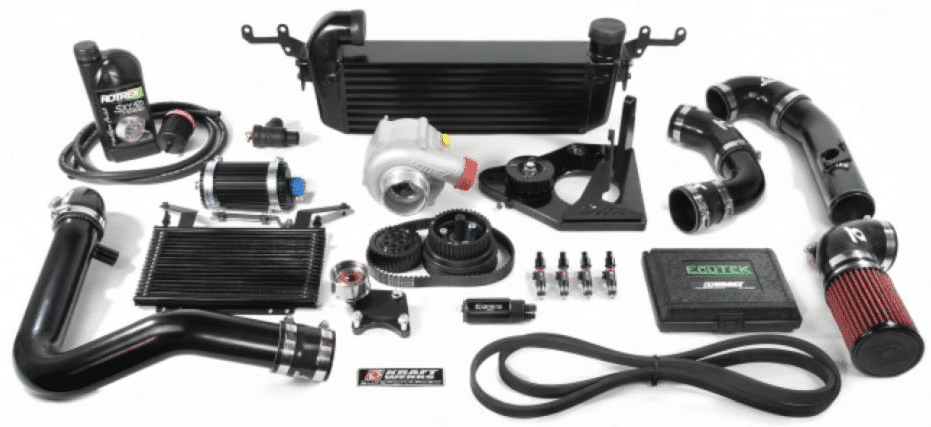 Manufacturer: KraftWerks
Fitment: NC (2006-2013)
Engine Compatibility: 2.0-Liter
Output: 283 HP
Check Prices: Amazon
This revised KraftWerks supercharger system is compatible with all 2.0-liter 2006-13 NC Mazda MX-5's. It has a stronger ribbed belt than its predecessor, and revised charge piping. The price reflects this.
This kit uses the Rotrex C30-84, which responds and performs well to the characteristics of the NC's motor.
With the EcuTek tuning, this kit offers 283 HP, though it's also available without EcuTek tuning. The new belt system gives zero slip under the heaviest loads and hardest accelerations. Its offset allows for greater clearance around belts and reduces the chances for rubbing.
There's a pulley option available which increases overall power delivery to more heavily modified engines. Overall, though it may be pricey, this is one of the best Miata superchargers for the NC generation.
Flyin' Miata System
Manufacturer: Flyin' Miata
Fitment: NC (2005-2015)
Engine Compatibility: 2.0-Liter
Output: 225 HP
Though Flyin' Miata offers plenty of turbochargers for various Miata generations, their only supercharger system is for the 2005-15 NC-generation Miata. It's the most expensive supercharger available to NC models, but Flyin' Miata is known for their great enhancements to the MX5.
This is the only forced induction system that is street legal in every state in the US. It's a gorgeous piece of work that Mazda USA even put in their Super20 show car. If that's not a vote of confidence, what is?
The heart of the kit is a custom casting that incorporates an intake manifold, an air/water intercooler, and the popular Eaton MP62 supercharger. The 6-rib serpentine belt drives the supercharger using Mazda's own automatic tensioner.
With this system installed, engine power increases to approximately 225 HP at the wheels, basically turning your car into the Mazdaspeed that Mazda never made. To put that power into perspective, the Super20 show car clocked a 5.3-second 0-60 mph time.
Good-Win Racing Intercooled MP62 Moto-East Tune Kit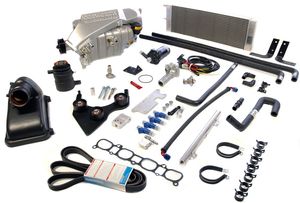 Manufacturer: Magnuson
Fitment: NC (2005-2015)
Engine Compatibility: 2.0-Liter
Output: 200 HP
This kit uses the same MP62 supercharger that's proven in so many OEM applications, and Good-Win Racing claims theirs has the best calibration of any Miata supercharger kit.
This kit offers a slightly higher boost than the Super20 show car kit mentioned above. Good-Win Racing's install on their 2007 Autocross XP Class Racer did the 0-60 mph sprint in just 4.9 seconds.
This unit is not CARB approved or for sale in California, however. It comes with a 3-year, 36,000-mile defect warranty on the Magnuson Supercharger. This kit gets a stock MX5 to about 200-hp at the wheels, up from the typical 130-hp from NC Miatas.
ND Miata Supercharger Systems
The only superchargers available for the 2016-2019 Mazda MX5 Miata are manufactured by Edelbrock. They are compatible with all 2.0-liter ND Miata engines.
Edelbrock E-Force Kit
Manufacturer: Edelbrock/Magnuson
Fitment: ND (2016-2018)
Engine Compatibility: 2.0-Liter
Output: 251 HP
Check Prices: FRSport | Amazon
The E-Force system is designed exclusively for the SkyActiv-G 2.0-liter engine.
Its unique design allows for maximum flow, but it also maintains great daily driving characteristics. It's been designed from the ground up and utilizes the Eaton Gen VI R900 TVS rotor assembly for maximum efficiency. Its output is 251 HP.
This system's compact design fits under the stock hood and comes supplied with preformed hoses for easy installation. No trimming is needed.
The Eaton supercharger is the same high-quality rotor used by many OEM manufacturers. It also includes an EcuTek ProECU Programming Kit with E-Force tuning.
The supercharger is finished with a durable black powder coating for a unique look that will let everyone looking at your car that it's powered by E-Force.
Edelbrock E-Force Intercooled Kit
Manfacturer: Edelbrock
Fitment: ND (2016-2018)
Engine Compatibility: 2.0-Liter
Output: 251 HP
For slightly more power, Good-Win Racing offers an intercooled, tuned version of the popular Edelbrock E-Force supercharger kit. It's engineered exclusively for the ND Miata's 2.0-liter SkyActiv-G I4 engine.
As if Edelbrock's E-Force supercharger wasn't already the best Miata supercharger kit, this one comes complete with a plug and play tuning and an integrated air/water intercooler. The TVS900 twisted lobe supercharger gives the best possible throttle response, with instant boost, all the way from idle!
It uses the same Eaton Gen VI 900 TVS rotor assembly as the above kit, giving maximum efficiency in a compact package. The TVS Root supercharger sets a new standard of boosting device performance and reaffirms Eaton as the leader in OEM quality superchargers.
What's the Best Miata Supercharger?
To answer this question, we have to look at the supercharger kits by different generations.
Did we miss something? Let us know in the comments section below!