The Scion FR-S looks incredible when lowered on a nice set of wheels. Thanks to the widespread popularity of the ZN6 platform in the aftermarket, there are an overwhelming number of options to choose from.
You also need to consider factors like the overall size of the rims, how far in or out they sit, fender well clearance, and bolt pattern.
We've made your search a bit easier by curating the best Scion FR-S rims on the market and including a recommended wheel offset, width, and diameter range.
What to Consider When Buying FR-S Wheels
Measurements, fitment, usage, and budget are pretty much all that you need to consider when buying rims for the FR-S or any car. The first thing to do is get the bolt pattern right, which for these cars is 5×100.
Start with your driving style; if you want wheels for the track, a smaller wheel diameter is recommended. That will not only make the rim weigh less, but also give you the option to run cheaper tires.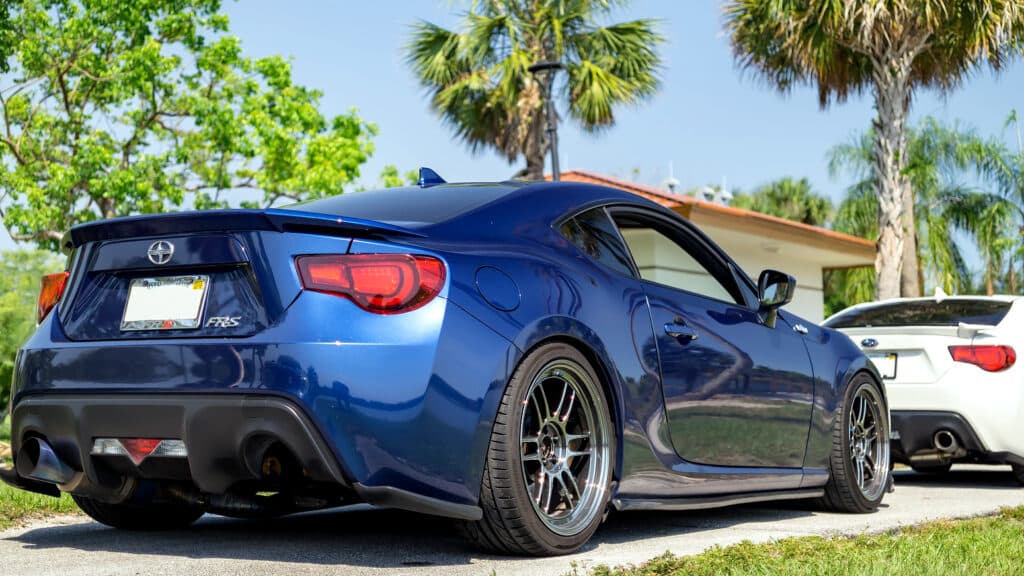 However, if you want great looking street wheels, you might choose a larger size to fill out the fender wells. Knowing how to measure your car's rim size will help. Here are the stock wheel specs for the Scion FR-S:
Diameter: 17″ to 20″
Width: 7″ to 8.5″
Offset: +35 mm to -44 mm
These measurements ensure a clean fitment without having to roll your fenders.
Diameter is the distance across the wheel's face, width is measured as the distance of the inner barrel of the wheel, or where the tire bead will sit on either side of the wheel.
Offset represents the distance from the centerline of a wheel to its mounting surface, usually represented in millimeters.
If you're into the stance aesthetic, then you can go beyond the recommended specs, but doing that will require modifications to your car's body. Check out our recommendations for the best fender rolling tools.
Best Aftermarket Wheels for FR-S
Here is a list of the best Scion FR-S wheels that you can buy, from budget friendly to premium.
Each of the wheels come in a variety of sizes, offsets, and colors, so you're sure to find something to suit your tastes and needs.
Enkei RPF1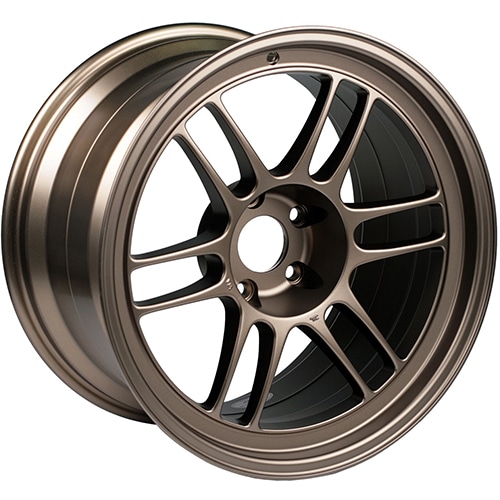 Manufacturer: Enkei
Rim size (in.): 14 to 19
Rim width (in.): 7 to 9
Weight (lbs): 15.25 to 18
Offset (mm): +35 to -44
Colors: Silver, gold, black
Check prices: Amazon | Enjuku Racing
Enkei has been around since 1950 and has an established pedigree of producing high quality wheels for both car enthusiasts and motorsport professionals. The RPF1 series is one of their most popular offerings, and for good reason.
The wheel features six twin spokes, which provides a unique look along with greater stress dispersion when pushing the car. You also get a variety of colors and specs to choose from.
RPF1s are a great choice for either street or track; even at their heaviest (18 lbs), they're still lighter than the stock FRS wheels that weigh around 20 lbs.
Gram Lights 57CR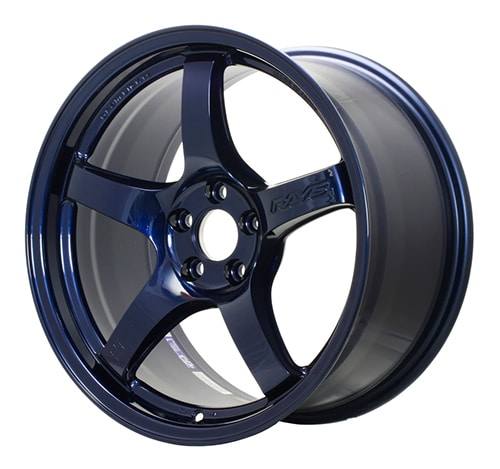 Manufacturer: Rays Engineering
Rim size (in.): 17 to 19
Rim width (in.): 8.5 to 9.5
Weight (lbs): 26 to 31
Offset (mm): +38 to -45
Colors: Blue, black, gold, bronze, gunmetal blue
Check prices: Enjuku Racing
Gram Lights 57CR are made by Rays Engineering, one of the most well-known names in the aftermarket rims industry.
Rays is a wheel supplier for many motorsports teams, including Formula Drift and Formula 1, so you know you're getting high-quality, excellent performing wheels.
Gram Lights 57CR come in several colors, including the one of a kind gunmetal blue. They have a 5 spoke pattern for a simple yet timeless look and are engineered for rigidity even in the toughest of conditions.
While these wheels are a bit heavier at 26-31 lbs, they are well worth it for structural integrity alone.
Cosmis Racing XT-206R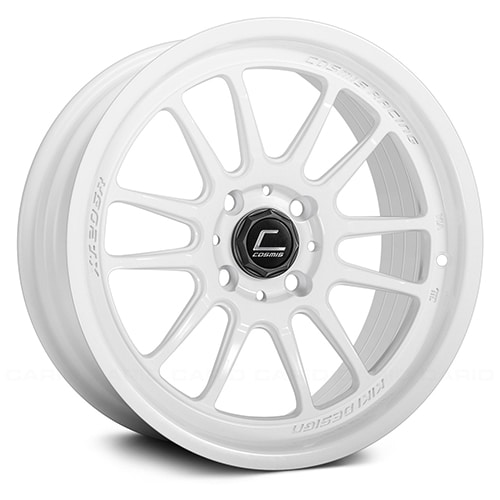 Manufacturer: Cosmis Racing
Rim size (in.): 17 to 18
Rim width (in.): 8 to 9.5
Weight (lbs): 22 to 29
Offset (mm): +30 to -38
Colors: White, black, hyper bronze, gun metal
Check prices: Amazon
Cosmis Racing is a newer brand in the wheel market, having debuted in 2011. With relatively affordable prices, aggressive designs, and plenty of choices, they have quickly become a favorite in the enthusiast community.
Their XT-206R is a six twin spoke design wheel with a lip featuring brand lettering. The XT series of wheels were designed in part by Kiki San Nana, a professional drifter, so you know these wheels are designed with style and performance in mind.
Volk Racing TE37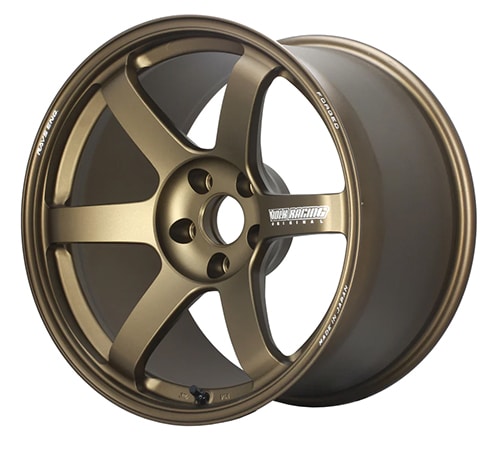 Manufacturer: Rays Engineering
Rim size (in.): 17 to 18
Rim width (in.): 8 to 9.5
Weight (lbs): 20 to 29
Offset (mm): +33 to -45
Colors: Black, bronze, silver, gunmetal, blue
Check prices: Enjuku Racing
Our 2nd option from Rays is perhaps the most well-known: The legendary Volk Racing TE37. This wheel is widely popular among car enthusiasts, whether or not they have an FRS.
The TE37 is made using a special Rays forging process, and the result is an incredibly strong and rigid wheel that can withstand intense track use.
It has been around since 1996, and served as the introduction of Rays Engineering's high-quality wheels to the general public, as those that came before were often much too costly to install on street cars.
The Volk TE37 features a six spoke pattern with decals signifying they are Rays wheels. They are lightweight yet tough and you can get them in a number of sizes, offsets, and colors.
Aodhan AH08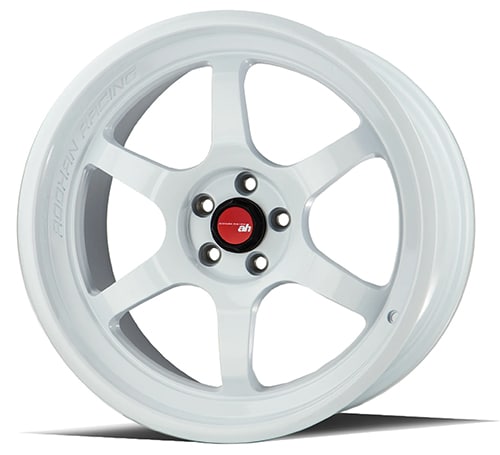 Manufacturer: Aodhan
Rim size (in.): 18
Rim width (in.): 8.5 to 9.5
Weight (lbs): 19.6 to 20.4
Offset (mm): +35
Colors: White, silver, black, bronze
Check prices: Amazon | Enjuku Racing
Aodhan is pronounced "odd-han" and is becoming more and more known and loved by enthusiasts looking for an affordable but quality wheel. The AH series was intended for the Japanese domestic market, and the AH08 in particular is a fan favorite among FRS owners.
The AH08 is a six spoke wheel with a unique Aodhan branded center cap in a red finish. You get a lightweight, sleek looking wheel that is at home whether you are pulling up to a car meet or to a drifting event.
Konig Ampliform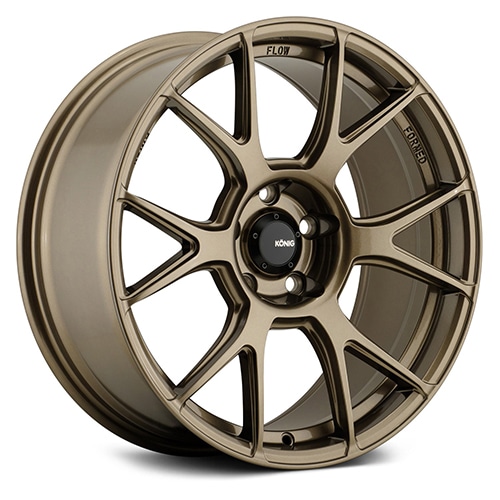 Manufacturer: Konig
Rim size (in.): 17 to 18
Rim width (in.): 8.5 to 9
Weight (lbs): 18.22 to 18-53
Offset (mm): +40 to -44
Colors: Bronze, dark metallic graphite
Check prices: Amazon | Enjuku Racing
Konig started in 1980 and today is one of the top wheel brands for car enthusiasts. Their Ampliform wheel follows a mesh inspired, six-spoke design. It only comes in two colors, but this doesn't really matter, because the wheels look unique and aggressive.
They're lightweight and look particularly good on a stance or track-focused FRS. Their flow-forming technology ensures you get a good quality wheel that can stand up to the abuses of driving.
Avid1 AV20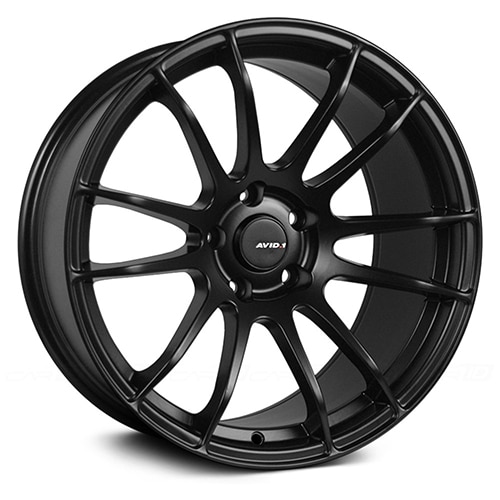 Manufacturer: Avid1
Rim size (in.): 17 to 18
Rim width (in.): 8 to 9.5
Weight (lbs): 18.5 to 29
Offset (mm): +33 to -38
Colors: Black, blue, bronze, white, gunmetal
Check prices: Amazon
Avid1 is another newer brand in the aftermarket wheel game, having started in 2012. Their goal is to produce wheels that are affordable but meet/exceed standards for aluminum wheels so you can get aftermarket wheels that are an upgrade from stock without breaking the bank.
AV20 wheels feature a 12-spoke design in a variety of colors and sizes. They have a center cap with the Avid1 logo, and the wheels themselves are somewhat concave, giving them depth in appearance.
Their wide range of sizing options gives you the choice of more aggressive or conservative fitments.
SSR GTV02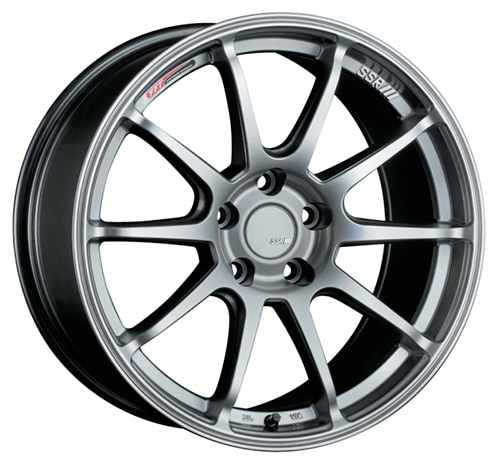 Manufacturer: SSR
Rim size (in.): 17 to 18
Rim width (in.): 7 to 8.5
Weight (lbs): 17.8 to 21.2
Offset (mm): +44 to -50
Colors: Black, silver
Check prices: Amazon
SSR Wheels is another premium brand, known for racing wheels that are subject to rigorous quality control standards. SSR has been around since 1971, and maintains its reputation as one of the best wheels available. Their GTV02 is no exception.
The GTV02 is a ten spoke wheel that is guaranteed to go above and beyond in terms of quality, suitable for the racetrack just as much as the car meet. They are lightweight wheels that come in black or silver, with a center cap featuring the unmistakable SSR logo.
Advan R-GD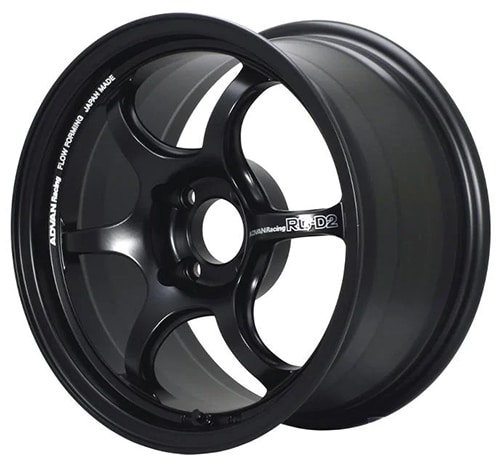 Manufacturer: Yokohama
Rim size (in.): 16 to 18
Rim width (in.): 7.5 to 9.5
Offset (mm): +38 to -50
Colors: Black, silver, gold
Check prices: Amazon
Advan is owned by Yokohama, and with their history of supplying tires to motorsports, easily made their way into providing professional teams with wheels. Advan R-GD is one of many excellent choices from the brand.
The Advan R-GD features a classic six spoke design made with performance in mind. For example, the wheels are carefully designed to be able to clear big brake calipers commonly found on track cars.
Our Top Picks
All of the wheels on this list are a great choice, but we do have our favorites. With that being said, these are our top picks in a few popular categories.
Best entry-level wheel: Cosmis Racing XT-206R
For an entry-level wheel without major compromises, we recommended the Cosmis Racing XT-206R. This is a great looking wheel that does not sacrifice quality despite being more affordable than other options.
There are plenty of options for this wheel in terms of sizing and finishes, too.
Best premium wheel: Volk Racing TE37
The Volk Racing TE37 is our choice for the best premium wheel. It's one of the most iconic wheels out there, and for good reason. It is stylish and high-quality, meant to serve you well on the race track.
This wheel will work for your FRS whether you enjoy weekend backroad trips or professional motorsports.
Best overall wheel for street and track use: Enkei RPF1
If you want a wheel that looks good on the streets but can also stand up to the occasional track day, we recommend going with the Enkei RPF1.
These wheels are well known, have an excellent reputation, and you can set them up for an aggressive stance look or for a functional track build.
What style of fitment are you going for? Let us know by leaving a comment below! If you enjoy reading this post, do consider sharing it with your friends on Facebook, Reddit, or on your favorite car forums.
We appreciate your support!