Smooth shifting was always going to be a key component of an enjoyable Miata experience. From the get-go, a five-speed manual transmission was the standard option — and is now easily the most popular option with enthusiasts than the four-speed automatic.
Miatas do different things for different people — from stealing first place on your club's track day to bringing style to date night. The clutch is one of those components that is closely connected to the driver and swapping the stock out for aftermarket clutch can dramatically change the driving experience.
The path from OEM (and other cheap Miata clutch options) isn't necessarily a straight line where price and quality move up in tandem. We've set out this guide to show you the best Miata clutch options.
How Does a Miata Clutch Upgrade Fit Into a Bigger Plan?
There are three main reasons why you would need (rather than want) to hunt down the best Miata clutch kit:
The one you have needs replacing — it isn't gripping like it should and you can feel it slipping through gear changes.
Upgrades to your Miata's performance (usually turbo or supercharging) will put its output above what your clutch is rated to handle.
Similarly upgrading to aftermarket wheels with stickier tires can mean greater loads on your drivetrain, and your clutch is usually the weakest link.
Clutches aren't the easiest things to upgrade, and if you're paying someone for labor, it can be an expensive job. You're best off changing a clutch in your MX5 as rarely as possible (don't cheap out on it)!
If torque capacity is what's driving the desire to upgrade your clutch, make sure that you're sure it can handle your bump in power. Keep in mind that higher order clutches will mean a heavier clutch pedal, and that can be a drag on a daily driver.
If you're only at the point of thinking you might want to go turbo at some point in the vague future, but are daily driving your car now, it may be better to go with a more street friendly clutch.
We'll get into the OEM clutch details in a bit, but the short version is: if a straight replacement is what you're after, keep it in mind. An OEM replacement or similar may be best for you.
But if your MX5 has transitioned from daily driver to track-only or you've really gotten into autocross, you might want to upgrade your perfectly good, existing clutch to something with a bit more bite.
Guide to Clutch Compatibility for Your Mazda MX5
You'll have an easier time making a clutch upgrade work with different engines than if you were upgrading the exhaust system on your first generation MX5.
With the two engine variants (1.6L and 1.8L) it can be confusing matching parts to the car. In the case of clutches, all that really needs to match is the clutch disc, pressure plate and flywheel.
For a time, it was easier to get track-quality and performance parts that fit the bigger engine, so people put 1.8 equipment on 1.6 Miatas. Equally, the replacement parts designed for the smaller engine tended to be lighter so if that was your goal you put 1.6 parts on a 1.8. But, again, so long as clutch disk, pressure plate and flywheel match, you're good to go.
Replacement Stock Clutches
Off the line, the Miata was kitted out with a clutch system from Japan's biggest parts maker, Exedy. It's light, nimble and reliable — pretty much all you can really expect from a stock clutch.
Manufacturer: Exedy
Warranty: 12 months or 20,000 miles
Disc type: Full disc
Material: Organic
Buy from: Amazon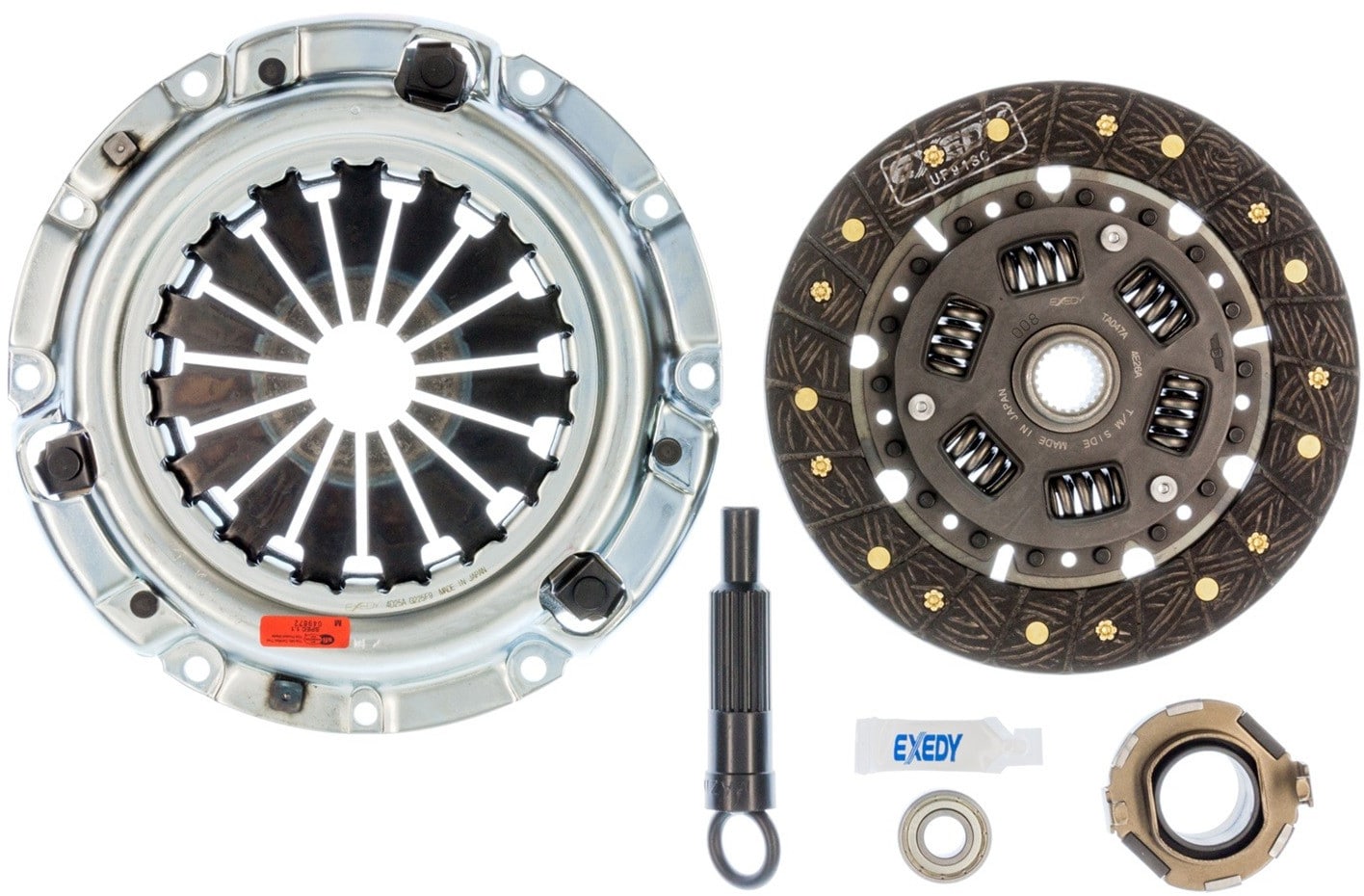 Exedy does call for a slightly above average break-in period if you drop in a replacement and you may find that a new OEM clutch doesn't start grabbing as it should until it gets above 2,000 miles.
Many owners don't like the bearing included in OEM replacement kits as they are made in China, and toss them in favour of better ones they buy separately. Still, this is one of the best Miata street clutch options.
The OEM clutch does not really have the leeway to handle the extra power put out by forced induction add-ons like a supercharger or turbo kit. For those, you'll need to upgrade your clutch as part of the job, but everyone else can rely on this as a very good replacement option.
For cars built between 1994 and 2005 there's a similar option.
Best Miata Clutch Upgrades for Daily Driving
If you're looking for a slight upgrade over the OEM clutch, these are the best MX5 street clutch options to use with a naturally aspirated engine.
These clutches will give you a bit more bite but will still be practical enough to drive on the street to work, the shops or to your partner's house.
Flyin' Miata Level 1 Clutch
Manufacturer: Flyin' Miata
Disc type: Full disc
Material: Organic
Compatible model years: '90-'05
Best for: All-purpose, daily driving, light track use
Buy from: Flyin' Miata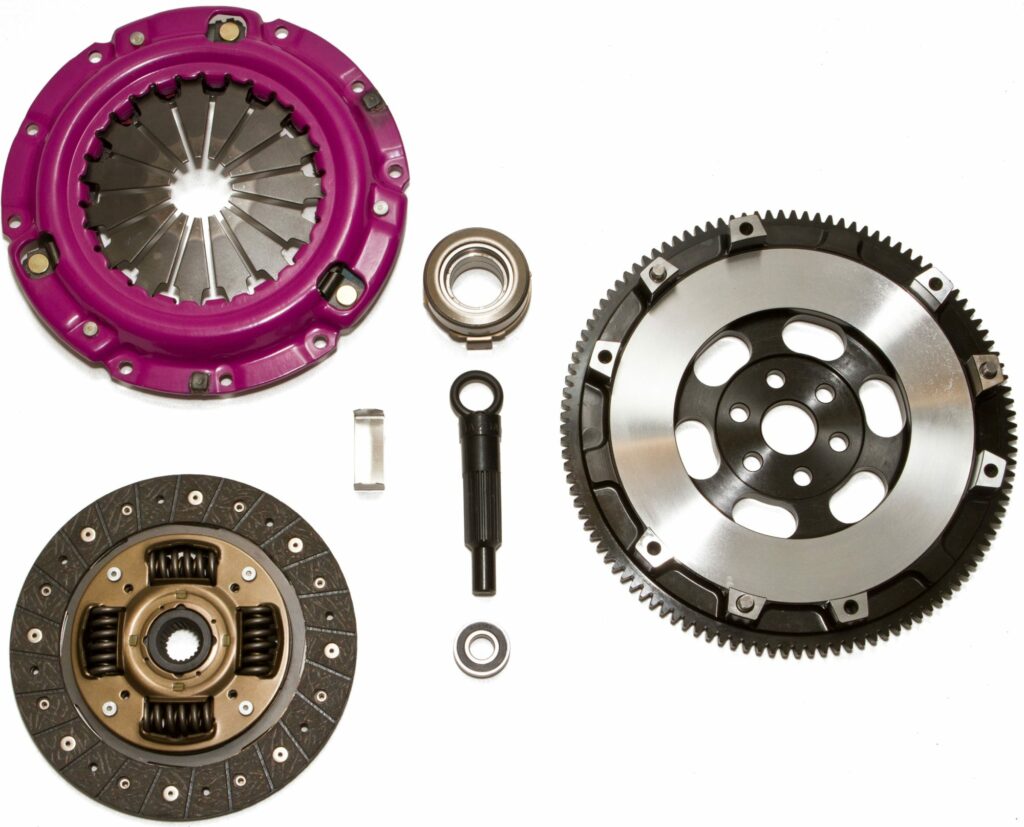 A longtime supplier of Miata parts in North America, this is a very popular option in the MX5 community and we fully support those kudos. This clutch sets out to deliver the torque-handling of a more expensive, performance version while keeping the OEM's pleasant pedal feel.
The Level 2 kit is just as popular for turbo – or supercharged MX5s. They state "the Level 2 is for serious power cars only,". Unless your upgrades bring your Miata to more than 300 horses under the hood, you should stick with the ample Level 1 kit.
South Bend Clutch Stage 2 "Daily" Kit
Manufacturer: South Bend Clutch
Warranty: One year or 12,000 miles
Disc type: Full disc
Material: Organic
Compatible model years: '94-'05
Best for: Daily driving
South Bend's entry into the daily driver category is a popular choice for those who also hit the track on occasion. It has more race-like features, including low-vibration operation at peak RPMs and accurate shifting through corners.
Despite being a popular option for drivers using their Miata at club events, it's really a feature-loaded daily driver option. You can happily give this clutch hell at an autocross and drive it home in heavy traffic.
Race and Performance Clutch Kits for Your Mazda MX5
If you give your Miata a hard time on the street, or if it spends most of its time on the track this is where you should start your search.
These clutches in this section are also solid considerations if you need to handle more torque.
EFT Stage 3 Race Clutch Kit
Manufacturer: Efortissimo Racing
Warranty: One year or 12,000 miles
Disc type: Six puck
Material: Copper-ceramic
Compatible model years: '90-'93
Best for: Racing
Buy from: Amazon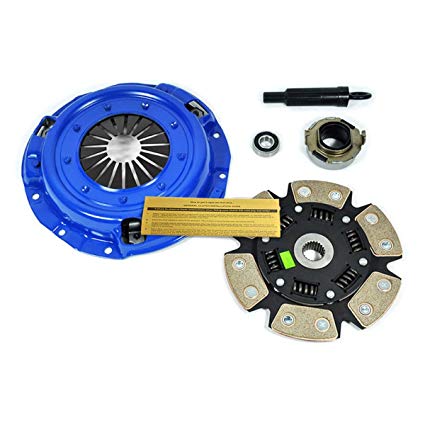 Efortissimo puts out this performance option at a good-value price. The six-puck design and copper-ceramic material mean that you'll feel the hard-gripping action you'd expect from one of the best Mazda Miata clutch upgrade options.
Treated springs add to durability and will keep this Miata clutch option working well for years. Make room on your list for the EFT Stage 3 if you want a race kit at a reasonable price.
SPEC Stage 2 Miata Kit
Manufacturer: SPEC
Warranty: 120 days
Disc type: Full disc
Material: Kevlar
Compatible model years: '06-'15
Best for: Street racing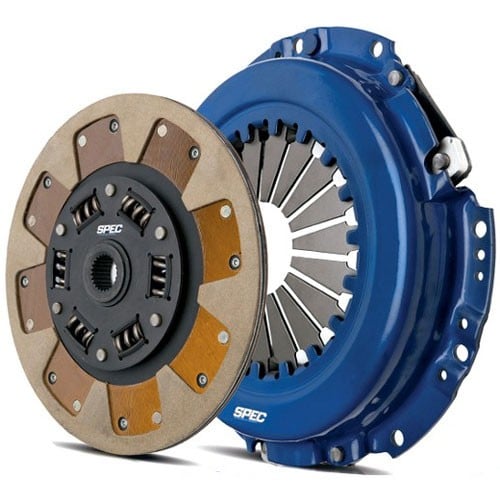 The Stage 2 from SPEC edges the Stage 1 with an extended expected life and slightly improved torque capacity. Pure Kevlar construction reduces friction while maintaining the proper level of rigidity.
This kit is manufactured in the US, which we like for quality and warranty purposes, though it's important to note that warranty is only 120 days.
This clutch is capable of handling everything from drag racing to autocross, while still being comfortable enough to drive on the street.
ACT HD Clutch Kit
Manufacturer: Advanced Clutch Technology
Warranty: One year
Disc type: Four puck
Material: Ceramic
Compatible model years: '90-'97; '99-'05
Best for: Racing
Buy from: Enjuku Racing
Truly top performance is what ACT is swinging for with this entry on our list of best MX5 clutch kits. It has one of the highest torque ratings and is well suited to handling turbocharged engines.
The diaphragm (an ACT speciality) on the HD plate helps this clutch tick both the "solid" and "sporty" boxes. Meanwhile, it's four-puck design is will keep the clutch from cooking under intense track conditions.
This kit comes in sprung and unsprung versions and the pros and cons of each are not necessarily cut and dry, depending on what you want your clutch to do. The variant with springs will be a bit heavier, but also much more durable under hard-driving conditions.
Exedy 10805 Racing Clutch Kit
Manufacturer: Exedy
Warranty: One year
Disc type: Full disc
Material: Copper weave
Compatible model years: '94-'05
Best for: Racing
Buy from: Amazon
Also made by Exedy, this option is a noticeable step up from OEM. Not just grippier, it can take up to 40% more torque transfer than stock. Copper-thread lacing in the fiber discs means they don't need additional reinforcement.
Note that you need a reason other than "want to go fast" when installing a clutch like this. Without throwing more power at it (from engine upgrades), your clutch will be noisier and pedal feel will be heavier compared to OEM.
So, this is one of the best clutch options for a turbo MX5, or any other high-power Miata build.
OS Giken GT Single Plate Kit
Manufacturer: OS Giken
Warranty: None
Disc type: Full disc
Material: Metallic
Compatible model years: '06-'15
Best for: Touring
This clutch kit from OS Giken includes a matched flywheel for a guaranteed combo that works.
Naturally, that bumps the price above other options. With the integrated plate, this is one of the best clutch upgrade options for Miata NC owners.
A floating pressure system keeps down the chatter that can plague other clutch systems when they are pushed to the limit.
Be aware that they don't come with a clutch tool, so you'll need to purchase one separately.
Our Favorite Miata Clutches: Which is Best?
As with most mods, there is a bit of personal preference that goes into picking a clutch:
Do you want a hard bite in all conditions?
Is being able to slip your clutch in traffic important?
Can you live with a heavy pedal in daily driver use?
How important is durability?
Do you care about warranty?
But with that said, here are our favorites in a few categories:
Best clutch for non-turbo daily driven MX5's: Flyin' Miata Level 1 Clutch
Best clutch kit for turbo Miatas: EFT Stage 3 Race Clutch Kit
Best clutch upgrade for NC (Mk3) and ND (Mk4) generation MX5s: SPEC Clutch Stage 2 Clutch Kit
Did we miss a clutch that you think should be on this list? Let us know!