If there's one thing that enthusiasts are, pardon the pun, driven to do, it's to expand their existing knowledge about everything to do with cars.
Whether that be watching YouTube videos or looking through the depths of the internet to find new information.
Another thing that enthusiasts enjoy is just listening to other car enthusiasts have long conversations about cars.
They partake in those conversations themselves, of course, but another way for enthusiasts to get their fix is through podcasts.
In this article, we'll show you the absolute top automotive podcasts that you can listen to.
Our Favorite Car Podcasts
In this article, we will be taking a look at the best automotive podcasts for gearheads to listen to, either while working on their car or just going about their day.
There are plenty of automotive podcasts out there, but only a handful can truly be considered the best of the best.
They feature amazing guests, great topics of discussion, and in a lot of cases, a good dose of humor too. Here are our top picks.
Cars and Culture with Jason Stein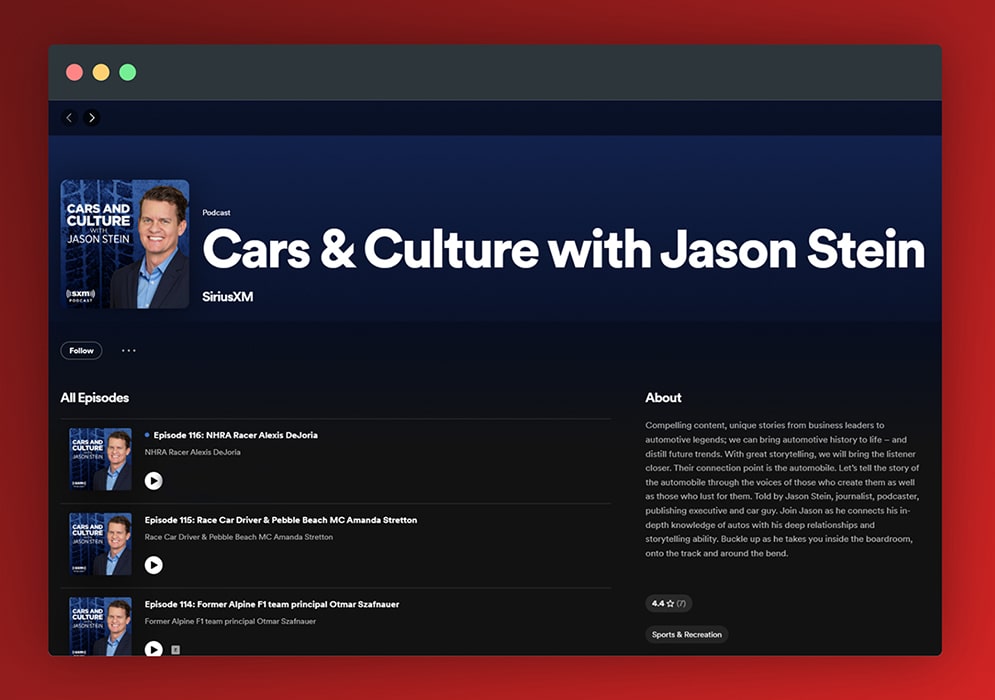 Cars and Culture with Jason Stein is another relative newbie in the space of automotive podcasts. It's hosted by Jason Stein, an entrepreneur and journalist who is very passionate about anything on four wheels.
The 1st episode of the podcast aired in early 2022 and it featured actor Mark Wahlberg as the number 1 guest.
Guests on the podcast include any and all varieties of celebrities, motorsport figures, or other famous celebrities with a huge penchant for cars, like Jay Leno.
Every episode is anywhere from 45 minutes to an hour long on average, with each one pulling the listener in with a variety of automotive stories from creators and enthusiasts alike. Here's where you can listen to Cars and Culture:
Interestingly, if you prefer listening to podcasts the old-fashioned way, Cars and Culture also airs on satellite radio.
Collecting Cars with Chris Harris
While Collecting Cars with Chris Harris is a newcomer to the automotive podcast world, Chris Harris definitely isn't.
Harris has driven many different types of race cars only to become an automotive show host. He's been around the automotive media world and still hosts the UK version of Top Gear to this day.
Collecting Cars started in early 2022, and Harris co-hosts it with Edward Lovett. Each episode of the podcast is about 90 minutes long, with discussions of just about everything to do with cars.
From Formula 1 to the electric car revolution, to even minute stuff like favorite seat controls in one particular episode, if you're a fan of Chris Harris' humor and presentation style, you'll feel right at home with Collecting Cars.
You can listen to Collecting Cars on any of the usual podcast mediums including:
CarStuff
CarStuff is one of the longest-running automotive podcasts of all time, fast approaching 900 episodes at the time of writing.
Similar to Dork-o-Motive, CarStuff goes beyond cars, covering all manner of land, sea, and air machines.
The scope that CarStuff goes for is a detailed explanation of how those machines work, with a sprinkling of unique stories that relate to cars and car parts.
As they say in their description, they have previously covered and debunked the story of Bonnie and Clyde thanking Henry Ford personally.
CarStuff is hosted by Motor City-based Scott Benjamin, a veteran worker in the automotive industry and editor of How Stuff Works.
In other words, he knows a thing or two. As before, you can find CarStuff on:
Dork-o-Motive Podcast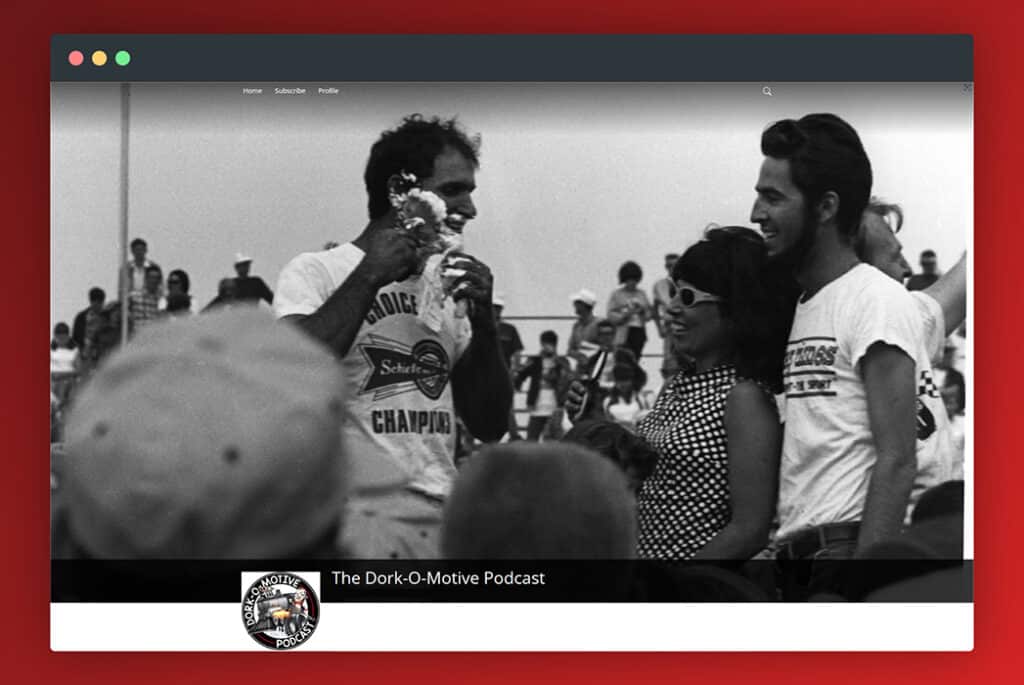 If you're an enthusiast with a keen interest in engine-powered machines beyond the automobile, the Dork-o-Motive podcast neatly falls into that bracket.
Hosted by Brian Lohnes, while this podcast is also about cars, it goes beyond that.
Dork-o-Motive takes a different approach to telling automotive stories, going right back to the very beginning with stuff like the controversial history of automotive headlights, the invention of the Ferris wheel, or the difference between BHP and WHP.
There's a growing number of car enthusiasts who take an interest in heavy machinery and historic war machinery; the Dork-o-Motive podcast compiles all of those together while telling amazing stories.
It's available to listen to on all the usual mediums, including:
Everyday Driver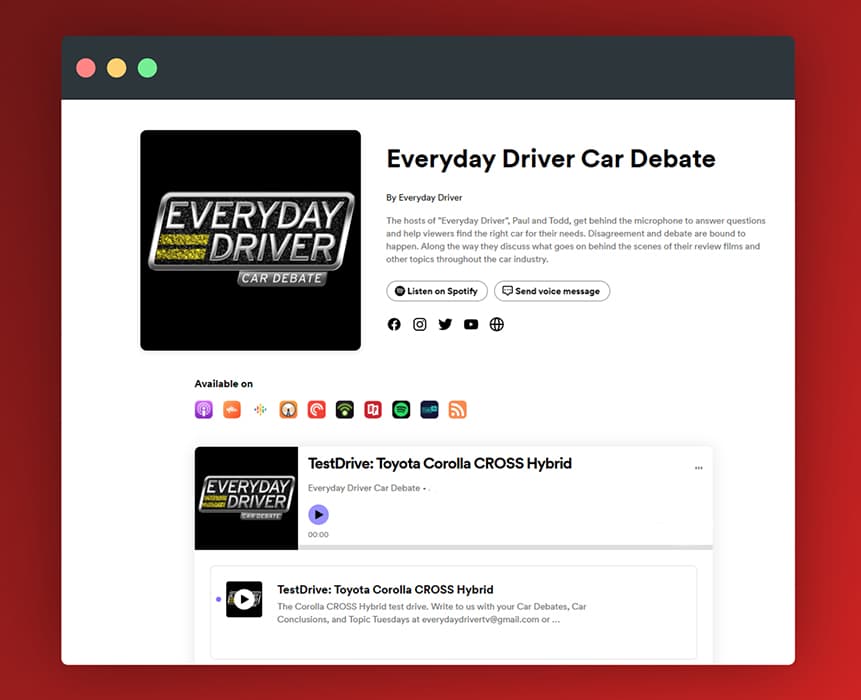 For enthusiasts and potential buyers looking for a more traditional approach to the automotive podcast, Everyday Driver has you covered.
Among the hosting chairs are Todd Deeken and Paul Schmucker, 2 automotive enthusiasts and content creators. It is also one of the oldest auto podcasts and has been running since 2014.
The approach they take is a little simpler, as they give advice to listeners about what car they should buy, as well as behind-the-scenes topics, automotive comparisons, and general discussions about the auto industry.
It's a great choice for those who are window shopping for a new set of wheels. If that's you, Everyday Driver is available on:
Past Gas
Donut Media skyrocketed on YouTube due to their highly energetic automotive content, hosted by all manner of charismatic hosts.
They especially became known for the Up to Speed series, which landed them several awards.
In late 2019, Donut Media launched the Past Gas podcast. Just by the humorous play on words in the title, you can tell that the humor is definitely present in the podcast as well.
Hosted by Donut Media staples James Pumphrey, Nolan Sykes, and Joe Weber, every episode of Past Gas is around an hour long.
They cover just about every automotive topic, with a notable focus on important figures from the automotive world, like Enzo Ferrari. Past Gas is available on most podcast mediums, most notably:
TFLTalk
While it is a relative newcomer to the podcast world, TFLTalk is a podcast extension of The Fast Lane Car.
It follows a similar formula to all the others, like discussions about events in the automotive industry, used cars, and new, upcoming cars.
It's a traditional approach to the automotive podcast, with every different kind of car enthusiast in mind, which gives it wider appeal.
Despite being a newbie, TFLTalk is already doing fairly well. It's available on the following platforms and a few others:
The Autoblog Podcast
Like the previous one, the Autoblog Podcast takes a grassroots approach to the idea of a podcast about cars.
It's hosted by Greg Migliore, along with a variety of co-hosts. The Autoblog podcast has been going on for quite a while, amassing over 600 episodes in that time.
Each episode of the podcast focuses on news, so it's a great way for enthusiasts to get up to speed on the latest industry news in a podcast format.
The hosts also talk about the latest cars they're currently driving. It's available on:
You also have the option of adding it to an RSS feed as well as downloading the MP3 file directly.
The CarThrottle Podcast
Similar to Donut Media, CarThrottle has carved out a name for itself in the automotive media world.
Well-written car reviews with great cinematography combined with charismatic hosts and hilarious antics. They recently launched the CarThrottle Podcast.
Hosted by CarThrottle staples Alex Kersten, Ethan Smale, and Jack Joy, they somewhat avoid talking about specific new cars, opting instead for general industry discussions and advice on decency behind the wheel.
They also include topics like Top Gear's The Stig, and other general bits of advice on how to avoid sticky situations behind the wheel. The CarThrottle Podcast is available on:
The Smoking Tire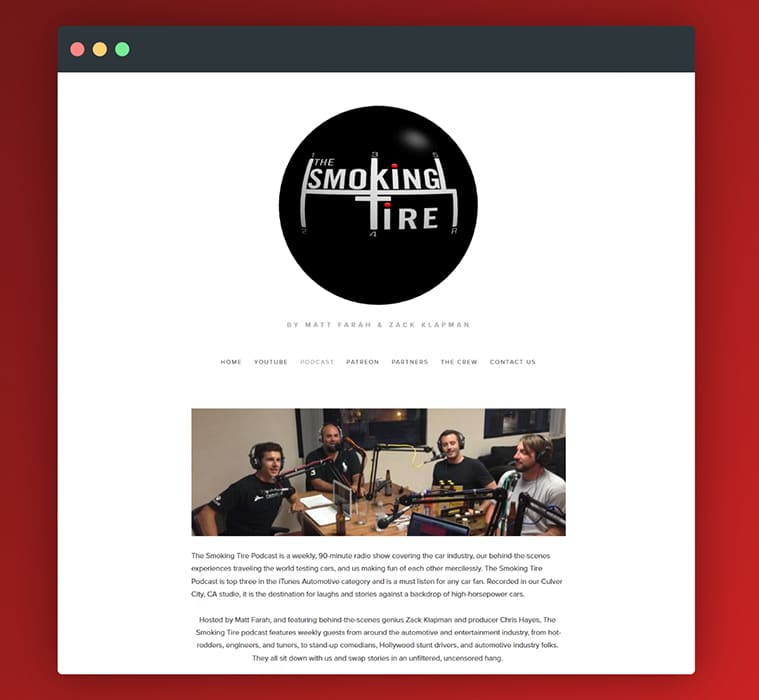 If there's an automotive journalist that you can count on to give you a brutally honest take on the auto industry, it's got to be Matt Farah.
Matt had humble beginnings with his YouTube channel "The Smoking Tire" some 15 years ago.
These days, as well as his excellent One Take videos, Matt Farah is well-known for his podcast, The Smoking Tire. Co-hosted by Zack Klapman and Chris Hayes, The Smoking Tire is a textbook automotive podcast.
Along with a good dose of humor, the three hosts discuss behind-the-scenes stories from various video shoots and events, as well as situations in the automotive industry within a 90-minute timeframe.
What's more, they frequently feature celebrity hosts. The Smoking Tire podcast is available on:
Concluding Summary
As car enthusiasts, we always look for ways to discover new stuff about the cars we love.
We're also looking for ways to learn stuff about cars, along with news and advice that manages to be entertaining but can also fit into increasingly busy schedules.
If your preferred medium is podcasts, these are just a handful of the very best ones that will teach you how to drive correctly, how to choose the right car, how to modify your car properly, as well as some excellent conversation starters in the form of stories from the automotive industry.
What's your go-to automotive podcast? Let us know by leaving a comment below! If you found this post useful, share it with your friends on Reddit, Facebook, and your favorite car forums!