The Toyota 86 is a fun car to own, especially if you're into tuning cars. It has a low center of gravity, a lightweight body, stiff suspension, a reliable engine, and a rear-wheel-drive system — it drives like a go-kart!
It's almost perfect, except that it uses a naturally aspirated engine that doesn't have a lot of power and torque when you compare it with other sports cars within the same price range.
However, you can install a supercharger on your Toyota GT86 to improve the power and torque performance.
So, if you want to inject some more power into your GT86, then this article is for you. We've reviewed the best supercharger kits for your Toyota 86.
Stock Motor Potential and Reliability
The Toyota GT86 is fitted with a 4U-GSE engine which is also known as the FA20 engine in the Subaru BRZ. It's a 2L four-cylinder naturally aspirated engine made out of aluminum cylinder block.
The standard Toyota 86 engine can produce 197 hp to 205 hp at 7,000 rpm and 151 ft. lb to 156 ft. lb of torque at 6,400 rpm.
The real question is; how much power can the engine reliably handle with forced induction? It depends on the modifications but the stock GT86 engine can safely handle up to 300 hp with a lower chance of blowing up.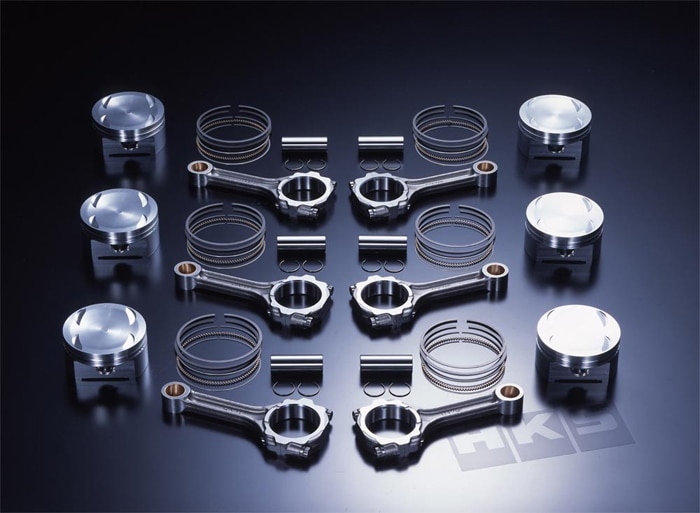 However, we've seen Toyota GT86 cars that have been modified to achieve up to 450 hp with forged internals.
Toyota 86: Supercharger vs Turbocharger
Tetsuya Tada, the chief engineer behind the Toyota GT86, favored a supercharger over a turbocharger when Toyota was considering making a faster version of the car.
Even though a faster GT 86 with forced induction was never released by Toyota, Tetsuya Tada had installed superchargers in the test cars because they have better throttle response compared to turbochargers.
Let's put it this way; a supercharger compared to a turbocharger is easier to install and doesn't compromise the character of the engine.
Superchargers also deliver instant power boost with no lag. Besides that, you don't need to replace your exhaust system if you've installed a supercharger.
However, if you want more power boost, a turbocharger would be convenient but you have to wait for it to spool. Then again, they could be more expensive and complex to install since you have to deal with the excess heat generated by the turbochargers.
Supercharged Toyota 86 Build Supporting Mods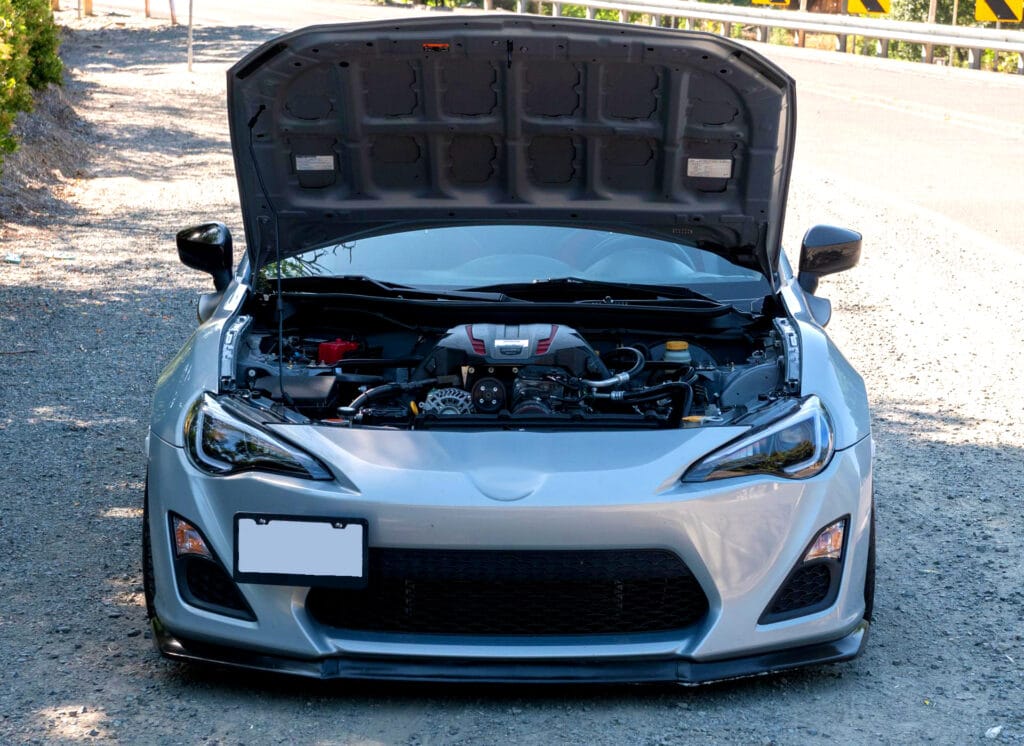 Before you install a supercharger, it would make sense to add supporting mods to make your blown GT86 build reliable, to handle the extra power. For that reason, you should consider the following supporting mods:
Stage 1: Sports exhaust systems like the GReddy RS-Race or HKS Hi-Power Single Exit. Lightweight Spec or Cusco flywheel, panel air filter, and suspension upgrades like some Toyota 86 specific coilovers. You could also do a remap on the ECU.
Stage 2: 700cc or 900cc fuel injectors and fuel pump upgrade. To improve the airflow in your engine, we recommend you port and polish the cylinder heads.
Stage 3: Upgrade the coil packs, oil cooler, and throw out bearings. You could also upgrade the camshaft or clutch if you have reliability issues on those parts.
Stage 4: Upgrade the pistons, head, and valves to achieve higher power gains beyond 380 whp. If you want more precision, balance the engine and invest in wider wheels and stickier tires.
The Best Supercharger Kits for Your Toyota 86
You'd imagine that cars that have such an enormous aftermarket community would have more options for forced induction.
But unfortunately, that's not the case with the GT86. Below we've listed the only supercharger kits that you can buy for your Toyota 86.
Vortech
Manufacturer: Vortech
Fitment: Toyota GT86
Type: Centrifugal
Warranty: 3 years
Finish: Matte Black
Buy On: Enjuku Racing
If you want a supercharger for your Toyota 86 that is designed to deliver a high power boost at higher RPMs, you should consider this centrifugal option.
It comes with everything that you need to install it from the integrated air cooler, internal oil reservoir, duct connections, billet impeller, air filters, pulleys, belts, airbox, drain hose to mounting brackets. The installation process is easy and it can be done in less than 6 hours.
Talking about the performance, this Vortech supercharger for Toyota 86 can inject up to 9 psi of air pressure. This should be enough to increase your engine performance up to 294 hp and 210 ft. lb of torque at the redline.
Another cool thing about this supercharger is that it looks like an OEM accessory with a matte black finish that perfectly blends with your engine appearance.
Edelbrock 1556
Manufacturer: Edelbrock
Fitment: Toyota GT86
Type: Roots
Warranty: 3 years
Finish: Matte Anodized Black + Red Accents
Buy On: Amazon
This is a positive displacement roots-type supercharger ideal for a consistent power boost on both low and high rpms. With the right modifications, it should boost 9 psi of pressure to deliver about 242 whp and 186 ft. lb of torque.
If you want more power, the kit includes a 3.25-inch 6 rib pulley to fine-tune the airflow. Besides that, it features a heat exchanger and air to water intercooler to prevent overheating.
Not to mention, it comes with self-contained lubrication to keep it in check; but you need to change the fluid after every 100,000 miles.
The warranty on this Edelbrock supercharger is 3 years or 36,000 miles if you install it on your Toyota GT86. What's more, it doesn't have a break-in period and you can push the supercharger to the limit as soon as you've installed it.
HKS GT2 V3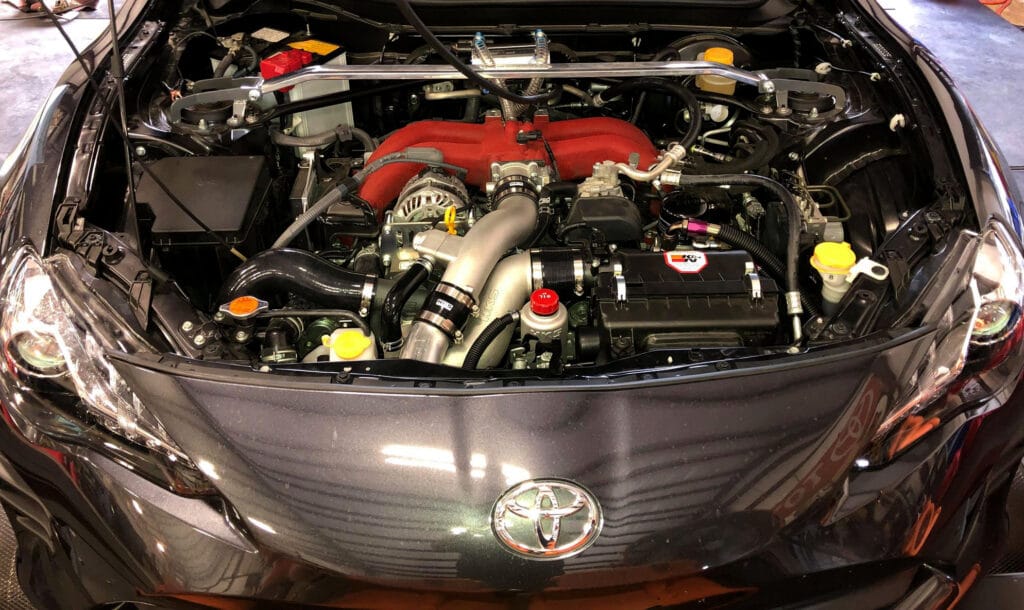 Manufacturer: HKS
Fitment: Toyota GT86
Type: Centrifugal
Warranty: 1 year
Finish: Brushed Aluminum
Buy On: Enjuku Racing
This is an updated HKS V3 supercharger kit with a larger inlet pipe than the preceding version. It also comes with a larger pulley with no restrictor plate.
This means you will have a slower spin on your supercharger but with better airflow which makes it possible for more air to enter the engine while reducing the intake temperature.
How much power can you expect? If you use 91 octane with HKS intake, exhaust, and headers, you can get up to 251 hp and 212 ft. lb of torque. Beyond that, you can achieve 268 hp and 212 ft. lb of torque on 93 octane.
But if you want to go on the race track and push your Toyota 86 to the limit, you can use E85 fuel and 900cc injectors to achieve 319 hp and 234 ft. lb of torque.
Sprintex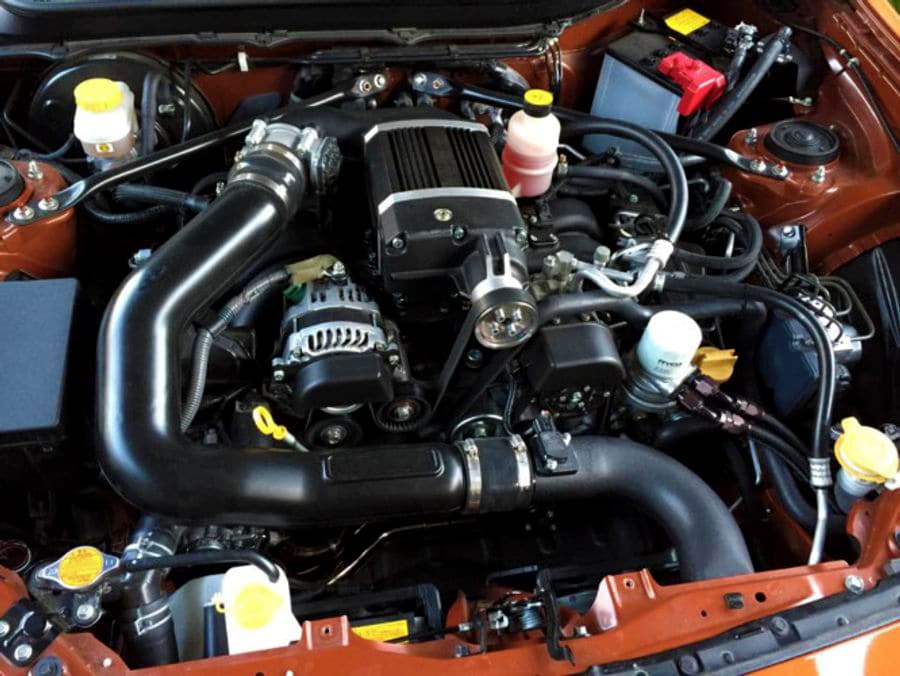 Manufacturer: Sprintex
Fitment: Toyota 86
Type: Twin screw
Warranty: 1 year
Finish: Gloss Black
This is arguably one of the best twin-screw supercharger kits if you prefer an instant low-end power boost and a flatter torque curve.
Since this unit features water to air intercooler and a 70mm pulley, the performance is more consistent. On top of that, you are less likely to experience heating issues in your engine.
The supercharger can inject 6 psi to 12 psi of air pressure into your engine and increase the horsepower by at least 41 percent. More succinctly, you can expect between 240 whp to 270 whp depending on the mods made to your car's exhaust system.
We also like that the kit is engineered to OEM specifications and the installation can be done without any major changes to your engine. In fact, you don't require external oil lines since the kit features a self-contained oiling system.
Kraftwerks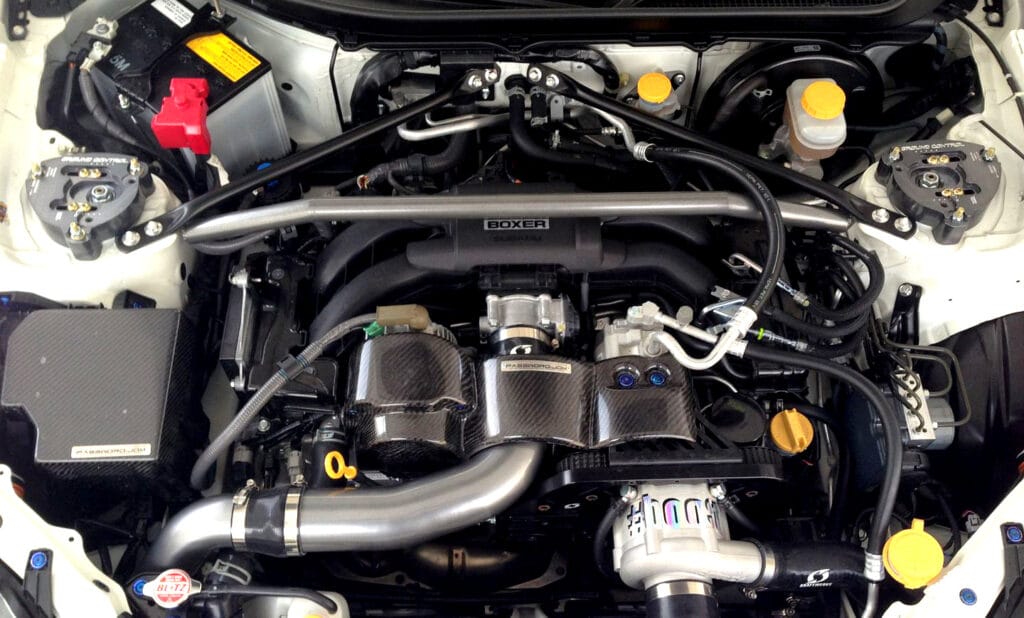 Manufacturer: Kraftwerks
Fitment: Toyota GT86
Type: Centrifugal
Warranty: 2 years
Finish: Brushed Aluminum
Buy On: Enjuku Racing 
The Kraftwerks is one of the most popular supercharger kit builders that utilize Rotrex compressors. The specific Rotrex C30-94 used on this kit is the same supercharger that was made for the Honda Civic SI.
Other than that, the supercharger is designed with an independent drive system so you don't get stranded if the drive belt malfunctions. Better yet, it has toothed belts to prevent slippage caused by heavy loads or hard accelerations.
Talking about the performance, this supercharger can deliver an extra 90 whp with a linear power curve on 91 octane through exhaust and OEM headers.
If you're still not satisfied, you could use E85 fuel, some 4-2-1 or 4-1 headers, and aftermarket catback exhaust with a high-flow catalytic converter to achieve an extra 125 whp out of this supercharger.
If you don't have access to premium fuel, consider having a second tune for the times when you're using a fuel octane booster.
What's more, you can easily upgrade to a bigger C38 Rotrex supercharger considering there is more than enough space on the mounting plate.
Our Favorite Supercharger Kits
In a nutshell, you should choose a supercharger depending on what kind of performance you want out of your Toyota GT86.
Since we want to make it easier for you to make a decision, we've categorized the best supercharger kits according to their strength. So here we go.
For top-end power: Vortech
This is the best option for Toyota GT86 owners who prefer top-end power at higher rpms for track racing. This centrifugal supercharger has the highest power boost ratings on our guide. Besides that, this kit is CARB compliant and you can use it on the streets.
We also like the Vortech supercharger kit because it's easy to install and matches the appearance of your engine.
For consistency: Edelbrock
The best thing about the Edelbrock supercharger is that the power boost is consistent regardless of the rpms. This could be perfect for daily driving in your Toyota GT86.
In addition to that, it comes with a 3.25-inch 6 rib pulley, heat exchanger, and a water intercooler to improve reliability. The manufacturer is so confident about its reliability to offer a 3 years warranty if you purchase the kit.
For flat torque curve: Sprintex
One of the biggest flaws of a naturally aspirated Toyota GT86 is the torque dip. However, this Sprintex unit can fix that problem.
It's also an ideal supercharger if you prefer an instant power boost at low RPMs. Not to forget, you don't need to make major adjustments to your engine during installation.
And that concludes our best Toyota GT86 comparison guide. Do you drive a Toyota GT86? Which supercharger kit is your preferred option? Let us know in the comments sections!