If you're asked to describe the way a car looks, words like "angry" or "intimidating" may come to your mind. A lot of work goes into making a car look like that.
A car's headlight design makes its overall look pop and helps shape an "expression". That's why aftermarket lights make your car look so different.
Most of us who modify cars are looking for that aggressive look, yet almost everyone agrees that the Miata MX-5 looks "happy" or even "cute" from the factory.
In this guide, we'll take a closer look at some of the coolest Mazda Miata headlight conversions, that can help you personalize your car.
NA Miata Pop Up Headlight Conversion Styles
Being the most mod-friendly Miata, the NA is ideal for aftermarket upgrades of all kinds. Especially cosmetic modifications.
The NA Miata's iconic barn-door headlights are a part of its 90s charm. If you want to modify them, you get to decide whether to keep the pop-up mechanism or not.
If you want to improve this already awesome design, you can make it more functional and modern with mods like these.
Low-Pro / "Lazy Eye"
This simple NA Miata headlight conversion style can dramatically change the look of your car. It involves replacing the 7-inch round lights with slimmer, rectangular light bars.
The slim profile of these light bars allows you to reduce the opening angle of your headlights. This makes them pop-up only halfway which gives your Miata the "lazy eye" look.
Building low-profile lights is quite simple. All you'll need is some tools, a good video guide, and correctly sized LED light bars.
If you decide to buy a partially assembled kit instead of building it yourself, these are the ones we recommend:
Low Profile by Jass Performance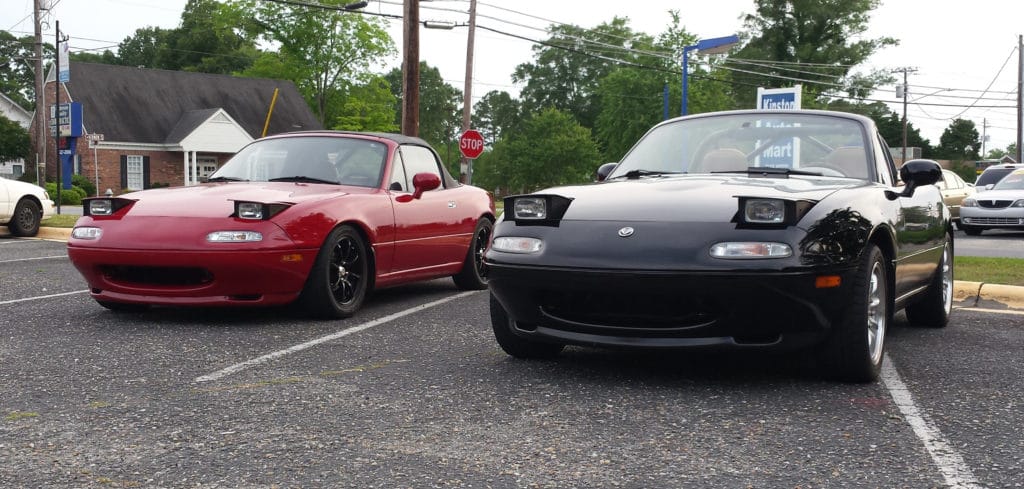 Manufacturer: Jass Performance
Material: Fiber-Reinforced Plastic
Bulb Type: Halogen
Style: Low Profile (9cm lift)
Fit: 1989 – 1997 Mazda Miata
Buy From: TopMiata
Direct-fit headlight kits are usually expensive, but in exchange, you end up with a more reliable conversion. The low-profile kit by Jass Performance is among the simplest "lazy eye" headlights you can get for your NA Miata.
This easily reversible square headlight conversion kit for the Miata involves the reuse of your stock headlight assembly. It comes with TÜV approved headlights that are brighter than stock. The light output can be further improved by switching to LED lights.
Low Profile by Cobalt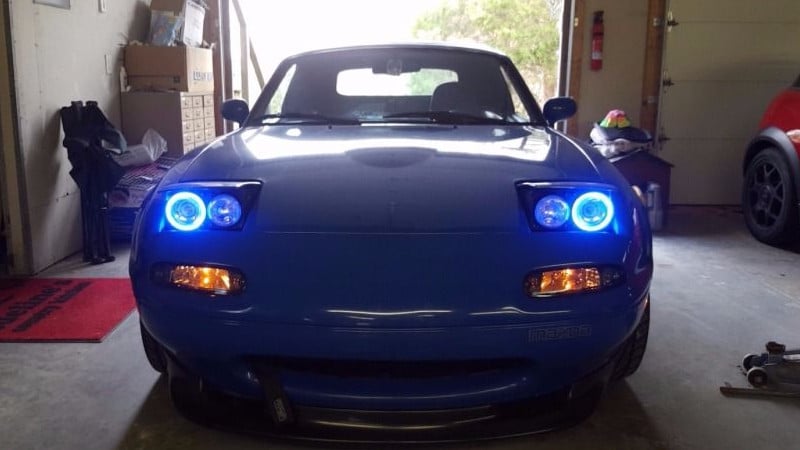 Manufacturer: Cobalt Precision Automotive
Material: Powder Coated Stainless Steel
Bulb type: Hella HID Projector + Reflector
Style: Low Profile (Twin)
Fit: 1989 – 1997 Mazda Miata
This low-profile kit by Cobalt is the sportiest looking "lazy eye" setup you can buy for your NA Mazda Miata.
When compared to Jass Performance, this one is twice as expensive due to its twin headlight setup. Each headlight comes with two DOT approved Hella lamps, separately wired for high and low beam.
Though it looks complicated to assemble, the instruction manual makes the process much simpler. We've looked around quite a bit, and this is by far the best looking MX5 twin headlight conversion kit we've come across.
LED Replacement Lights
Switching to LEDs is a great option if you want a different look without changing the angle of your pop-up lights. The installation is as simple as plug and play.
The best part about this easy swap is the variety of lights you can choose from. You can get a halo ring, unique LED patterns, different beam functions, app-controlled light colors, you name it.
Simply replace the 7-inch circular lamps with similarly specced aftermarket lights and you're all set – you'll end up with around 10 times more light production over your stock lights.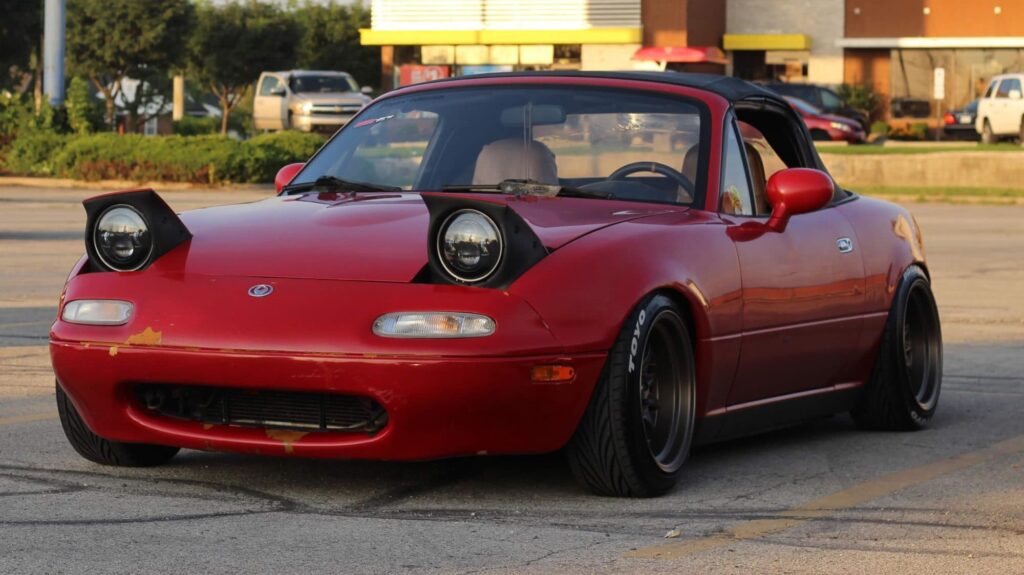 Because of their universal design, most of these aftermarket LED lights are interchangeable with many other vehicles; this is why you'll often see them advertised for a Jeep Wrangler (as they had terrible headlights from factory).
Below you'll find some of our favorite options.
LX-Light
Manufacturer: LX-Light
Material: Aluminium Housing
Bulb Type: CREE LED Chip
Style: Smoked
Fit: 1989 – 1997 Mazda Miata
Buy on: Amazon
CREE LED lights are known for having very accurate color temperatures that almost mimic daylight. The ones used here boast a color temperature of 6000K.
With these LED lights, you get a maximum output of 4500 lumens on each side. That's much brighter than stock.
The lights are DOT approved and 100% road legal. If you want a smoked look without the halo ring, the LX-Light LEDs are a great option.
TURBOSII
Manufacturer: TURBOSII
Material: Aluminium Housing
Bulb Type: LED Chip
Style: Halo
Fit: 1989 – 1997 Mazda Miata
Buy on: Amazon
These lights are the easiest way to get halo rings on your NA Miata's headlights. They even come with a turn signal connection which makes the whole ring glow amber along with your indicators.
At a maximum of 4800 lumens each, these DOT approved lights get quite hot but the aluminum body helps get rid of the heat effectively.
Xprite
Manufacturer: Xprite
Material: Aluminium Housing
Bulb Type: CREE LED Chip
Style: Chrome
Fit: 1989 – 1997 Mazda Miata
Buy on: Amazon
The brightest light isn't always the best. Your headlight's power should only be enough to properly illuminate what's in front of you. Anything more than that may blind oncoming traffic.
These LED lights by Xprite feature a 10-watt LED chip for high beam and a 15-watt chip for low beam. The power output is quite limited and so, these lights are really safe.
This doesn't mean that they're not bright. These lights manage to use the available power resourcefully, to generate the best possible "throw".
NA Miata Fixed Headlight Conversion Styles
It's well established that barndoor headlights are iconic. But, if you want something more modern and practical, you can replace them with fixed headlights.
Fixed headlights sit perfectly level with the hood and give your Miata a fresh look.
This headlight style has some obvious advantages like better visibility, fewer moving parts, and better aerodynamics.
Check out some of these fixed headlight conversion kits for your NA Miata.
Fixed Lights by Jetstream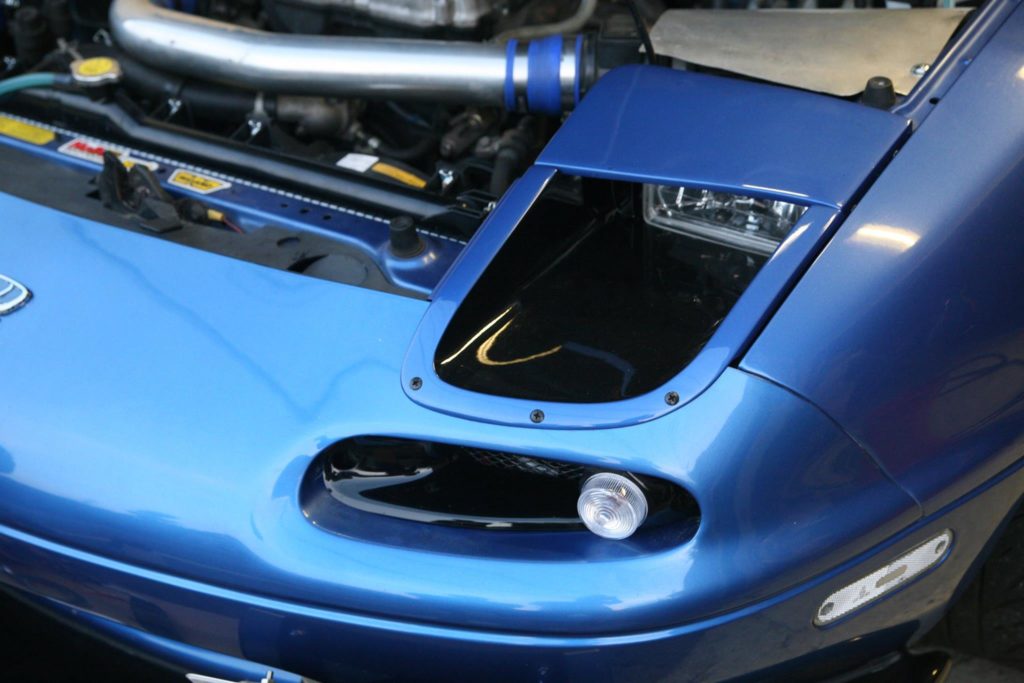 Manufacturer: Jetstream
Material: Fiber-Reinforced Plastic
Bulb type: OEM Bulb
Style: Fixed (Indent)
Fit: 1990 – 1997 Mazda Miata
Jetstream's take on fixed lights is quite different than what you'd expect. They aren't exactly flush with the hood. Instead, they're neatly tucked into the headlight buckets and form an indent.
This style does not look out of place on the NA Miata at all. We've even heard some car enthusiasts say that it looks more OEM than the factory headlights.
Though they look amazing, the price tag on these lights probably won't make sense to some Miata owners. You could buy an old, beat up Miata for the same price.
Stealth Flush by Jass Performance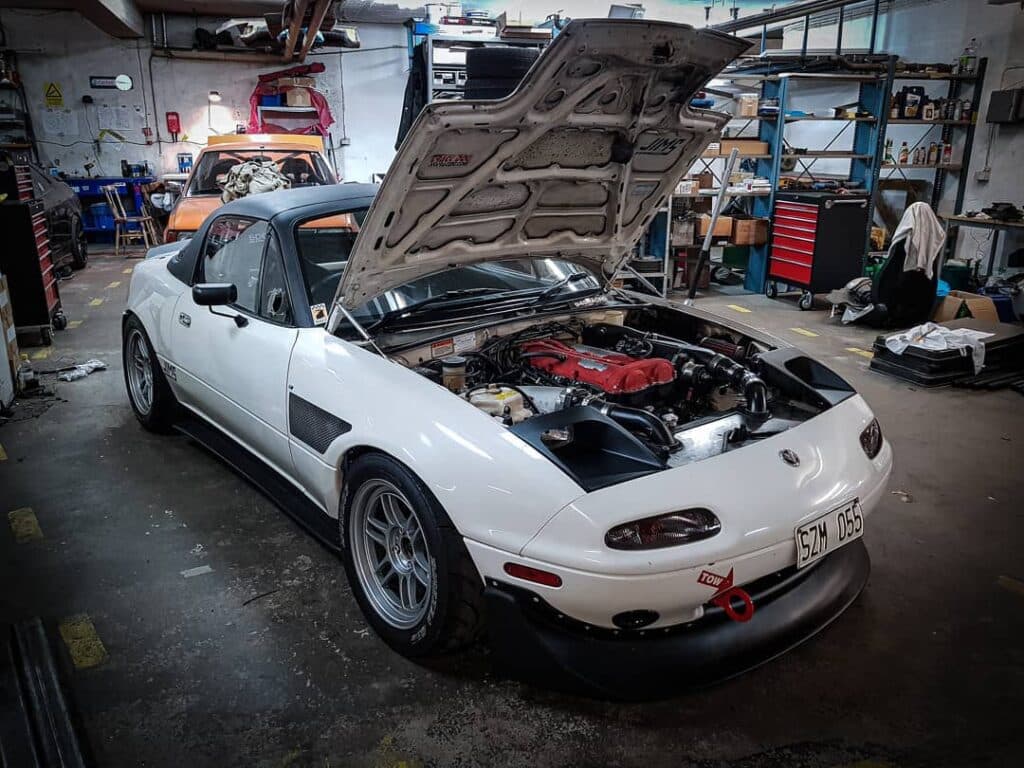 Manufacturer: Jass Performance
Material: Fiber-Reinforced Plastic
Bulb type: Hella H4 Halogen
Style: Fixed (Indent)
Fit: 1989 – 1997 Mazda Miata
Stealth lights by Jass Performance share a similar design with Jetstream's fixed lights. These aren't as well constructed as Jetstream but they're a lot cheaper.
These fixed headlights use the same 7-inch light bar seen on their low-profile kit. Most notable advantages include a clean look, arguably better aerodynamics and an optional cold air intake duct.
NB Miata Headlight Upgrades
After ruling the compact roadster segment for a decade, Mazda rolled out a completely redesigned version of the Miata in 1998.
The most noticeable visual change with the NB Miata was its upgraded headlights. Though they look great as they are, the aftermarket options are too good to pass up.
You can either upgrade your NB Miata's stock bulbs to HID projectors using a DIY kit, or you can simply buy a full conversion package.
Morette: Body Color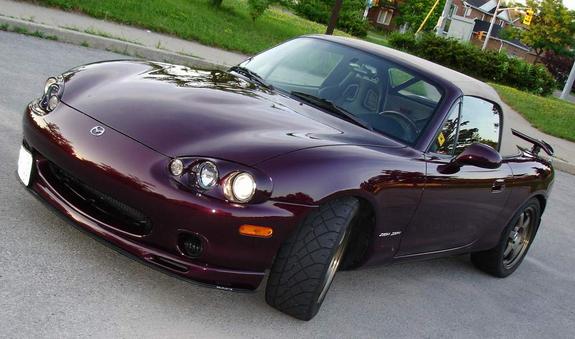 Manufacturer: Morette
Material: Fiber-Reinforced Plastic
Bulb Type: HID Projector + Reflector
Style: Dual Lamp
Fit: 1998 – 2005 Mazda Miata
You'll either love or hate the Morette design. Some people say it's tasteful; others say that it looks as if the Miata put on a pair of silly glasses.
Either way, these lights work perfectly if you're aiming for a retro look, or if you just want something different.
The Morette design features 3 lights placed in a row with a body-color faceplate. These include an HID projector for low beam, LED for high beam and a turn signal indicator.
Black Housing & Clear Lens Projectors
If you want to transform the look of your NB Miata from plain to racey in 0 seconds, get these headlights. You can't go wrong with the clear lens and black housing combination.
It beats getting a smoked lens as it gives you a similar look without compromising on visibility.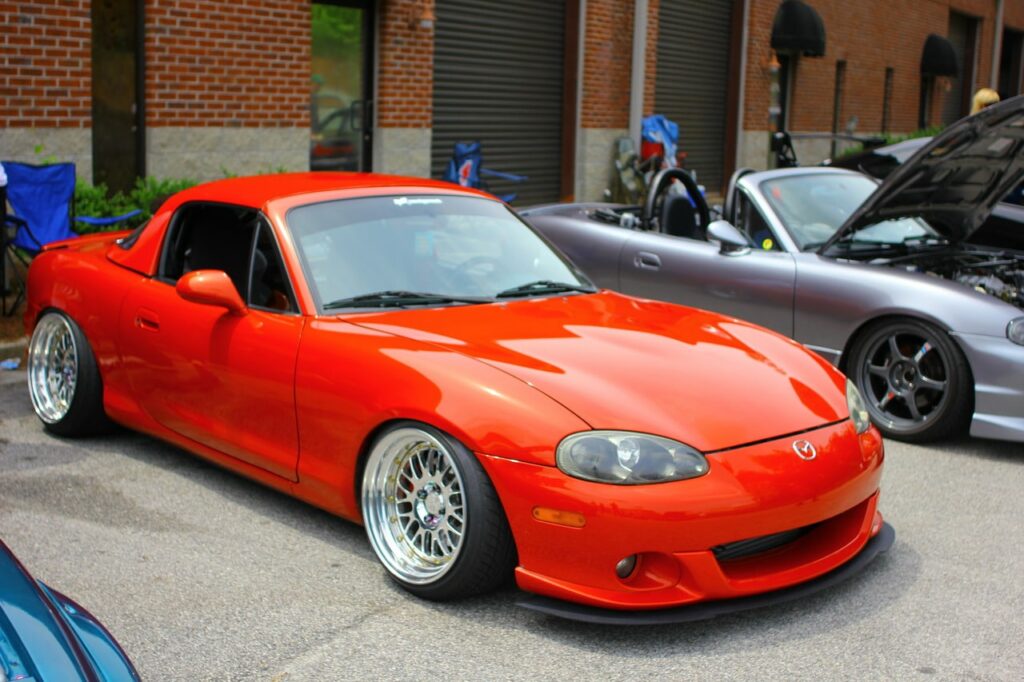 Autozensation Black LED Halo
Manufacturer: Autozensation
Material: Vacuum Form-Molded Plastic
Bulb Type: LED Projector
Style: Dual Halo
Fit: 2001 – 2005 Mazda Miata
Buy on: Amazon
These headlights remind us of video games like Need For Speed Underground 2, where you could upgrade your Miata's stock lights to a similar set.
Miatas cater to a wide audience and not everyone may appreciate this style. But if you like the look of halo rings on a black background, then definitely consider switching to these aftermarket lights.
Spec-D Tuning Black LED Halo
Manufacturer: Spec-D
Material: Vacuum Form-Molded Plastic
Bulb Type: LED Projector
Style: Dual Halo
Fit: 1998 – 2005 Mazda Miata
Buy on: Amazon
Pair these lights with a red NB Miata and you get a fun little roadster that looks like a baby Dodge Viper. Do bear in mind that these lights are only a visual upgrade.
If you're looking for better visibility, we'd recommend upgrading your stock lights to LEDs or HID projectors.
The only problem with these lights is the occasional unit with a minor defect Sometimes the housing isn't sealed properly and aligning the beam can be a little trickier.
Chrome Housing & Clear Lens Projectors
Not everyone is a fan of the blacked-out headlight style. Some enthusiasts like to enhance the stock look only slightly, with subtle changes.
If this sounds like something more suited to your style, you will like the option in this section.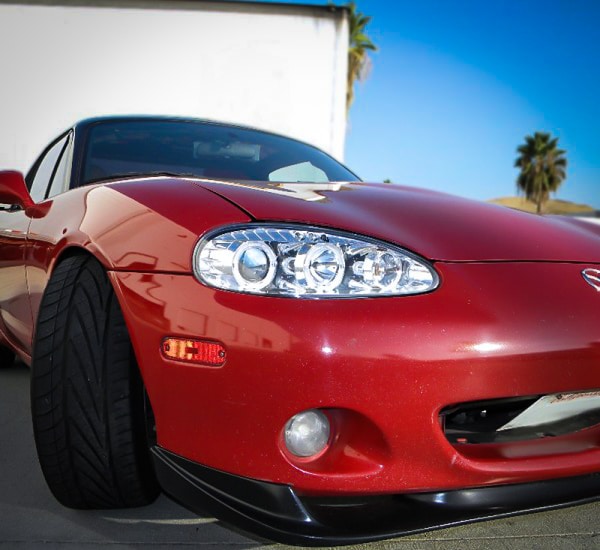 Spec-D Tuning Clear Chrome
Manufacturer: Spec-D
Material: Vacuum Form-Molded Plastic
Bulb Type: LED Projector
Style: Chrome Halo
Fit: 1998 – 2005 Mazda Miata
Buy on: Amazon
If chrome is your thing, you'll love these headlights. Mechanically, they're the same Spec-D lights listed above, only with a different housing.
The chrome housing does a better job at reflecting light as opposed to the black one. It also makes your headlights brighter and easier to spot even when they're off.
Our Favorite Miata Headlight Conversion Kits
It is important that a headlight conversion kit has the right balance between looks and light output.
Best  NA Headlight Kit for Visibility and Looks: Cobalt
The Low-profile kit by Cobalt is a clear winner when it comes to both form and function. It doesn't compromise on visibility and is easily the best looking MX5 headlight conversion kit.
Best Value NA Conversion Kit: LED Replacement Lights
If affordability is a concern and you still want the best of both worlds, then LED replacement lights are the way to go.
Our Favorite NB Headlight  Kit: Black Housed LED Projectors
There's no question, the NB Miata looks great with black headlight housings and projectors. Some even feel they make the NB look like a baby Dodge Viper.
Of course, if you just want to change the way that your car looks, a cheaper and less permanent solution is to go for tinted headlights. Laws vary from state to state but this is a popular option for those in the JDM scene.
Which conversion kit did you choose for your MX5 Miata? Leave us a comment below!