Stick shift is important to the car community. And sadly, it's becoming a lost art.
It's not the most efficient or advanced way to change gears but it sure is 10 times more rewarding than driving an automatic; especially when you do it right.
If you feel the same way, and things like rev-matching or getting a series of perfect shifts is your idea of a good time, we highly recommend getting a short shifter for your Miata.
If you strongly believe that modifications which actually work are always expensive, think again. Short shifters work exactly the way they're supposed to and don't cost much.
Thanks to a simple design and advanced manufacturing techniques, you can get your hands on a good quality short throw shifter for less than a hundred bucks.
In this guide, we'll look at some of the best short throw shifters and shift knobs you can buy for all generations of the Mazda Miata MX-5.
Short Shifters & Weighted Shift Knobs: How They Work
Think of your gear lever as a bottle opener. Opening a bottle of beer with a longer opener requires less effort and more hand-movement. Using a short opener requires comparatively more effort but less hand-movement.
A short throw shifter does something similar. The pivot and effort points are moved, which make the gear throw much shorter. It takes more effort to shift, but that's where weighted shift knobs come in.
Combined with a weighted knob, and it'll be easier for you to apply that extra pressure on the gear lever.
Shift knobs come in all sorts of shapes and styles. It could be a round ball, carbon fiber/chrome shift stick, skulls, fairies, you name it. We wouldn't recommend skulls and fairies but you get the idea.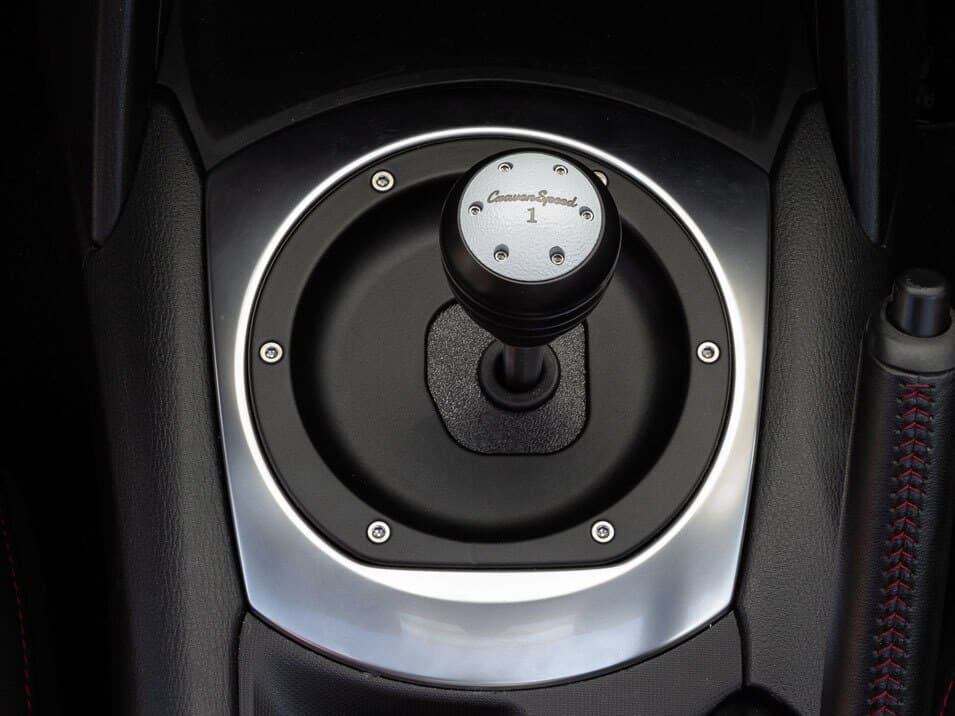 Short Shifter Frequently Asked Questions
Short shifters are an optional mod. But we can't think of a good reason why you shouldn't install one.
They're cheap to buy, they look cool and most importantly, they do something that actually helps.
If you find yourself wondering whether you really need a short shifter or not, these answers may help you decide.
How Will a Short Shifter Affect My Miata?
The Miata already has an amazing gearbox to begin with. Getting a short shifter enhances this experience and makes shifting gears even more fun.
You will notice quicker, more accurate gear changes which gives you more control over your car.
Though the added performance won't be sizeable enough to shave seconds off your lap time, it will certainly transform the driving experience.
With a short shifter installed, you will find that the gear slotting improves a lot. You'll know exactly what gear you're in and won't have to make any guesses.
The best part about upgrading to a short shifter is that there are no "side-effects".
Most modifications require you to already have other upgrades in place. That's not the case with short shifters. You can even use one on a stock car, not needing to worry about making things worse.
Do Short Shifters Actually Help You Shift Quicker?
Yes, short shifters make it easier and faster for you to shift gears. Whether it noticeably increases performance or not depends on the driver.
If you've been driving manual cars for the most part of your life, chances are that you're pretty good at shifting gears. If that's the case, getting a short shifter will improve your shift time and make your car feel sportier.
However, if you've only just started driving a manual car, being able to shift smoothly with a short shifter may take some time and practice.
Do Aftermarket Shift Knobs Make a Difference?
Shift knobs affect how the gear shifts feel. The shape, weight, and material of the knob make a significant difference. This and the fact that they are inexpensive makes them one of the more popular interior accessories.
Properly shaped shift knobs are easier to grip and less likely to slip out of your hand. Weighted knobs add more momentum to the throw, and the material affects the knob's temperature.
We often hear enthusiasts talking about how their stainless steel knobs sometimes gets either too hot or too cold. To avoid this, consider getting a shift knob that is covered with delrin, leather, or other heat-resistant materials.
Aftermarket shifter knobs look cool and are a great way to customize your Miata's interior.
NA Miata Short Shifters: The Best Ones
The right short shifter can bring out the best of your NA Miata's 5-speed gearbox. The OEM shifter is great as it is, but getting a short shifter makes it feel a lot more solid and precise.
It's a great tool to level up your gear shifting skills. Take a look at some of our favorite short shifters for the NA Miata.
Megan Racing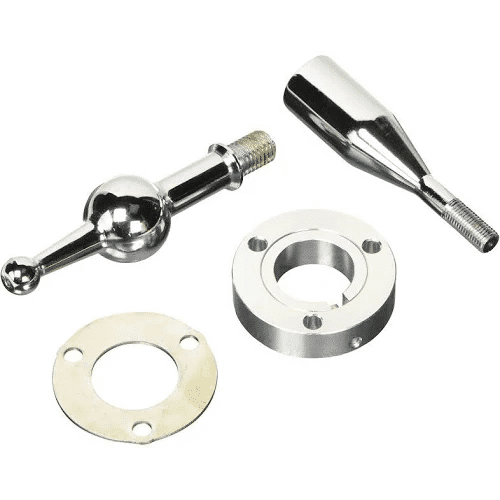 Manufacturer: Megan Racing
Material: Nickel Plated Billet Steel
Throw Reduction: 40%
Transmission Compatibility: 5-Speed Manual
Application: 1990 – 1998
Warranty: 1 Year
Buy on: Amazon
When it comes to aftermarket upgrades, Megan Racing is a popular name among car enthusiasts. Their short shifter kit is all you'll need to rebuild your stock shifter. The only extra thing you may need is a shift boot which you can buy separately.
It's made of nickel-plated billet steel to avoid rust and comes with pre-greased threading to make installation easy. Fitting it correctly may be a little tricky but once you figure it out, it's very simple. All you need is a good video guide.
Once installed, you'll experience shorter shift throws and a much sportier feel. We'd recommend you to either reuse your OEM collar bushing or order a brass bushing separately to improve this unit's performance.
Manzo Short Shifter Kit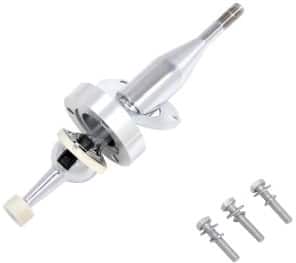 Manufacturer: Manzo
Material: Nickel Plated Billet Steel
Throw Reduction: Up to 40%
Transmission Compatibility: 5-Speed Manual
Application: 1990 – 1998
Warranty: 30 Days Money Back Guarantee
Buy on: Amazon
With the Manzo short shifter installed, you'll instantly notice a difference in your usual shifting position. It sits about 2 inches lower, angled away from your dashboard.
Initially, this new setup will take some getting used to but once you're familiar with it, you wouldn't want to go back to the stock setup.
With this shifter, you can get between 30% and 40% throw reduction which is more than enough to improve shift time.
MiataRoadster
Manufacturer: MiataRoadster
Material: Brushed Stainless Steel
Throw Reduction: Up to 40%
Transmission Compatibility: 5-Speed Manual
Application: 1990 – 1998
Warranty: None
Aftermarket parts made by MiataRoadster have achieved a lot of street cred in the Miata community. Especially their short shifters. If you decide to shop for one, the first thing you'll notice is all the rave reviews.
So it's needless to say that you can't go wrong with this short shifter kit. It is well packaged and comes with everything you'll need to completely replace the stock shifter.
Quality comes at a price though, and it is indeed pricey. If you have extra to spend on a short shifter, consider this one as the quality of this unit is very nice. Keep in mind that there is no warranty.
Fidanza Performance
Manufacturer: Fidanza
Material: 6061 Aluminum & Hardened Steel
Throw Reduction: Up to 40%
Transmission Compatibility: 5-Speed Manual
Application: 1990 – 1998 Miata NA & 1999 – 2000 NB (pre-facelift)
Warranty: 1 Year Limited Warranty
Buy on: Amazon
This short shifter by Fidanza shares a very similar design and installation process with that of Megan Racing. The combination of 6061 aluminum and hardened steel provides a good balance between lightness and rigidity.
This is the ideal setup for a weighted knob. It does bring some noise and vibrations into the cabin but pairing it with a good shift boot and a covered knob is a great way to add more insulation.
Top NB Miata Short Shifters
Unlike the NA Miata which was only sold with a 5-speed manual gearbox, the NB Miata comes with two gearbox options; a 5-speed and 6-speed manual.
The 6-speed transmission was first seen in 1999 on Mazda's 10th-anniversary MX-5 Miata.
The NB Miata's 6-speed transmission does add some top end power but it is the 5-speed that most enthusiasts prefer. When shopping for short shifters for your NB, you'll come across both options so we recommended checking which one you're getting before you put your money down.
Here's are some of the better short shifters for your NB Miata.
OBX Racing Sports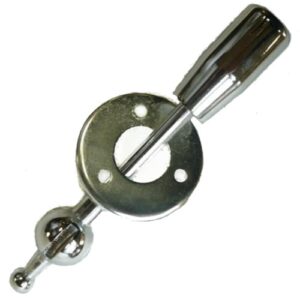 Manufacturer: OBX Racing Sports
Material: CNC Machined 6061 Aluminum
Throw Reduction: 30 – 35%
Transmission Compatibility: 6-Speed Manual
Application: 1998 – 2005
Warranty: 1 Year
OBX Racing Sports is among the few brands that manufacture short shifters exclusively for the 6-speed manual transmission.
Most short shifters that are compatible with 6-Speed NB Miatas are usually expensive. The OBX unit is the exception to that rule. It works well, and it's cheap.
The OBX shifter sits an inch lower than stock. To shift though, you'll have to give it a nice tug as it's a bit stiff and the throw reduction is most apparent when changing from 3rd to 4th.
Cobalt Short Throw Kit
Manufacturer: Cobalt Precision Automotive
Material: Galvanized Stainless Steel
Throw Reduction: 25%
Transmission Compatibility: 5-Speed Manual
Application: 1990 – 2005
Warranty: 1 Year
Ideally, the best Miata short shifter shouldn't be too short. With a very short throw, a lot more pressure is needed to shift. This makes it difficult to drive in daily traffic.
Thankfully, the short throw shifter by Cobalt manages to find a balance point between a typical short shifter and the stock shifter.
Another good thing is that it's compatible with NA and NB Miatas; as long as the NB in question has a 5-speed manual transmission.
It is priced higher than most "cheap" short shifters. But that's justified because Cobalt Precision Automotive is a reputed brand that's known for manufacturing good quality aftermarket parts.
MiataRoadster
Manufacturer: MiataRoadster
Material: Polished Stainless Steel
Throw Reduction: Up to 40%
Transmission Compatibility: 6-Speed Manual
Application: 2001 – 2005
Warranty: None
MiataRoadster makes short shifter kits for every generation of the Mazda Miata MX-5. No matter which one you drive, you'll always have this option available.
You can also get this shifter in multiple designs, angles and heights.
The Best Short Shifters for NC Miatas
When shopping for NC Miata short shifters, you may come across comments like "the NC's stock shifter is 'short' enough". This is true to some extent.
Although, the number of products on the market is enough proof that you aren't the only NC Miata owner who's tempted to customize the stock shifter.
If you want to only customize the look, you can buy just a shift knob. But if you want the whole package, these are the short shifters we'd recommend.
Nielex "Pro-Spec Joystick"
Manufacturer: Nielex
Material: 6061
Throw Reduction: Up to 40%
Transmission Compatibility: 5-Speed Manual
Application: 2005 – 2015
Warranty: None
The Mazda Miata short shifter kit by Nielex is also called "pro-spec joystick" and is one of their most popular parts for the NC Miata. It's compatible only with the 5-speed manual transmission.
The pro-spec joystick offers more customization by letting you adjust the shift knob height by +/- 15mm. Its 6061 aluminum construction paired with great quality replacement parts makes it a very reliable option.
You can order this short shifter kit with or without a shift knob. The weighted knob that comes along with it is made of billet steel and has a full chrome finish.
Cobalt Short Throw Kit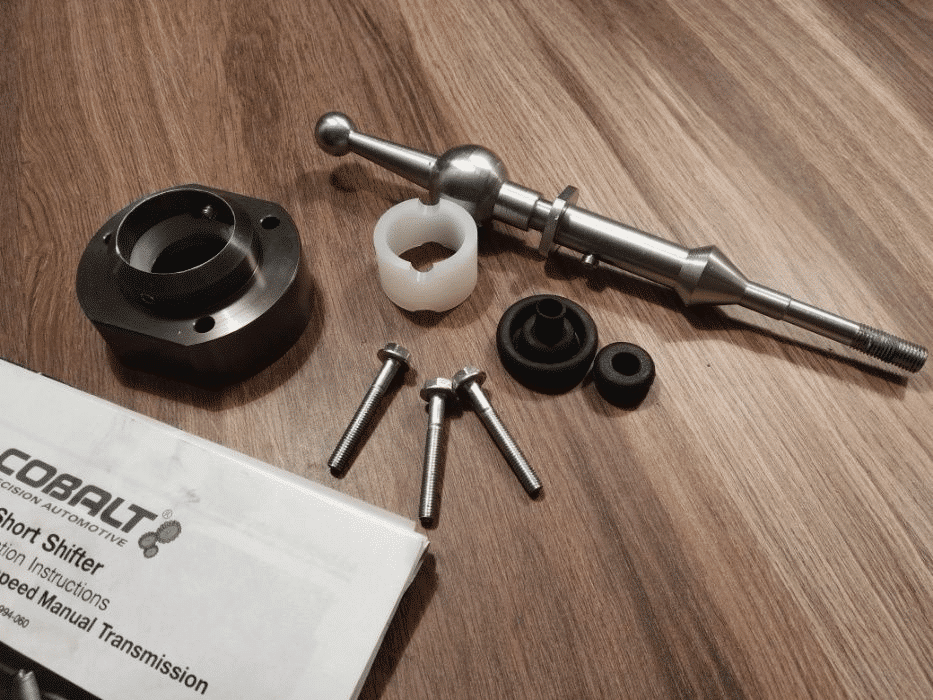 Manufacturer: Cobalt Precision Automotive
Material: Galvanized Stainless Steel
Throw Reduction: 25%
Transmission Compatibility: 6-Speed Manual
Application: 2005 – 2015
Warranty: 1 Year
If a balance between price and great quality is something you value, be sure to check out the short throw shifter by Cobalt Precision Automotive. It's one of the best short throw kits you can find for your NC Miata.
Its zinc plated stainless steel body is very unlikely to get rusted. The installation is a bit tedious but that's the case with all NC Miata shifters. The instructions for this one though, are well laid out.
You can get your hands on the Cobalt shifter even if you drive a 5-speed because they make these kits for both transmission units.
I.L. Motorsport
Manufacturer: I.L. Motorsport
Material: Stainless Steel
Throw Reduction: 45%
Transmission Compatibility: 6-Speed Manual
Application: 2005 – 2015
Warranty: 2 Years
I.L.Motorsport is a German brand which specializes in MX-5 tuning parts and accessories. This unit is the most expensive NC Miata short shifter kit featured in this guide.
German parts are known for having really high quality standards. What you get is a billet stainless steel construction along with OEM replacement parts so you can completely rebuild your shifter.
5-speed NC Miata owners will miss out on this one because it's only available for the 6-speed manual.
ND Miata Short Throw Shifters: Your Best Options
The ND is everything we've wanted the old Miatas to be. It complies with modern safety standards, looks fantastic, is more powerful and most importantly, retains the old Miata charm.
You must have noticed how aftermarket upgrade options for the NC and ND Miata are scarce as compared to the NA and NB. This has a lot to do with who's buying what. It makes more sense for manufacturers to concentrate their efforts on products that have a high demand vs those that don't.
This is why there aren't many short throw shifter options for the ND Miata. But the ones that are available are excellent.
Corksport
Manufacturer: Corksport
Material: CNC Machined 6061
Throw Reduction: 14%
Transmission Compatibility: 6-Speed Manual
Application: 2016+
Warranty: 2 Years
Buy on: Amazon
Corksport is a brand that is devoted to making aftermarket parts for Mazda cars. Their line up of parts includes turbo kits, injector seals, fuel system internals, steering wheels and a lot more.
The Corksport short shifter for the ND Miata is designed to feel a lot more like the original NA and NB shifters. It feels more connected and mechanical as compared to the stock shifter. Even the throw reduction is limited at 14% which is more than adequate for faster shifting.
The engineers at Corksport replicated and redesigned Mazda's original plastic components with aluminum. This helps get rid of the vagueness that came with the plastic pieces and so the shifter feels extremely solid.
The anodized red aluminum construction isn't only durable, it looks great too. It won't be visible because of the shift boot though. If you want it to be, consider getting a shift-well cover. Corksport also offers a generous 2-year warranty on this short shifter.
CravenSpeed
Manufacturer: CravenSpeed
Material: Stainless Steel & Aluminum
Throw Reduction: 30%
Transmission Compatibility: 6-Speed Manual
Application: 2016+
Warranty: Lifetime Warranty
Buy on: Amazon
The folks at CravenSpeed have gone all out with this short throw kit. The amount of thought and craftsmanship that has gone into designing this shifter is really impressive.
Every single component of the shifter assembly is precision machined with the highest quality materials. The kit includes white lithium grease, thread locker and even a tube of silicone gasket material to seal the shifter housing spacer.
The main shifter assembly, knob-core, and hardware are made of stainless steel. The upper pivot cap, reverse lockout plate and housing spacer are made of aluminum.
This shifter may outlive most of the aftermarket components on your ND Miata!
Shifter Servicing: Things You'll Need
Over the years, the components around your shifter see a lot of wear and tear which isn't always visible. These include shifter insulators, collar bushings, shifter boot etc. Swapping these parts with new ones will make your transmission feel more refined.
Replacing your gear shifter is a great opportunity to also fix other things while you're at it. When you buy one of these Mazda Miata short throw shifters online, often these replacement parts are usually included. In case they aren't, you can always buy them separately.
Our Favorite Miata Shift Knobs
Aftermarket shift knobs come in all shapes and sizes. Choosing the right one may be a little confusing because there are so many out there.
The main things to consider when buying a shift knob are:
Material
Coating
Weight
Shape
Thread pitch
The shape will determine how comfortable it is, the weight will affect the throw, the coating will limit how hot or cold the knob gets and the material will determine how long it lasts.
Mazda uses a M10 * 1.25mm thread pitch on their gear shifters. If you aren't buying a shifter from this list, you'll want to make sure that your shifter uses this same thread pitch, otherwise it won't fit.
If your new short shifter doesn't come with a shift knob, or if you prefer the standard shift throws, check out some of our preferred shift knobs for the Mazda Miata.
Tomei 90mm
Manufacturer: Tomei
Material: Duracon (Polyoxymethylene composites)
Weight: 5 Ounces
Shape: Round
Thread: M10 * 1.25mm
Buy on: Enjuku Racing
Tomei is a reputed Japanese performance parts brand which has been around for over 50 years now. Their parts are used in nearly every form of motorsport.
The 90mm shift knob by Tomei is a lightweight, cylindrical unit that's made of duracon. This material is composed of polyoxymethylene composites which have the strength of metal, minus the temperature conducting properties.
This means you can have a strong shift knob that feels solid, but doesn't turn into a popsicle during winter, or become scalding hot on hot days.
If you want the same knob in a shorter length, a 70mm variant is also available.
Ryanstar Carbon Ball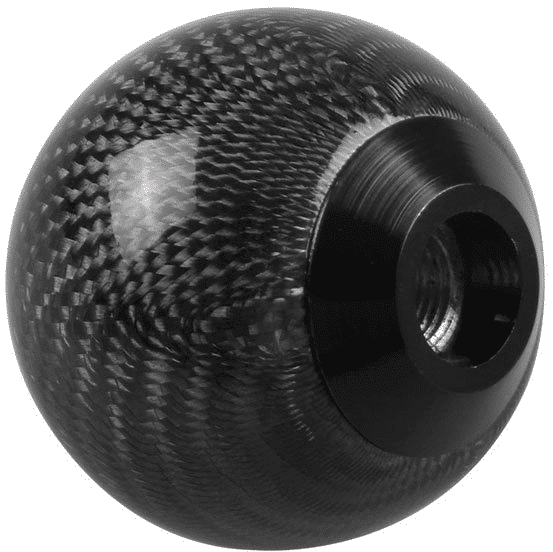 Manufacturer: Ryanstar
Material:  Adapters & Hardened Plastic Shell
Weight: 7 Ounces
Shape: Ball
Thread: M10 * 1.25mm (Adapters Included)
Buy on: Amazon
If you prefer the good old round style knobs, this one's for you. You either love or hate a round gear knob, but we wanted to make sure everyone was catered for in this guide.
Though it looks exactly like carbon fiber it's actually made from hardened plastic.
The Ryanstar knob comes with durable adapters which make it easier for you to use on shifters that have different thread patterns.
Skunk2 Racing
Manufacturer: Skunk2 Racing
Material: PVD Titanium Coated Billet Stainless Steel
Weight: 14 Ounces
Shape: Vertical Sphere
Thread: M10 * 1.25mm
Buy on: Amazon
Skunk2 knobs are very popular and are often purchased along with the best Miata short shifters. This PVD coated stainless steel knob provides excellent grip and is weighted perfectly.
If you prefer heavy knobs, this one's among the best you can get. 14 ounces is heavy enough to make the throw easier and more manageable.
iJDMTOY
Manufacturer: iJDMTOY
Material: Carbon Fiber
Weight: 4.8 Ounces
Shape: Cylinder
Thread: M10 * 1.25mm (Adapters Included)
Buy on: Amazon
This shift knob looks exactly like carbon fiber, because it is. It has the same size and shape as the Tomei shift knob.
It weighs 4.8 ounces which means it isn't exactly a weighted knob. Lightweight knobs come with their own set of advantages. The throw takes more effort but the cylindrical shape makes it easier by adding more leverage. Some love this, while others hate it!
Mishimoto
Manufacturer: Mishimoto
Material: Billet Steel
Weight: 12.8 Ounces
Shape: Cylinder
Thread: M10 * 1.25mm (Adapters Included)
Buy on: Amazon
The Mishimoto shift knob, according to us, is the best-looking knob on this list. You can choose between gloss black and chrome; two great color options.
This 12.8 ounce billet steel knob definitely falls under the "weighted knob" category.
This is a good option if you want a knob from a reputed brand that works exactly the way it's supposed to.
The Best Miata Short Shifters & Shift Knobs: Our Verdict
We're glad that aftermarket performance part manufacturers have given us so many tempting options to choose from. All these shifters and knobs can make it difficult to decide which combination is the best.
If you're wondering the same, we're going to help you make that decision easier by listing our top choices.
The Best Miata Shift Knob: Tomei 90mm
You can't go wrong with Tomei products. We specifically recommend the long, 90mm shift knob as it provides just the right amount of leverage to offset the light weight.
Our Favorite Short Shifter for NA Miatas: MiataRoadster
There's something very reassuring about buying a product from a highly reputed brand. We love the short shifter kits manufactured by MiataRoadster because they're proven and are very well packaged.
The Best NB Miata Short Shifter Kit: Cobalt
We really like that this high-quality shifter by Cobalt Precision Automotive is priced reasonably. It's still higher than most products on this list but once you compare it directly with other shifters, you'll know why.
Our Favorite NC Miata Short Shifter: I.L. Motorsport
The fit and finish on this Ilmotorsport short shifter is top notch. It's without a doubt, the best option for 6-speed NC Miatas. If you drive a 5-speed, the Nielex shifter is your next best option.
The Best Short Throw Shifter for ND Miatas: CravenSpeed
We really appreciate how thoughtfully this shifter is designed. The package has everything you could possibly need to build a kickass short shifter setup that's so much better than OEM.
Which shift shifter are you using? Would you keep the stock knob or pair it with a new one?
Tell us in the comments below!