What makes a shift knob such an awesome upgrade for your S2000 is that it doesn't take away from the driving experience. It simply adds more — more fun, more control, and more comfort.

All of this makes even more sense if your S2000 has a short-throw shifter to pair it with. The two can radically transform your sporty roadster's shifting experience — making way for shorter throws and less time spent between gears.
In this guide, we'll dive deep into the world of shift knobs to help you choose the best one for your Honda S2000.
What To Look for in a Shift Knob?
When looking for a good shift knob, you'll want something that fits in your hand comfortably.
Choosing the right material plays a big role here. You'll find shift knobs made from wood, carbon fiber, stainless steel, titanium, and more. High-quality materials will be more durable than others but will also be more expensive.
Keep in mind that extreme temperatures will affect both the material and your driving experience. Some drivers complain about their gear knobs getting too hot or cold, so it's worthwhile to find a material that suits you regardless of your weather conditions.

You don't want to burn your hand on an aluminum shift knob on a hot summer day!

For many S2000 owners, aesthetics matter just as much. Luckily you'll find something for every need, regardless of whether you're leaning towards a showy chrome finish or a subtle gun-metal one.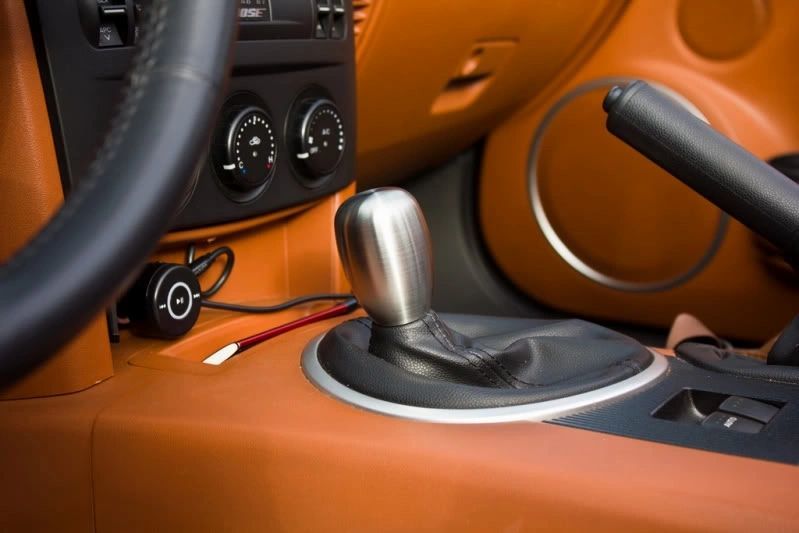 Of course, the most important criteria of all is to make sure you're buying a shift knob with the same 10×1.5mm thread that Honda used on your shifter from the factory.
Do Shift Knobs Make a Difference?
The short answer is, yes. Shift knobs have a direct impact on how the gear shifting feels. That feeling is channeled through the weight, shape, and material of the gear knob.
When you use a knob that's easy to grip and perfectly suits your hand, you'll enjoy gear shifts a whole lot more. The material affects the knob's temperature, and its weight adds more momentum to the throw.
The shift knob's style can also add a ton of character to your S2000s interior, especially if you have upgraded aftermarket seats.
Since a shift knob is one of the cheapest and easiest modifications you can make to your S2000, it's a good idea to invest in a high-quality one.
Best S2000 Shift Knobs
Choosing a shift knob for your S2000 comes down to a number of things but comfort is usually at the top of that list.
The community has a general consensus of which ones are the best and so we've listed some of the most popular S2000 shift knobs that give great bang for your buck.
Honda Titanium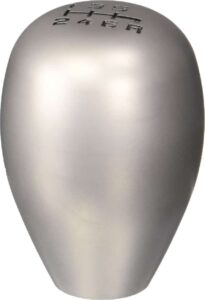 Manufacturer: Honda
Part Number: 08U92-S2A-100
Material: Titanium
Weight: 4 ounces
Buy on: Amazon
You can't go wrong with Honda, especially since they've made this shift knob to perfectly complement your S2000 in every way. This unit itself is made from titanium and is a genuine factory part that weighs four ounces.
While it is more expensive than other units on our list, it makes up with its high quality and durability. Let's not forget that it's a perfect OEM replacement and nothing else fits quite as well.
Most S2000 owners opt for this shift knob since it adds a ton of character and fits nice and snug in the hand all while maintaining an OEM style.
Although the OEM leather-wrapped knob is a classic, the leather eventually wears out with time. This titanium knob will not only last you much longer but also look great with your S2000's shift boot.
Spoon Duracon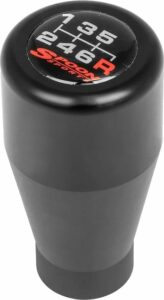 Manufacturer: Spoon Sports
Part Number: ALL-54102-023
Material: Thermoplastic
Weight: 2.2 ounces
Spoon Sports produced one of the most iconic shift knobs for the S2000 — the Spoon Titanium. But once that was discontinued, S2000 owners quickly turned to the Spoon Duracon instead.
Made from heat-resistant thermoplastic, this shift knob is perfect for those living in extreme weather conditions. Where others may become too hot or too cold to touch, the Duracon stays neutral.
It's designed for ultimate comfort and provides a smoother gear engagement than stock.
As for its design, the Spoon Duracon is slightly smaller than OEM but it doesn't feel out of place in the right hands.
Dewhel Type R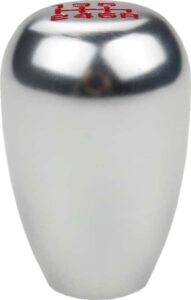 Manufacturer: Dewhel
Part Number: GSK-6001
Material: Aluminium
Weight: 5.4 ounces
Buy on: Amazon
Dewhel designed this knob from aluminum, and it has a silver finish complete with striking red numbers. It's a 6-speed shift knob that has a comfortable grip and doesn't need any modification. The numbers are thick and bold, and the knob is easy to install.
While it's definitely got the aesthetics to complement your interior, keep in mind that it's a bit bigger than regular shift knobs.
The JDM Racing Type R style weighs over 5 ounces and is almost 3-inches long. A major perk is the affordable price, making it one of the cheapest knobs on this list.
Skunk2 PVD Coated Stainless Steel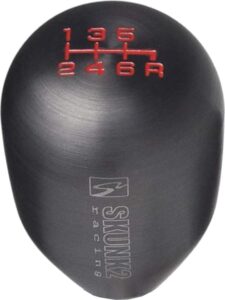 Manufacturer: Skunk2 Racing
Part Number: 627-99-0081
Material: Stainless steel with PVD titanium coating
Weight: 23.2 ounces
Buy on: Amazon
Crafted by Skunk2, this stainless steel gear knob is the biggest and heaviest on our list. It weighs almost 1.5 pounds and is 6.2-inches long. But the upside of this part is that you get a smoother, more positive shifting experience.
Skunk 2 Racing crafted this knob from stainless steel, which makes it very durable. You'll find that this shift knob engages each gear well and gives a good sense of control while transitioning between gears.
Voodoo Titanium
Manufacturer: Voodoo
Part Number: VK-93
Material: Titanium
Weight: 9.3 ounces
Chances are, you've heard a thing or two about the Voodoo Titanium given its cult status within the S2000 community. It's certainly not cheap, but it's worth every penny. This knob is solid titanium in a spun finish.
Voodoo's aluminum shift knob weighs 5.2 ounces, so the titanium is almost twice as heavy. However, in all fairness, it's one-of-a-kind and not something that you see in every car.
You'll immediately notice an improvement in the shifting experience as it fits well in the hand. Since it's extremely hard to come across this shift knob, you can take pleasure in knowing that you own a rare part.
Given the fact that it's made from titanium, it is extremely durable. All in all, it's one of the best shift knobs that delivers great performance, quality, and stunning aesthetics.
J's Racing Lightweight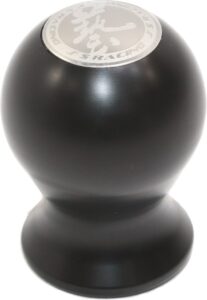 Manufacturer: J's Racing
Part Number: PSN-BK
Material: Polyoxymethylene
Weight: 3.2 ounces
Another favorite in the S2000 community is this hard wearing unit by J's Racing. It's a pretty light knob that provides smooth and precise shifts making it great for track days.
In fact, the manufacturer designed this knob specifically for the track after consulting with professional race drivers. Their goal? To design a shift knob that was a perfect fit for a racing glove.
The knob itself is made from polyoxymethylene, and it weighs about 3.2 ounces. The knob features an engraved J's Racing logo on the mirror finish stainless badge.
Moddiction Anvil 2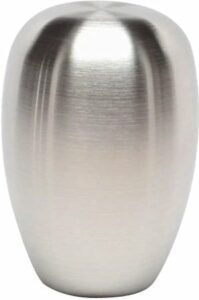 Manufacturer: Moddiction
Part Number: 019-10125
Material: Stainless Steel
Weight: 15.1 ounces
The Anvil 2 is a sophisticated shift knob that's made from stainless steel and instantly feels great while shifting. One of the perks of this knob is that it's countersunk so that it sits lower and shortens shifts.
It's slightly more expensive than most of the knobs we've featured though. Moddiction brushed it with a stainless steel finish, and it weighs just over 15 ounces.
The Anvil 2's style is as close to OEM as you'll get. The texture feels great, and it's comfortable to hold.
Which S2000 Shift Knob Is the Best?
Given the S2000's popularity amongst most car lovers, and the tuner support that came with that, finding aftermarket shift knobs for your roadster isn't difficult.

However, in the end, it all comes down to choosing a style that you love and are most comfortable with. To make this easier for you, we've listed some of our favorites below.
Best Overall: Honda Titanium
You get what you pay for with the Honda Titanium. It may be more expensive than others on this list, but it's worth every cent as far as build quality and comfort are concerned.
Best Value for Money: Dewhel JDM Racing Type R
Expect comfort and a slightly bigger knob with the Dewhel Type R. You'll like the way that this gear knob adds character to your S2000s interior. But the best part is that you get so much for its affordable price.
Most Durabile: Skunk2 Stainless Steel
Skunk 2's smooth-shifting experience makes up for its heavy weight. It helps you to slot your shifter nicely into gears, giving you greater control of S2000. Since this is a stainless steel knob, you can expect it to last a long time.
Which is your favorite? Got one that we missed on this list? Let us know in the comments below!