Cleaning hard-to-reach components might not be the most exciting part about being a car enthusiast.
But it can make the difference between having a running and non-running car, a cheap fix, and an expensive fix, or a clean bill of health and a check engine light. You get the gist.
It is well worth the time and effort to do some preventative maintenance before issues start to show up, especially for those of us driving high-performance vehicles that need extra attention.
EGR valves are one of many components that need periodic cleaning to keep your engine running well.
EGR or exhaust gas recirculation valves are emissions control devices that play a vital role in the smooth functioning of your car. When they get clogged with dirt, you will experience a range of performance issues.
In this guide, we'll go over how to clean them properly and we'll list some of the best EGR valve cleaner sprays you can use to do the job effectively.
How to Clean EGR Valves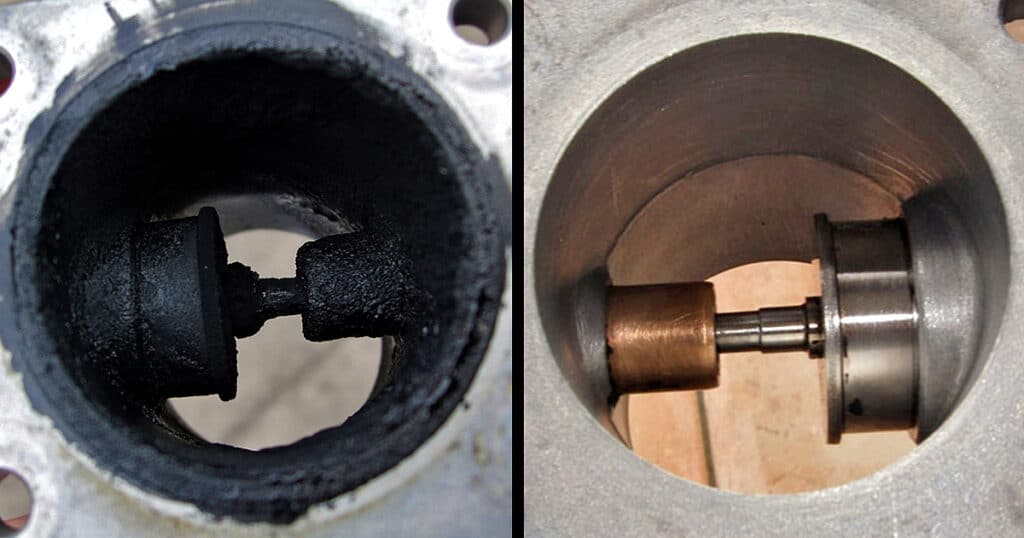 While many people end up choosing an EGR delete kit, to remove their valve entirely, not all of us want to deviate away from the stock set up. Often a good clean can sort out any symptoms of a bad EGR valve.
The first step in cleaning your EGR valves is finding them. They're typically placed around the engine, but their precise location will of course depend on the make, model, and year of your vehicle.
You can refer to the factory service manual or look up diagrams online to find where yours are.
Generally, though, you should look under the hood and around the engine itself, especially the intake manifold and throttle body.
Once you locate the EGR valves, you need to uninstall them. For this, you'll need a socket and ratchet, or a wrench of the appropriate size to remove any bolts holding the valves in place.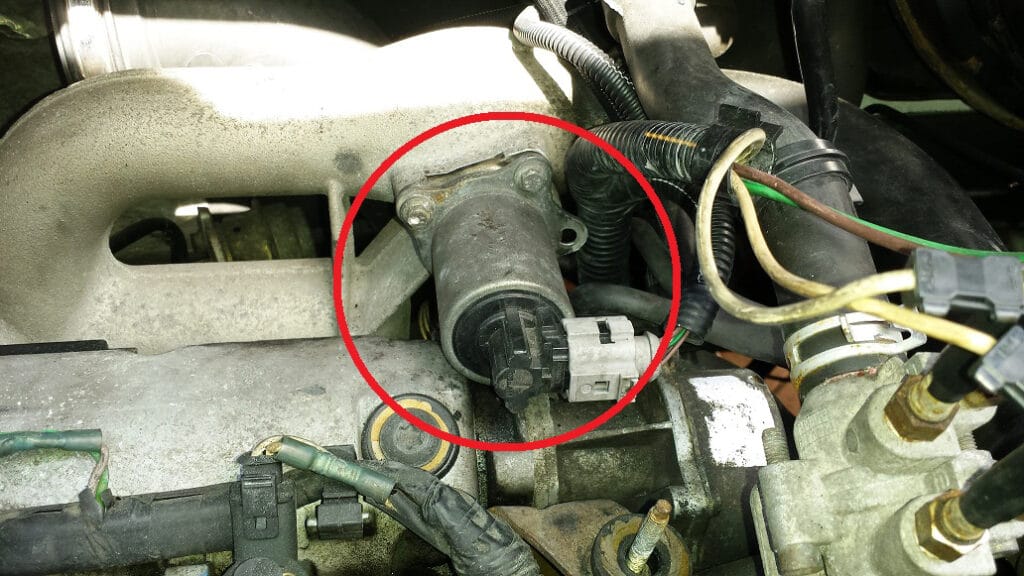 Proceed to remove the attached hose. You can do this manually or by using a hose removal tool, pliers, or something similar. Be sure to look over the hose and replace it if you see any tears or cracks, as this can also cause problems with your EGR system.
If any electrical connectors are attached, disconnect them as well. You can most likely do this with your hands, but you can also gently use pliers to free connections as needed.
Do not use too much force, however, as you run the risk of damaging the connector housing, which is normally made of plastic.
Once the electrical connections and hoses are detached, use the socket or wrench to remove the bolts that hold the valve in place. If the valve is attached to a pipe for the exhaust manifold, you can use a wrench to loosen that connection.
When you pull the valve out, check the gasket underneath. If the gasket is chipped, cracked, or otherwise worn out, replace it. If it is still in good shape, you can continue using it.
Now that the valve(s) are out, you can start cleaning. Use your cleaner spray to coat the valves.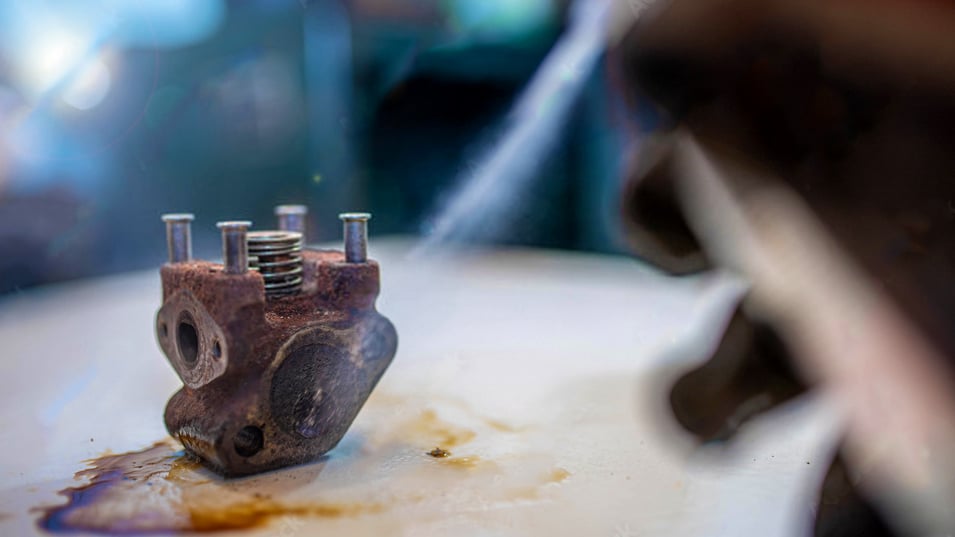 Any spray that covers plastic parts ought to be quickly wiped off; your goal is to remove carbon buildup on the EGR valves themselves.
After the valve is sprayed down, use a brush, such as a pipe cleaning brush, and a dull scraper to work the carbon off. Then you can wipe it down with a rag.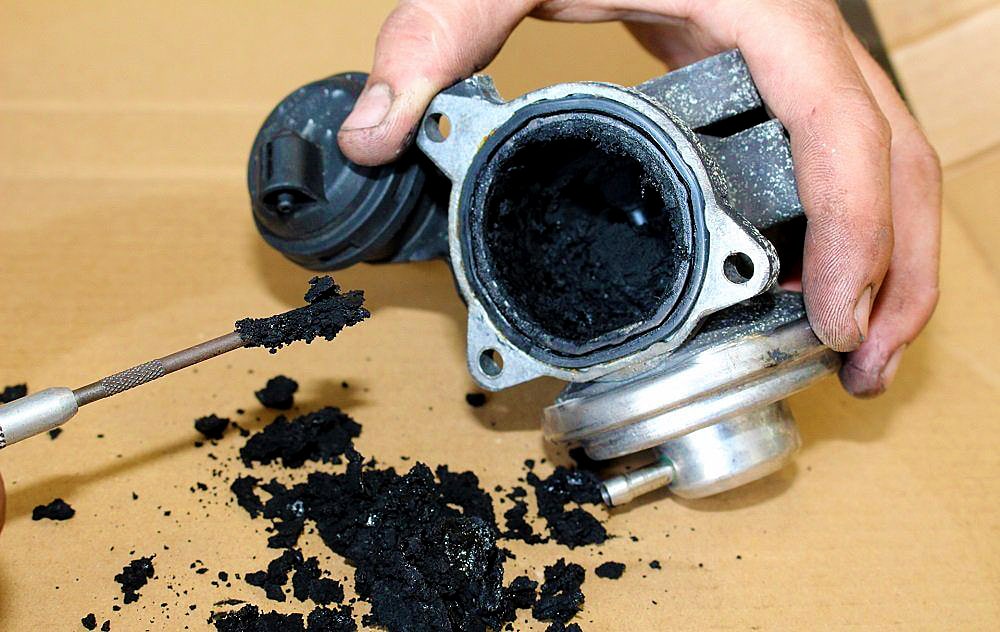 This might be enough to remove the deposits, but it also might be the case that the carbon seems to still be stuck on the valve.
If you are dealing with a lot of carbon and it is not coming off, you can soak the valves in your cleaning solution for several minutes, but be careful not to let any connectors or plastics soak to avoid ruining them.
After soaking, try to remove the buildup again. Sometimes the buildup might be so severe that you need to leave the valves soaking for a longer time (even overnight). Do this if the carbon is stubborn to come off.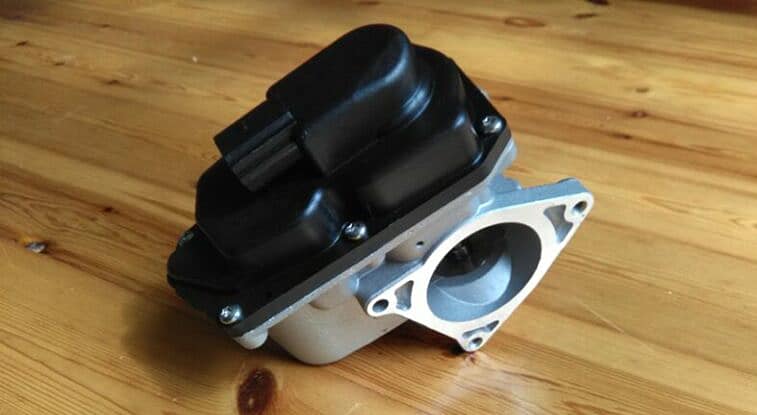 Once the valves are sufficiently cleaned, you can re-install, which is the reverse of removal. Mount the valves using the bolts, reconnect the pipe (if present) to the exhaust manifold and reconnect all electrical connectors and hoses.
Top EGR Valve Cleaners
Now that you know how to clean EGR valves, let's go over the best products you can use to do the job.
It is important to note that many cleaners that will work for EGR valves do not explicitly say "EGR cleaner" in their names.
This is not an issue though, as the main thing is to get something that is powerful enough to remove carbon buildup without destroying the valves.
For example, most of the time, products designated to clean intakes and throttle bodies are safe for EGR valves. They accomplish the task of removing carbon buildup, which is the culprit in dirty and malfunctioning EGR valves.
Sea Foam Cleaner and Lube

Manufacturer: Sea Foam
Part Number: SS14
Quantity: 12 oz
Buy on: Amazon
Sea Foam has been around since 1942, and for good reason—they have a line of highly-trusted automotive cleaning products.
Their SS14 Cleaner and Lube can be used to clean your EGR valves effectively. It comes in a 12oz can with a nozzle that Sea Foam calls a "tube and hook guide", making it easy to squeeze into tight spaces.
This cleaner can be used for other parts of your car as well, like the intake valves and throttle body (or carb choke for older vehicles), so you can use the remainder for cleaning up some other parts under the hood.
This said however, engine degreasers are better suited for the purpose.
CRC Throttle Body and Air Intake Cleaner

Manufacturer: CRC
Part Number: 05078
Quantity: 12 oz
Buy on: Amazon
Another top brand for automotive cleaners is CRC. Their throttle body and air intake 12oz bottle can obviously be used on throttle bodies, short ram and cold air intakes, and also EGR valves.
This product contains low volatile organic compounds as well. VOCs can be harmful to breathe in, so this is a good choice for anyone concerned about using noxious chemicals, has asthma, or simply prefers products that are as low in unnecessary additives as possible.
Though this is a great multi-purpose cleaner, don't be tempted to use it on electronics like your camshaft position sensor, crankshaft position sensor or your MAF sensor. For that you'll want to grab a high-quality MAF sensor cleaner instead.
WD-40 Specialist Carb/Throttle Body & Parts Cleaner
Manufacturer: WD-40
Part number: 300134
Quantity: 13.5 oz
Buy on: Amazon
WD-40 is often thought of as the typical blue can that you use for squeaky doors, stuck bolts, etc. They actually make specialty products, though, like their carb and throttle body cleaner.
WD-40 specifically notes that you can use this product to clean many parts of your car, not just the carburetor or throttle body, meaning it is safe and effective for EGR valves.
You can apply it to other non-painted metal surfaces to clean them up, as well, to wash away dirt, carbon, and other buildup.
Liqui Moly Pro-Line Engine Flush

Manufacturer: Liqui Moly
Part number: 2037
Quantity: 16.9 oz
Buy on: Amazon
Although it is sold as an engine flush, Liqui Moly's 2037 can also be used for your EGR valves safely. 
It does the same job of wearing down and removing carbon deposits as other products, but can actually be used to flush the engine as well.
With it being able to travel through your engine without damaging it, there is no concern as to whether you will damage your EGR valves using it.
It comes in a 16.9 oz container, so you get a decent amount should you need a lot to clean stubborn carbon buildup or just want to clean other components in your engine bay.
CRC QD Electronic Cleaner
Manufacturer: CRC
Part number: 05103
Quantity: 11 oz
Buy on: Amazon
CRC offers a second cleaner option that you can use for your EGR valves: their QD electronic cleaner spray.
This spray is specially formulated to be safe on electrical connectors, and even prevent residue on the plastic housing most connectors are outfitted with. Other products will likely damage the plastic or leave a lasting mark on them once the cleaner has been applied.
This is a good choice if you want to make sure you are using the most gentle cleaner possible. If it is safe enough for plastics, you can be sure it will not damage your EGR valves.
You also will not have the worry of having to hurry up and wipe away any overspray that happens to come into contact with plastics or connections.
GumOut Carb and Choke Cleaner

Manufacturer: GumOut
Part number: 800002231 
Quantity: 14 oz
Buy on: Amazon
Another product focused on carb and choke cleaning, the GumOut spray can be used for EGR valves, and also on unpainted metal surfaces.
It works to quickly remove carbon buildup and can be directly applied to the EGR valves. If you need to, you can also use it for your carburetor.
GumOut does not specify throttle body application, however, so it's best to refrain from using it to clean your throttle bodies.
Mopar EGR System Cleaner
Manufacturer: Chrysler
Part number: 68028729AB
Quantity: 33.8 oz
Buy on: Amazon
The Chrysler EGR cleaner is the largest one on our list at 33.8oz. Be sure to dilute with water before use, though, per Chrysler's instructions.
The packaging itself says for use with Chrysler, Dodge, Ram, Jeep, and Fiat. However, applying it directly to EGR valves is fine regardless of the make and model car you have (it can be a Nissan, Subaru, etc.), because it works like the other products by helping to remove carbon buildup.
Our Top Picks
Any of the above products will work well for cleaning EGR valves. However, there are some reasons why you might want to choose one over the other, such as wanting to tackle cleaning multiple car parts or wanting only certain ingredients.
These are our recommendations for the nicest EGR valve cleaning sprays.
Best Overall: WD-40 Specialist Cleaner
If you just want something to clean your EGR valves that will do the job well without hassle, we recommend going with the WD-40 specialist cleaner.
WD-40 products are widely available, and trustworthy, and you will be able to get your EGR valves cleaned effectively using it.
Be sure to use a rag to wipe away the product, and if the carbon buildup seems to be stuck on, try soaking the valves for a while in WD-40 before wiping them down again.
For The Environmentally Conscious: CRC Throttle Body and Air Intake Cleaner
If you want to reduce any harmful effects on the environment, as well as yourself, go with the CRC Throttle Body and Air Intake Cleaner.
It is specifically designed for low VOC, which reduces the negative impact on you if you breathe in the product during application, as well as the health of the surrounding area.
Plus, CRC is an excellent brand and you cannot go wrong choosing them for automotive cleaning jobs.
For Maximum Safety: CRC QD Electronic Cleaner
If you are worried about accidentally spraying an electrical connection, go with the CRC QD Electronic Cleaner. It is safe to use on electrical connections, including their plastic housings.
You can use it on your EGR valves. This can be especially beneficial if you are struggling to get them off the car. Maybe a bolt is stripped or rusted.
Whatever the case might be, using the CRC QD cleaner means you can spray both the valves and the connectors without the worry of damaging anything.
Have you already used any of the cleaners mentioned on this list? Tell us about your experience in the comments below!