World Rally Experimental; better known as WRX is Subaru's ultimate platform for car enthusiasts. Especially the STI variant — it has more of everything. It goes faster, corners flatter, and brakes harder than anything else the automaker has ever made.
Since its inception in 1992 when it bore the "Impreza" name, the rally-bred WRX platform has been sold in many different body styles, powered by different engines, and with multiple special edition models to choose from.
No matter which generation Subaru WRX you buy, getting it insured should be your top priority. Here are some quick pointers to make the process easier for you:
The average cost of a Subaru WRX's insurance comes to around $113 per month; this works out to about $1,350 a year.
Teenage drivers attract the highest premium.
There are some policy discounts available that you must aim to familiarize yourself with before finalizing your car insurance.
In this article, we'll discuss how much it costs to get a WRX insured, what the cost depends on, and what insurance group this car falls under.
How Much Is Insurance For a WRX?
For full coverage, the average Subaru WRX insurance costs are estimated to be $131 per month or $1,360 per annum.
This figure varies by a huge margin — some WRX owners report paying as little as $80 per month while others pay well over $200 per month. However, this is just an indicative sum and must not be considered universal.
Factors That Influence Subaru WRX Car Insurance Rates
Car insurance companies need to take into account a plethora of different variables in order to decide the right insurance premium for you and your car. This is mostly because the insurance rates for the same car vary vastly between two different individuals.
There are many factors that influence how much you'll pay for insurance. Below we explore some of these in brief.
Location
The exact geographical location can have an impact on the Subaru WRX insurance rates. For instance, for drivers and car owners based in New York, the premium and rates may be higher as opposed to someone living in Columbus with the same car and model.
This is one of the key components that determine car insurance. Usually, larger and busier cities are associated with a higher risk of car accidents and theft. That's one of the reasons behind the higher premium.
Year of Manufacturing
Since older models of Subaru WRX or any other car for that matter are cheaper to repair and replace, the insurance costs tend to be cheaper as compared to a brand new model.
If the insurance rates and other maintenance costs are a priority for you considering you have a smaller budget, you can go for an older model as that would also incur slightly lesser insurance rates.
Age
The difference in the insurance rates is massive between a teen driver and someone in their 40s or 50s. The perception of lack of driving experience is the reason why young drivers are charged more premium.
Barring a few most insurers ask for a higher premium on insurance for young drivers. You can expect a massive drop in premium once you cross 25.
This is primarily due to the perception that younger drivers are carefree, reckless, and therefore pose a higher risk of accidents.
Subaru WRX Insurance for 18-Year-Olds
Insurance rates for young drivers are absurdly high. Gender may also play a role in some states.
18-year-olds can expect to pay well over $150 per month for insuring their Subaru WRX. This cost can be reduced with the help of student discounts. Be sure to check with your insurance company regarding any offers that you might be eligible for.
Having a flawless driving record and taking a defensive driving course can also help to further reduce your insurance costs.
Subaru WRX Insurance for 21-Year-Olds
The Subaru WRX insurance rates for a 21-year-old are on the higher side but not as high as what 18-year-olds have to pay. You will also have to take into account some other factors before calculating the final amount.
If you are looking for an exact quote, please use our insurance rate quote calculator above.
Driving Record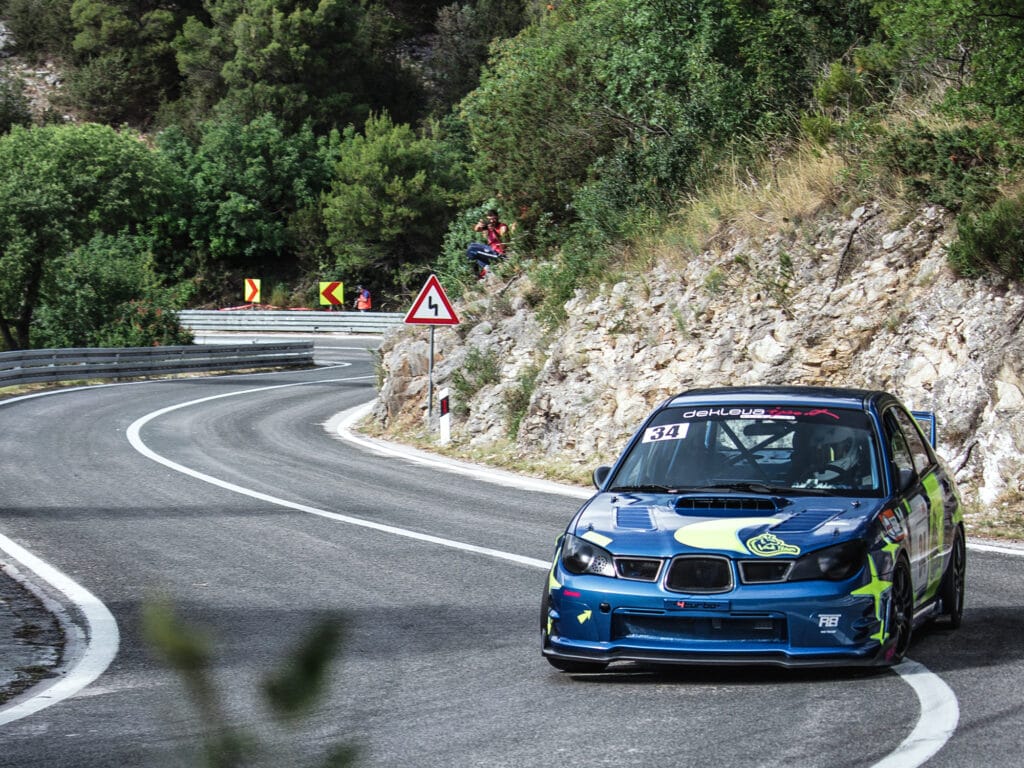 More often than not, insurance companies will look at your driving record. Drivers with a clean driving record get better deals because insurance companies are concerned about your on-road history.
Even as little as one speeding ticket or DUI has an impact on your driving record and your insurance rate as a result.
Use of Vehicle
Insurance companies like to know how you intend on using your vehicle. Is it used commercially or for personal use? They also care about the frequency, and other minor details before coming up with the right plan for you.
Vehicles more frequently used for business purposes are expected to invite a heavier premium.
Type of Insurance Coverage
Customized insurance plans catering to your individual needs are likely to incur a higher premium than opting for a standard coverage plan.
People who have home loan coverage tend to get better insurance prices from companies. Interestingly, it is not necessary to buy a home and car insurance from the same group.
Multiple insurance policies can sometimes make you eligible for bulk discounts. This is the reason you must be very thorough with your research.
Gender
Your gender may play a role in determining final insurance costs. In most states, you will see insurance groups charging younger men with steeper insurance rates while women, in general, have relatively lower rates.
There are a few states, however, that do not differentiate between genders while determining insurance costs.
Professional History
This is again a controversial parameter that influences insurance rates. It is being reconsidered in several states but is being carried out in certain places.
It mandates people from certain professions to pay a higher premium as opposed to others.
Credit Score
Your credit history plays a crucial role in determining your insurance rates. Whether you pay your bills on time or not typically has a sizeable impact on how much you end up paying for insurance.
Some insurance groups even use a credit-score-based insurance rate to determine the final price you pay for the insurance. People with good credit scores can expect to pay half of what someone with a bad credit score history would be paying.
Education
Several insurance providers tend to charge college-educated people lower insurance rates. This relies on metrics that support the fact that educated people file fewer claims. Because of how unpopular and controversial this factor is, many states are moving against it.
These are a few of the most common factors used to determine car insurance plans. But remember, this list is not exhaustive and several other factors can also come into play for your car insurance.
Is the Subaru WRX Expensive To Insure?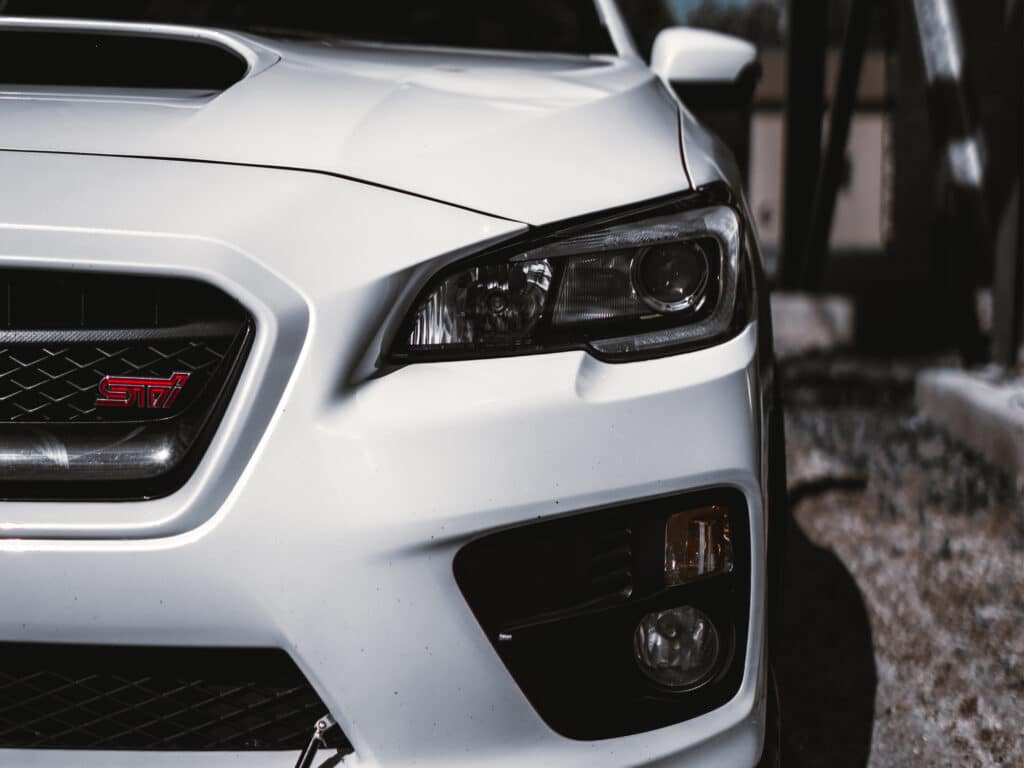 The STI variant of the WRX is definitely more expensive to insure than most other cars in this class. Mitsubishi is the exception though — their EVO X costs a lot more to insure compared to the Subaru WRX.
However, if you'd like to own a Subaru that isn't expensive to insure or maintain, consider the BRZ. Insurance rates for the Subaru BRZ are much cheaper than those of a WRX.
Besides, you can always find ways to lower your premium while enjoying full coverage. You simply need to be thorough in your research and browse several options before making the final choice. The Subaru WRX occupies insurance groups 40 and 43.
WRX vs STI Insurance
The STI model is more expensive to insure than the regular WRX. You can expect a difference of anywhere between $200-$250 between the two models (up to 10% more). This is mostly because of the STI's larger, more powerful engine and more difficult to find replacement parts.
Also remember, that as a car model gets older, the price of insurance will generally decrease. This is a standard industry practice across all brands and models, as the replacement value of the car drops.
The exception to this rule is for rare versions that are very difficult to replace. Though the JDM delivered STI 22B wasn't sold in the USA, it makes a good example here. Because of its rarity, it's only increased in value over the years, with one selling in California for over $300,000 earlier this year. Insuring a car like this is never going to be cheap.
5 Questions You Must Ask Your Car Insurer
Getting your car insured is a big deal. Before you sign up for a policy, it's wise to get all your doubts cleared while you still can, rather than finding out at the worst possible time — when you make your claim.
While you should ask as many questions as you can before buying insurance for your Subaru WRX, here are 3 questions you should definitely not miss.
Are Add-Ons Part of the Policy?
Insurance policies are often accompanied by add-on coverage. It's important to know of these at the outset instead of being taken by surprise later on. Sometimes, these come at a price that may not be favorable to you.
You should have a detailed discussion about this with your insurer and if you like the add-on features, do not forget to bargain or come to a price agreeable to both parties.
What Are My Options in Case of Damage and Accidents?
Though you would do your best to keep the Subaru WRX in pristine condition, you must account for any unexpected accidents. This is one of the reasons people look for the best WRX insurance rates.
It is a popular myth that in case of accidents, insurance companies will replace your car. This cannot be further from the truth as insurance companies are only liable for what is covered in your policy.
This is why you must ask this question specifically and see if you are satisfied with your plan or need to upgrade or downgrade it. Factor in things like storm damage, minor or major accidents, and what is covered.
In Case of an Accident, What Are the Out-of-Pocket Costs I Need To Cover?
Specific incident circumstances are going to play a crucial role in ascertaining out-of-pocket costs. You must specifically ask your insurer this question for the sake of clarity and transparency.
Make sure to think of as many scenarios as you can and have a discussion about them with your insurance company. This will ensure you will get the best Subaru WRX insurance rates.
What Are the Payment Terms?
Car insurance rates differ from company to company. You must be aware of the payment terms from the beginning to help manage your budgets properly. To lure customers, companies roll out great payment terms that you can make use of.
Another thing to remember is that while it is great to take friend and family recommendations into account while choosing the right car insurance policy, you must do your independent research as well.
You will be surprised how many deals you can land just by being thorough.
Are There Any Special Deals Available on the Policy?
Insurance companies are facing unprecedented levels of competition because customer tastes are changing like never before.
There are a lot of discounts on offer and you should always ask representatives for the same before agreeing to their asking price. You should also compare the prices of two companies to land the best possible deal. This is what we do for you when you use our online form.
Tips to Buy a Cheaper Insurance Plan
Now that we have covered some key factors that influence the price of insurance and the premium they would attract, you might be asking "is there a way to buy a cheaper insurance plan?"
Keep the insurance needs of your vehicle in sync with what you want. Prioritizing just what you want out of your vehicle without understanding its needs might be counterproductive.
Always explore the idea of add-on coverage. You will be surprised at the great deals you can land.
Do not settle for the first plan you stumble upon. Do your research and settle for one that best meets your needs.
You can choose to increase your deductible for comprehensive and collision coverages or let it go completely if you want to reduce the insurance rate for your WRX.
Always ask for discounts. You won't get it if you don't ask for it. It is as simple as that.
Subaru WRX Insurance FAQs
Because the Subaru WRX is a very popular and great car to own, there are a number of questions people tend to ask about the car, its costs, and maintenance.
We take you through some questions that might have crossed your mind if you own a Subaru WRX, or are planning to own one soon.
Does the Car's Manufacturing Year Impact Insurance Rate?
A 2015 model of Subaru WRX will certainly invite a lower premium as opposed to a 2018 model. However, this is not going to be a monumental difference. You can expect a difference of $50-$80 between the older and newer models.
Does the Driver's Age Impact Insurance Costs?
As we have discussed in detail above, the age of the driver is sure to make a difference to the insurance costs of your Subaru WRX.
What Impact Does My ZIP/Postal Code Have on My Rate?
The population density and theft rates are taken into consideration while determining the insurance rates for cars as per ZIP codes. This is precisely the reason people in rural and semi-rural areas have lower insurance rates.
How Much Will My Driving Record Sway the Cost of My Premium?
If you have a history of traffic violations or contempt for the law, you won't be given an easy way out of the insurance rates. Be prepared to pay a higher insurance rate as opposed to someone with an impressive driving track record.
What Are the Safety Ratings of the Subaru WRX?
The safety ratings are going to have a massive impact on the final insurance rates of your Subaru WRX. The car is known for its great safety features, scoring very high on all parameters. Your insurance quotes will reflect this and you must check about this while buying one.
What Is the Insurance Loss Probability of the Subaru WRX?
Lower insurance loss probability translates to smaller costs and high probability will translate to higher insurance costs. A full car coverage, as a thumb rule, is always going to cost a little more but it also means better car protection.
The Final Word
We hope that the guide above has given you a good idea of Subaru WRX's insurance costs and the factors that may determine individual premiums. You cannot get a clear idea unless you factor in a number of variables as discussed above.
If you are looking for a quote, please feel free to use our quote form to get a quote on your Subaru WRX.
Do you already own a WRX insurance policy? How much does it cost you per year? Let us know in the comments below!