Buying your dream car can be a complicated process. And it's not made any easier by the task of finding the right car insurance once you've bought it.
There's no one-size-fits-all solution for insurance, but there are some general guidelines that can help make it easier to understand. 
So, if you're considering purchasing a Nissan 350Z, read on to learn everything you need to know about Nissan 350z insurance.
Nissan's 350Z is Iconic
The Nissan 350Z, also known as the Fairlady Z, is the successor to the 300ZX. The Coupe was introduced in late 2002, followed by the Roadster in 2003, and both body styles were produced until its discontinuation in 2009. 
The Nissan 350Z is classified as a sports car and is considered a high-risk vehicle by most auto insurance companies. 
This, of course, means its auto insurance rates will be higher, but there are plenty of other factors that may affect the cost of auto insurance.
Special Features Will Drive Up Insurance Premiums
As mentioned above, the Nissan 350Z comes in two main body styles; Coupe and Roadster. Over its 7 years of production, trim packages varied, but the 4 most common are: Base, Enthusiast, Touring, and Track.
All Nissan 350Z models have a 3.5L V6 engine, producing right around 300 whp. Depending on which package you choose, this will come with either a 5-speed automatic or 6-speed manual transmission. Read more in this guide to Nissan 350z specs.
If you're looking for even higher performance, Nissan's in-house tuning division, NISMO, put out multiple racing versions ranging from the slightly more powerful Nissan 350Z R-Tune to the consumer version of their competition car, the Nissan 350Z Type 380RS.
Of course, these higher performance packages come not only with a higher price tag, but also higher auto insurance costs. Though rare parts on your car are extremely cool, they're expensive to replace, and will increase your insurance premiums.
How Safety Relates to Insuring Your 350z
One way the Nissan 350Z makes up for its sporty reputation in auto insurance quotes is in its safety features.
All models come standard with dual-stage front airbags as well as side airbags to protect passengers in both head-on and side collisions. Electronic tire pressure monitoring, anti-lock brakes, anti-whiplash systems, seatbelt pretensioners, and traction control are all also standard.
As a result of these measures, the most recent model of the Nissan 350Z scored extremely well in NHTSA crash test ratings. The driver's, front seat, and overall rollover ratings were all 5 stars, and the passenger's rating was 4 stars.
In addition to safety features while on the road, the Nissan 350Z is also safe while parked. Nissan 350Z offers anti-theft systems safety features and an ignition disabler that halts turnover if the original key is not inserted.
Factors That Influence Insurance Costs
Many factors will affect your Nissan 350Z's insurance costs. Here's a quick breakdown of some of the most common factors that are taken into consideration by an insurance company when quoting you…
Age
Young drivers, particularly teenagers, always have the highest car insurance rates due to their lack of experience. Of course, there are small factors that may alleviate some of that, such as good student discounts, but there's no getting around it completely.
The sweet spot for insurance rates is right around your 40s to 60s, as they begin to increase again around 70 years. But who wants to wait that long to get into a Z33? If you want a drive a fun car while you're young, there's not much you can do to get around this factor.
Driver Driving Record
Of course, your driving history plays a major part in determining the price of your coverage. This can include accidents, speeding tickets and other traffic violations such as running red lights. 
The good news for more experienced drivers is that many car insurance providers only check a certain number of years back. So if you're a 34-year-old, you probably don't need to worry about that speeding ticket you got back in your early twenties. Of course, if you have a clean driving record, you are golden.
Car Insurance History
Car insurance companies like to see that you are on top of staying covered. Unless you're a new driver, frequent gaps in your coverage history may be taken as a sign that you don't take responsible driving, or the law, incredibly seriously. 
Your number of past claims also usually plays a factor; the more claims you've filed or have had filed against you, the greater the risk for your provider and the higher your rates.
Credit Score
According to the Federal Trade Commission, there's a fairly clear correlation between credit scores and car insurance claims. Drivers with lower credit scores tend to file the most claims and vice versa. 
We already discussed why claim history affects rates, so it should be no surprise that having poor credit can raise your rates by over $100 per month.
Gender
Men tend to be a greater risk for car insurance companies, especially young men. The difference between male and female teenage drivers' car insurance rates can be over $60 per month in general, and driving a sports car such as a Nissan 350Z will only increase this disparity.
Location
Where you live also makes a big difference in your car insurance expenditures. This can be for a number of reasons, including local laws, crime, weather conditions and the cost of living in your area.
For example, a big rate factor in mountainous areas of Colorado is hail damage. Because hailstorms are much more common in this part of the country than in, say, Ohio, your rates may be higher to compensate for the higher likelihood of needing repairs.
Vehicle Mileage
There are two mileage considerations that can affect car insurance rates:
total mileage, and
annual.
Of course, the higher mileage your vehicle already has on it, the more likely it is to encounter mechanical issues or malfunction in a way that could cause an accident. 
Annual mileage also affects rates because the more you drive, the more likely you will experience breakdowns or get into an accident. As a result, drivers who put about 5000 miles on their 350Z each year may pay hundreds of dollars less for car insurance than those who drive 15,000 or more on their 350Z.
Ownership Status
This one's really important, so pay attention.
If you have a loan on your Nissan 350Z or you're leasing it, your insurance rates will likely be higher than if you bought it outright or have paid it off.
Desired Coverages
This may seem obvious, but it's worth mentioning. The insurance rate will vary based on the coverage you need, whether full coverage, personal injury protection coverage, or liability insurance. The better the coverage, the higher the cost. So it's always best to get various quotes from different insurance agents and shop around.
The good news is most car insurance companies will let you pick and choose your coverage options, so you don't have to pay for things you don't need just because you wanted one more expensive option.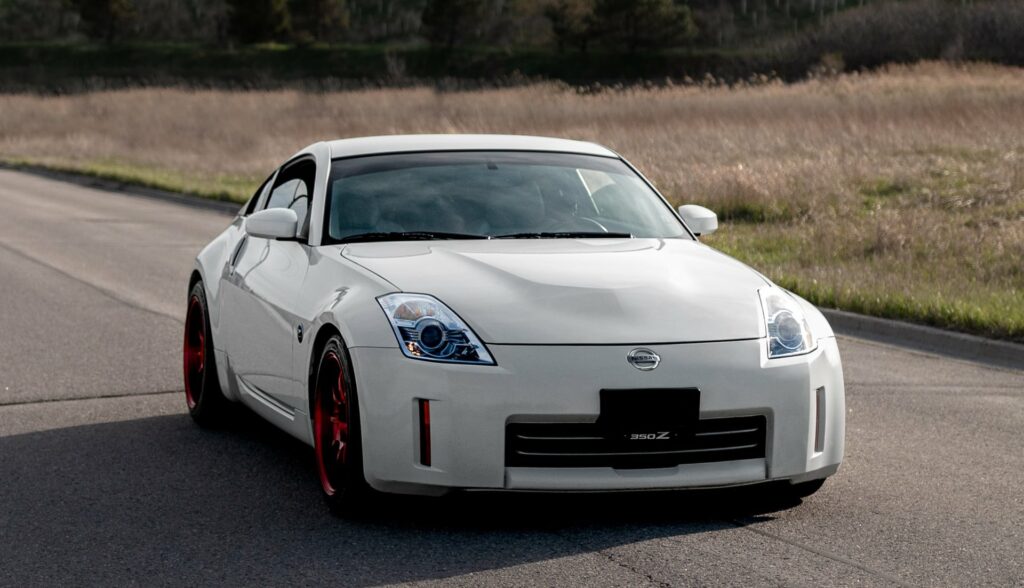 If you have a lot of 350z modifications, you will need to choose whether or not you want to cover those aftermarket parts, or accept that they won't be covered if they are damaged/stolen.
How To Save on Nissan 350Z Auto Insurance
As nice as it would be to see an average insurance cost on a Nissan 350z, insurance is such a case-by-case issue that you're best off getting a quote.
One thing is for sure, though — because it's a performance sports car, your Nissan 350z car insurance will be more expensive than more boring cars. However, 350z does have some things going for it that will help you save money. 
Aside from the aforementioned safety ratings, all Nissan 350Zs are at least 11 years old now, meaning they will cost less to replace, and insurance companies will consider them a lower risk in the event that you need major repairs or total your Nissan 350Z.
You can also save simply by being a safe driver, as almost every insurance provider offers good driver discounts.
Bundling 350z auto insurance with the same company for more than one insurance policy, such as homeowner's or renter's insurance, will also score you a discount.
Final Thoughts
Insurance can be daunting, but hopefully, you now have a better understanding of 350Z car insurance and feel a little more prepared to insure your Nissan 350Z!