The Mazda RX8 isn't your average sports coupe. It has suicide doors at the back, a tiny 1.3L engine, 200+ hp, and a monstrously unreliable reputation. Despite its negative press, this quirky little sports car is arguably among the best you can buy.
Depending on the port design, US-spec RX8s make between 212 hp and 232 hp, which on a good day, is enough to put a smile on your face. However, the rev-hungry nature of the engine delivers a lackluster bottom end.
Fixing this is fairly simple. The Mazda RX8 is a fantastic tuner car with huge potential in the aftermarket scene. Mods are readily available.
However, our discussion focuses on finding the best turbo kits for the Mazda RX8. To unlock a bit more power and usability out of it, bolting on a turbocharger is an expensive, albeit effective solution.
In this article, we'll explore the possibility of reliablly boosting your RX8, and we'll discuss some of the supporting mods that you'll have to install.
RX8 Reliability
Wondering whether RX8s are actually as unreliable as some enthusiasts claim? The short answer is yes. The RX8 reliability experience is unpredictable and fairly expensive. However, there is more than one way of seeing things.
If you're truly passionate about cars and find joy in taking up rewarding challenges, then the RX8 might be right up your alley.
The thing about rotary engines is that they need a bit more attention, more TLC. They are, by no means, badly designed. If that were the case, then the RX8 and its Renesis platform wouldn't have won these accolades:
2003 International Engine of the Year award
Best New Engine of the Year 2003
Best Engine between 2.5 and 3.0L
Japanese Car of the Year
Australia Wheels Car of the Year
Singapore's Car of the Year
US Best Sports Car
UK Best Sports Car
The Mazda RX8's 13B Renesis engine requires the same amount of attention as other rotary engines like the 12A and even the 3-rotor 20B. On the contrary, if you don't like getting your hands dirty, it's best to leave the RX8 out of the equation.
That said, very few RX8 buyers genuinely know how to keep their rotary engines in good shape, and quality rotary specialists are hard to come by these days.
But if you still yearn for the RX8's rotary thrills and don't mind the occasional flatbed, here are some things to look out for.
Common RX8 Problems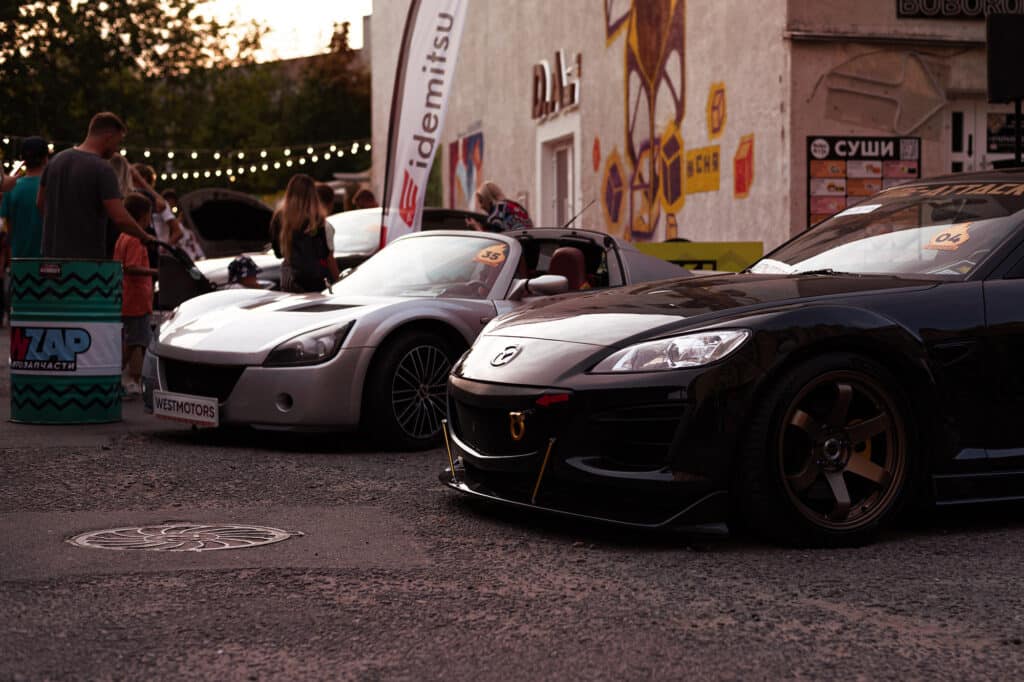 First things first — apex seals. This is a common problem with all RX8s, no matter the year or model. Given the extreme stresses they endure, the seals degrade over time, which can lead to a loss of compression, leading you to a series of expensive fixes.
Next, oil burning. RX8s burn oil by design. Because all the engine seals are located inside the combustion chamber, the only way to lubricate them is to mix oil with the fuel.
That's why it's advised to mix two-stroke engine oil with the fuel as a preventative measure for better engine longevity.
Other common problems include worn-out ignition coils and engine flooding due to excessive fuel supply. Rotary engines do not take kindly to neglect — they will burn a hole in your pocket if not maintained properly.
Additionally, understanding the limits of your RX8's engine is important if you're planning to go the forced-induction route.
Supporting Mods and Power Limits
On a dyno, a bone stock RX8 will put down around 180 whp to 185 whp and roughly 140 lb-ft at the rear wheels. Without any form of forced induction, the maximum a 13B can safely handle is 225 whp.
Reaching 210 whp can be achieved through bolt-on mods, but anything above that will run you a lot of money. We're talking expensive stuff such as engine porting and the like.
If you're looking beyond the 225 whp mark, forced induction is the way to go. However, keep an eye on reliability. Adding more power to an engine with questionable reliability will only make it worse.
300 whp is a safe number to draw the line at. But longevity takes a dramatic hit at these power levels. You probably won't have more than 10,000-15,000 miles left in the engine at that point.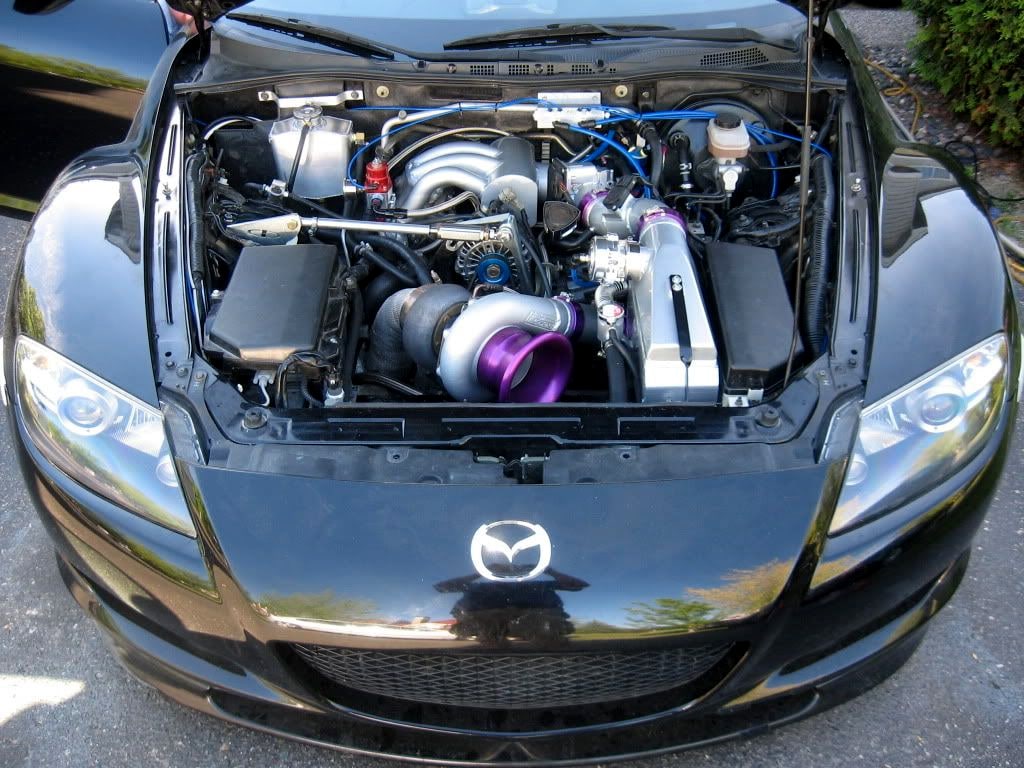 Going over 300 whp is going to require upgrades to the rotor housings, as well as numerous other internal improvements. Aftermarket forced induction will also require you to remap your ECU to address the altered airflow characteristics.
Understand that a rotary motor — even with a minor failure — typically becomes completely unusable.
Consider installing taller apex seals, upgrading your cooling system (water pump, radiator, thermostat, etc.), and improving the engine oil flow (SOHN adapter, oil cooler, premix combos, and so on).
Of course, all this vastly depends on how far you're willing to push the 13B. However, if you're going for an engine rebuild, installing lighter, aftermarket billet aluminum rotors is an option.
Also, installing aftermarket ignition coils and upgrading the coolant passages should ensure better peace of mind. Especially if you're looking to turbocharge your RX8 beyond 400 whp.
Best Turbo Kits for Mazda RX8
Now that you have a fair idea of the reliability and power limits of the RX8's 13B engine, let's discuss the aftermarket turbo kits available for the car.
Of course, keep in mind that turbocharging the RX8 is certainly not as cheap or convenient as some other engines.
While most of these turbo kits are available for purchase, some are discontinued, so you'll have to look around for used ones.
Next comes choosing the type of turbo kit. You can either purchase a top-mount or low-mount kit, each having its strengths and weaknesses.
The benefit of a top mount is that the piping route is much more convenient at the expense of heating issues. Low-mount kits, on the other hand, generate less heat within the engine bay. However, you may run into space and packaging issues.
With that in mind, let's take a closer look at the available RX8 turbo kits.
GReddy Street
Manufacturer: GReddy
Configuration: Single turbo
Position: Low-mounted
Production: Discontinued
Unlike most turbo kits on the market today, GReddy kits are designed specifically for drivability, reliability, and performance. Many RX8 owners prefer GReddy's Street Turbo kit for their rotary-powered sports coupe.
However, the kit is not perfect. The turbo is a bit small, which means power is capped at roughly 270 whp. Of course, this being a very popular upgrade, aftermarket ​​support is aplenty, with many off-the-shelf upgrades available.
It's worth mentioning that the kit has been discontinued. So the only way of sourcing it is to scour the internet for used listings.
In terms of features, the GReddy Street Kit comes with:
GReddy Spec Mitsu T618Z turbo.
GReddy cast-iron manifold.
GReddy cast-iron downpipe.
Ext. Type-T wastegates.
GReddy 31v front-mounted intercooler.
Polished aluminum intercooler piping.
Pre-programmed GReddy E-manage.
GReddy E-Manage harness.
GReddy Airinx AY-SB.
Necessary piping, hoses, and fittings.
Oil lines.
Install instructions and wiring diagrams.
It's a low-mount kit that features a GReddy T618Z turbocharger. Despite its size, the turbo has a near-instantaneous response and covers for the 13B's lack of low-end torque. You're looking at a real bargain here if you can find one.
RX8Performance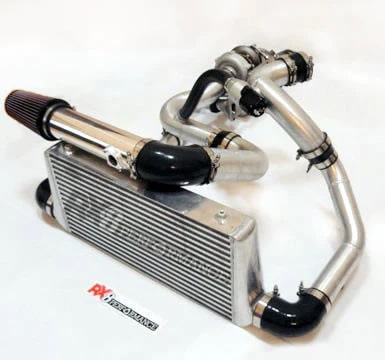 Manufacturer: RX8Performance
Configuration: Single turbo
Position: Low-mounted
Production: Available
Capable of producing 330-350 whp, RX8Performance's single turbo kit is ideal if you're looking for a bespoke, hand-built solution.
The advantage here is that, despite being a low-mount kit, the OEM intake management and oil metering are kept intact, requiring no serious chassis alterations for the install.
RX8Performance mentions that hard fitting locations are determined during the build process and are specific to your needs. Hence the bespoke nature. The kit includes:
Precision Turbo CEA billet wheel 6266sp dual ball ceramic bearing turbo.
Precision Turbo 46 mm wastegate and spring kit allowing 17 different boost level combinations.
Tig Welded 11 gauge 100% Stainless Steel manifold.
Tig Welded 3 inch stainless steel downpipe with v-band wastegate port.
Bead rolled 6061 aluminum charge tubes.
Synapse blow-off valve with recirculation fitting, hose and clamps.
Large bar and plate front-mounted intercooler.
Adjustable intercooler mount to accommodate aftermarket bumper covers.
High-quality reinforced silicone couplers.
Stainless steel T-bolt clamps.
3.5″ cold air intake with MAF air straighter.
Passenger-side motor mount bracket and mounting hardware.
Braided stainless steel oil feed and return lines with hardware.
2.5″, 2.75″ or a 3″ flex section for your midpipe or catalytic convertor is included.
The RX8Performance kit is far from plug-and-play. It's quite a comprehensive build, tailored to your horsepower requirements. The kit is developed with drivability as well as competition use in mind.
However, there are some mixed opinions on the company's history. So you may want to dig a bit deeper before the purchase. But this minor inconvenience doesn't necessarily devalue the performance and customizability on offer.
SFR Single Turbo
Manufacturer: Speed Force Racing
Configuration: Single turbo
Position: Top-mounted
Production: Available
Speed Force Racing has a catchy description for their single turbo kit. Per the manufacturer, employing this kit turns the anemic performing Renesis motor into a "fire-breathing turbocharged 326 whp Rotary that screams to 10,000 rpms with 9 psi of intercooled boost."
As a fabrication specialist, SFR offers the entire kit as a customizable item, to be made specifically for your tuning requirements.
But the thing is, there aren't many long-term testing results available online. On the plus side, though, you get a polished and well-presented item.
Also, in terms of features, you're getting almost everything you need in the kit, which includes:
Turbonetics T60-1 turbo.
Turbo mounting plate.
304SS stainless turbo heat shield.
321SS "Ultimate Flow" turbo header.
3.5 – 3″ cold air intake.
K&N air filter.
Tial 46 mm dual-port wastegate.
1.6″ 304SS wastegate dumptube.
3″ 304SS downpipe.
Bell front-mounted intercooler.
2″, 2.5″, or 3″ aluminum intercooler piping.
Tial 50 mm blow-off valve.
Battery relocation line with cables.
Thermotec header wrap.
Stainless steel radiator hose.
Silicone hoses (red, blue or black).
Stainless steel hoseclamps.
3-AN Teflon-lined oil feed with fittings.
10-AM oil drain with fittings.
All necessary hardware and fittings.
Although the kit isn't as popular as perhaps the GReddy or the RX8Performance, the overall response towards it is positive. But bear in mind that horsepower claims are north of 300 whp, which means supporting mods are a must-have.
Turblown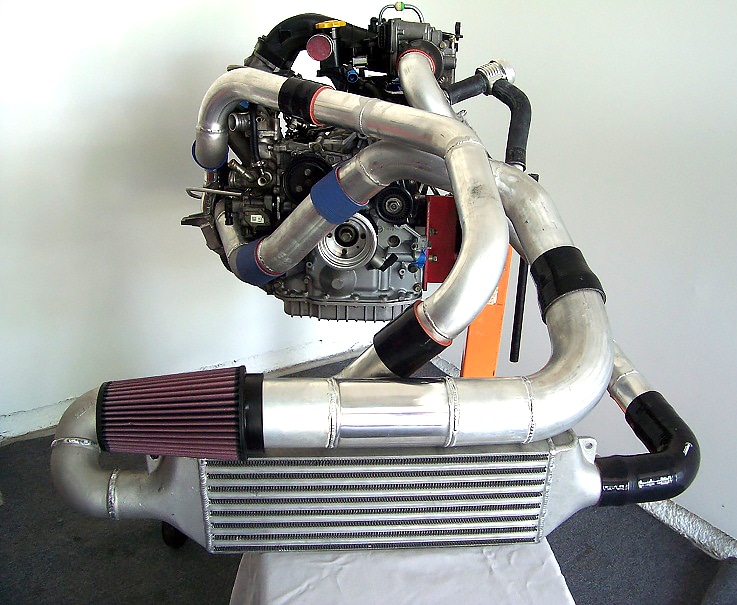 Manufacturer: Turblown
Configuration: Single turbo
Position: Top-mounted
Production: Available
Turblown systems are designed to deliver the most usable peak power and widest possible power band for street or track use. Horsepower claims are in the 300 to 350 whp range, but kits for 450+ whp builds are also available.
According to the manufacturer, those looking to exceed 400 whp should opt for the BorgWarner 8374 turbocharger instead of the 7670. Also available are 9174 or 9180 turbochargers for those looking to make 450-plus whp.
The kit includes: 
Water-cooled ball bearing BorgWarner EFR 7670 T4 .92 IWG turbine.
Custom steel motor mount brackets to accommodate the turbo manifold.
Tial MVS 38 mm v-band waste gate and an open dump tube.
3″ 304SS downpipe that employs a 3″ flex bellow for engine movement.
Stainless steel oil & coolant feed lines.
Custom fabricated front mounted intercooler using a genuine Garrett Core. It includes T-bolt clamps with high quality silicone couplers.
Oil metering pump block off kit & relocation bracket.
Coolant surge tank relocation bracket.
Protective 3M Gentex wiring harness thermal sleeve.
Custom aluminum thermostat upper and lower hard line assembly is included.
Ambient air intake system featuring a recirculated blow-off valve designed to ensure the highest possible flow characteristics.
Relocation clamps.
Turblown claims that their 3-into-1 custom-made 321SS turbo manifold outperforms log-style manifolds, offering a better response and a broader torque curve.
Mazfix Gen 1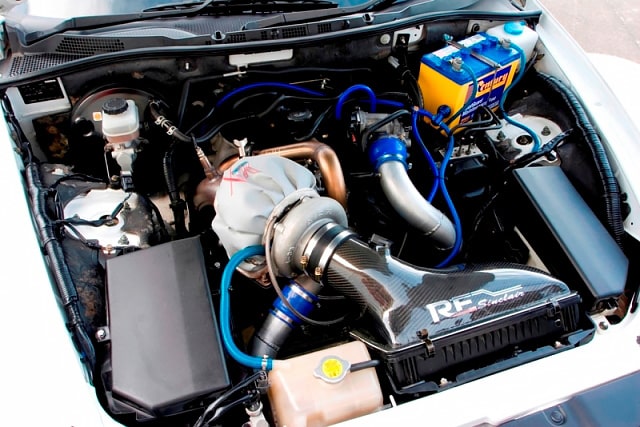 Manufacturer: Mazfix
Configuration: Single turbo
Position: Low-mounted
Production: Available
Mazfix is among the best when it comes to turbocharged RX8s. The company has quite the reputation, with over four years of experience in fabricating and testing turbo kits for street and track use.
The kit is quite comprehensive, with claims of over 268 hp at the flywheel. Features include:
Street legal, comes with mod plate.
Double ball bearing turbo with internal wastegate with upgraded billet front wheel.
High-flow Intercooler.
Bolt up exhaust, no cutting or modifications to standard exhaust.
Re-tuned Factory ECU.
Completely reversible and unboltable.
Drives like a standard RX8, EXCEPT when you put your foot down.
Fuel economy similar to factory, unless using boost.
However, there's a catch. Mazfix is based in Australia and you can buy the kit on a driven-in, drive-out basis. Also, it's quite pricey.
Mazda RX8 Turbo Kit: Our Pick
We're inclined towards the GReddy Street Turbo Kit. It's easily the best pick of the bunch — if you can find one.
But, as far as off-the-shelf items go, there isn't a better option than the RX8Performance kit. It's a bespoke, hand-built kit that's reasonably affordable.
SFR comes a close third, followed by Mazfix. If the latter wasn't an overseas operation, we would've ranked it higher.
Do you know of any RX8 twin-turbo kits that are in production? Let us know by leaving a comment below!