It's simple, brakes are a wear component. Unlike other parts that you may never need to think about, you replace your Miata's brake pads often enough to want to make the best choice.
There are also plenty of reasons, beyond just practicality, to look into new pads.
Maybe you're sick of the ridiculously dusty brake pads the previous owner put in your Miata.
Maybe you find yourself at the track a lot and want brake pads that won't glaze over.
Maybe autocross brake pads with maximum bite are your priority.
Or maybe you just want the thrill of going from 60 to 0 in the shortest possible distance.
Realistically, the more you do by way of Miata performance upgrades, the more effort you'll need to put into your braking system.
You can have the stickiest tires, lightweight aftermarket Miata wheels, and coilovers designed for your Miata, matched to all of the power in the world.
But with a neglected braking system, you'll lose precious seconds on the track and may even be a danger to yourself on the street.
Whatever the reason for changing your Miata's pads, in this guide we'll look at your best options.
Why Does Your MX5 Need New Brake Pads?
It's difficult to pick one set of the absolute best brake pads for the MX5. Your choice will largely have to do with where and how you drive. The best Miata autocross brake pads will be different from the best Miata street brake pads.
Three basic brake pad characteristics that are easy to pay attention to are material, dust, and noise. Basically, as you go up the performance scale, even the best Miata brake pads are going to squeal more and put out more dust.
Dealing With Model Years
Unlike some other components, it's not just about knowing your Miata's generation — NA, NB, NC, or ND — and picking a new set of brake pads that suits.
Mazda switched to larger brakes for 1994-02 from a smaller brake system on the earlier Miatas.
The trickiest situation is for Miatas from 2001-02. For these model years, Mazda put out three suspension packages:
Normal
Sport and
Hard S

Starting in 2003 to '05, all Miata's came with the Hard S as standard.
This option meant larger wheels and larger brakes.
A sticker attached to the passenger door jam should indicate "Hard S" if that's what your car came with. And, if it still has the stock wheels, they'll be the larger 16" factory wheels.
This is fairly confusing when it comes time to buying, so under each option below we'll give you a table to work with.
Best Street Brake Pads for Miatas
Honestly, the OEM pads are a very decent choice and they are fairly easy to find. That's especially true for model years after 1996 where Mazda throws in a 12-month or 12,000-mile warranty.
If your Mazda Miata handles street duty only, but you want to take your car for a short strap through the mountain roads, the pads in this section are your best bet.
EBC Greenstuff 2000 Sport
Manufacturer: EBC Brakes
Material: Synthetic fiber
Dust: Low
Noise: Low
Best for: Street
This option by EBC is a longstanding classic for the Miata. The EBC line has been divided by color and the greens offer strong performance for a good price.
It's definitely a street-only MX5 brake pad with not enough heat range to handle hard track use.
The pedal feel is a noticeable uptick from stock and they check the "low dust" box, which is appreciated for street-use pads.
StopTech 309 Performance
Manufacturer: StopTech
Material: Para-aramid composites
Dust: Moderate
Noise: Low
Best for: Street
It's an easy call to include the StopTech 309s on this list. They deliver consistently reliable stopping for a really great price.
Keep these on strict street-only duty, though. They'll fade even after a short period of time on the track.
One thing to note is that these pads put out a bit more dust than average (or OEM). Probably not the pads if you want to maintain pristine, white rims.
EBC Yellowstuff Street and Track
Manufacturer: EBC Brakes
Material: Synthetic fiber
Dust: Moderate
Noise: Low-moderate
Best for: Street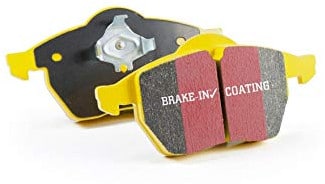 If there's a consensus pick on a general-purpose upgrade over OEM it's the Yellowstuff from EBC. These pads will grip very well even from cold and won't fade except under the most rigorous track conditions.
Note that you will get a bit of extra dust from your brakes when using these pads. They're an exceptional set of brake pads though. Very hard to beat given their price and performance!
Our Favorite MX5 Autocross Brake Pads
We all love how autocross brings the track closer to us — it's a great way to test your taste for racing without breaking the law or going all-out with a track day.
It's also a good chance to dabble in upgrading your Mazda MX5 too. For brake pads, it's worth considering whether your Miata really needs an upgrade to handle the occasional day of autocross at a parking lot.
The OEM pads are solid and will perform fine and you're very unlikely to see any fade.
But if you're keen on a more aggressive bite or want to be extra certain, here are the best Miata autocross brake pads we know of. Lucky for you, this is a simple choice as there's a clear winner in this category.
Hawk Performance Street HPS
Manufacturer: Hawk Performance
Material: Ferro-carbon
Dust: Low
Noise: Low-medium
Best for: Autocross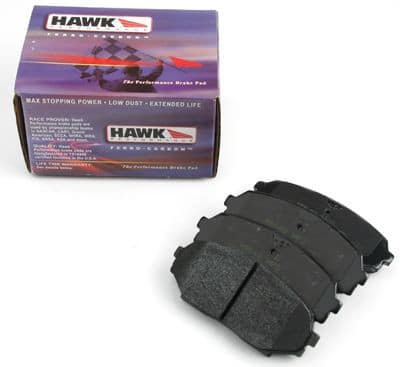 Hawk's HPS entry is a good upgrade for those MX5 owners who are keen on getting in the best performance possible at the autocross track.
Hawk claims a 40% stopping power increase over OEM and not much noise or dust. The HPS is also easy on your rotors compared to other performance options.
Performance and Track MX5 Brake Pads
If your MX5 is built for race-first you might not mind an aggressive grip and a bunch of squeal when you pound the brake pedal.
Remember that performance pads will also need to heat up to be at peak performance and may put off more dust than you're used to.
These are our go-to choices when it comes to performance and race brake pads for a Mazda Miata.
Carbotech XP8 Fast Road / Track
Manufacturer: Carbotech Performance Brakes
Material: Compound
Dust: Moderate
Noise: Low-moderate
Best for: Fast street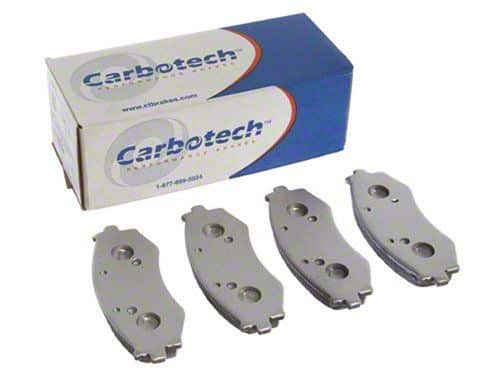 Of the race-appropriate pads, these might be the most able to jump onto the road.
Their effectiveness kicks in well at low temperatures, so in most situations, you won't be able to tell the bite difference from stock until you hit the track. They are a bit loud and dusty for daily driving, though.
Hawk DTC-80 Race Brake Pads
Manufacturer: Hawk Performance
Material: Compound
Dust: High
Noise: Loud
Best for: Racing
| Year Start | Year End | Front/Rear | Buy From |
| --- | --- | --- | --- |
| 2016 | – | Front | Amazon |
The most recent addition to the Hawk catalog is a race-only performance brake pad. These pads boast a high bite (perfect for the track) and very low fade resistance.
They don't get into their optimal range until 600 F so don't even think about driving with them on the street.
Carbotech XP12 Race
Manufacturer: Carbotech Performance Brakes
Material: Compound
Dust: High
Noise: Loud
Best for: Racing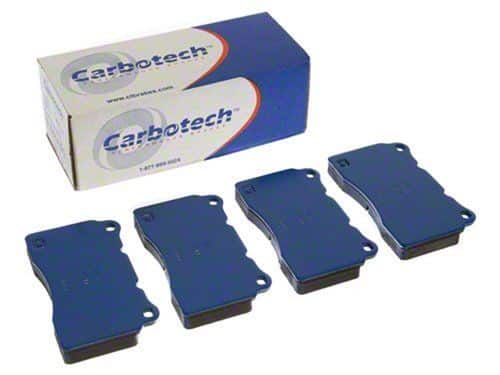 These pads are a big jump up from the XP8. Though not terribly aggressive, they will be noticeably harder on your rotors than the XP8s.
These race-only pads will need to warm to 250 F to be optimally effective, but that range carries right through to 1850 F.
Best Miata Brake Pads
Obviously this is a choice that varies based on your needs. For most people, this is broken down into the categories of street, autocross and track use.
Below you'll find our number 1 pick for each of these categories.
Best street brake pads for a Miata: EBC Yellowstuff Street and Track
Best Miata autocross brake pads: Hawk Performance Street HPS
Best brake pads for a track day MX5: Carbotech XP12
Agree with our top picks? Let us know if there's a better Miata brake pad on the market by commenting below.