Now that the earliest Mazda Miatas are about to turn 30, owners are likely to have swapped out their battery a couple of times.
Advances in technology mean that high-quality battery replacements are much cheaper now than they were when the Miata first hit the streets.
If you've put the cash into a later generation Miata, dependability is probably more of a concern than an NA or NB weekend-only car. So we've included a few premium options that will fit under the Miata NC or ND's hood.
As far as components go, batteries are more straightforward than sexy, but they are essential (obviously) and good ones not only allow for a reliable start in cold weather, they unlock the potential for flashier upgrades.
Below you'll find the best replacement batteries for your Mazda Miata.
Is It Time for a New Battery?
We get it. The battery on your first Miata kept ticking for 11 years and the current one is pushing nine.
That's absolutely plausible—the Miata forums are sprinkled with threads of messages from Miata owners (especially for models from the 1990s or early 2000s) bragging about how long their OEM battery kept cranking for.
That's not typical for non-OEM. Conservative mechanics will give you four to five years of optimal performance before it's time for a replacement Miata battery.
If your OEM battery (or an AGM replacement) is getting down to its last legs there is another important consideration—you can't jump-start an AGM battery the way you would a wet cell battery.
The 20 amps from the jumper cables will destroy your AGM battery, which, instead, requires one amp, slowly delivered over 18 to 24 hours.
Take the Weather Into Account
Climate is also an important factor for battery performance. Hot and humid conditions will knock a couple years off a battery's life.
Conversely, those who live where winter almost always includes a blizzard, know that their battery needs to work extra hard to turn the engine over.
Cold cranking amps (CCA) is the term for the measure of how well a particular battery does in these conditions.
Three variables have to be held constant to make this number mean something when comparing models.
The accepted standard is that CCA represents the number of amps a battery can deliver at 0 F for 30 seconds while maintaining at least 7.2 volts.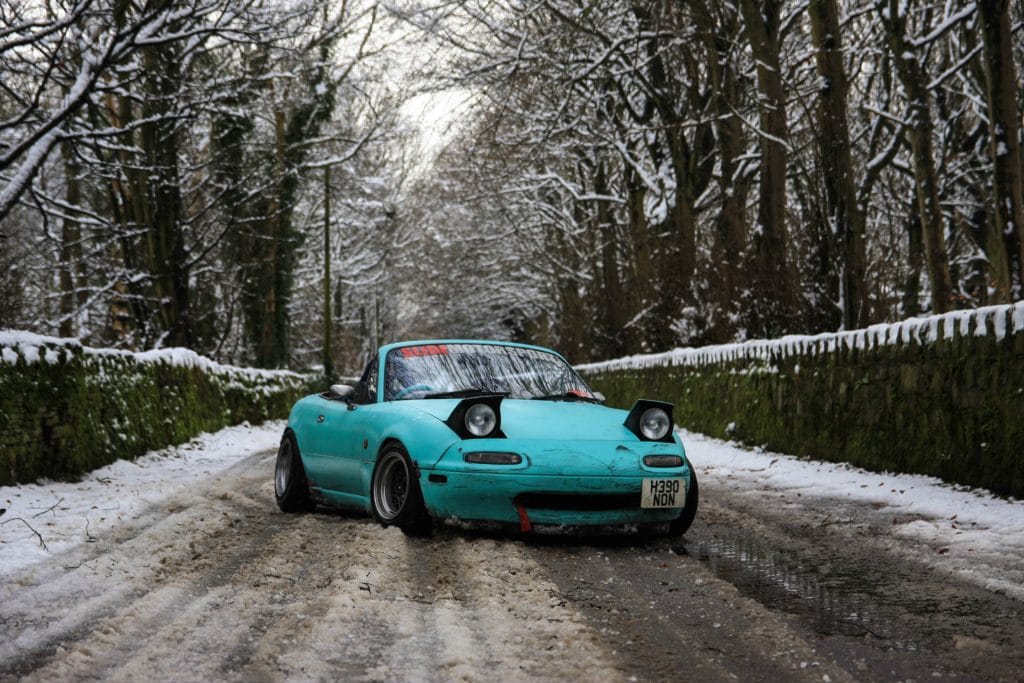 First and Second Generation Miatas
The two early generations of the Miata (NA from 1990-98 and NB from 1999-2004) have devoted followers who appreciate the pared-down sportiness.
Some of these cars are reaching well into their third decade and will have batteries that need to be replaced for purely practical reasons. Other owners will want to swap in a new MX5 battery to add performance options.
OEM NA and NB Miata Battery Specs
Both of the first two generation MX5s shipped with a very well-regarded absorbent glass mat (AGM) battery, made by Panasonic. The Mazda Miata battery group size across all models is 51r.
Manufacturer: Panasonic
Cold cranking amps: 326
Group: 51r
Size/dimensions: 9.25″ L x 6.25″ W x 5″ H (235mm L x 160mm W x 125mm H)
Type: Absorbed glass mat
Unless they came inside a new Miata, you'll have trouble finding one of these batteries outside of Japan. The weight means there's no way to ship them and sell them cheaply enough.
Mazda dealers will sell you a Mazda-branded replacement battery that fits your Miata NA or NB, but it won't be made in Japan.
More to the point, this "factory replacement" will be a standard wet-cell type battery and not absorbed glass mat technology. (And despite what some online sources claim, the original Miata battery was a standard absorbed glass mat one, not a gel cell.)
Some online retailers will sell what they claim are genuine OEM Panasonic Miata batteries. Maybe they are. But consider that the last second-gen Miata shipped almost 15 years ago.
Replacing the Battery in a First or Second Generation Miata
Those of us with an early Miata in the garage, probably would all say the same thing if asked to name one characteristic about its battery: it's in the trunk.
Mazda did this for three likely reasons:
By placing the heavy battery behind the driver, the car is able to maintain its enviable weight distribution.

The temperature in the trunk is almost always lower than under the hood and varies much less drastically.

This means a much longer service life for your Miata battery.
The biggest disadvantage of putting a wet cell battery in the trunk is the mess it could make on the very rare chance that it explodes or leaks.
The best-case scenario is an expensive carpet cleaning, while the worst involves replacing valuable items that were in the trunk at the time.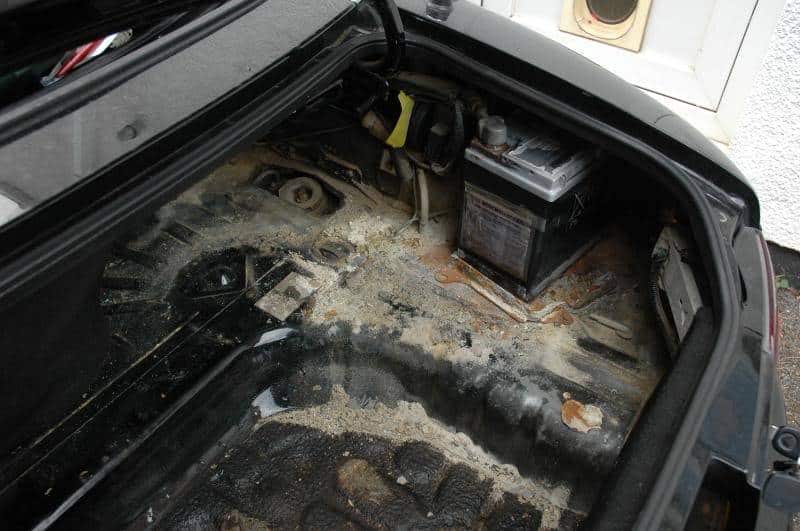 This undesirable situation causes some to steer away from wet cell replacement batteries. (Including the OEM substitute that Mazda sells.) We tend to agree. A cheap Miata battery is not worth the economy in the long run.
That holds doubly true because the Miata designers set a fairly high baseline. Even in its first year, 1990, the MX5 came with an absorbed glass mat battery as standard.
Best Replacement Battery for Your NA or NB Miata
East Penn Manufacturing Co. is the only company in the US who makes an AGM battery for the first two generations of Mazda Miata. Their product is then relabelled by several national brands and offline retailers (including O'Reilly's).
When choosing between the Marathon, Deka or Westco relabelling it comes down to price and warranty.
Deka/East Penn 8AMU1R AGM Battery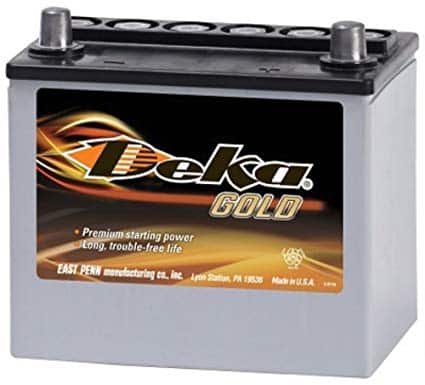 Manufacturer: East Penn/Deka (or rebadged by Marathon or Westco)
Part number: 8AMU1R
Cold cranking amps: 320
Group: 51r
Size/dimensions: 7.8"L x 5.2"W x 7.2"H (198mm L x 132mm W x 182mm H)
Type: Absorbed glass mat
Weight: 25 lbs (11.3 kg)
Warranty: One year
Check prices: Amazon
This is the leading AGM option for a replacement Miata battery. It does a good job of comparing to OEM stats with 320 CCA and the 25 lbs weight. It fits neatly into the stock battery holder with the poles on the correct side for easy installation.
It comes in a sealed, maintenance-free housing for worry-free operation.
Sturdy construction (as discussed above, it's made in the US) helps to reduce the chance of an internal short. And the affordable price tag doesn't hurt at all.
At this time, Marathon also sells their rebadged version with a one-year warranty. Westco sells theirs with a four-year warranty that offers an exchange within the first year or a credit after one year.
Odyssey PC925MJT Battery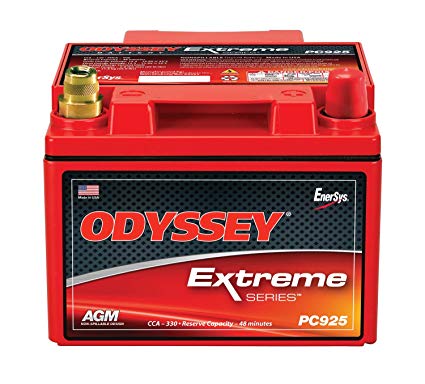 Manufacturer: Odyssey
Part number: PC925MJT
Cold cranking amps: 330
Group: 51r
Size/dimensions: 11.1″ L x 10.3″ W x 8.4″ H (169mm L x 179mm W x 148mm H)
Type: Absorbed glass mat
Weight: 26 lbs (11.8 kg)
Warranty: Three and four-year full replacement
Check prices: Amazon
This sturdiest option on the list is definitely not a cheap Miata battery, but it is a quality unit. The "MJ" in the part number indicates that Odyssey put this in a metal-jacket to ensure it's even more vibration and shock-resistant than other options.
They back up that durability claim with a particularly strong warranty.
Some cars may need to add a longer bolt to the mounting bracket to get this Miata replacement battery to fit in their NA or NB MX5.
Third Generation Miatas
From 2005 through 2015, the Mazda MX5 NC held both critical and popular attention. Some stock batteries may well be still running, while others need replacing.
OEM Specs for NC Miata Batteries
By the third generation, the Miata's battery had moved to the engine bay. That meant better ventilation so some owners were no longer concerned about batteries exploding in the trunk and Mazda could install a wet cell version.
But it also means hotter running temperatures and a shorter useful life, especially if the fluid levels aren't monitored.
Manufacturer: Panasonic
Part Number: 46B24L(S) – MF
Cold cranking amps: 330
Group: 124R/24FH
Size/dimensions: 9.2″ L x 5″ W x 8.9″ H (238mm L x 129mm W x 204mm H)
Type: Wet cell
Upgrading your NC Miata Battery
The silver lining of a slow battery death is that you have the chance to upgrade. Maybe you want to blast your after-market stereo or like to leave your lights on after parking while you hang out with friends.
Whatever the reason, an upgraded battery can deliver more cranking amps at startup, a longer-held charge and quicker recharge when you take the dust cover off after a few weeks in the garage.
When replacing the battery on any fairly recent car that is loaded with electronics, we prefer to use a battery tender while making the switch. This will keep your radio code, presets and other settings in place.
Best Replacement Battery for Your NC Miata
Seriously upgraded stereos tend to be more popular with later model Miata owners.
While audio-visual mods aren't so popular with NA and NB drivers (who often remove these features) many NC Miata drivers love to listen to some beats.
For this reason we usually suggest a battery that can handle the extra duty.
Optima 8073-167 D51R YellowTop Dual Purpose Battery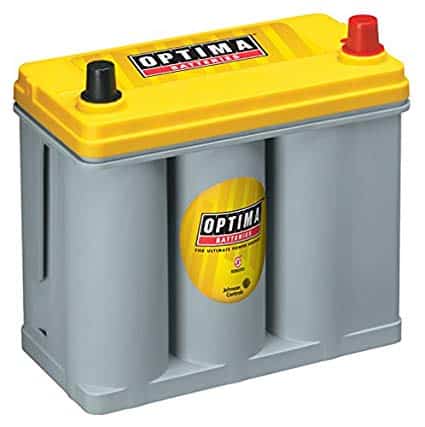 Manufacturer: Optima
Part number: 8073-167 D51R
Cold cranking amps: 450
Group: 51r
Size/dimensions: 9.2″ L x 5″ W x 8.9″ H (234mm L x 126mm W x 227mm H)
Type: SpiralCell
Weight: 26 lbs (11 kg)
Warranty: Three years
Check prices: Amazon
The dual-purpose in the name means that Optima's yellow tops are designed to be both a starting and deep cycle battery.
The latter application, based on a greater reserve of power, is more commonly associated with boats (where you need enough juice to keep lights and other loads powered overnight).
But it also makes perfect sense for a Mazda Miata with high-load accessories. This is not a cheap Miata battery replacement, but it is the battery you should be looking at if you're frequently blasting the stereo on your MX5 with the engine off.
Also, that added feature comes at a small premium over the red-top version that is only designed for starting.
This battery will also fit the fourth generation Miatas.
Fourth Generation Miatas
For 2016, Mazda put out a brand-new MX5 that continued the trend to more power. It follows the NC's lead by having the battery under the hood.
Ideal Replacement Battery for Your ND Miata
Note that the best Miata battery replacement for an NC (like the Optima yellow-top) will also work in your ND.
Duralast Gold Battery
Manufacturer: Duralast
Part Number: 51R-DLG
Cold cranking amps: 500
Group: 51r
Size/dimensions: 9.4″ L x 5″ W x 8.75″ H (238mm L x 129mm W x 223mm H)
Type: Wet cell
Weight: 27.8 lbs
Warranty: 5 years

This Duralast entry is one of the best MX5 replacement batteries for extreme conditions.
At 500 cold-cranking amps, it tops all of the options we've covered. Duralast also makes this sturdier than most with impact-resistant technology to protect against the hard knocks your MX5's replacement battery might see at the track.
Honestly, for us the lengthy 5 year warranty seals the deal.
What is the Best Battery for a Mazda Miata?
The battery sweet spot for your MX5 will depend on what you plan to ask it to do for you. Here are our suggestions for a few likely scenarios.
NA/NB MX5 battery with great warranty: Odyssey PC925MJT
Cheap replacement for NA/NB Miata: Deka/East Penn 8AMU1R
Best for NC Miatas: Optima D51 Yellow Top
Have some insight to add? Did we not cover your favourite Miata replacement battery? Leave a comment below and let us know.