Underglow lights are usually attached to the underside of the vehicle and light up the ground beneath, enveloping your vehicle in an ethereal glow.
There are two main types of underglow lights — neon and LED. Neon underglow lights have been the go-to choice; however, in recent years, these are slowly being replaced with LEDs because of how easily available and cheap they are.
Many U.S. states allow the use of underglow lights on vehicles, but if you want to know if Utah is one of them, then this article is for you.
Underglow Light Laws in Utah
The installation and use of underglow lighting in the state are governed by the stipulations in the Motor Vehicles Act, Chapter 6a: Traffic Code, Part 16 of the Utah Code.
Also, it is important to understand these rules and regulations before installing underglow lighting on your car.
Light Type, Size, and Color
In Utah, the underglow laws do not specify the type of underglow lighting that can be used on vehicles.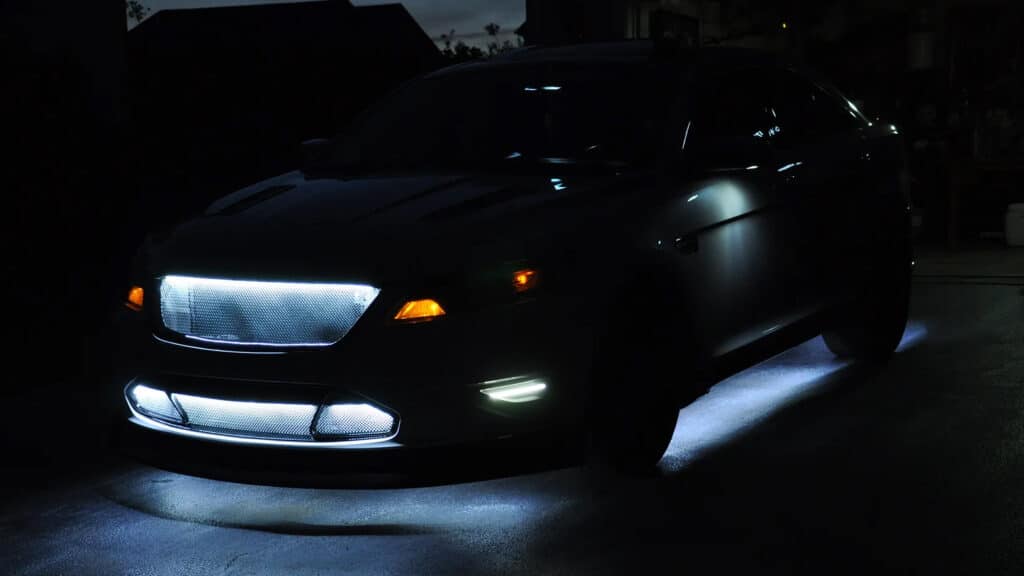 There are no restrictions in terms of the size of underglow lights that can be installed on vehicles in the state. Also, note that you cannot use blue or red lights that can be seen from the front of the vehicle.
Intensity
If you are installing underglow lights on your vehicle, then make sure they aren't overly bright. Up to 300 candle power is the ideal recommended range.
Also, using rotating or flashing lights is prohibited because these can be distracting and impair the vision of other drivers.
Are Underglow Neon Lights Legal in Utah?
There are no restrictions or prohibitions when it comes to the installation of aftermarket vehicle lighting, including underglow lights.
We can infer that the use of neon or LED underglow lighting is not illegal in Utah, as long as the following restrictions are adhered to.
You cannot move or drive any vehicle on the highway with a device or lamp that displays a red light that can be seen from the front of the vehicle except if it is an emergency vehicle.
The use of flashing lights is also prohibited except by authorized emergency vehicles, such as tail lights on bicycles, or for turn indicators.
You cannot use a rotating light on a vehicle except in the case of authorized emergency vehicles or media production vehicles.
Installing and driving with underglow lights is legal in the state. However, any violations of the restrictions that we have discussed in the earlier section are considered an infraction and may attract penalties or fines.
State of Utah Info
Most of Utah is nearly uninhabited as large percentages of people live along the Wasatch Front.
This metropolitan region is home to nearly 80% of Utah's people.
The state is the 13th largest in the country. It borders five states — Nevada, Arizona, Idaho, Wyoming, Colorado, and a little bit of New Mexico.
Population: 2,855,287
Capital: Salt Lake City
Registered vehicles: 2,654,715
Total lane miles: 102,031
Number of highways: 7
Underglow light law reference: Utah Code, Title 41