With its subtle design, reliability, advanced safety features, and affordable cost — Nissan's 370z proves that owning a sports car doesn't always mean breaking the bank.
Owning a Nissan 370z is an affordable proposition because:
They're as safe as they are fun,
Ownership and servicing costs are low,
Purchasing prices are very reasonable affordable.
This is great news for both buyers and car insurance companies alike.
While there are many factors that can affect your monthly car insurance prices, the average insurance cost for a Nissan 370z is approximately $1,944 per year or $164 a month.
This is slightly higher than the average vehicle but still affordable among sports car owners.
In this guide, we break down everything you should know about insuring your 370z along with tips to save on your car insurance.
Intro to the 370z: Safety, Features & More
The Nissan 370z is a powerful vehicle that can travel from 0 to 60 in about 5 seconds, thanks to its stellar powertrain. It is a two-door coupe that rides effortlessly and is one of the most impressive sports cars in its league.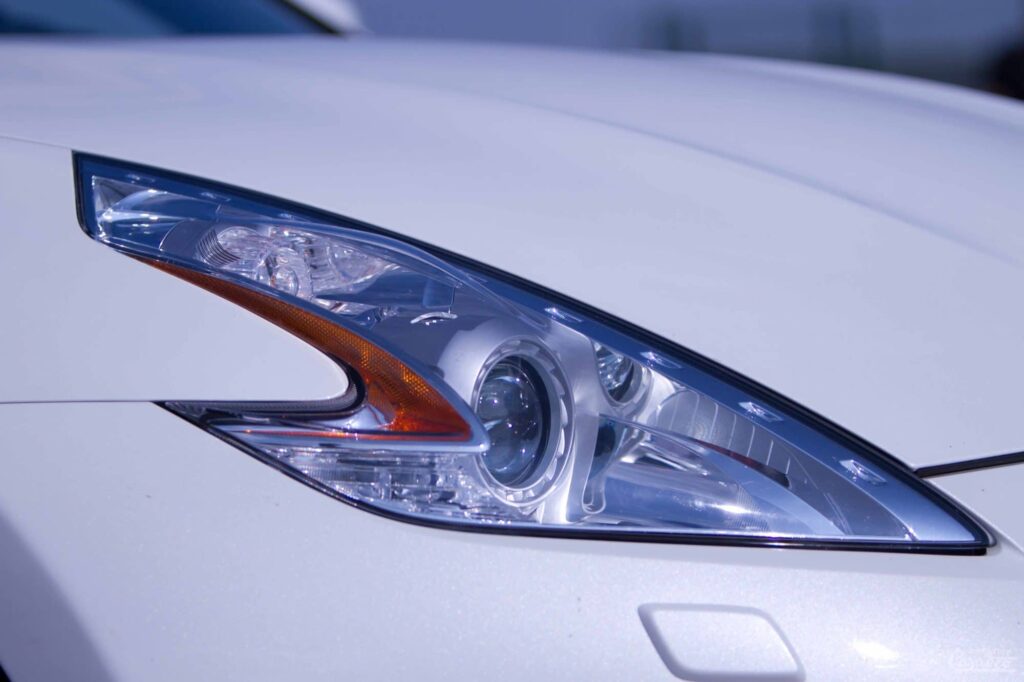 It offers its drivers a wide range of high tech and luxury features, namely:
A 332-horsepower V6 engine
Six-manual transmission
It is rear-wheel drive
Rear-view camera
A six-speaker audio system
Bluetooth connectivity
Automatic climate control
Nissan also offers an upgrade from a six-speed transmission to a seven-speed automatic transmission for a reasonable price. Other upgrades include:
7-inch touchscreen
Satellite radio
Eight-speaker Bose audio system
Navigation system
How Safe Is the Nissan 370z?
All in all, the Nissan 370z is a very safe car. It has the following safety features:
Anti-lock brakes
Stability control
Airbags
Seatbelt pretensioners
Anti-theft system
While the Insurance Information Institute has not tested the Nissan 370z for highway safety, car insurance companies are comfortable enough with the Nissan 370z's safety features to keep monthly premiums low for a sports car.
Reliability, Repair & Maintenance
The 2020 Nissan 370z may not have a reliability rating yet, but Nissan still offers a three-year or 36,000-mile warranty for your repair and maintenance needs. The average maintenance cost for a new Nissan 370z is roughly $5,047 over five years.
The probability of a Nissan's 370z needing severe repairs is high at 13%. However, the annual repair costs are above the average ownership cost for other cars in its class.
One of the main issues with this car is that the rear hatch doesn't always open correctly. On average, the yearly cost of repairs on the Nissan 370z is $504. This price usually includes fixing small issues like this and your regular maintenance schedule as well.
Do Mods & Upgrades Affect Your Insurance?
Definitely! Whether you've tinkered around with your current suspension setup or have a set of Brembo brakes installed, your insurer will want to know about any upgrades made to your 370z.
These modifications can include any changes made to the:
There are a few instances where paint jobs and stickers are also factored into changes in the premium so it's best to let your insurer know, regardless.
Sure, insuring a modified car will raise your yearly premium, but you'll be covered against any damage in the long run.
What Does 370z Insurance Cover (And Not Cover)
The insurance on your 370z works in a straightforward way. Every year, you pay an insurance premium that covers you and your car against damage.

It's best to know exactly what you're paying for when purchasing a premium. Here's a gist of what insurance companies usually cover:
Liability coverage: This coverage is to cover any damage to the vehicle or driver in the event of an accident. Medical bills and bodily injuries are covered.
Collision coverage: The loan company usually requires this coverage if your vehicle is under financing or a leasing contract. The insurance premium typically costs $420 for the Nissan 370z.
Comprehensive coverage: This is vehicle repair or replacement in the event of an accident. The premium generally costs $362 for the Nissan 370z.
On the other hand, there are a few things insurance companies will completely overlook. These include:
Deliberate loss or damage to the car
Driving under the influence of alcohol or other substances
If the driver does not have a valid license
Factors That Influence Insurance Rates
There are certain elements that insurance companies take into consideration when issuing quotes to potential customers. These include:
Your age — an 18 year old will pay more for a 370z insurance than an older and experienced driver
Your gender — males pay more for insurance than females do
Smart student driver discount – this applies to people under the age of 25 with a B- or more in school and those who have completed the teenSMART driver education program
Military personnel pay less for insurance
If you live in the country or a rural area, you may pay less for insurance than if you lived downtown because of the lower accident rate
The safety features of your vehicle
Combining home and vehicle insurance — multi-policy discounts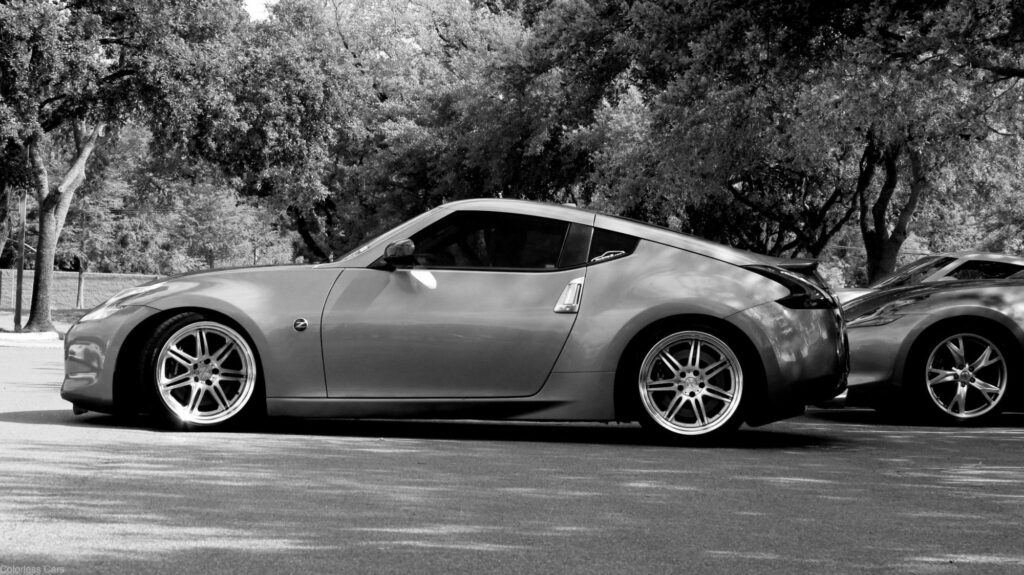 How To Save on Nissan 370z Insurance Costs
Insurance companies tend to raise rates on sports cars because of their higher risk of being stolen, high repair costs, and increased risk of aggressive driving.
Luckily, your 370z has many advantages — one being the discounts on your auto insurance rates because of the vehicle's safety features:
There is an anti-lock brake discount – ABS brakes work by detecting when tires have stopped moving and adjust tire pressure so that they will rotate safely
You qualify for a discount if you have an anti-theft device installed in your car. The device identifies whether the factory key is put into the ignition to start the car
Front-impact airbags protect the driver and passenger if they are in a front-end crash
Head restraints react to rear-end impacts preventing whiplash injuries
Stability control — this ensures the driver doesn't lose control of the car by applying the brakes when needed
Pretensioners that tightens the seatbelt when necessary
Finding an Insurance Policy for Your 370Z
Calling car insurance companies in search of a reasonable quote for your 370z can be a long and time-consuming process.
The best way to get around this is by getting in touch with an insurance agent.
Insurance agents have access to all the insurance companies, and they know how to utilize all the discounts you are entitled to. They're efficient and can save you money on your car insurance premium with the best possible coverage.
To begin you can get a quote online with your agent of choice, then you can speak with them to proceed. Another bonus is that they'll be able to answer all your questions and be as honest as possible since it's in their best interest for you to use their services.
One thing to keep in mind when acquiring insurance for your Nissan 370z is that the lowest rate should not be your only goal.
Getting the coverage that will protect you and pay for your car in the event of accidents or replacements is just as important. Know what you are paying for and what discounts you can receive.
How Much is The Cheapest Car Insurance?
Owners of the Nissan 370 pay approximately $164 per month, which is slightly above the average for a regular vehicle.
These average prices are from Geico, StateFarm, Allstate, Liberty Mutual, and more. The quote is for new cars and more recent models of the vehicle without factoring in any modifications.
Final Thoughts
The Nissan 370z is a luxurious two-door sports car with impeccable safety features that will lower your monthly premium.
Since the vehicle's safety features are top-notch, there has been no factory recalls recorded from Nissan which certainly adds to its reliability. Additionally, sourcing the parts for your 370z won't be a hassle because of its popularity.
Of course, it's important to keep in mind that your Nissan 370z's insurance premium will depend a lot on your driving history.
Your best bet is to compare auto insurance rates online to save yourself from having to get in touch with insurance companies individually. Getting in touch with an agent is another way to utilize all the discounts you can receive.
Thinking of upgrading your 370z after getting it insured? Don't forget to check out our guide to the best 370z aftermarket modifications.