From its impeccable handling to its commendable tuning potential, there's a reason why the Evo X is such a favorite in the car scene.
The car was originally intended only for the Japanese market, but the overwhelming demand forced Mitsubishi to make it available in numerous countries.
While the Evo X makes for a fun ride — you want the good times to last. This is why getting the best possible insurance for your performance car is paramount.
In this guide, we highlight everything you should know about insuring your Evo X along with tips to find a reasonable quote so that you can get the very best coverage for a great price.
Intro to the Mitsubishi Evo X: Safety, Features and More
The Mitsubishi Evo proved to be such a formidable force in the sports car scene that the Japanese manufacturer released ten official versions, the last one being the much-adored Evo X.
Some of its noteworthy features include:
A near bulletproof 2-liter, four-cylinder turbocharged engine
An anti-lock brake system (ABS) and stability control
Improved torsional rigidity for better handling
Exceptional all wheel drive system
A dual-clutch automatic transmission unit, known as TC SST (for Twin Clutch Sports Shift Transmission)
Sharp and neatly styled interior with a 6-way driver seat and a 4-way passenger seat
Although excelling as a sports car, the Evo X is a four-door sedan with an adequately sized boot. It's amazingly practical
Its top-of-the-range model aka the FQ-400 easily spurts out 403 hp, whereas the standard package delivers 276 hp.
Furthermore, the Evo X reaches 0-60 mph in 4.1 seconds and tops out at around 155 mph. Most drivers get an average fuel consumption rate of 19 mpg from the 14.5-gallon tank.
How Safe Is the Evo X?
When it comes to safety, the Evo X does not compromise. The car features an economic stability control (ESC), ABS and driveline traction control, airbag occupancy sensor, rear child safety locks, and side-impact beams.
Aside from its ABS brakes, the Evo X has front, side, overhead, and knee bags. It's got a total of seven airbags and Isofix child seat mounting points.
Another safety measure is the seat pre-tensioners, which automatically tighten seat belts to put the person in the ideal seating position during a collision.
If all that safety wasn't enough, your Evo also has electronic brake-force distribution (EBD), an outboard front lap, and shoulder safety belts.
The Cost of Owning an Evo X
An Evo X can cost you anywhere from $27,000 to $49,000, with an average cost of $38,000. Other costs involved to cruise in your X are gas, repairs, licensing, and maintenance.
If you want your car to stand out from the pack, you'll also have to factor in car modification costs.
Keep in mind that your Evo X depreciates around $1,400 every year. Other costs that you have to factor in are annual taxes and fees of $93 to get the true cost of owning an Evo X, excluding insurance costs.
Repairs
Repairs vary depending on your driving style. If you drive your Evo X regularly and don't push it to its limits all the time, you'll incur the average cost of repairs.
If there aren't any serious issues such as the engine and bodywork, you can expect to foot a bill of $500 for annual repairs.
Maintenance
To keep your Evo X in its best shape, expect a scheduled maintenance every 12 months or 10,000 miles. As a general rule of thumb, you should change the oil and rotate your tires every 5,000 miles along with a complete fluid change every 30,000 miles.
If you take care of your 4B11T motor, it will take care of you for many years to come.
According to Edmunds, the first five years of ownership can cost you up to $8,654 for maintenance. The first year would cost about $1,710, and the second year would only be $562. The third-year would have the highest cost at around $3,898.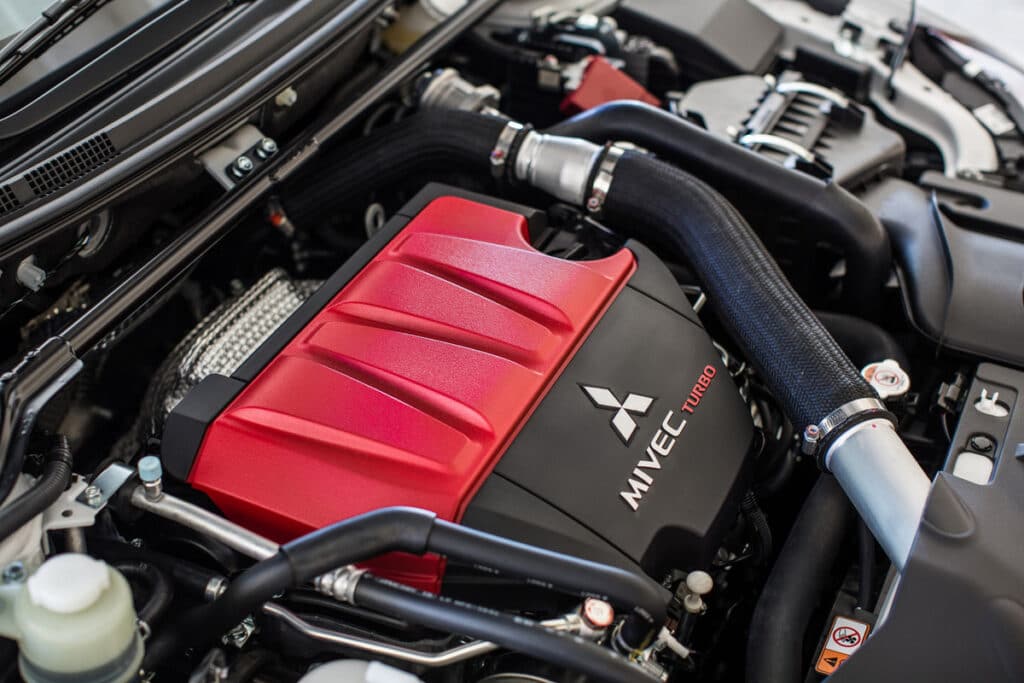 Gas
All things said, the Evo doesn't have the best fuel economy — you'll have to fill up often. If most of your driving is in the city, expect to get 16 mpg.
You'll get 22 mpg on the highway. If you drive it fast often (like most Evo X drivers), expect to burn through more gas.
The average cost of annual gas for this car will set you back around $2,200.
Factors That Influence Your Insurance Rates
An insurance quote is not a one-size-fits-all approach. There are various factors that insurance companies consider when determining your rate.
The most important factors are:
Age of the vehicle: Newer models will be more expensive to insure than the earlier ones. The difference can be up to $300 annually.
Driver's age: This factor alone can be the difference in rates by thousands of dollars. As an example, somebody in their early 20s can pay up to $2000 more annually than a driver in the 30s. A teenage driver can pay three times more than a driver who is 60 years or older but a senior citizen will only pay about $1500 annually.
Driver's location: Your residence also determines how much you pay. Some of the most expensive states for Evo X drivers are California and New York. The cheapest place would be Columbus with $1326. Whereas a Los Angeles driver would pay $2733, which is almost $900 more expensive than a driver in Phoenix, Arizona.
Driving record: With insurance rates, your past heavily determines your future. If you were a reckless driver in your teens and early 20s, you're likely to pay more than somebody who wasn't. Accidents and violations such as tickets play a significant role in determining your rate.
Purpose: Where you drive your Evo X and for what purpose also affects your insurance premium. You're more likely to pay a higher premium if you use your Evo for business as opposed to daily driving. If you're using your car for racing, you're deemed to be at a higher risk which will also reflect in your rate.
Gender and status: Women are deemed to be safer drivers than men, so your rate will be higher if you're male. Military personnel is likely to receive discounts.
Aftermarket modifications: If you've got a modified Evo X sitting in your garage, you'll want to look into modified car insurance. Everything from forced induction to CZ4A coilovers to an upgraded exhaust system are treated by insurers as an additional cost.
Car Insurance Needs for Your Evo X
Choosing the type of insurance coverage for your Evo X isn't always up to you. You have to, at the very least, meet the minimum criteria of your state.
Most states require you to have liability such as:
Property damage liability: This cover ensures that you receive protection if you cause damage to another vehicle or infrastructure such as a building.
Bodily injury liability: This liability provides reimbursement to the other driver if there is a collision.
The above are standard in many states, but certain states may require you to obtain additional liability such as:
Uninsured motorist coverage: It provides cover for a person involved in a collision who doesn't have insurance.
Personal injury protection: About 15 states require this cover because it covers the driver and passenger for bodily injury costs.
How Much Does Evo X Insurance Cost?
The average Mitsubishi Evo X insurance for the year is $1598, or $133 a month. If you want a liability-only policy, expect to pay $641 a year.
The highest rates for a teenage driver can go up to $487 a month for insurance — that's $5841 annually. If you're a good driver, you could save around $700 if you earn policy discounts.
Evo X drivers pay around $80 more annually than a driver of an average vehicle, with the annual cost is broken down into:
Comprehensive: $326
Collision: $672
Liability: $442
If you have an older model, such as one built in 2010, you can expect to pay $1336 annually. This is around $150 more per year than a policy to cover a Miata.
Ways To Save on Insurance
It's common for insurance companies to charge higher rates for sports cars given their nature. You're at a higher driving risk because you're more likely to be involved in an accident or get your car stolen.
However, there are also certain advantages of owning a sports car that will help you to reduce insurance costs.
For example, your Evo X has a handful of safety features like ABS brakes and pre-tensioners that can help lower your insurance costs.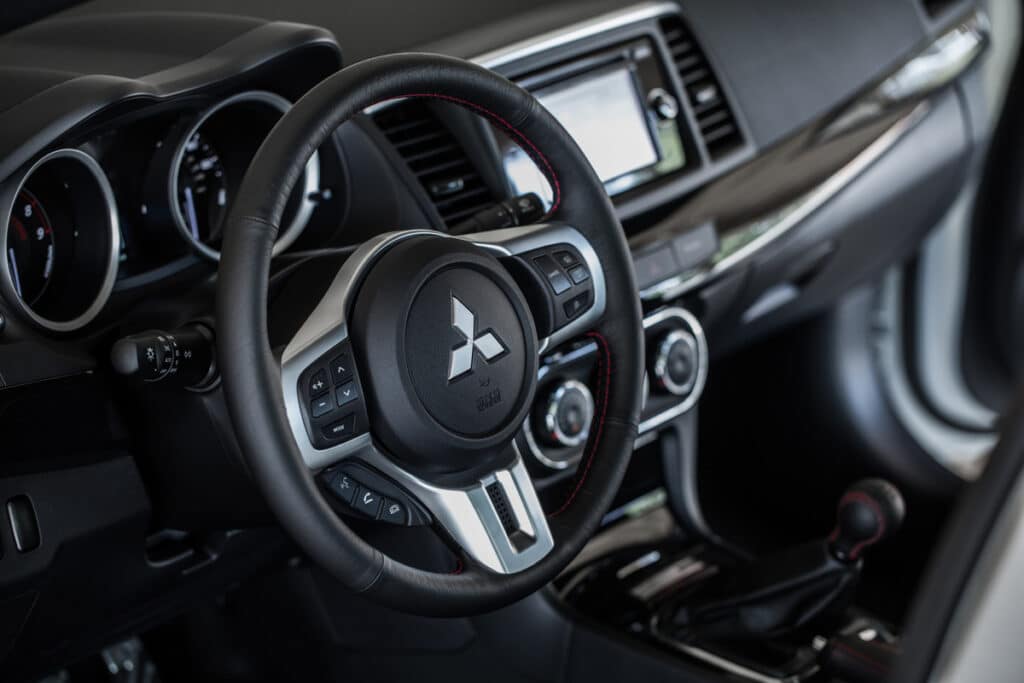 Other features like airbags, child seat-mounting points and stability control also make it onto the list.
Some other tips that can help you to get the lowest price are listed below.
Claim all of the discounts that you're entitled to such as student and safe driver discounts.
Having a higher deductible helps lower your insurance rate.
Browse through different quotes from various insurers and do not take the first deal that you're offered. Compare quotes so that you can have a broad picture of what the different insurers offer and what the average price is.
Negotiate with insurers. As an example, you could ask for a lower rate by insuring two or more cars with the same insurer. You could also negotiate a reduction based on a minimum period of cover agreed upfront.
Consider cutting out the middle man by dodging a broker and approaching the insurer directly. Brokers add their commission on top of the insurer's rate.
Final Thoughts
Owning an Evo X will bring a lot of smiles. It's a fun car to tune, but it's essential that you have the best insurance cover on it. Many factors play a role in determining your insurance quote, some of which you have no control over — like your age or the state you reside in.
Although it's normal to look for the cheapest insurance quote, you should compare it to other providers to ensure that your Evo X has the best cover. By doing your research, you'll also be well informed when negotiating a rate with the insurer.
Every case is different, and you might be able to get a reduced cover based on several aspects such as the safety components in your car or profession.
As always, we'd love to know what pointers you found the most informative to get the best Mitsubishi Evo X insurance quote. Have you used any of them or did some pleasantly surprise you? Let us know in the comments below.