Body roll sucks, and we know that Mazda MX-5 Miata owners like yourself who love driving agree. More roll means that your car will take longer to respond to your commands.
Eliminating the body roll on your Miata doubles its playfulness and makes it more drivable. The cheapest and easiest way to do this is with an upgraded pair of sway bars.
In this guide, we'll help you pick a great pair of sway bars for your Miata by listing the best options available on the market.
How Sway Bars Affect Your Miata's Handling
A sway bar is a U-shaped crossbar that connects both ends of your Miata's axle and resists twisting. Because of this, the pressure on the inside and outside wheels when cornering gets evened out.
Upgrading your Miata's sway bars will make all its wheels sit as flat as possible. This means, that instead of the weight being shifted all on one side through a turn, it gets balanced.
Without upgraded sway bars, the Mazda Miata experiences body roll. Excessive body roll increases weight transfer, reduces traction, and makes your car less manageable through tight turns.
Sway bars are also called anti-roll bars or stabilizer bars. As the name suggests, their main purpose is to keep your car more stable through tight turns by reducing body roll.
If you already have a set of coilovers installed in your Miata, upgrading your sway bars will allow you to run your coilovers on a softer setting while still maintaining the necessary stiffness.
Doing this will allow you to add some comfort without losing out on performance.
Sway Bar Material & Size Selection
Choosing the right sway bar that suits your car and your driving style might get confusing at first. But we're here to make it easy for you.
The best Miata sway bars are usually made of 4140 Chromoly steel, with only a few made of aluminum.
We feel that Chromoly steel is a much better material for this application because it's stronger and softer than aluminum.
Compared to aluminum, it does a better job at resisting damage and has a degree of flexibility that aluminum lacks. While aluminum is stiff, it tends to crack under extreme forces, whereas Chromoly steel has some give that will help your sway bars to last longer.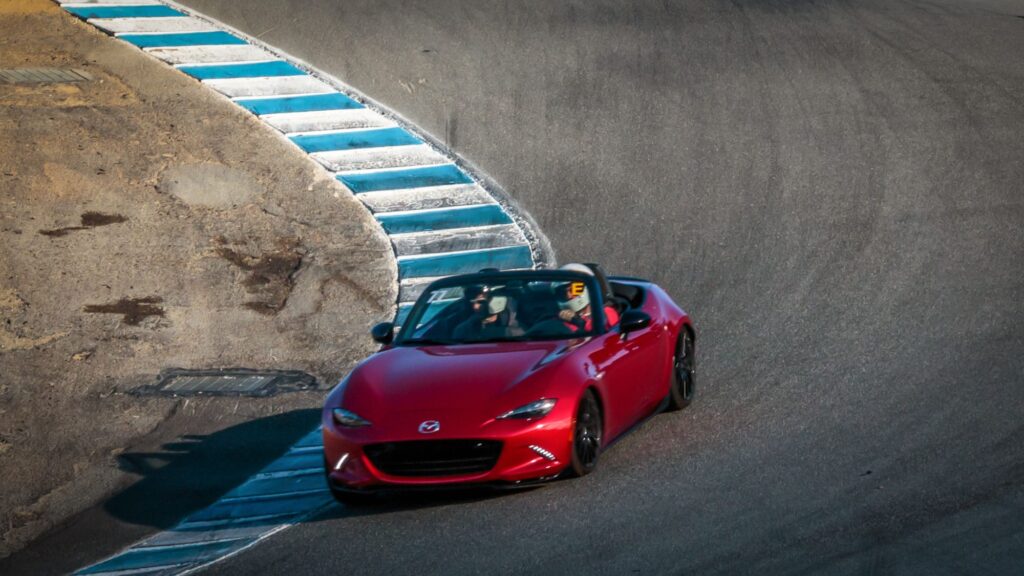 The most important parameter when selecting sway bars for your car is its driving orientation.
Front and rear-wheel-drive cars have different steering dynamics. FWD cars tend to understeer and RWD cars tend to oversteer. To correct this, you need a different anti-roll configuration for each.
For your rear-wheel-drive Miata, we recommend getting a larger front sway bar along with a rear sway bar that's only a little stiffer than OEM. A setup like this is ideal for street and track use.
However, this would change if you want to set your Miata up for drifting or autocross. If you're planning to slide your car you'll want to make sure your rear sway bar is much stiffer than OEM. This will help your Miata break traction more easily.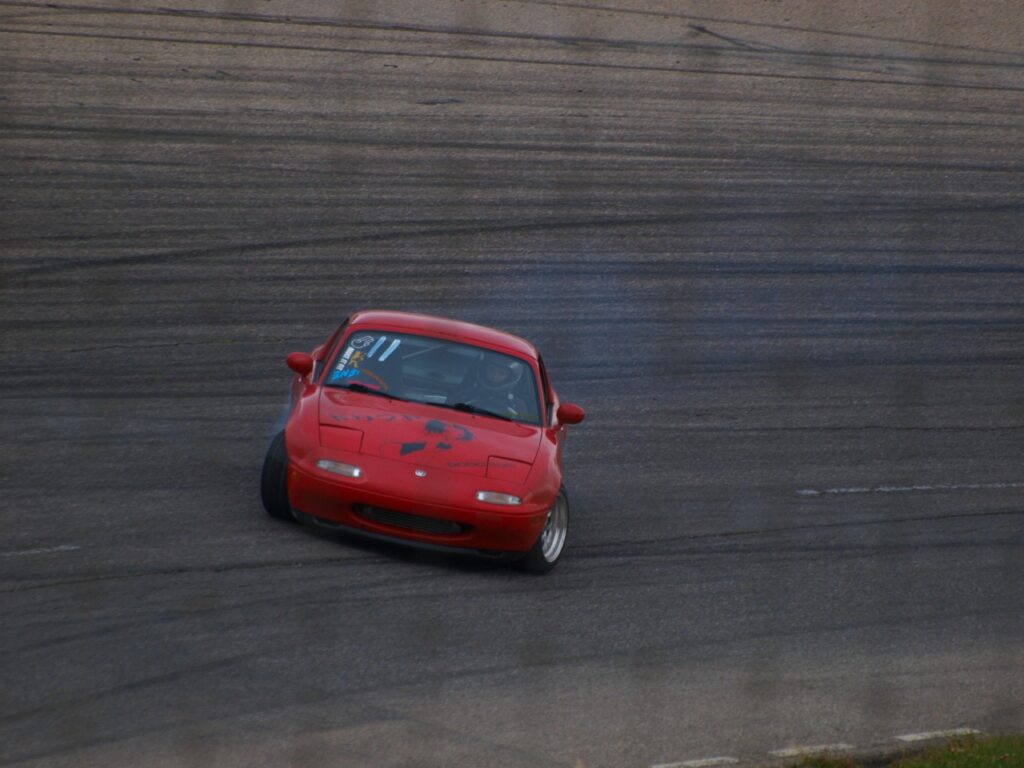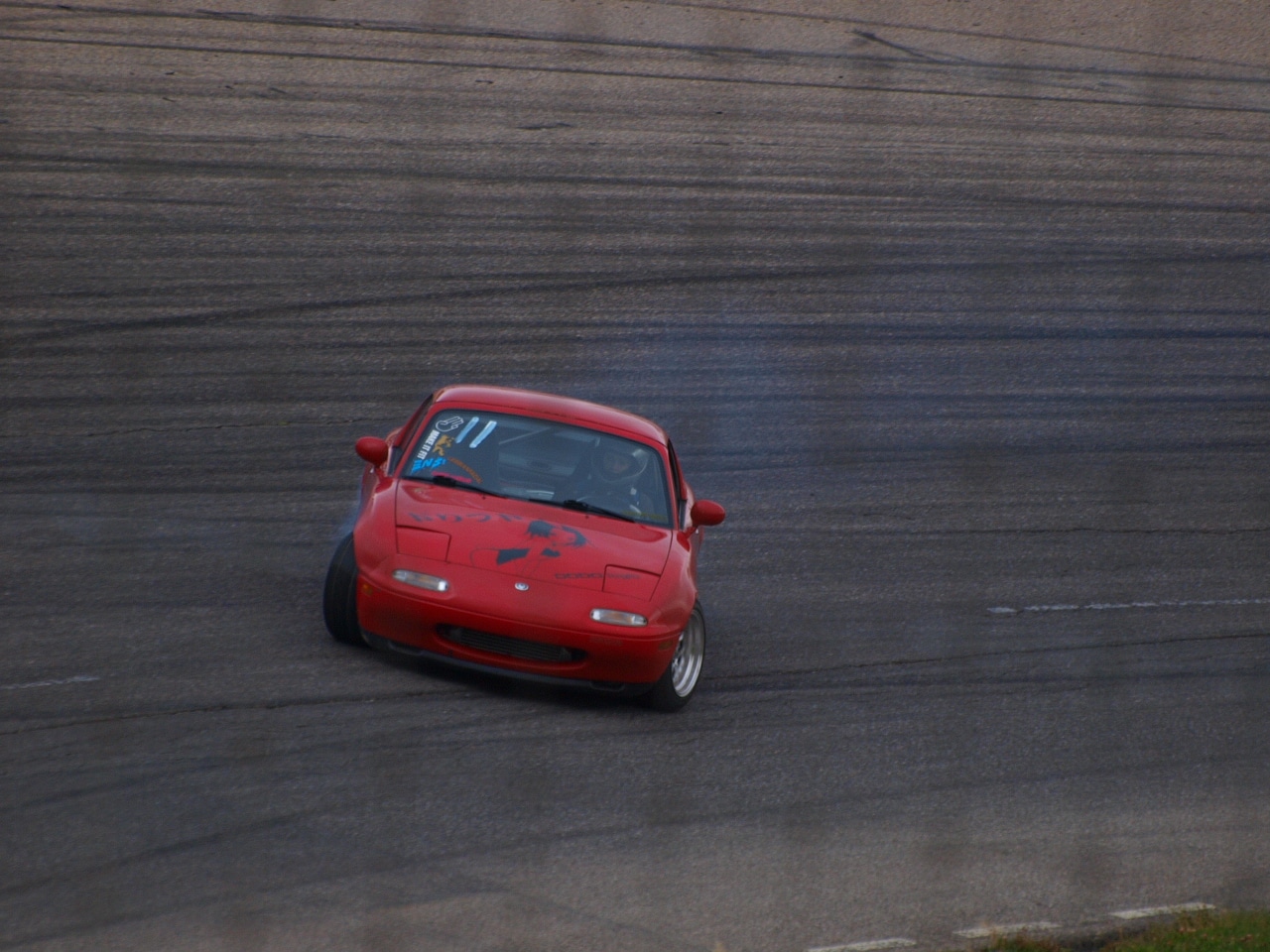 Alright, let's get into it! Check out some of our favorite sway bars for the Mazda Miata…
Miata Sway Bar Upgrades
Upgrading your sway bars is arguably the cheapest handling modification you can perform on your Miata.
Once the sway bars are installed, straight-line performance won't feel any different. But the second you start turning, you'll instantly notice how much sharper the handling is.
If you're looking for the very best Miata sway bar upgrade, be sure to check these options out.
The Best Sway Bars for NA Miatas
The first-generation Miata is known for its raw handling feel which can be enhanced with the help of handling modifications.
Larger sway bars or anti-roll bars are one such handling upgrade that's very popular in the Miata community.
Check out some of the best sway bars you can buy for your NA Miata.
Eibach

Size: Front 24mm | Rear 15mm
Part Number: eib5515.320
Warranty: 1 Year
Construction: Steel
Suits: 1994-1997
Buy On: Amazon
The first-generation Miatas manufactured between 1994 and 1997 came with 11mm rear and 19mm front sway bars.
This Eibach kit upgrades your Miata's rear and front sway bars by 4mm and 5mm respectively. This gives you more stiffness without offsetting the stock size difference between the front and rear bars.
If you're really into fine-tuning your Miata's handling, these are the right sway bars for you. The front bar is two-way adjustable and the rear bar can be positioned in three different ways.
Eibach also makes the same sway bars for the earliest version of the NA Miata (1990-1993)
ST Suspension
Size: Front 25mm | Rear 19mm
Part Number: 52195
Warranty: 1 Year
Construction: Steel
Suits: 1989-1997
Buy On: Amazon
The 5515 sway bar kit by ST Suspension is different than the rest. The main difference is that its rear bar is 8mm larger than stock.
With a configuration like this, you will experience a stiffer ride and slight oversteer. This is something you could either love or hate, depending on your driving style. If you're planning on taking your Miata to skidpan or drift days, this could be the sway bar setup for you.
Our Favorite NB Miata Sway Bars
Though the NA Miata has a better cult status and is edging close to collectibility, the NB is just as good. The biggest difference is its upgraded suspension.
That said, sway bars will make a bigger difference on the NB than the NA. Here's a list of the best NB Miata sway bar kits.
ST Suspension
Size: Front 25mm | Rear 14mm
Part Number: 52197
Warranty: 1 Year
Construction: Steel
Suits: 1999-2005
Sway bar kits by ST Suspension look and perform great. Though no one apart from you and your mechanic is going to notice it, the lime green color really makes the under-body pop.
The rear bar on this kit is very similar to stock which helps reduce oversteer. The front bar flexes just enough to get rid of body roll without making the ride too stiff.
Eibach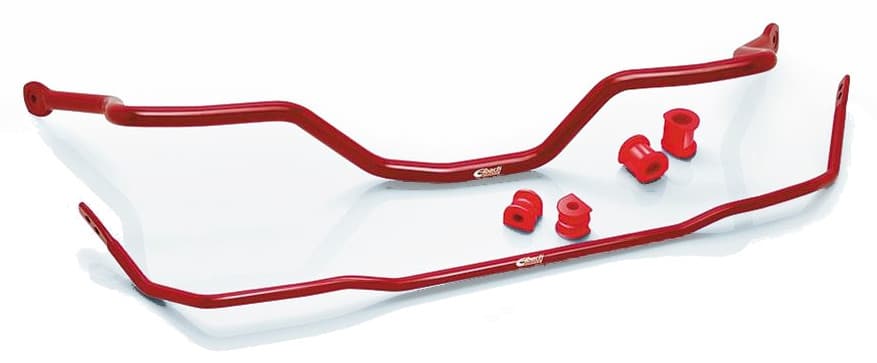 Size: Front 26mm | Rear 15mm
Part Number: eib5530.320
Warranty: 1 Year
Construction: Steel
Suits: 1999-2005
Buy On: Amazon
Eibach sure knows a thing or two about making top-notch suspension components. In spite of their high reputation, they've priced their sway bar kits quite modestly compared to some other brands.
With this particular kit, you get a 3-way adjustable rear bar and the front bar is fixed.
Top NC Miata Sway Bars
Sway bars spring into action only when turning. If your NC Miata doubles as a daily driven car and a weekend car, getting a nice set of sway bars will do wonders for its handling.
Here are some of your best options.
Flyin Miata

Size: Front 25mm | Rear 19mm
Part Number: 13-36500 2006-15
Warranty: None
Construction: Steel
Suits: 2006-2015
Buy from: Flyin' Miata
Flyin Miata is known for manufacturing and stocking some of the sickest performance parts for Miatas. They've become the go-to brand for all kinds of modifications that suit every generation of the Mazda Miata.
They make some of the best Miata sway bar kits. This sway bar kit might not be a looker but it's one of the best-performing anti-roll kits you can get for the NC Miata.
Pair this kit with a good set of lowering springs or coilovers and you'll have scalpel-grade handling.
I.L. Motorsport Aluminum Sway Bar Kit
Size: Front 22mm | Rear 15mm
Part Number: NC0-0990
Warranty: None
Construction: 7050 Aluminium
Suits: 2006-2015
Buy from: I.L. Motorsport
Finally, a pair of aluminum sway bars; something you don't come across every day.
The main reasons why aluminum sway bars aren't too popular are that:
Aluminum is expensive to manufacture, and
It's not very durable if used near the coast where sand/grit can make it into the bushings. The aluminum can slowly wear down.
Obviously, however, there are added advantages! If your NC Miata spends most of its time on the track and not the street, the added stiffness is welcome. This setup is 35% stiffer than stock.
Another obvious advantage is weight. If you're all about shedding every unnecessary gram and want your Miata as light as possible, these sway bars will interest you.
These aluminum sway bars are 45% lighter than those made of steel.
Ultra Racing

Size: Front 23mm | Rear 16mm
Part Number: Front AR23-213 | Rear AR16-214
Warranty: Lifetime
Construction: Steel
Suits: 2006-2015
Buy On: Amazon (Front | Rear)
Armed with quality certifications from all over the world, Ultra Racing is a comparatively new brand that shows a lot of promise.
They even offer a lifetime warranty on their sway bar kits for the NC Mazda Miata. With this kit, you have the option of buying the front and rear sway bar separately.
Top Sway Bar Kits for ND Miatas
The Miata mod-fever may have fizzled out with the ND, but that didn't stop the manufacturers from giving us fantastic aftermarket parts.
The ND Miata has everything that the NA and NB variants lacked. But if that doesn't cut it for you, there are plenty of modifications you can still make. These sway bar kits are a good place to start.
Whiteline

Size: Front 28.6mm | Rear 16mm
Part Number: BMK013
Warranty: 3 Years
Construction: Steel
Suits: 1999-2005
Buy on: Amazon | Enjuku Racing
The best Miata sway bar kits include bushings, end links, and everything necessary to install them correctly. Just like this one by Whiteline.
Equipped with adjustable front and rear drop-links, these sway bars offer a degree of tunability that lets you dial in the handling even more.
Whiteline's sway bar kit even comes with a 3-year warranty, making it more compelling to purchase.
Eibach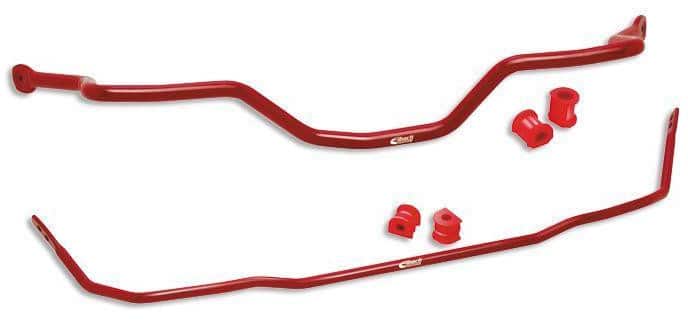 Size: Front 27mm | Rear 16mm
Part Number: eibE40-55-019-01-11
Warranty: 1 Year
Construction: Steel
Suits: 2016+
Buy on: Amazon
Eibach makes sway bars for every generation of the Mazda Miata. This unit is quite similar to the one by Whiteline and choosing between the two can be difficult.
Though the warranty can't match what Whiteline offers, we're confident that the Eibach sway bars will last a lot longer.
The Best Miata Sway Bars: Our Verdict for Every Generation
The Miata is a fun car, to begin with. With the right modifications, you can truly experience it at its finest.
Getting a great set of sway bars is a sure-fire way to turn it into an extremely capable track machine that you can also daily drive.
Here's what we'd pick.
The Best NA Miata Sway Bar Kit: ST Suspension
This kit from ST Suspension keeps your Miata's rear sway bar size as close to stock as possible and goes stiff upfront; which we really like for keeping the NA Miata practical, while reducing body roll greatly.
Our Favorite Sway Bar for NB Miatas: Eibach
There's nothing we'd change about the sway bar kit by Eibach. Your Miata's rear sway bar size stays similar to stock, adding a modest amount of stiffness by upgrading. This is perfect if you're daily driving your car.
The Best NC Miata Sway Bar: Flyin Miata
The size configuration on the sway bars by Flyin Miata is quite different than most other kits out there.
Considering that the rear sway bar is much wider than stock, this will make a really good option if you like giving your Miata a hard time on the track or in the mountains.
Top ND Miata Sway Bar Kit: Eibach
Eibach is a name that's really difficult for us to pass up. Even though the sizing of this kit and the one by Whiteline are similar, this one has proven itself within the Miata community and is extremely well engineered.
Which Miata do you drive? Is there a good sway bar kit that we missed on this list? Let us know in the comments below!
Feature image: One Mean Miata, by domantasm, CC (BY) 2.0.