The Mazda 3 has been around since 2004 and it is the undisputed choice for drivers who want either a compact sedan or a hatchback that's different from popular economy options such as the Toyota Corolla, Honda Civic, Hyundai Elantra, and even the Kia Forte.
The Mazda 3 that you'll find on sale today is the 3rd generation model. There's a lot to love about this car — it has a surprisingly good interior, great handling, more than sufficient power, and a slew of impressive safety features.
If you want a car that can strike the perfect balance between economy and performance, the Mazda 3 should be on your radar. The best part is that insurance on cars like these is extremely affordable.
Mazda 3 insurance depends on a huge number of factors including overall damage susceptibility, safety ratings, replacement cost, and theft rates. Policy rates are determined by other factors such as driver's age, history, location, etc.
If you're wondering how much it costs to get a Mazda 3 insured, you're in the right place. Read on as we'll dive into everything you need to know.
How Much Does Mazda 3 Insurance Cost?
When it comes to insurance costs, the Mazda 3 falls in the same ballpark as other economy cars. On average, you can expect to pay the following to get a Mazda 3 insured:
Full Coverage: $1,400
Comprehensive: $294
Liability Coverage: $390
Collision Only: $542
Liability Only: $452
With Coverage for High-Risk Drivers: $2,992
Teen Drivers: $5,148
The younger you are, the more you should expect to pay for insurance. However, Mazda 3 insurance premiums for teenage drivers are a lot less as compared to other high-performance hatchbacks.
Factors That Determine the Price of Your Premium
Insurance companies rely on several factors when setting insurance rates for different cars and different drivers.
Your insurance costs don't just depend on your car, they also depend on a few non-car-related factors such as your age — that's the first thing most insurance companies look at. Here are some of the factors that impact Mazda 3's insurance rates.
Model Year and Trim
Because the Mazda 3 is available in vastly different trim levels, its insurance rates tend to vary. Here's what you can expect to pay depending on your Mazda 3's trim level:
Base Mazda Sedan: $1,350
FWD Hatchback: $1,396
Select Sedan: $1,396
Premium AWD: $1488
Preferred AWD: $1466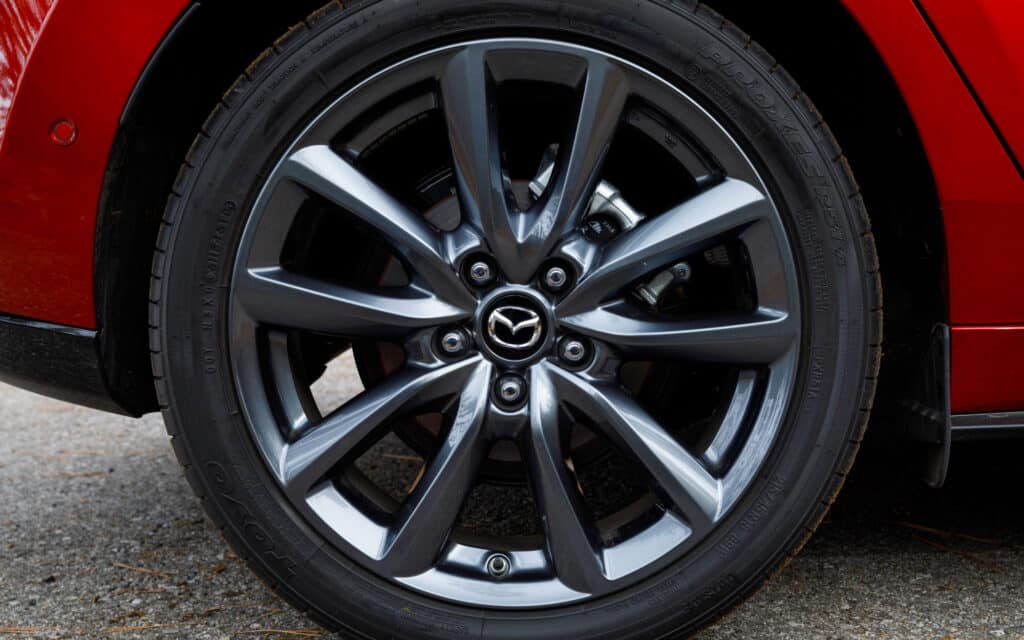 The most expensive Mazda 3 models are those equipped with higher quality trims:
Premium FWD Hatchback
Premium Sedan, and
Premium AWD.
The average per year cost to insure these 3 Premium models is approximately $1,488.
The Mazda 3 occupies insurance groups 15, 16, and 17, with SE-L and GT Sport Tech models placed in the top and bottom of the range.
Age of the Vehicle
Generally, older Mazda 3s are cheaper to insure compared to newer models. For instance, the insurance cost of a 2010 model is around $1,148, while a 2020 model will cost around $1,400.
With that in mind, there's some incentive in buying an older, used Mazda 3 and modifying it rather than buying new. If you're considering aftermarket upgrades, bear in mind that insurance for modified cars works differently than regular insurance.
Location
The city you live in plays an important role in determining how much you'll have to pay for insurance.
For instance, if you live in states such as Ohio, Utah, or New Hampshire, you can expect to pay around $1,000 per year, and if you're living in states like Florida, New York or Michigan might cost you around $1,870 per annum. Here's the estimated price range:
Rural Areas: $1,000
Small Cities: $1,453
Large Cities: $1,870
Driving Record
The cost of getting your Mazda 3 insured will be affected by your driving record. If you have any infractions registered against your license, chances are that you'll have to pay a higher premium.
If you have a clean driving record, without any accidents or violations, you can expect to pay around $1,300 per annum for full coverage.
Insurance costs for teens and young drivers are the highest and even if their driving record is perfect, teen drivers can expect to pay around $5,100 per year to cover their Mazda 3.
Driving Risk
If you have received multiple speeding tickets or have caused an accident in the past, depending on your age, you might end up paying a higher premium in the range of $1,600 – $2,200 per annum.
High-risk drivers should expect to pay anywhere between 43% and 129% more than the average. This is based on risk and coverage. An expected breakdown is:
Liability Only: $452
Full Coverage: $1,384
High Risk: $2,992
Tips To Save on Your Mazda 3 Insurance
If you're navigating the process of getting your car insured without the help of an agent, there are some cost-saving best practices you should be aware of. These include:
Improving Your Credit Rating: By improving your credit rating, you can save on your insurance For instance, if you have a credit rating of more than 800, then you can save up to $187 per annum compared to a lower credit score of around 670 to 739.

If your credit score is below average, you should expect to pay around $217 or more a year.
Age and Gender: A 20-year-old female driver can expect to pay $1,758 compared to a 20-year-old male, for whom the average rate may be around $2,358. However, as the age increases this difference between male and female drivers decreases.
Drive Safe: Being a safe driver without any reported accidents, traffic citations, or driving record violations can help to reduce your premium. For instance, just having 1 to 2 speeding tickets can increase your insurance policy by around $312 per annum.

Also, if you have been in an accident and make an at-fault accident claim, then this will make your coverage more expensive. Expect to pay around $1,658 more if you are a 20-year-old and around $364 for a 60-year-old.
High Deductibles: You can save up to $560 per annum by choosing high deductibles while increasing your liability limit can increase your premium. A 250/500 bodily injury protection limit will cost $351 more compared to a 50/100 limit.
Avoid Small Claims: Often, many insurance companies give you a discount if you remain claim-free. And, if there are any small claims, paying for them out of your pocket can help you to remain claim-free and reduce your insurance cost.
Quoting in Advance: If you quote online in advance using our form, you can save up to $170 per annum on your Mazda 3's insurance cost.
Pay in Lump Sum: You may be able to reduce your rate by paying the premium amount in one lump sum per annum. If you're paying on a per month basis, you may have to pay extra for the convenience.
Take a Driving Course: Taking a driver's education course and being trained by a professional can help to reduce your cost of coverage. Several insurance companies consider this as a basis for a discount as it helps you to be a better driver.
Living in a Safe Area: If you live in an area that has a low crime rate or the area has rare claims because of acts of nature, then this can help to reduce your Mazda 3's insurance cost.
Consider the Coverage: Consider the coverage that you have on your Mazda 3. If the car is not worth a lot and you have paid off the car, then it may be a good idea to drop the physical damage coverage, which can help to reduce your Mazda 3 insurance cost.
Shop Around: Before purchasing insurance for your Mazda 3, it is a good idea to shop around and compare Mazda 3 insurance quotes from various service providers before making a final decision of the most inexpensive insurance and the one that works best for you.
Mazdaspeed 3 Insurance Coverage
The Mazdaspeed 3 is a compact sport hatchback that was launched by Mazda in 2007 and despite its production being stopped in 2013, the hot hatch has gained more popularity over the years.
Insuring a Mazdaspeed 3 is quite expensive considering that no new models of this car have been launched since 2013. Typical costs for insuring a Mazdaspeed 3 are:
Full Coverage: $1,258
Comprehensive: $240
Liability-Only: $51
High-Risk Driver Insurance: $2,720
Cost for 16-Year-Old Driver: $4,852 or more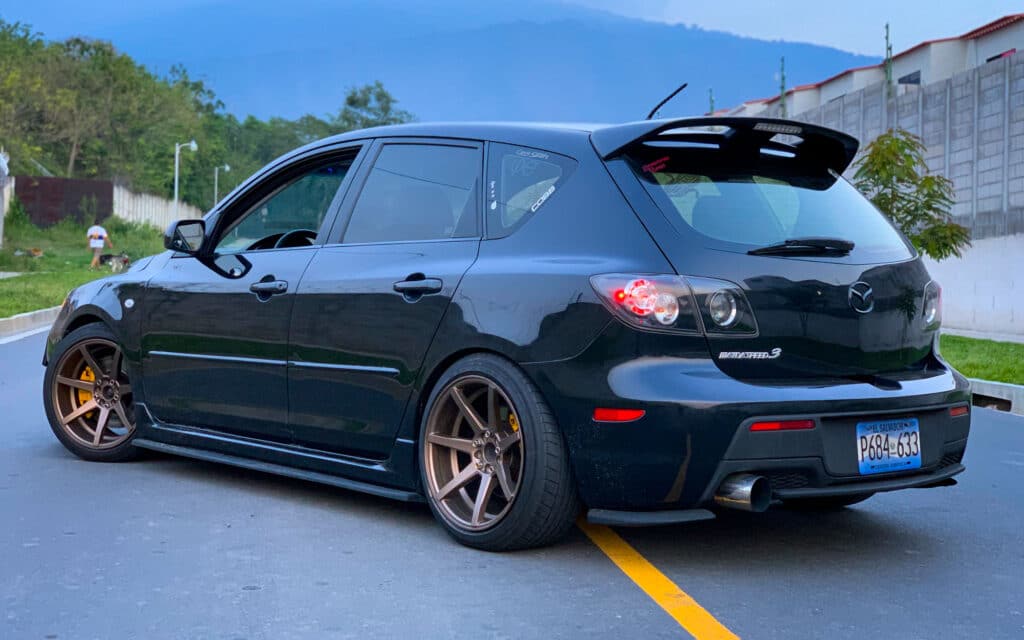 You can consider discounts offered by insurance companies that can help to lower your cost of insurance for the Mazdaspeed 3 if you're a student or a safe driver in the eyes of insurance companies.
Insurance companies also offer discounts if your vehicle has good safety features which the Mazdaspeed 3 does. These include most of the same anti-lock brakes, passive restraint systems, rear-seat buckle monitoring systems and adaptive front lighting that are present on most Mazda 3 models.
Wrapping Up
In conclusion, as you can see, coverage for your Mazda 3's depends on several factors. There are so many insurance providers out there that deciding on the one that is right for you can be extremely difficult.
Instead of rushing ahead and signing up with the first insurance company, it is always a good idea to shop for quotes from multiple insurance providers and do a rate comparison to see how they stack up before finding the cheapest and best insurance for your Mazda 3.
And, if you're looking for a Mazda 3 insurance quote, then you can use our quote form to find out our rates.