If you live in Michigan and you want to know about tinting your car windows legally, then you've come to the right place.
Getting your windows tinted serves multiple purposes. Other than making your car look great, it does many other useful things such as reducing the trapped heat inside your cabin, protecting your interior panels, seat covers and such.
Tint films also help to reduce the harmful UV-A and UV-B rays that make it through the windows.
They also provide a ton of privacy, which is one of the main reasons why you can't legally make your car windows as dark as you please.
In this guide, we'll discuss the Michigan tint laws in detail.
Is Window Tint Legal in Michigan?
The state of Michigan permits the use of tints on the windshield and windows of your vehicle. But this is governed by the Michigan tint law that was put into effect in 2000.
There are specific rules and regulations laid out by the state about the nature of tint you can use and the permitted VLT percentages for different types of vehicles.
In this post, we'll discuss everything there is to know about window tint laws in the state.
Permitted Window Tint Darkness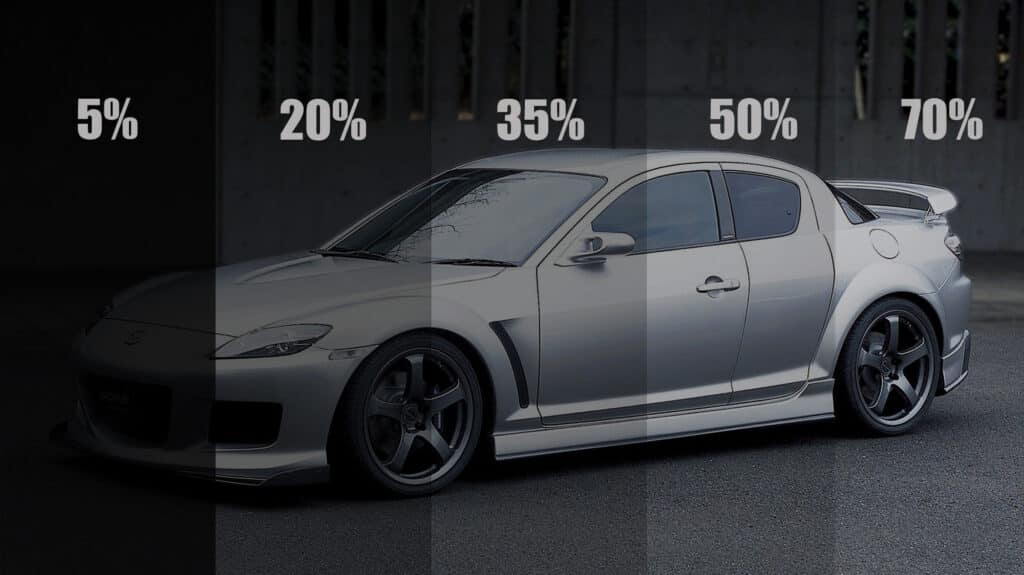 VLT or visible light transmission percentage indicates the amount of light that can pass through your tinted window. The higher the VLT, the more the light passes through the tint film.
For instance, a VLT5 of 85% means that 85% of the visible light will pass through your window, whereas a 5% VLT tint will only allow 5% of the light to pass.
Most U.S. states rely on VLT as a way to regulate window tint darkness. Instead, in Michigan, the following specifications are used.
Sedans, SUVs, and Vans
Windshield: A stripe of non-reflective tint is permitted on the upper 4″ of your windshield.
Driver-side windows: No limit on VLT, but the tint film can only cover the upper 4″.
Passenger-side windows: No limit on VLT, but the tint film can only cover the upper 4″.
Rear window: No VLT limit.
Acceptable Tint Reflection
Some types of window tint films are designed to have mirror-like finish. These tints reflect a lot of light which significantly reduces the glare and heat in the cabin.
However, these tints are distracting and just as tint darkness is regulated, so is reflectivity.
No matter which window you install the tint on, it should not be more than 35% reflective. This applies to sedans, SUVs, and vans.
Other Michigan Tint Rules You Need to Know
Some of the other rules and regulations in Michigan about vehicle window tint include:
If the rear windshield of the vehicle is obstructed, then it must have side mirrors.
Tint colors such as gold and silver cannot be used.
The tint film manufacturers need not certify the tinting material sold by them in Michigan.
There is no need for a vehicle to display a sticker proving the legality of your window tint.
The state permits medical exemptions for the use of special window tint.
Any violation of the Michigan tint law is equivalent to a civil infraction for which you will have to pay a fine of $95 and, in addition, 2 points will be added to your driving license. An accumulation of 12 points will result in your driver's license being suspended.
State of Michigan Info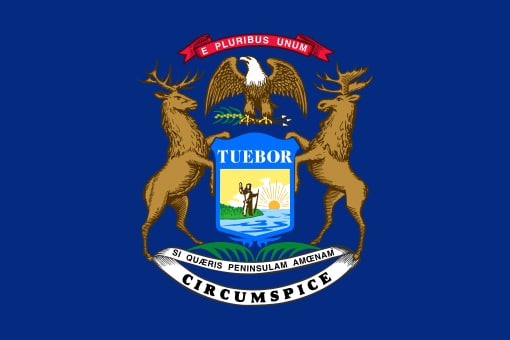 A beautiful state nestled in the Great Lakes region in the midwestern part of the U.S. Michigan consists of two peninsulas — the Upper Peninsula and the Lower Peninsula, which are interconnected by the Mackinac Bridge.
The state is home to over 12,000 lakes and beaches and it has many secluded and scenic islands.
With its diverse landscapes, beautiful waterways, limitless forests, wilderness, and stunning shorelines, Michigan is a popular tourist destination.
Population: 10 million
Capital: Lansing
Registered vehicles: 9,286,067
Total lane miles: 256,579
Number of highways: 13
Tint law references: Michigan State Police FAQ