Popularly known as Toyota's unkillable midsize pickup truck, the Tacoma's success is rooted in its proven durability and reliability.
This compact pick-up truck is as off-road ready as the Ford Bronco or the F-150 — even more so if you opt for the TRD Pro or TRD Extreme package.
But insurance companies know that a lot can go wrong on the trail, despite the lack of high-speed traffic. They account for these things when it comes to calculating policy rates.
In fact, the amount you pay for insurance can vary widely based on many different factors which we'll discuss later in this article.
So, if the Tacoma has been on your mind, and if you want to buy one, you're going to want to know how much it costs to get insured.
Read on as we'll dive into this subject and give you an idea of how much you'll have to shell out for insurance each year when you own a Toyota Tacoma.
Toyota Tacoma — Average Insurance Rates
Having insurance is mandatory, but the payoff is huge. Whether you get rear-ended by someone or you cause an accident, your insurance will save you money in the long run. Especially when prevention of the damage caused is beyond your control, that is, if you are a victim of a natural calamity, an insurance policy can cover potential losses.
If you're wondering whether insurance rates are high for Toyota Tacomas, you'd be happy to know the answer is "no". Tacomas are cheap to insure. Here are some approximate figures for your reference:
Full Coverage Cost: $1,338 per annum, $112 per month
Liability-Only Insurance Policy: $536 per annum, $45 per month
High-Risk Drivers: $2,850 per annum, $238 per month
Teenage Drivers: $4,890 per annum, $408 per month
Low Deductibles: $1,684 per annum, $140 per month
High Deductibles: $1,153 per annum, $96 per month
Tacoma insurance rates are around $181 less per annum compared to other average vehicles in the US.
Typically, if you're a good driver and you keep receipts for basic maintenance like oil changes on your Tacoma, like you can save up to $552 yearly so long as you remain claim-free.
When compared to other vehicles in the same category such as GMC Canyon, GMC Sierra, Chevrolet Silverado 3500HD, and so on, insurance rates are very reasonable. Combined with the cheap cost of ownership and it's easy to see why Tacomas are so popular.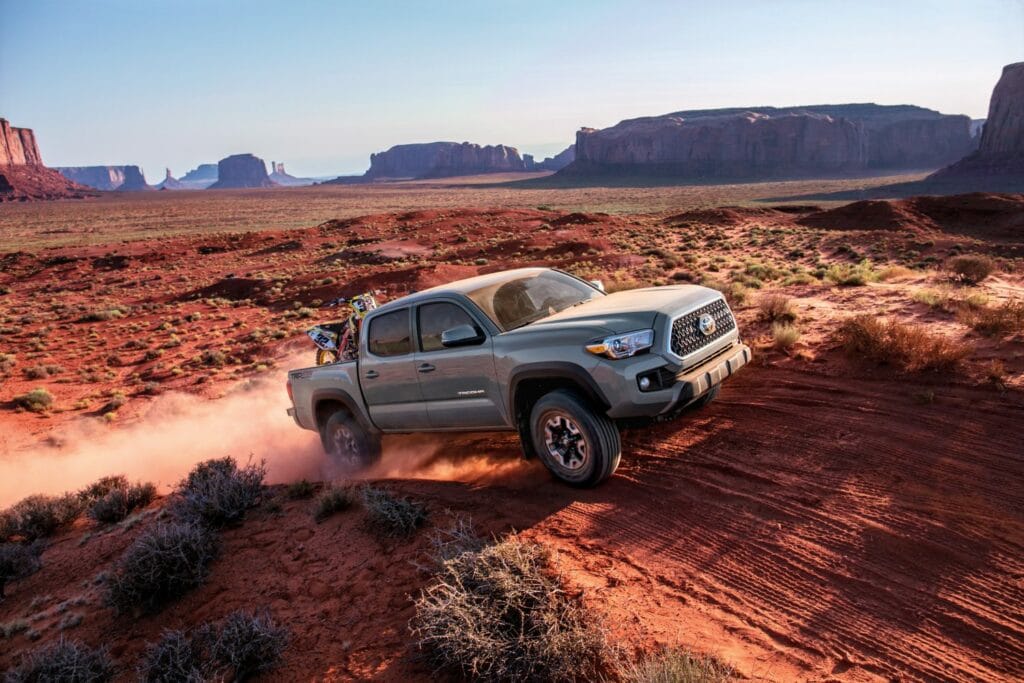 The Tacoma is considered a low-value vehicle by insurance companies, thanks to lower repair costs when compared with other trucks. Below is the average yearly insurance cost break-up for a Toyota Tacoma:
Comprehensive: $308
Liability: $372
Collision: $500
Total Insurance Cost: $1,338
Factors Affecting the Toyota Tacoma's Insurance Rates
The insurance cost you incur can vary based on several factors such as your age, the car's age, how you use it, where you live, and more.
Let's take a closer look at these factors and understand the impact they have on insurance rates.
Annual Mileage
If you use your pickup truck daily, then it is more likely that the insurance cost you pay will be higher as compared to if you use it occasionally.
The greater the mileage on your Toyota Tacoma, the greater the risk of accidents and so, the higher the insurance premium cost.
Car Value
The greater the value of your vehicle, the more expensive it is for the insurance company to replace it and so, in general, the insurance rates for newer vehicles are more compared to older models.
Thankfully, the Toyota Tacoma's insurance rates are quite affordable depending on the vehicle model and the features it has
Driver's Age
The age of the driver can have a huge impact on insurance costs. For instance, a teen driver will have to pay a lot more compared to how much a 60-year-old driver will have to pay. Some average Toyota Tacoma insurance rates according to the driver's age are listed below:
Teen Driver: $4,890
20 Years: $3,033
30 Years: $1,397
40 Years: $1,338
50 Years: $1,220
60 years: $1,195
The Toyota Tacoma's insurance rates for teen drivers between the ages 16 to 20 is much higher than older drivers and the cost includes:
16 years: $4,940
17 years: $4,376
18 years: $3,853
19 years: $2,760
20 years: $2,463
Special Editions & Factory Options
Toyota released all sorts of special edition Tacomas and some great factory variants over the years. Some are branded as TRD — such as the Pro and Extreme packages.
While these off-road specific trim levels look great and help the Tacoma to function extremely well, they will have an impact on your insurance rates.
Location
The city where you reside can affect the insurance rates of your Toyota Tacoma significantly. Insurance companies consider location as a factor because medical and automotive service costs differ from city to city.
Let's look at some average insurance rates according to US cities:
Los Angeles: $2,288
New York: $2,114
Houston: $2,097
Jacksonville: $1,940
Chicago: $1,766
Phoenix: $1,552
Seattle: $1,298
Columbus: $1,111
Modifications
If you're a car enthusiast like us, chances are your Tacoma won't stay stock for long.
You might be able to get away with subtle mods like a replacement shift knob in your Tacoma, or changes to your Tacoma's tire size.
But if you find yourself installing Tacoma leveling kits, low or negative wheel offset, light bars, and roof racks, well, expect to pay more.
Even equipment like a Tacoma camper shell can affect your insurance premium.
The rule of thumb here is staying legal. While legal mods can affect your premium, they won't void it, whereas undeclared modifications that aren't in line with the law can cause trouble for you in the event of an accident.
Vehicle Age
The average Toyota Tacoma insurance rate is much higher for newer models as compared to older models of the vehicle. This makes sense when you consider replacing a new car is much more costly for the insurance company than replacing an older car.
For example, the average insurance cost for a 2020 model Toyota Tacoma is around $1,338 per annum, while the cost for a 2010 model is around $1,112. For those of you buying a used Tacoma, this is an advantage.
Toyota Tacoma Safety Ratings
The Toyota Tacoma does well on various parameters in crash tests conducted by the IIHS (Insurance Institute for Highway Safety). It scores 4-stars (out of 5) rating in the overall crash test and scores 5-stars (out of 5) in the side crash test conducted by the NHTSA (National Highway Safety Administration).
Know that safety ratings change/improve each year as automakers keep updating their cars to newer safety regulations. For instance, compare the crashworthiness of the 2007 and 2021 variants of the Toyota Tacoma.
These safety ratings approve the Tacoma as a safe vehicle to drive, which contributes towards lowering the insurance rates.
Safety Features of the Toyota Tacoma
This will vary a great deal depending on what model year Tacoma you own. Just like crashworthiness, safety features on the Tacoma also get updated each year.
The newest generation Toyota Tacoma has safety features such as driver and passenger airbags, brake assist, crawl assist, 4-wheel ABS, electronic stability control, traction control, and lane departure warning — all of which help to lower your Toyota Tacoma's insurance rates.
Now of course, if you're a first-gen Tacoma owner, this safety feature list is much shorter. Whatever you own today, it's best to take note of the safety features on your specific car and detailing these to your insurer as they can bring about a lower premium.
Just like other factors like your gender, credit rating, and deductibles you choose, the safety features on your car also play a role when it comes to calculating the right insurance costs.
Reducing Your Tacoma's Insurance Rate
While many states mandate having bare minimum insurance coverages such as liability insurance, other coverage types are optional. We strongly recommend not relying on liability insurance alone and always opt for full coverage, even though it's more expensive.
Here are some ways through which you can get discounts and reduce your incurred insurance rates:
If you don't use your vehicle a lot, then you can ask for a low mileage discount.
Install an anti-theft device in your Toyota Tacoma.
Check for discounts for drivers who are 50 years old or students having college degrees.
Recommended Insurance Companies
The insurance rates offered by each of these companies will differ and it is a good idea to compare the quotes of various companies before deciding on the best one for you.
The list of the top 10 Toyota Tacoma insurance companies in terms of their market share and volume include:
State Farm
Geico
Progressive
Liberty Mutual
All-State
Travelers
USAA
Chubb
Farmers
Nationwide
Final Thoughts
Getting auto insurance for your Toyota Tacoma is a wise decision. Before you purchase a policy however, do shop around and compare the quotes of various insurance companies.
If you'd like an instant quote right now, you can use our quote form to find the best possible price on your Toyota Tacoma's insurance policy coverage! We'll reach out to the applicable insurers on your behalf to find you the best rate, so you don't have to do the work!