The Mazda MX-5 Miata is known to be at the top of its class in sports cars. This beautiful two-door convertible is fun to drive and affordable! The Miata's features are so stylish that it is easy to overlook the small trunk.
While owning a Miata may be fun, it is essential to research the costs involved in owning one, the amount you may be paying for car insurance and the best way to keep those costs down.
Performance sports cars generally have higher auto insurance premiums because of their expensive parts, damage costs from accidents, and the risk of theft.
So, what sets the Mazda Miata apart from other sports cars? For one thing – it has impeccable safety features based on the insurance institute for highway safety. Not only can you get this iconic sports car for under $30k, but you can also expect low auto insurance premiums!
Intro To the Mazda Miata
No matter what model you're looking at, Mazda's "MX-5" Miata is a playful sports car with a well-tuned suspension and a four-cylinder engine. It is lightweight and well-built with a retractable hardtop to enjoy in all types of weather.
Mazda has released the Miata in 4 distinct models:
1989-1997: Generation 1 "NA"
1998-2005: Generation 2 "NB"
2005-2015: Generation 3 "NC"
2015-Present: Generation 4 "ND"
ND Mazda Miata Features
The Mazda Miata consists of top features in design, technology, and performance. These features set the Miata apart from other sports cars by combining luxury and speed. These features include:
9-speaker Bose sound system
Touch screen with built-in navigation
Connectivity – link up with Apple CarPlay or Android Auto integration
6 speed manual and automatic transmission for flawless gear changing
2.0 liter engine
140 whp
Rear-wheel drive
Driver assistance features to detect potential hazards 
The Mazda Miata has a standard 6-speed manual transmission and some nice tech features such as Apple CarPlay and Android Auto. While there may not be much room in the trunk, it is a comfortable fit for two adults in the front.
How Safe Are Miatas?
While the 2020 Miata has not yet been government tested for safety, they still boast supreme safety options, which is how you can save on your auto insurance rates. The driver assistance features include:
Forward-collision warning
Automated emergency braking
Blind-spot monitoring
Lane-departure warning
Adaptive pivoting headlights
Rear cross-traffic alert
Car insurance companies increase premiums for sports cars because they are more prone to damage as a result of their performance, how many others drive them, and due to increased theft.
Your monthly payment can also be affected if you drive your Miata often. Insurance companies want to know how "at-risk" you may be if you drive your sports car daily.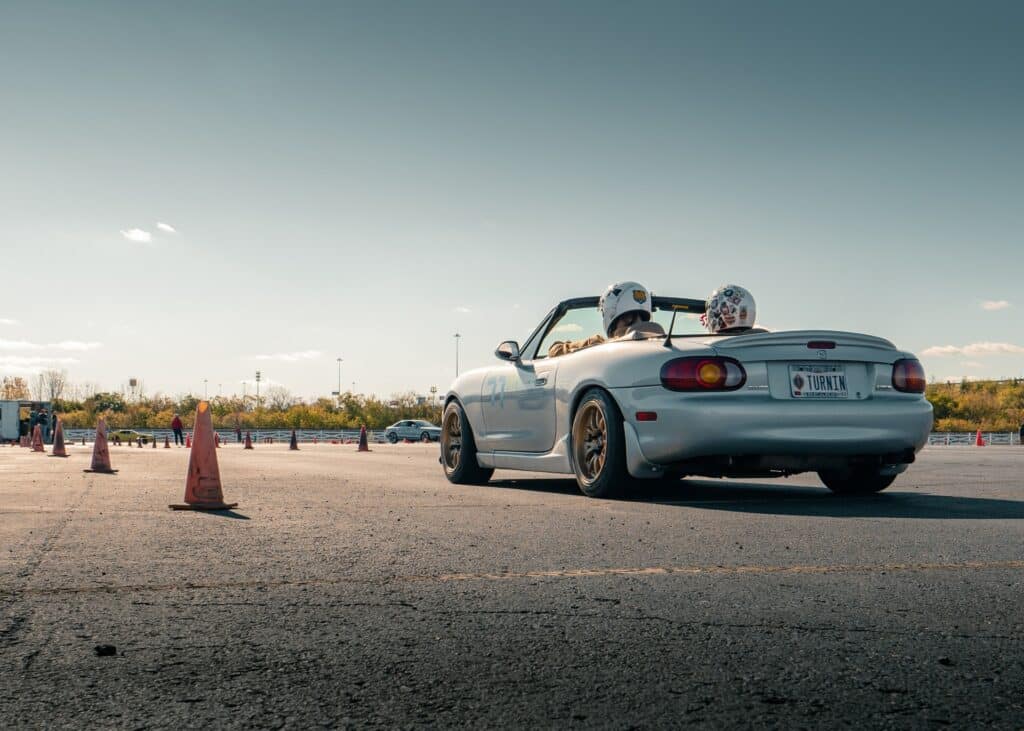 Are Miatas Expensive To Insure?
When purchasing car insurance for your Mazda MX-5 Miata, you may qualify for discounts on your premium. The vehicle is equipped with impeccable safety features to impress you and auto insurance companies.
So much so that you can get lower rates because of it. These features make getting Mazda MX-5 Miata insurance costs cheaper than average vehicles.  
Talk to an insurance consultant to ensure you maximize the reductions from a professional. They have the experience in which boxes to select and how to utilize every option to save money.
Another useful resource to utilize is comparing rates online. It will save you so much time as you can get rates from multiple companies at the same time instead of calling each insurance company individually.
The Costs of Owning an MX-5 Miata
How much should you pay for a Miata? For a sports car these are very reasonably priced cars, starting at around $26,580.
The vehicle has a Reliable Rating of 4 out of 5 and significantly low ownership costs. It requires less frequent repairs, and maintenance cost is around $4,168 over 5 years – less than the average vehicle on the road. Even Kelly Blue Book awarded the 2015 model a 5-Year Cost to Own Award for its class's affordable ownership costs.
The probability of something going wrong and needing major repairs on your Miata is 2% less than all vehicle models and 1% less than subcompact vehicles. The percentage may seem small, but you are saving money in all aspects when owning a Miata in the grand scheme of things.
Next, the question many sports car owners ask – what is the vehicle's mileage? You may be happy to learn that the Miata gets approximately 26 miles per gallon driving in the city and 35 miles per gallon driving on the highway. It is well below the average for a sports car.
Insurance companies consider all these costs when issuing you a quote for your car insurance. Since luxury cars are more expensive to repair and replace — when it comes to the Miata, rest assured that you can have lower insurance premiums.
How To Find Mazda MX-5 Miata Insurance
One of the most efficient ways to find Miata insurance is by comparing rates online. It can be time-consuming calling agents from different companies individually. Websites make things so easy, and by the click of a few buttons, you can compare insurance rates to get the insurance premium that is right for you.
Working with an independent agent can benefit you by ensuring that you find the lowest rates and have the best possible vehicle coverage. An agent will also advise you on what possible discounts you qualify for, such as a safe driving discount.
Whichever way you choose to get coverage – know what you are buying! It is an awful experience when there is an accident, and you find out after the matter that you are not covered. These mistakes are costly.  
Do you have minimum liability insurance? 
Will your medical expenses be covered in the event of an accident? 
Do you have uninsured drivers' insurance?
Knowing what you are paying for will give you peace of mind when driving your luxury sports car.
Factors That Influence Car Insurance Rates
Numerous factors can influence your insurance rates, namely:
Your age – young drivers pay more than older experienced drivers. If you are 16, expect to pay more for your coverage
Men will pay more for car insurance than women
Where you live – drivers who live in rural areas pay less than those living in the city
Students and military personnel can qualify for discounts
You can be eligible for lower premiums if you combine your home and vehicle insurance
The safety of your vehicle – the safer your car, the less you will pay
How To Save on Miata Insurance
There are several discounts you qualify for when you own an MX-5 Miata. Even though the latest model still needs to be crash-tested, the safety features it comes with are enough for the insurer to acknowledge its potential.
These safety features include:
Advanced passive restraint systems which include motorized seatbelts and airbags
Anti-lock brakes – the ND Miata has anti-lock brakes.
Insurance companies consider sports cars at high risk for theft, which can increase your premium. The Miata is equipped with an anti-theft device to deter criminals looking to steal your vehicle.
Driver and passenger airbags
Side head and rear head airbags
Rear body airbags
Rollover protection system
Traction control
Along with the vehicles' safety features reductions, you could qualify for lower rates in other areas. People with traffic violations pay more for their car insurance, so being a safe driver can save you money! 
Owning a new car, bundling your auto and home insurance, and paying your bills on time are excellent ways to save money with car insurance companies.
So, How Much Does It Cost To Insure a Miata?
Expect to pay cheaper rates than other performance sports car insurance coverage!
The best full coverage rate is $698
Raising to a $1,000 deductible will save $1,046 each year
The average price for the average middle-age driver who chooses a $500 deductible is $1,174
Choosing a super low, $100 deductible will cost an extra $362 annually
Drivers over the age of 25 with multiple tickets or accidents can pay up to $2,782
The price of insurance for an 18-year-old driver can cost $4,120
Overall however, the Miata's insurance is approximately $35 less than the average vehicle.
Final Thoughts
Generally, sports car owners tend to pay higher premiums on their car insurance, especially since they are expensive to repair and replace.
Remarkably, the Mazda MX-5 Miata is exceptionally low to insure because of its safety features, such as airbag protections and high-tech braking systems, and high availability of spare parts. Even though the car hasn't been formally crash tested, the safety components alone are a testament to these safety features' quality.
Compare rates online from multiple insurance companies at once to save yourself the headache of calling the companies individually. Contacting an insurance agent will also help ensure you receive every discount that you may qualify for when shopping for coverage.
If you are thinking about purchasing a Miata, after you get it insured, don't forget to check out our guide to Miata aftermarket upgrades.