While you may have a vision for making your car unique, being sure those modifications are legal isn't always so easy. This can absolutely be true when it comes to under car neon lighting, known as underglow.
Nowadays underglow car lighting isn't achieved using neons, but a much safer LED kit instead. But despite being much safer, are they actually legal in Canada?
The confusing part is that each province has its own laws, so a legal car modification in Ontario might be illegal in British Columbia, for example. 
With this in mind, we have created this guide, including a helpful table outlining the legal status of underglow for each province so you can easily see whether or not you should install this under car lighting on your car.
Province by Province Guide to Underglow
With the exception of Ontario, which at least for now appears to permit green underglow, it is illegal to run underglow on public roads in the vast majority, if not all, of Canada.
There are vague laws, or even the absence of explicit mentions of underglow in the provinces of Prince Edward Island, Quebec, Newfoundland/Labrador, but this does not mean they are legal.
Quebec provides guidance on legal car modifications and contact information to inquire about modification legality prior to installing it.
We recommend contacting authorities in Newfoundland and Prince Edward Island as well before buying or installing an underglow kit on your vehicle just to be on the safe side.
British Columbia does allow you to drive your car with underglow on public roads, provided any lighting is covered up with an opaque covering.
Saskatchewan, on the other hand, states that underglow kits can be installed but not driven on public roads, so it is unclear if you could be fined for driving on the streets with them installed but with lights switched off.
This leaves the situation open to interpretation, which isn't ideal. One highway patrol officer may fine you, while the other may give you a pass.
For this reason, it's best to speak with your local RCMP or police service to see if they will give you an answer, ideally in writing. This way you have some defense if you do ever receive a fine.
| Province | Legal? | Specifics | Reference |
| --- | --- | --- | --- |
| Alberta | No | Underglow is considered a distraction to other drivers and is classified as a form of "stunting". | Calgary Police Service |
| British Columbia | No | Underglow permitted for off-road use only. If driving a vehicle on public roads that is equipped with such lighting, an opaque covering is required. | Ridge Meadows RCMP |
| Manitoba | No | Underglow can only be used for off-road vehicles. | Manitoba Highway Traffic Act |
| New Brunswick | No | The law in New Brunswick is vague, but underglow is considered illegal for use on public roads, with drivers reporting they have been pulled over for using it.  | New Brunswick Justice and Public Safety |
| Newfoundland and Labrador | Unclear | Province rules outline the type of lighting drivers have to have on their vehicles and does not mention the legality of lighting modifications. | Newfoundland and Labrador Licensing and Equipment Regulations under the Highway Traffic Act |
| Nova Scotia | Unclear | Red lights can't be visible from the front unless they're on an emergency, school bus, public-safety, or conservation officer's vehicle. It's also forbidden to drive on a highway with a blue light that's visible from any direction, unless it's on police vehicle or one being used by a bridge patrol officer, sheriff, or conservation officer. | CBC News |
| Ontario | Yes | There's a massive caveat however. Ontario prohibits all under car lighting except for green. | Ontario Highway Traffic Act |
| Prince Edward Island | Unclear | There is no explicit documentation that underglow is illegal in this province, outlining the requirements for headlights and auxiliary lights only.  | Prince Edward Island Rules of the Road |
| Quebec | Unclear | Quebec provides a guide for modifying your vehicle but it does not specifically mention underglow. However, they provide contact information to find out which modifications are legal prior to installation.  | Quebec Automobile Insurance Corporation |
| Saskatchewan | No | Underglow kits can be installed on vehicles legally, but cannot be used on public roads.  | Regina Police Service |
Is Underglow Legal in Canada?
It is either definitely illegal or ambiguous (Prince Edward Island, Newfoundland and Labrador, Quebec) to run one of these lighting kits on the underside of your car in Canada.
Ontario is the only exception as green lighting is permitted, which is still a fairly major restriction as other colors are not allowed.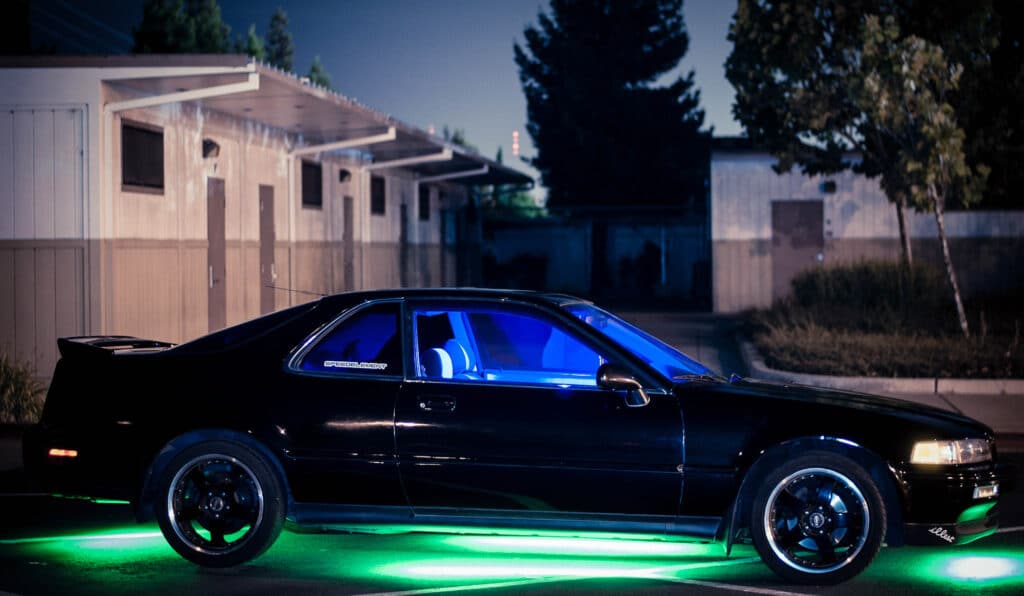 Lighting is heavily regulated in Canada, which makes sense given how critical proper lights are in dark conditions.
Even more important, light colors themselves have been used to signal particular types of vehicles so much so that red and blue flashing lights are automatically perceived as coming from an emergency or police vehicle.
This explains why it is often forbidden to use red and/or blue colored headlights, in the the interior, or underside (as in the case of underglow).
This can confuse other drivers and you can even be perceived as trying to impersonate a law enforcement official (which is universally very illegal).
Of course, cars used solely off-road, such as dedicated race cars, do not have to adhere to these regulations. This is why Formula D cars can actually be required to run underglow.
This also means if you have a car you plan on only driving for motorsport or other events that do not involve public roads, you can install custom lighting to your heart's content.
If you do want to install underglow for use on Canadian roads that aren't publicly owned, we still recommend going with LED over neon.
This is because of the major disadvantages of neons in comparison to LED lighting, even though LEDs can be made to look very much like the original neon tubes if you want the retro, or classic, underglow look.
Photo: Acura Legend, by Rafael Castillo, CC BY 2.0