More and more, people are starting to equip their vehicles with radar detectors. These devices keep an eye out for police radars on your behalf. They provide reassurance that if you were to run into a speed trap while accidentally being over the speed limit, you will be notified.
But what about the legality of using such devices? In Oregon, you can use radar detectors in your vehicle in a perfectly legal manner. Still, you will need to deal with and adhere to some limitations in the law. That's what we'll discuss in this article.
Windshield Mounting
Oregon's radar detector law does not specify whether or not you're permitted to install these devices on your windshield. However, considering how it warns against windshield-mounting any large-enough object or device, it's safe to assume that it applies to radar detectors as well.
The rationale behind this law is that windshield-mounted devices can end up getting in the way of the driver's view, making it distracting. We recommend finding a different spot for your radar detector such as the dashboard.
Private and Commercial Vehicles
For personal or private vehicles operating in Oregon, you are legally permitted to attach radar detectors should you wish to do so. As long as you do not mount the detector on the windshield and stay within the speed limit at all times, you will not face any problems.
If you have a commercial vehicle, on the other hand, the rules are a bit different. If your commercial vehicle weighs more than 10,000 lbs, then you cannot legally use a radar detector.
Some counties and districts might disallow lighter commercial vehicles from using these too, so make it a point to confirm this with law enforcement officials in your area if you're keen on using this device.
Driving in a Military Zone
Neither private nor commercial vehicles can drive in military zones with radar detectors in place. We highly recommend that you turn it off and uninstall it, only then will you be allowed to keep driving through the zone.
The main reason for this caveat is that radar detectors might interfere with other military equipment that uses the same technology.
In What States Are Radar Detectors Illegal?
Virginia and Washington, D.C. have banned the use of radar detectors for all kinds of vehicles.
This also applies to vehicles from other states that are only temporarily accessing the routes of these places.
Radar Detector Alternatives
Potential alternatives to radar detectors are:
Radar jammers
Laser jammers
Smartphone applications
The purpose of each of these tends to be a bit different from detectors, so keep that in mind before opting for them.
State of Oregon Info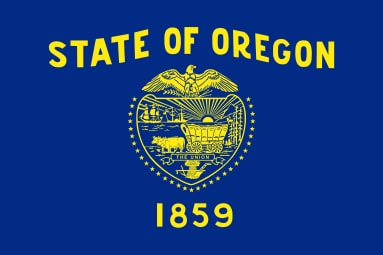 Oregon is a state along the Pacific coast and is surrounded by Idaho in the east, California in the south, and Washington in the north.
It ranks 27th in the US in terms of population and Portland is on top of that list within the state.
Population: 3,899,353
Capital: Salem
Registered vehicles: 4,095,442
Total lane miles: 162,101
Number of highways: 4